The best and healthy dairy-free chicken nuggets recipe
Kids friendly and dairy-free healthy chicken nuggets with hidden vegetables that no one will notice if this nuggets has lots of fiber on it.

Who doesn't like chicken nuggets? To be honest I have never found anybody who doesn't like chicken nuggets. How about you?
My little one is a big lover of chicken nuggets. Wherever we go and need a quick lunch at the restaurant or fast food, she always requests some chicken nuggets on the menu.

While we are not sure what ingredients they use on it and how they prepare it, I mostly refuse to order it for her because I am worried it contains dairy on it.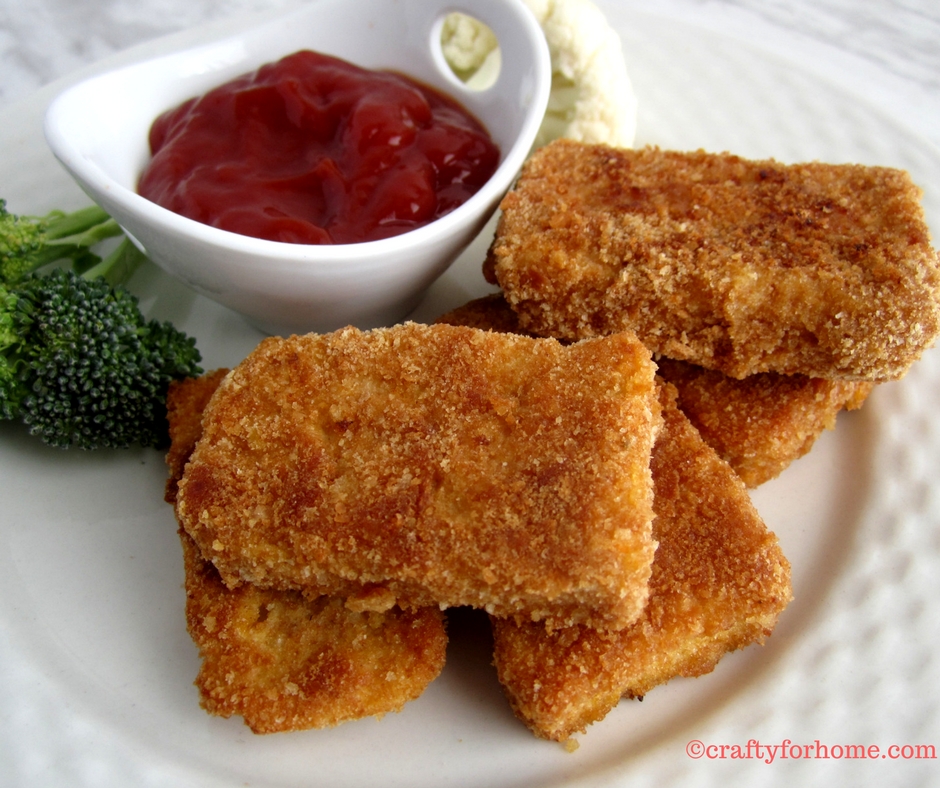 After trying to come up with chicken nugget recipe the healthy way and no dairy on it, here I share you how I prepare it. My little one agreed this Healthy Chicken Veggies Nuggets is tasty and satisfy her taste bud.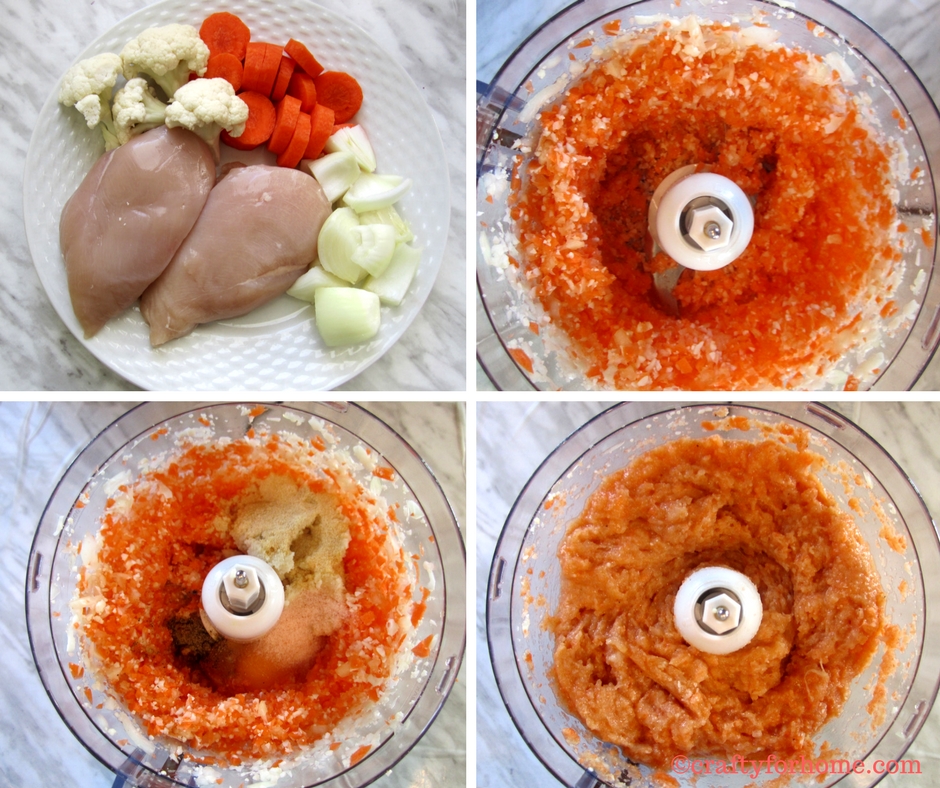 I trust her because she is the recipe tester, food critic, and cooking judge of my own. How I describe this chicken veggies nugget is :
Healthy, steamed and then baked, no deep frying.
Has the hidden veggies in it.
Tasty.
Easy to make.
Great for meal prep.
Kids friendly meal.
Dairy-free.
Can be customized with a gluten-free ingredient.
Can be customized with veggies you like.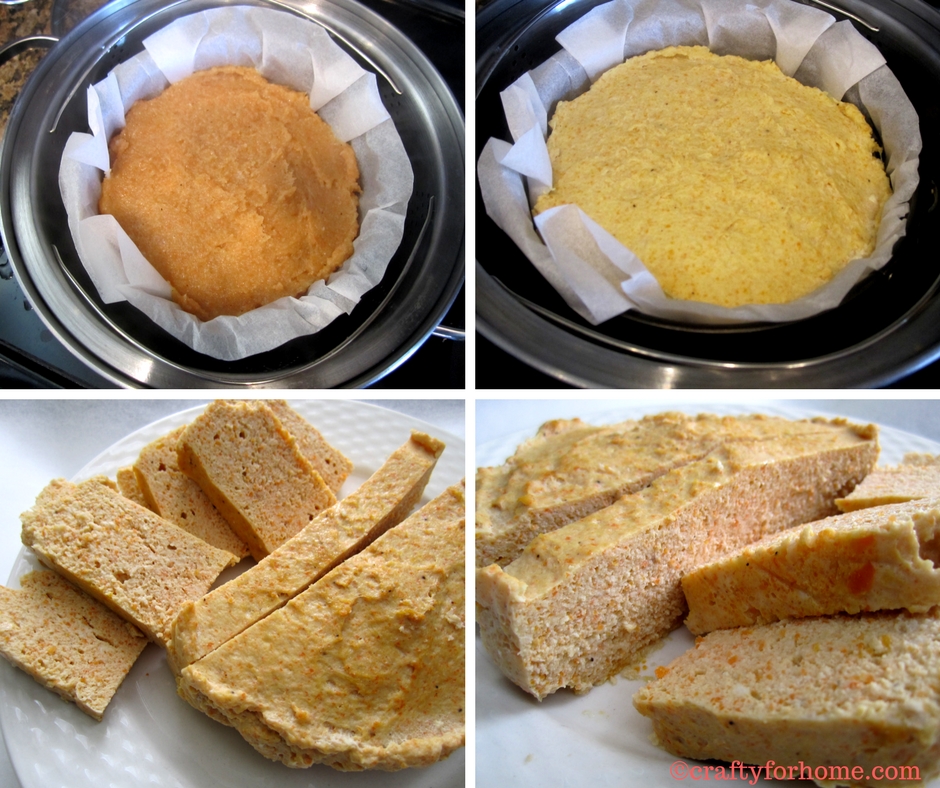 First, you have to mix veggies, chicken and the seasoning in the food processor until it looks like a paste. Then steam it for 30 minutes before bake it. There is no frying involved, and only little bit oil needs for baking.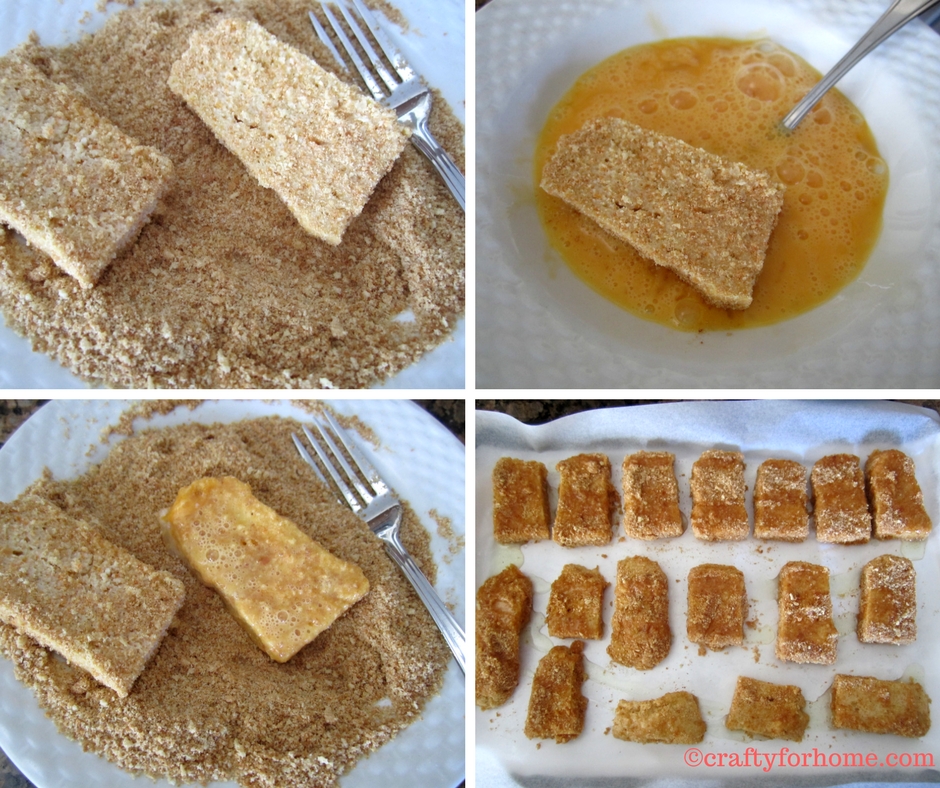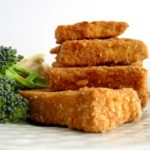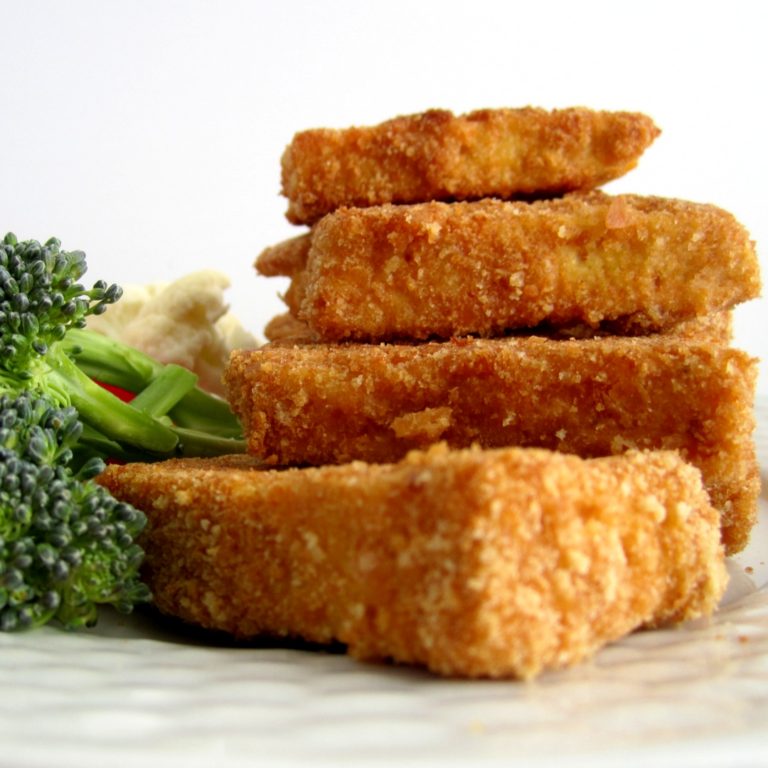 Healthy Chicken Veggies Nuggets
Healthy chicken nuggets with hidden veggies, steamed then baked, no frying involved.
Ingredients
2

chicken breast

1

small onion

1

carrot

4

cauliflower florets , about 1 cup

1

egg

3

tbsp

breadcrumb

1

tbsp

water

2

tsp

salt

1/2

tsp

black pepper

1

tbsp

garlic powder
For coating
2

cups

breadcrumb

1

tbsp

garlic powder

1/2

tsp

salt

1

tsp

cooking oil
Instructions
Prepare the steamer, let the water boiled.

Prepare the springform baking pan (or any heatproof dish), layer it with parchment paper.

Cut the chicken, onion, carrot into smaller pieces.

In a cup or bowl, put water and breadcrumb, let it sit until the breadcrumb moist.

In the food processor, put onion, cauliflower florets, and carrot, pulse it until becoming tiny bit pieces.

Add chicken, moist breadcrumb, egg, salt, black pepper, garlic powder. Process it until becoming a paste.

Pour the chicken paste into the springform baking pan. Put the pan into the steamer basket, cover it with a clean kitchen towel (to prevent water dripping into the paste), put the steamer lid on.

Steam it for 30 minutes, take the pan out of the steamer then leave it cool for 30 minutes then cut it up into square or rectangle pieces. While waiting for it cool down, preheat the oven to 400 deg F.

Prepare the coating ingredient, in two separate bowls, whisk the eggs in one bowl, and breadcrumb with garlic powder and salt in the other bowl.

Prepare the baking sheet pan, layer it with parchment paper.

Dip one square nugget piece into breadcrumb then on the whisked egg, then back to coat it with the breadcrumb. Repeat the process until all nuggets pieces coated.

Put the coated nuggets on the baking sheet, drizzle the cooking oil on top of it.

Bake it in the oven for 20 minutes, turning halfway done.

Take out of the oven, ready to serve.
Recipe Notes
Parchment paper is great to make cleaning easier.
I use grapeseed oil for it, feel free to use any oil you like.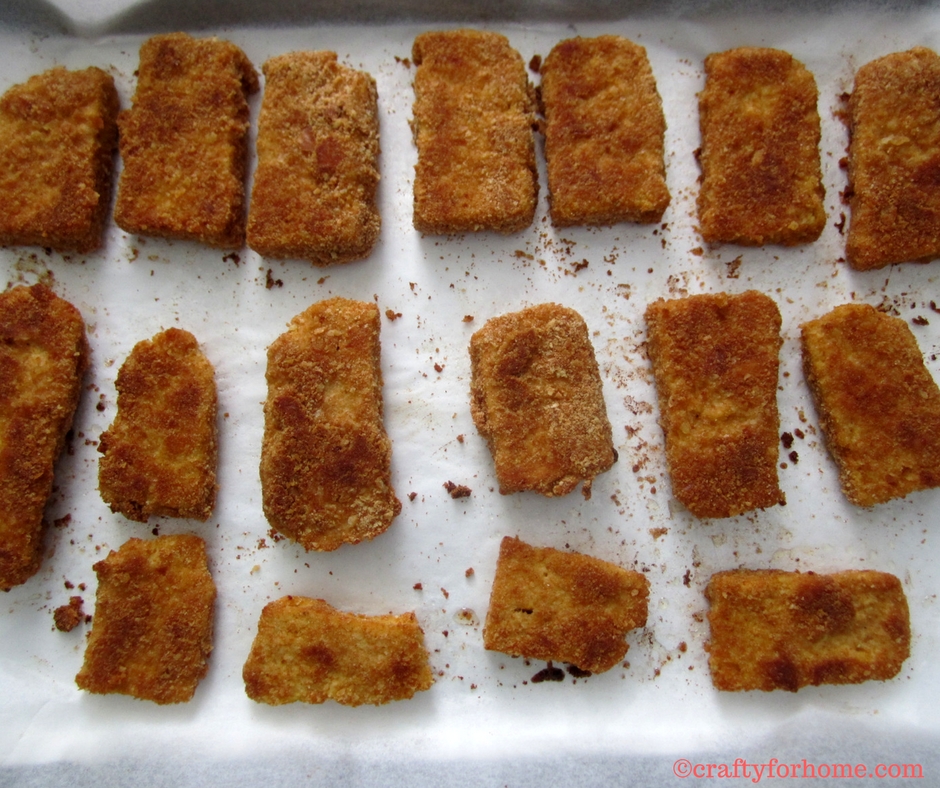 It seems like a lot of work, but it is actually not. It is simple enough to make and no labor-intensive required in the kitchen. The cooking time is 95 minutes, that is including preparing ingredients, steaming, cooling period, the coating process and baking.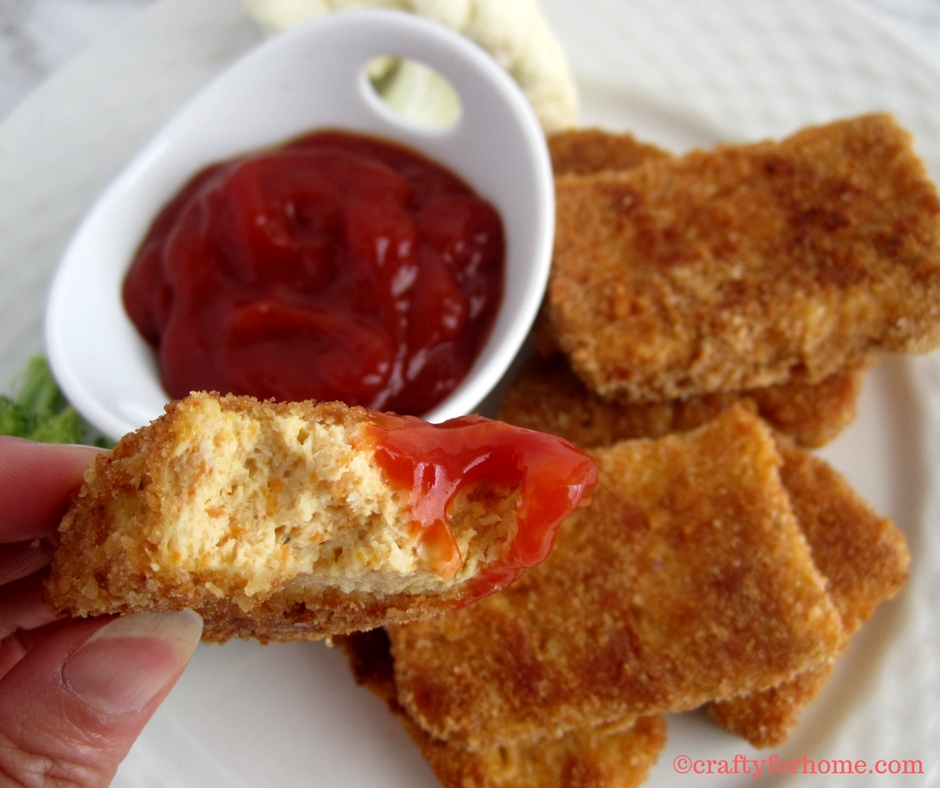 If you are like me, having a real picky eater who will turn their nose to veggies other than carrot then please try this recipe. They won't realize if they actually having protein and veggies at the same time.
Serve it with ketchup or your favorite ranch dressing complete with the veggies sticks, there you go, you have a complete meal. For anyone who doesn't have a dairy allergy, you can add parmesan cheese on the breadcrumb.
You can prepare this chicken nuggets with veggies on a big batch. These nuggets are great for meal prep, few days worth of lunch box, party platter, play date meal, picnic meal, game night, or movie night meal.
Yes, there is such thing about movie night meal, we usually having movie dinner once a while in the weekend, instead of the classic popcorn, we have a finger food or pasta dinner while watching a movie.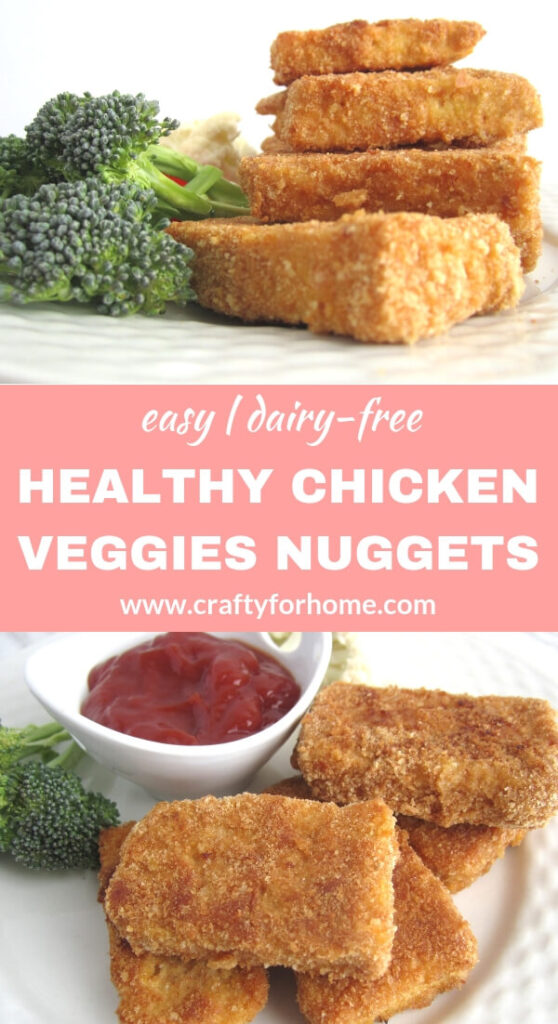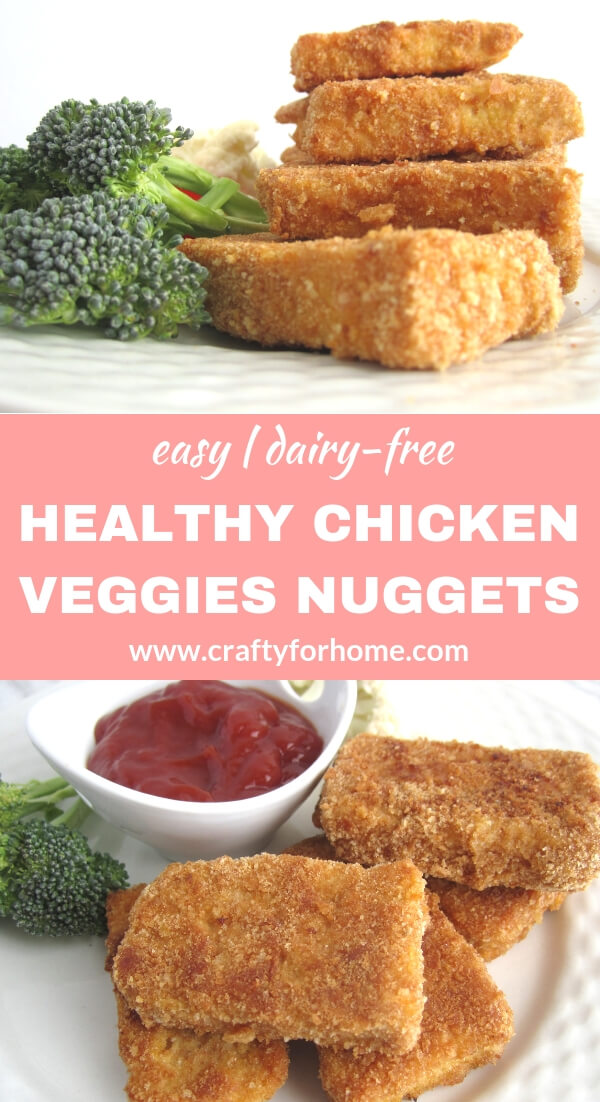 Try these easy finger food
This dairy-free chicken nuggets with hidden veggies recipe is delicious and perfect for any picky eater.