Do you miss some family meal when you were growing up? I do most of the times. Because of that reason and inspired by Indonesian curry soup, here I share you Tofu Chickpea Curry Soup. I have to adapt it to reduce the spiciness by using red bell pepper instead of chili pepper. Also just use ingredients that available here.
To make the meal ready faster, use the food processor to grind some seasonings. Use the pestle and mortar is a great option too, but it always takes time to make the seasoning paste this way.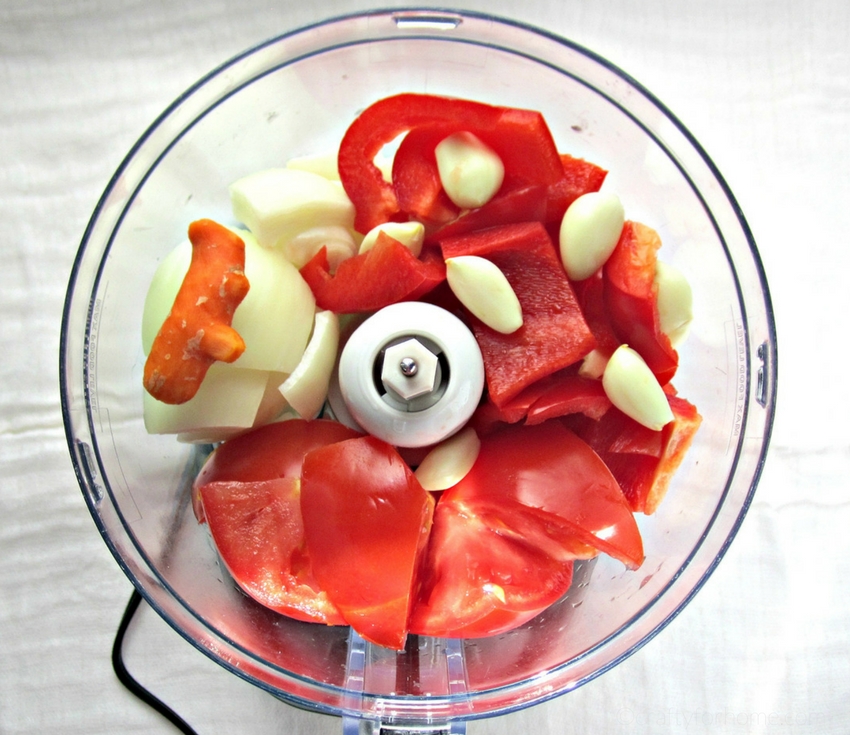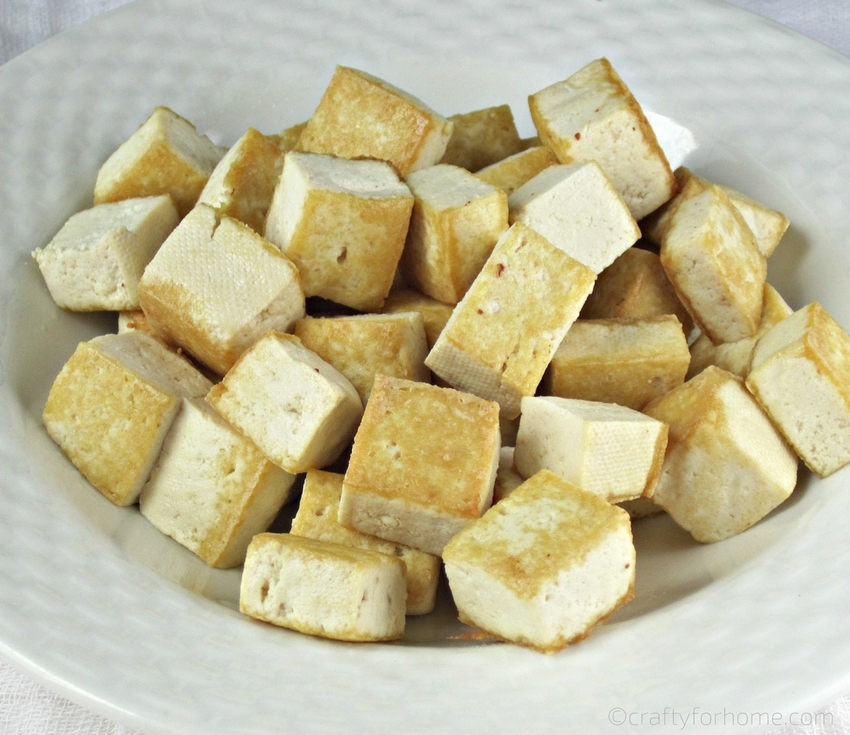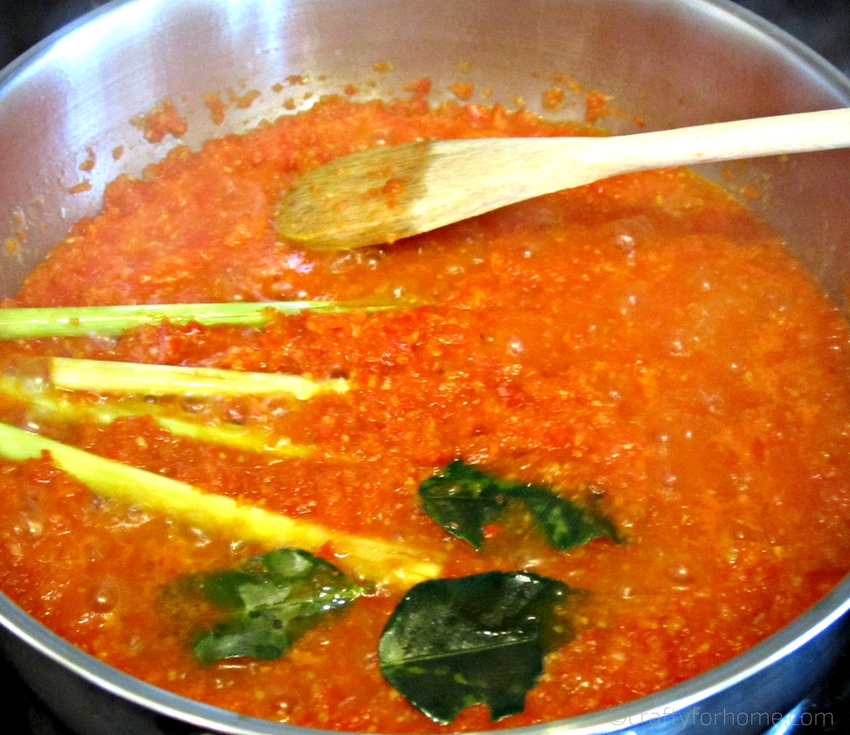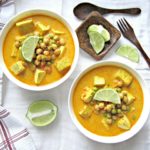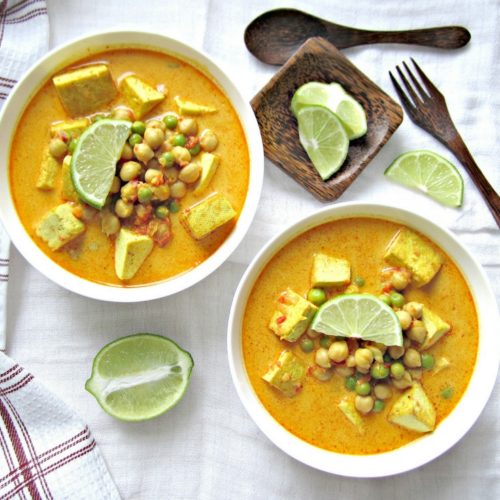 Tofu Chickpea Curry
Ingredients
1 can chickpea, rinsed and drained

2 blocks firm tofu, cubed

2 cups frozen peas

1 tomato

1 red bell pepper

1 onion, small size

6 cloves garlic

1-inch fresh turmeric or 2 tsp turmeric powder

4 stalks lemongrass, white part only

3 lime leaves/substitute with lime zest

1 tsp cumin powder

1 tsp white pepper

1 tsp curry powder

2 tsp salt

1 cup coconut milk

4 cups broth or water

5 tbsp oil
Instructions
Turn the stove to medium heat, put 3 tbsp oil in the frying pan, fry the cubed tofu until it has a slight crust on each side. Set aside.

In a food processor, put 2 tsp of oil, tomato, garlic, onion, turmeric and bell pepper, process until smooth, it is fine if there are some chunks on it.

Use the knife handle to bruise the lemongrass.

In a medium-size pan, saute the tomato mixture for about 5 minutes until it is fragrant and liquid evaporates.

Add tofu, chickpea, lemongrass, cumin, lime leaves (or lime zest) salt, white pepper and broth (or water). Simmer it for 10 minutes.

Add frozen peas, and coconut milk then simmers it for another 10 minutes.

Serve the curry soup with extra lime juice.
Recipe Notes
Bruising the lemongrass before cooking will release more of the flavor and fragrance.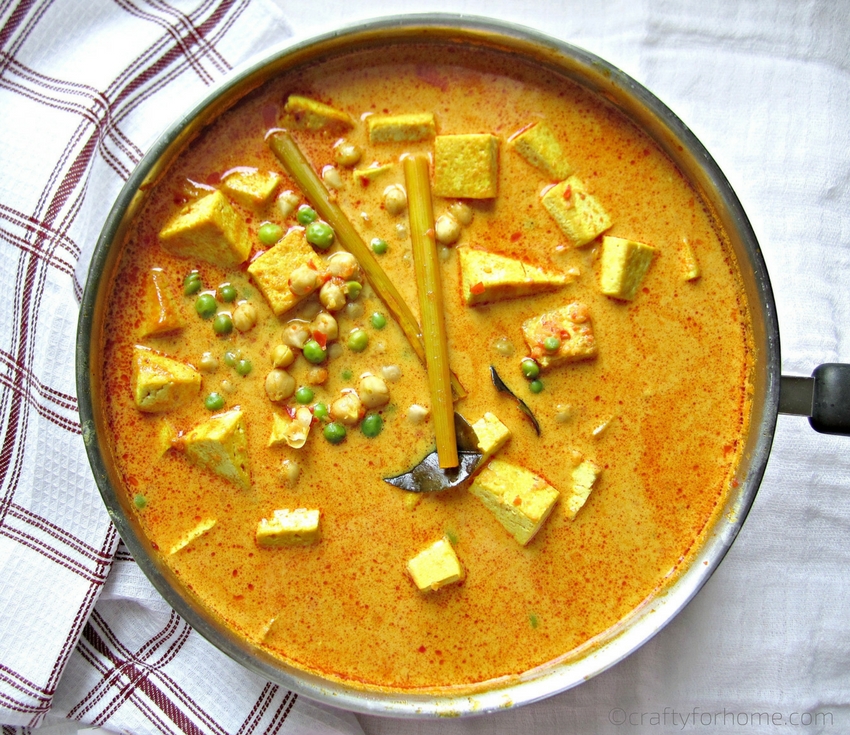 This healthy Tofu Chickpea Curry Soup has a mild curry taste. A bowl of this curry soup will make you full, but you can choose to serve it with rice or rice vermicelli. It is one of comforting soup for a rainy day.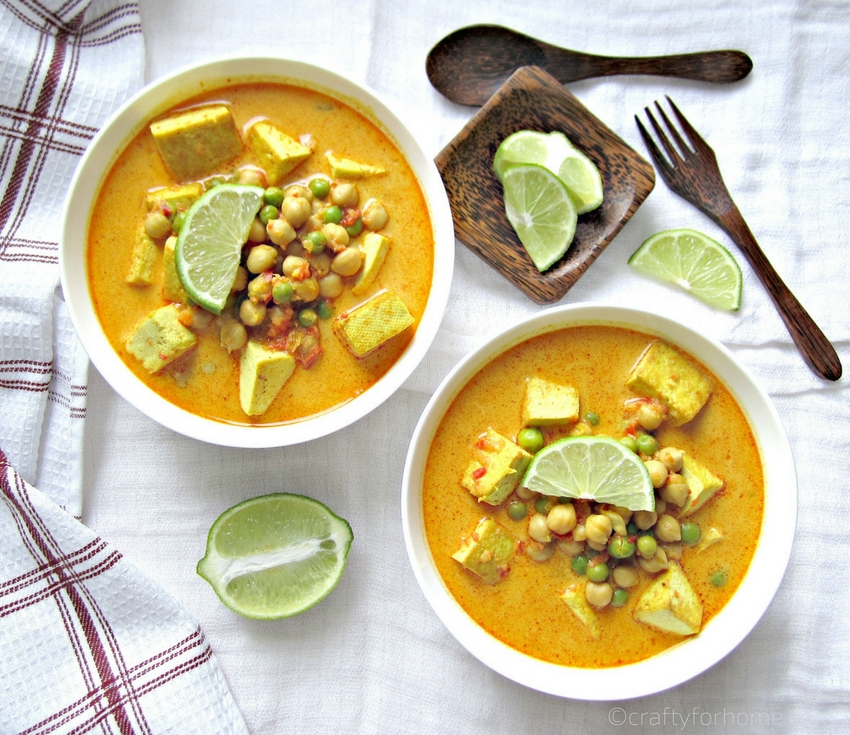 Try these tofu and green peas recipes for more vegan meal ideas:
Pin the picture below to save it for later.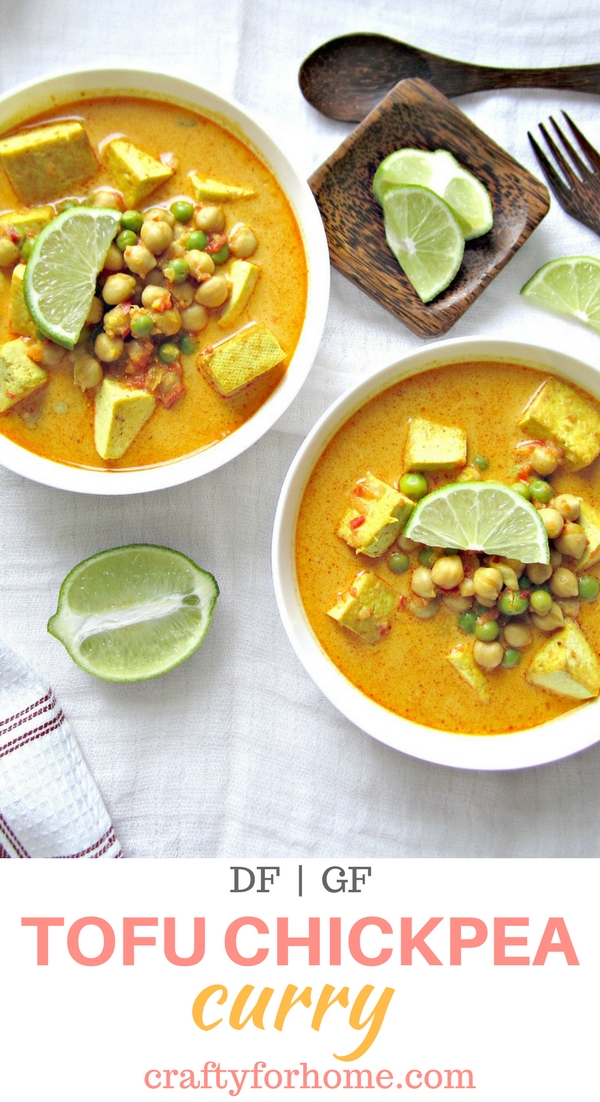 Do you make this Tofu Chickpea Curry Soup? Write a comment, rate it and take a picture of your delicious salad, hashtag #craftyforhome or you can tag @craftyforhome on Instagram.