One bowl dairy-free chocolate wacky cupcake with easy sweet potato frosting. The cake is made without egg and dairy. It is moist and delicious dark chocolate cake. Dairy-free, egg-free, nut-free.
Easy Wacky Cupcake Recipe
I am very sure that you heard the word wacky cake before. This type of cake absolutely delicious just like an ordinary chocolate cake. For little bit info just in case some of you did not hear about the wacky cake before, it is a chocolate cake from depression era when food source was limited. It actually turns out into a perfect and famous cake of all times.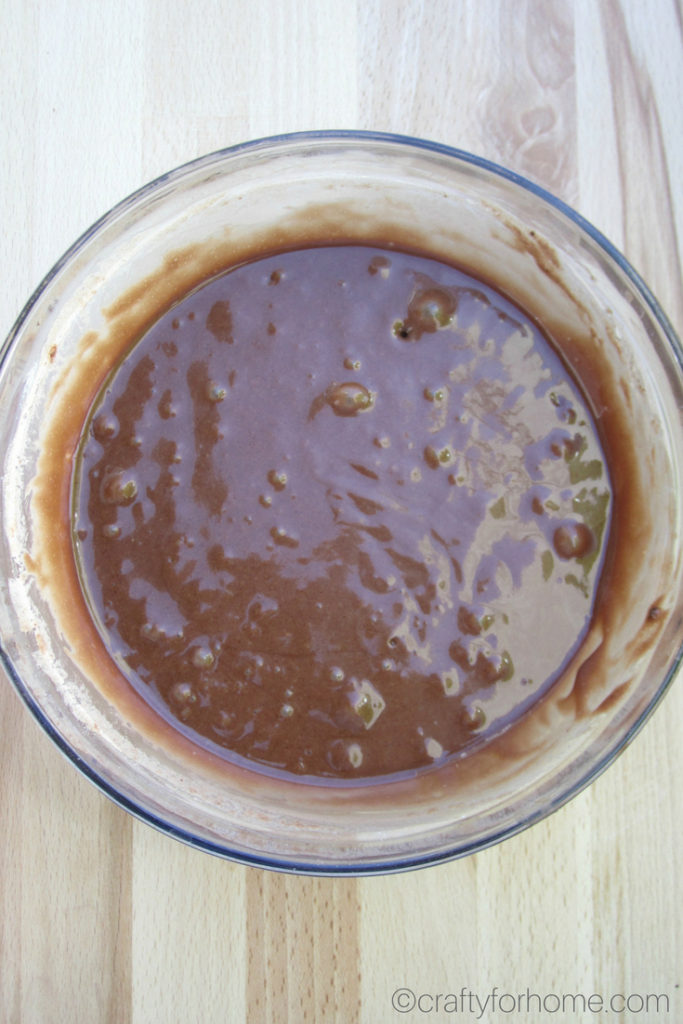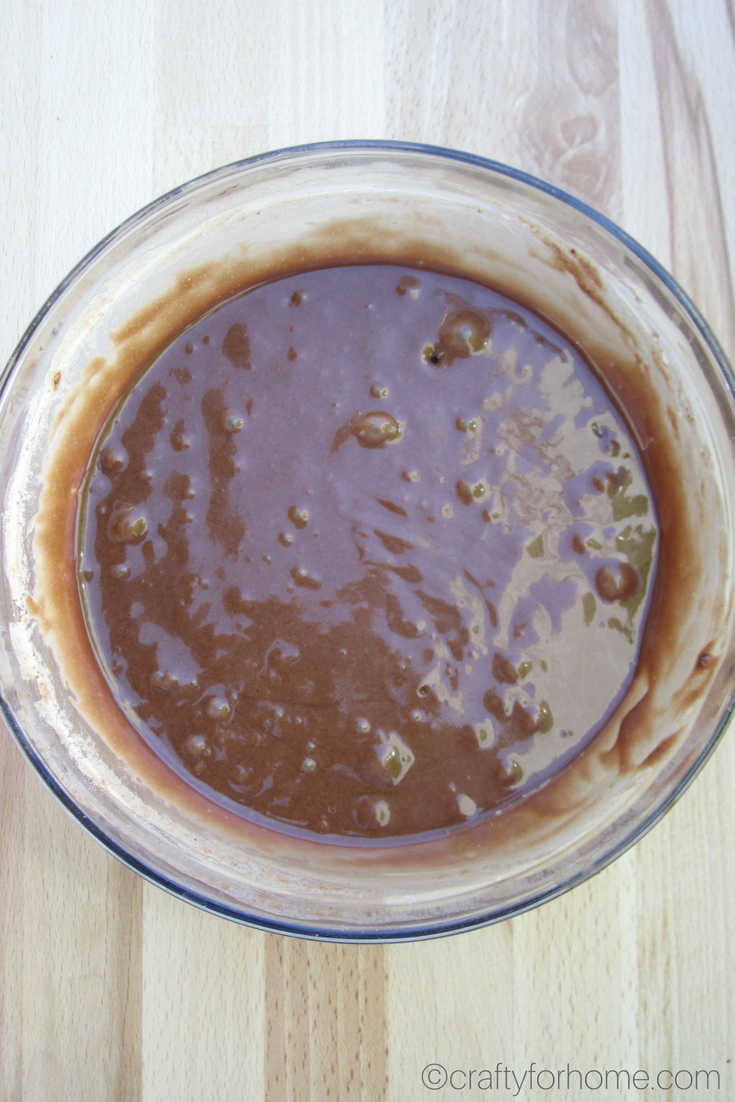 My dear friend told me about this cake when I had no clue what to make for my little one's first birthday five years ago. I was still learning how to substitute dairy for baking at that time. I also wasn't sure if she had an egg allergy or not.
She had done the allergy test to a specialist when she was few months after her first birthday. So, I mostly guessed what she was allergic to, and stay away from the common allergen. I made several batches of this cake at that time, it turned out the cake was perfectly safe for her, and tasty one for us who love chocolate cake.
The ingredients for the wacky cake are the staple pantry food without egg and dairy. It is so simple to make. Basically, you whip the batter on one bowl only, means less cleaning after.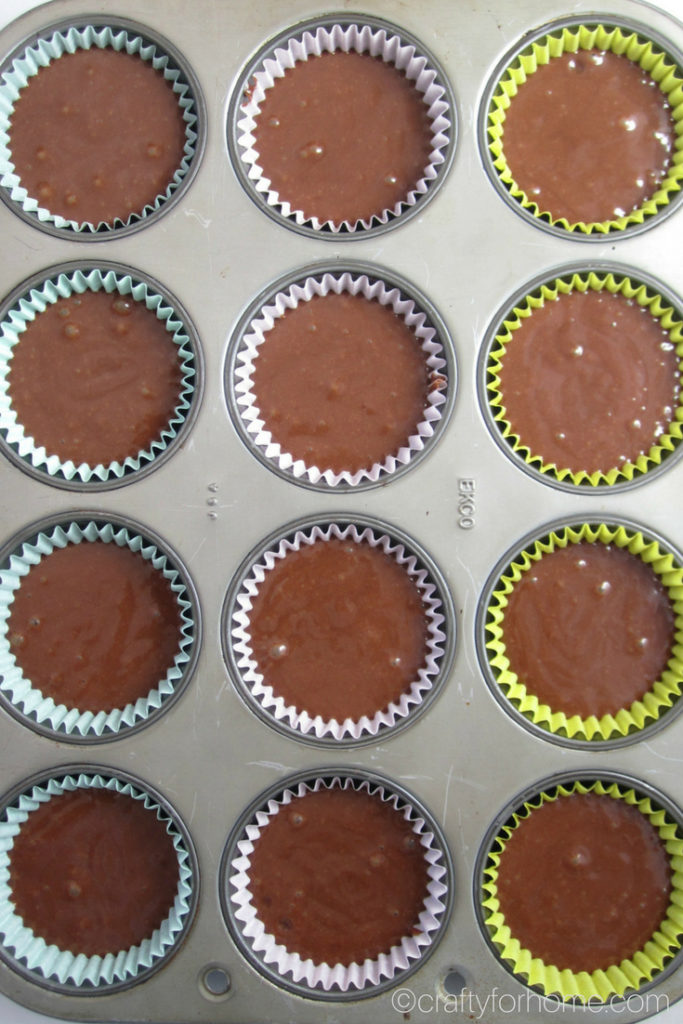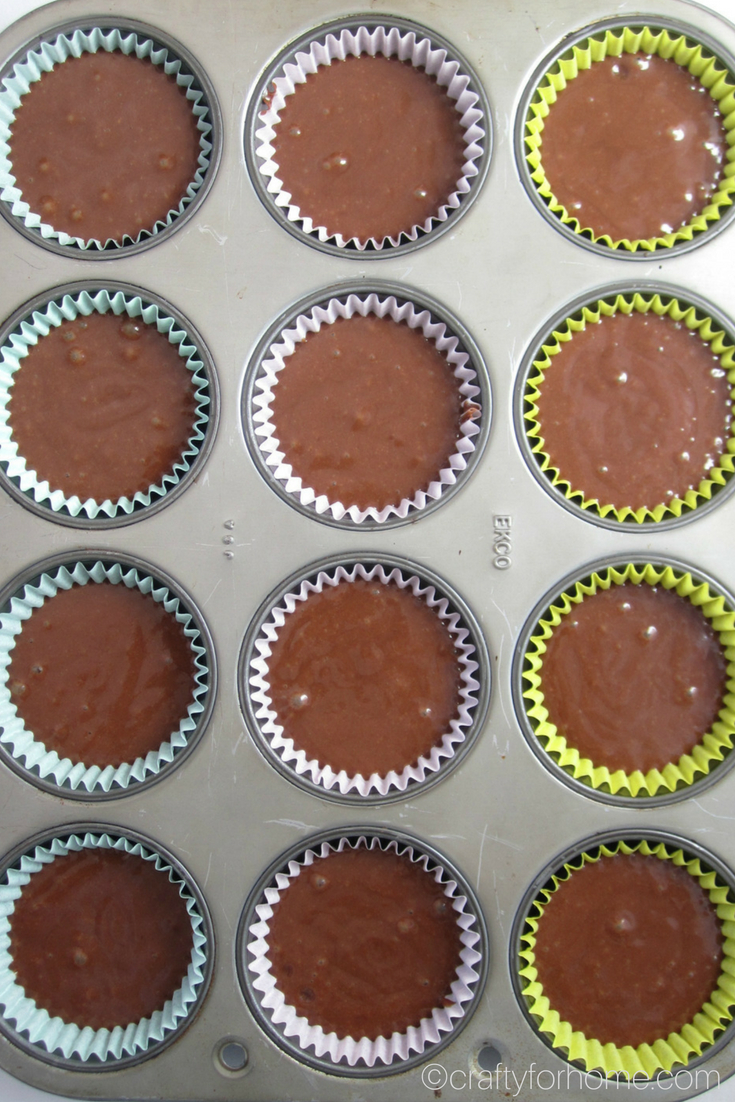 Based on the wacky cake, I made it into a cupcake with one more special dairy-free frosting. I say it a special one because you definitely can make a healthier alternative for the icing without a heavy load of sugar on it.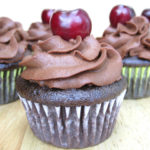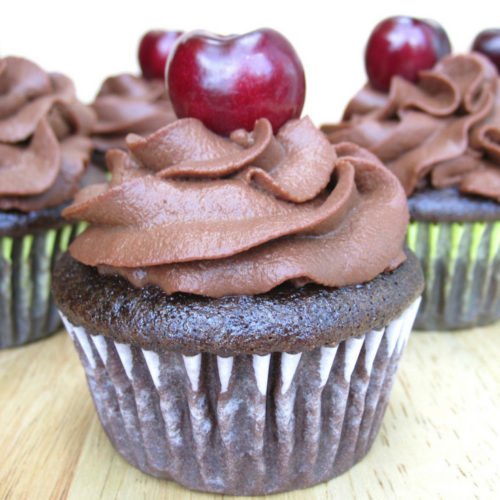 Wacky Cupcake With Sweet Potato Frosting
One bowl dairy-free chocolate wacky cupcake with easy sweet potato frosting. The cake is made without egg and dairy. It is moist and delicious dark chocolate cake. Dairy-free, egg-free, nut-free.
Ingredients
For wacky cupcake
1

cup

sugar

1 1/2

cup

unbleached all-purpose flour

1/2

tsp

salt

1

tsp

baking soda

4

tbsp

cocoa powder

1

tbsp

vinegar

1

tsp

vanilla extract

6

tbsp

oil

I use sunflower oil

1

cup

water
Sweet Potato Frosting
2

cup

sweet potato puree

1

cup

dairy-free semi-sweet chocolate chips

3

tbsp

maple syrup

2

tbsp

dairy-free butter

1

tbsp

dairy-free milk

I use So Delicious coconut milk
Instructions
Bake a large size sweet potato on 400 deg F for 1 hour or until soft when you poke it with a fork. Set aside.

Turn the heat down to 350 deg F.

Prepare the regular size muffin tin, line it with muffin cup.

While waiting for the oven ready, put all dry ingredients on the bowl, mix it up.

Make three wells on the dry mixture, put vinegar, oil, and vanilla extract on each well.

Pour water on the mixture, use the spatula to mix the batter until all blended.

Pour the batter on the muffin cup 3/4 full.

Bake it in the oven for 22 minutes or until the toothpick comes out clean.
To make the sweet potato frosting
Slice the sweet potato skin, use the spoon to scoop the sweet potato and put it into a food processor, then process it until smooth.

In a safe microwave bowl, melt the chocolate chip, butter, and coconut milk. Heat it in the microwave for one minute, keep checking it every 20 sec.

Stir it until smooth then pour it on the food processor.

Add maple syrup or agave syrup. Process it until all well blended and resemble a smooth mixture.

Leave the mixture in the fridge for 15 minutes, while waiting for the cupcake cooling down completely.

Put the frosting on the piping bag, I use the star piping tip to make a simple swirl cupcake frosting.
Recipe Notes
This wacky cupcake with sweet potato frosting will be best to serve it in the same day.
The wacky cupcake without frosting will last up to 4 days, keep it in the room temperature on a covered container.
The preparation time is only about 15 minutes, it does not include roasting the sweet potato and cooling times.
Do you make this Wacky Cupcake With Sweet Potato Frosting? Write a comment, rate it and take a picture of your delicious meal, hashtag #craftyforhome or you can tag @craftyforhome.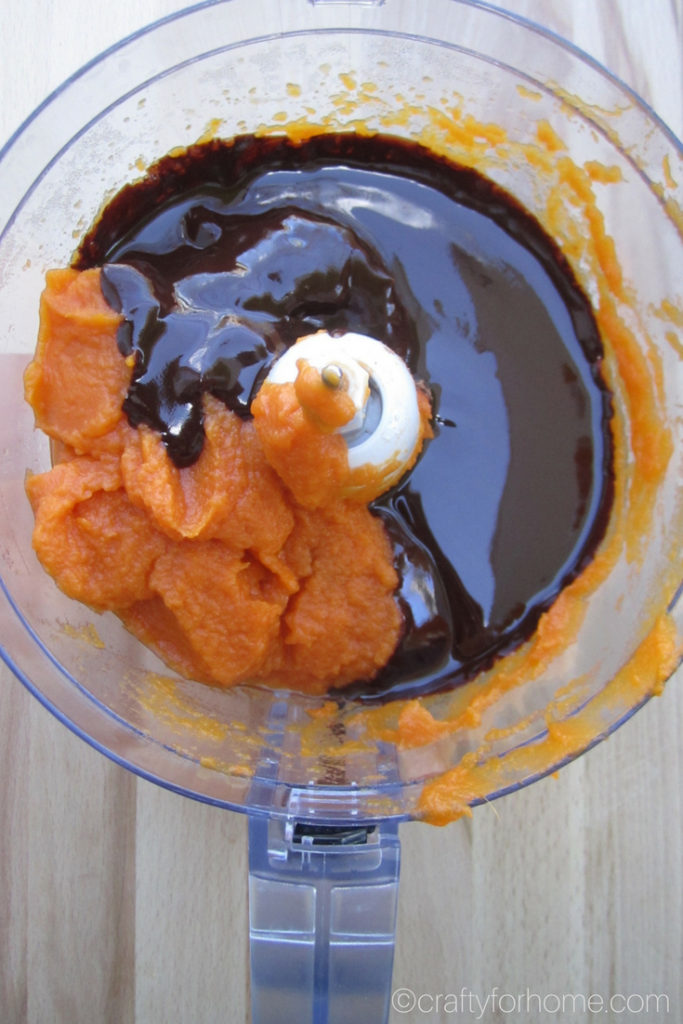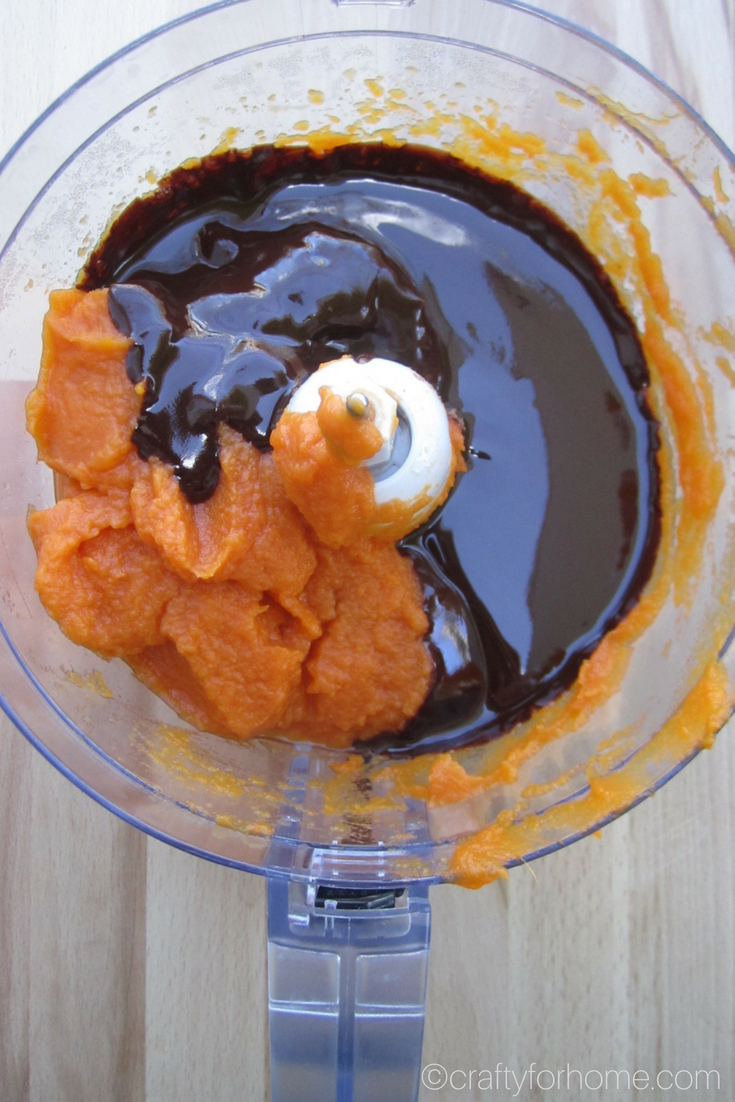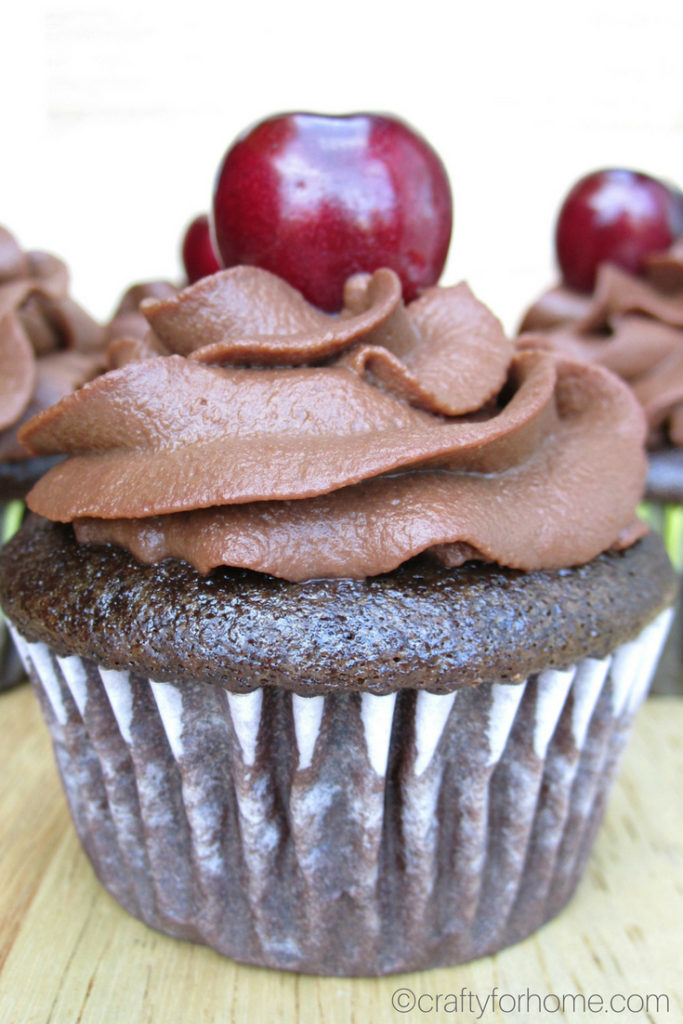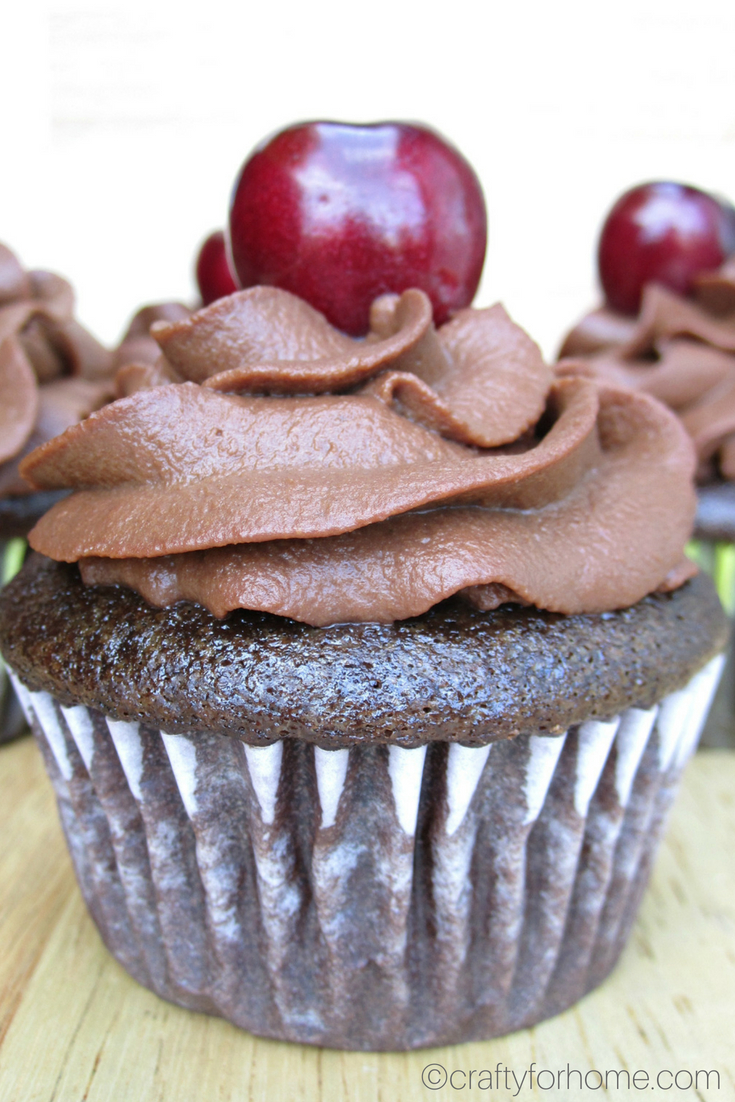 This frosting is not loaded with sugar, the sweetness comes naturally from sweet potato, chocolate chip, and maple syrup. If you would like it more sweet taste, you can add any other sweetener or icing sugar half a cup at a time.
More of eggless sweet:
Pin it to save it for later!