Follow these gardening tips on how to get the best tomatoes in the block by adding these 7 things before you put tomato plants into the planting hole.
Use This Helpful Guide For Creating A Tomato Planting Hole Recipe
Gardening is fun! There I say it! It is not only fun, but you can get free fruits and vegetables just a step away from your kitchen door. Every home garden needs at least one tomato plant.
Because there is nothing better than homegrown sweet and juicy tomato from your backyard that you raised it with love. Well, kids usually love to help with the gardening chore.
As an Amazon Associate I earn from qualifying purchases. This post may contain affiliate links. Please see the Disclosure Policy for details.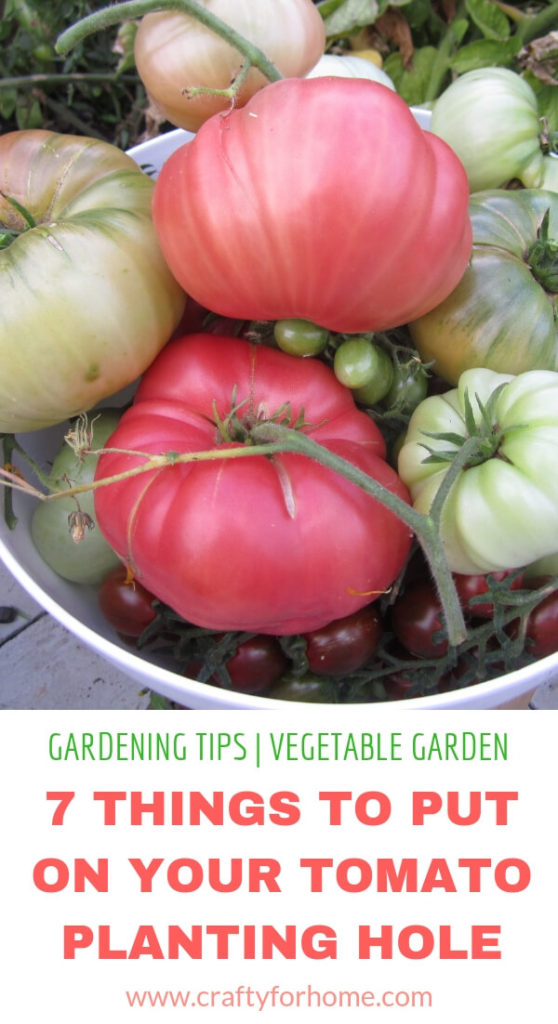 So, how do you get the best-tasting tomatoes in the block, you said. The key is by adding these seven things on the planting hole.
You will give the plant the right amount of fertilizer once and then forget about it until it is time to harvest them. You will amaze how tasty and juicy the tomato is, and you can compare it with the storebought one to make sure.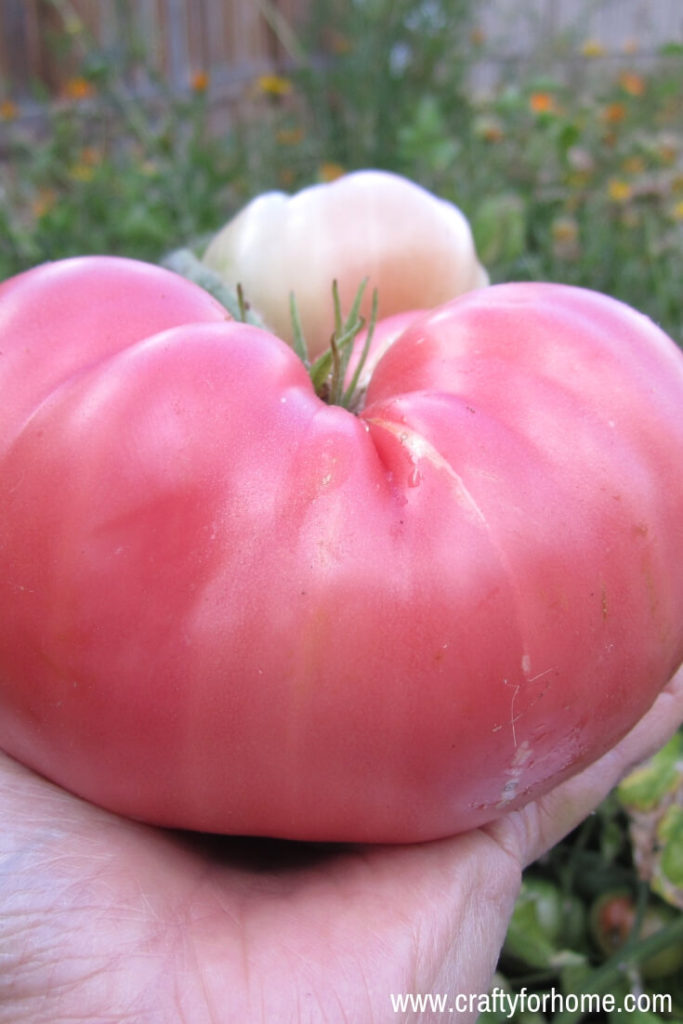 The best tomato fertilizer for the best tomato ever.
1. Eggshell
Every time I cook an egg, I collected these eggshells. The eggshell is an excellent calcium source, and one of essential mineral for growing tomato.
I put about 3 to 4 eggshell on the planting hole, and you can also sprinkle the crumbled egg shell around the little seedling to prevent cutworm.
2. Aspirin
There is lots of research done on aspirin for growing tomato. I am a believer in this matter. Aspirin will help tomato plant to increase the immunity system and fight multiple plant diseases like blight.
I always put 2 aspirin tablets per plant on the planting hole. I use one that has 325 mg dosage per pill. Also, spray the seedling with the aspirin solution before you transplant them.
Here is how to make aspirin solution, add 1 pill into a gallon of water, give it a good shake, then use the spray bottle to spray tomato seedling a couple of days before transplant them to the garden. Here is more info about using aspirin for tomato.
3. Bone meal
Bone meal is an excellent source of calcium and phosphorus. It is an essential organic matter to help tomato plant has a good root system and produce bountiful quality fruit. I put about 1/2 cup bone meal per planting hole.
4. Fish
Most of the gardeners use the fish head for this. But I have great success by using smelt fish, shrimp shell, fish scrape, and just about any unsalted raw seafood.
I don't get access to any fish head supply, as I live far from the coast or any fishery, but these frozen smelt fish is the cheapest, and there is a lot in one package enough for up to around 20 tomato plants.
If you use frozen fish, make sure you thaw it first. Fish has lots of trace amount of nitrogen, calcium, potassium, and phosphorus and some other essential minerals.
5. Banana Peel
I freeze banana peel in a large ziplock bag, and I thaw it whenever I ready to use them in the garden. I put two banana peel per planting hole.
Banana peel is an excellent source of phosphorus which is essential for growing tomatoes. Sometimes I add some old and overly ripe banana that I don't have time to turn it into banana bread.
6. Epsom salt
An excellent source of magnesium which is help tomato plant that always suffers from magnesium deficiency. One tablespoon is enough per plant.
7. Multivitamin / Calcium pill
One spring, I happen to have some old and expire multivitamin and calcium pills. So instead of tossing into the trash, I put 1 tablets each per plants. I was amazed by the result.
My tomato plants were growing beautiful and had a fantastic yield. Since then, I always add multivitamin and calcium pills on the tomato planting hole. I recommend the regular tablet or capsules, not the gummy one.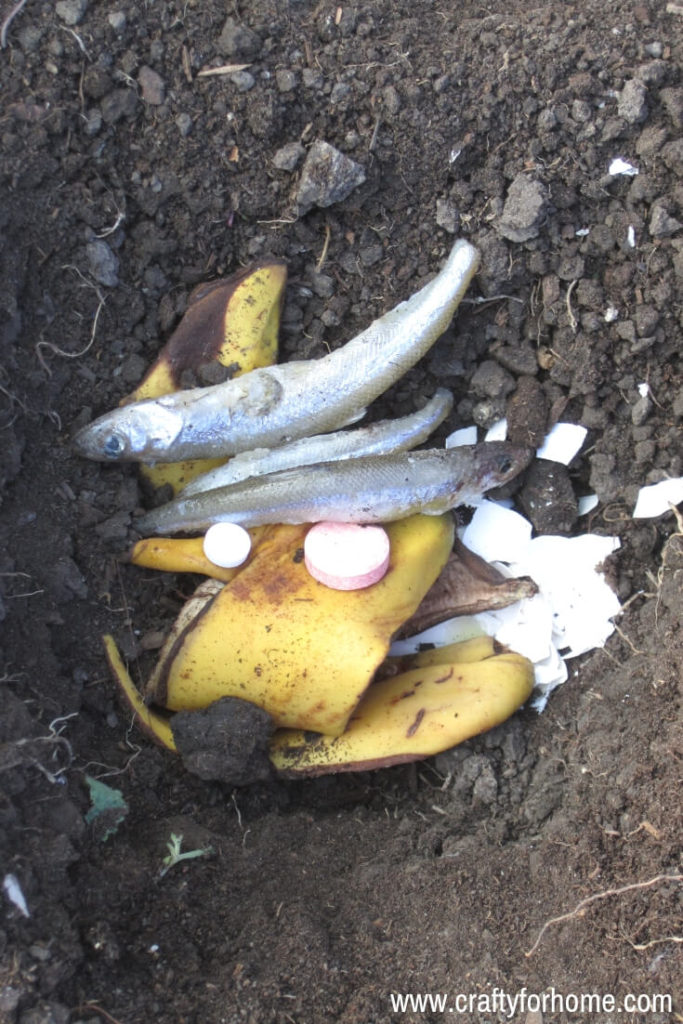 I put all these 7 things in one pile on top of each other as it shows on the image above.
What you need to do before putting tomato plants in the hole
You need to prepare tomato planting hole deeper. Once you put these 7 things on the ground, cover it up with about 1 or 2 inches of soil to make sure the root is not touching these things directly.
Remove the two lower leaves then put the seedling on, and make sure the hole is deeper than the original seedling container.
Fill it up with soil up to the second lower leaves node as it shows on the image below with the arrow pointing to, and create a little hill, so when you water them won't touch the plant.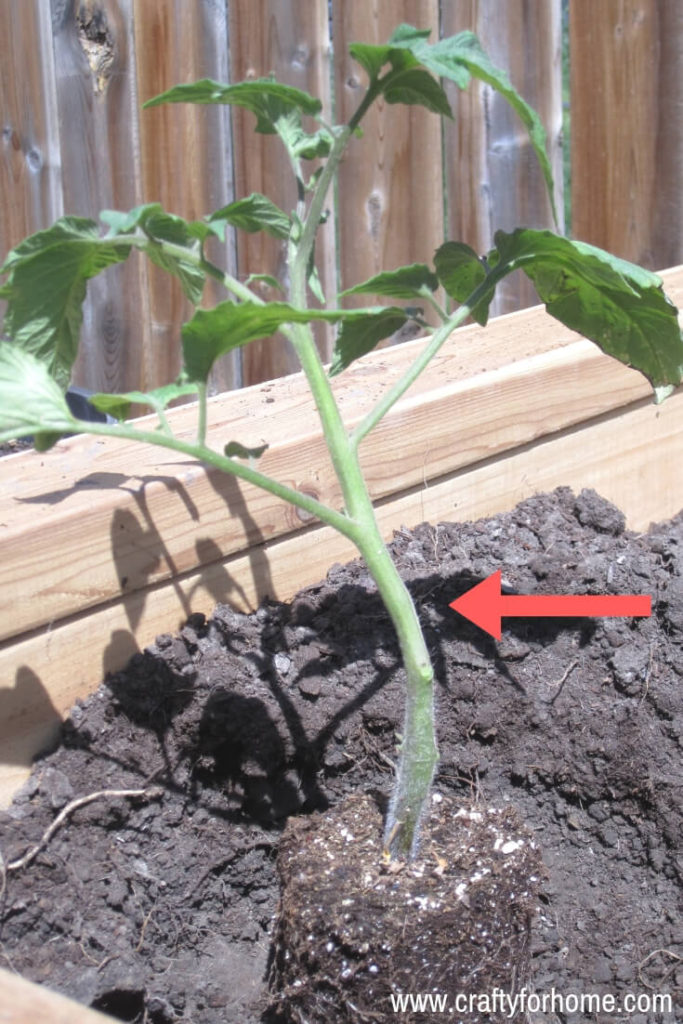 How to water tomato plant with Epsom salt solution
Once you transplant the tomato seedling, soak the soil thoroughly with water. Tomato likes to have the right amount of water, but it doesn't like soggy or overly wet soil because tomato plants prefer well-draining soil.
The best time to water them is in the morning, so it has times to dry up before evening comes.
Make a solution with 1 tbsp Epsom salt into 1 gallon of water. Water around the base of the plant with this solution once a month.
Get the best tomatoes in the block by adding these 7 things on your tomato planting hole. #gardeningtips #growingtomatoes
Click To Tweet
Do you know you can get more tomato plants for free in a week? It will save your times, and you will get the same tomato variety you like.
By adding these 7 things on the planting hole, you will get the best tomatoes ever in size and yield. But also keep in mind, we can not control specific natural matter that affects the tomato harvest too, such as too much rain, early frost or hail storm.
We can not avoid these things, but you certainly can cover the plant to prevent any damage from early frost or hail storm with frost blanket or row cover.
If you live in a colder climate with a short growing season, you might end up with too many green tomatoes when the first frost is coming. Don't worry. You can ripen green tomatoes indoors within a week or two.
Also, sometimes too much good things are not good either, it is better to get the soil tested. You might need to correct the soil ph first before adding some fertilizer.
More of tomato growing tips
This Best Tomato Fertilizer Helps To Increase The Harvest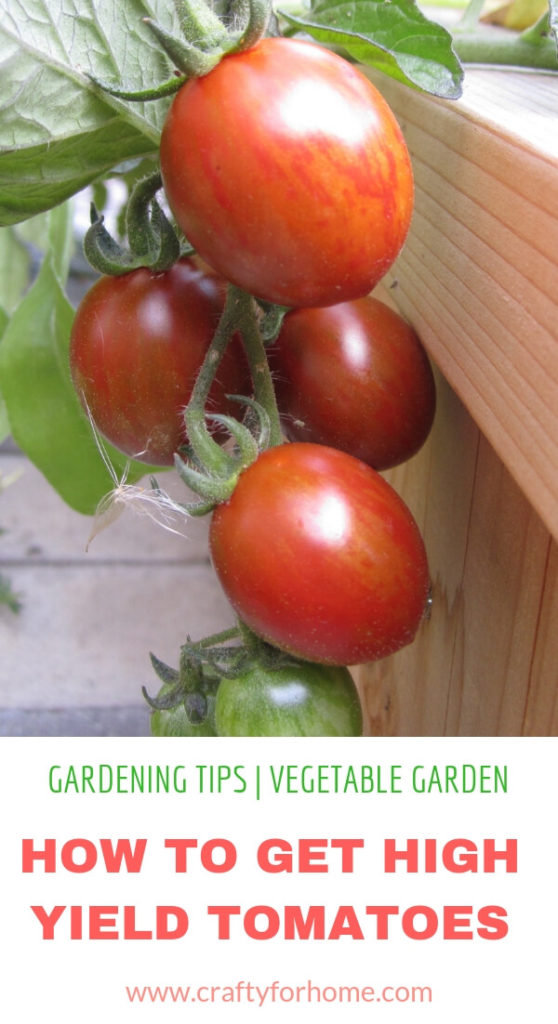 Plant these plants next to tomatoes to help it grow, benefit each other, deter certain pests and get the best tomato crops ever.
The easiest way to get more free tomato plants in a week without seed starting involved. 
Have you thought what to do with these tomato plants suckers? There are things you can do with these suckers whether you would like to remove it or not.