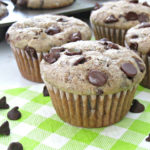 Easy chocolate chip muffins without egg. Use the milled flax seed to substitute the egg. Dairy-free, egg-free, nut-free.
1

cup

sugar

1/2

cup

dairy-free butter

2

tsp

baking soda

1/2

cup

milled flax seed

1

tsp

cinnamon

1

tbsp

vinegar

1

tsp

salt

1

cup

room temperature water

2

cup

unbleached all-purpose flour

2

cup

dairy-free semi-sweet chocolate chip

Crystal sugar for topping (optional)
Preheat oven to 350 deg F, prepare the regular size muffin tin, line it with muffin cups.

In a mixing bowl, beat the sugar and butter until fluffy.

Add baking soda, milled flax seed, cinnamon powder, vinegar, salt, water. Mix well.

Add flour, mix it until well combined, fold in 1 1/2 cup chocolate chip.

Fill the muffin cup with the batter about 2/3 full.

Bake it in the oven for 12 - 15 minutes until the toothpick comes out clean.
Do you make this Flax Seed Chocolate Chip Muffins? Write a comment, rate it and take a picture of your delicious meal, hashtag #craftyforhome or you can tag @craftyforhome on Instagram.