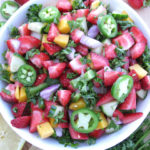 This strawberry salsa is easy, quick and fresh to serve for any summer party. Serve it on its own or a side dish for grilling season. Dairy-free, gluten-free.
Chopped the strawberry, cuke or cucumber, mango flesh, onion into smaller pieces.

Remove the jalapeno seed if you preferred. Slice it into smaller pieces.

Squeeze the lemon juice.

Put all ingredients into a serving bowl, add lemon juice, salt, and pepper. Add lemon zest if you preferred.
Do you make this Strawberry Salsa, write a comment, rate it and take a picture of your delicious salad, hashtag #craftyforhome or you can tag @craftyforhome on Instagram.