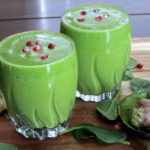 This smoothie is perfect for breakfast to start the day. It is a very healthy drink full of fiber, antioxidants, and vitamins.
Add more orange juice if the smoothie is too thick.
Using fresh squeezed orange juice or package one is perfectly fine.
Do you make this Easy Chocolate Chip Muffins? Take a picture of your delicious cookies, hashtag #craftyforhome, or you can tag @craftyforhome on Instagram.