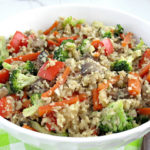 Easy cauliflower fried rice recipe for a healthy vegan inspired meals and loaded with vegetables. Healthy, soy-free, dairy-free, gluten-free, nut-free, vegetarian, vegan.
2

heads

cauliflower

1

stalk

broccoli

3

medium size carrot

1

onion

1

pound

white mushroom

1

red bell pepper

3

garlic

1

tsp

sesame oil

1

tsp

salt

1

tsp

black pepper powder

2

tbsp

cooking oil
Cut the stalk off from cauliflower. Cut the cauliflower into a smaller size, put them on the food processor with the S blade on it. Process it until it finely minced crumbles shape that resembled the rice. Use the pulse button if you need to.

Cut up the broccoli, onion, mushroom, bell pepper and carrot.

Minced the garlic finely.

Heat up the cooking oil on the medium size pan over medium heat.

Sautee onion until it softens, add mushroom, keep stirring it until the mushroom soft.

Add broccoli, bell pepper, carrot and minced garlic, stir it until all veggies are tender.

Add cauliflower rice, stir it for few minutes.

Add sesame oil, salt, and black pepper. Stir it until all seasonings well blended with the veggies. Serve.
Do you make this Cauliflower Fried Rice? Write a comment, rate it and take a picture of your delicious meal, hashtag #craftyforhome or you can tag @craftyforhome on Instagram.