Healthy baked Sheet Pan Onion Chicken for a quick and easy weeknight meal with simple ingredients, tender and burst with flavor!
This recipe is one of my go-to meals. For all of you that have been following my blog, maybe you notice I have lots of sheet pan recipe posts. I can't get enough with this cooking method. Especially when I have a busy day, and want to serve home cook meal for my family, then the sheet pan dinner is a winner for sure.
Don't get me wrong, I love eating out too or drive through, but that is not an option for everyday meals.
Having a day to day routine that needs to keep up, I have always make a quick and easy meals but still tasty for the family to enjoy.
Or the ever famous slow cook is also my options, who doesn't love the idea about this cooking method, you push the button, forget about it for three to six hours, then you have a tasty meal without lots of work in the kitchen.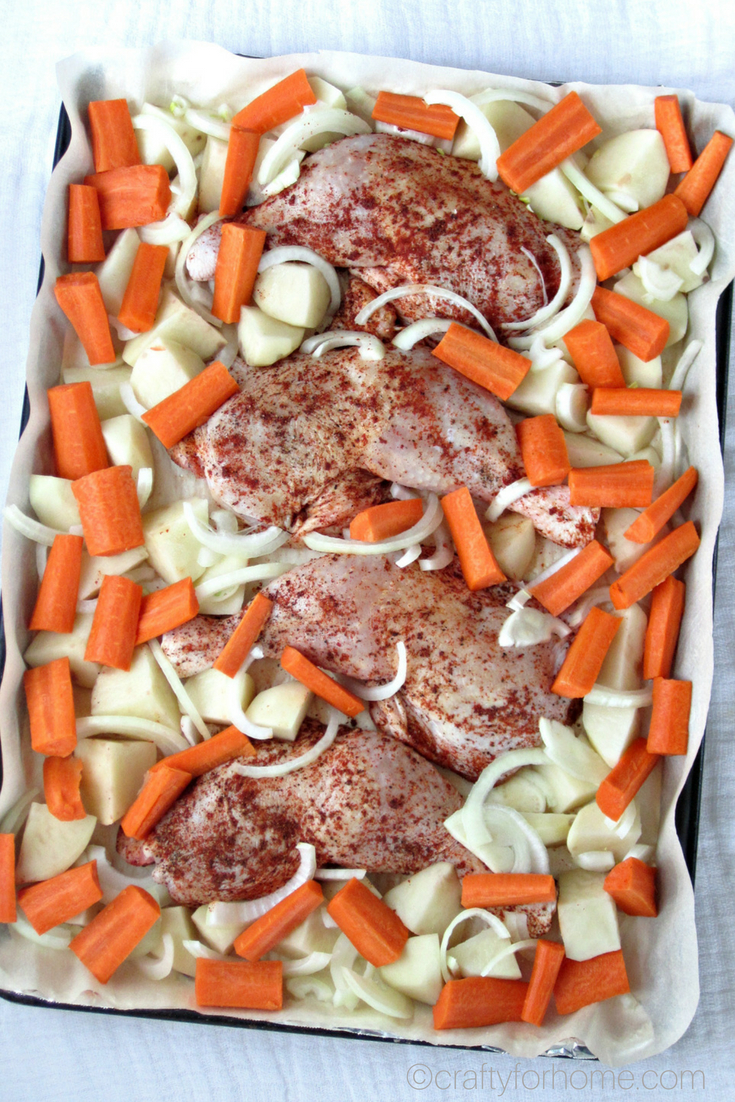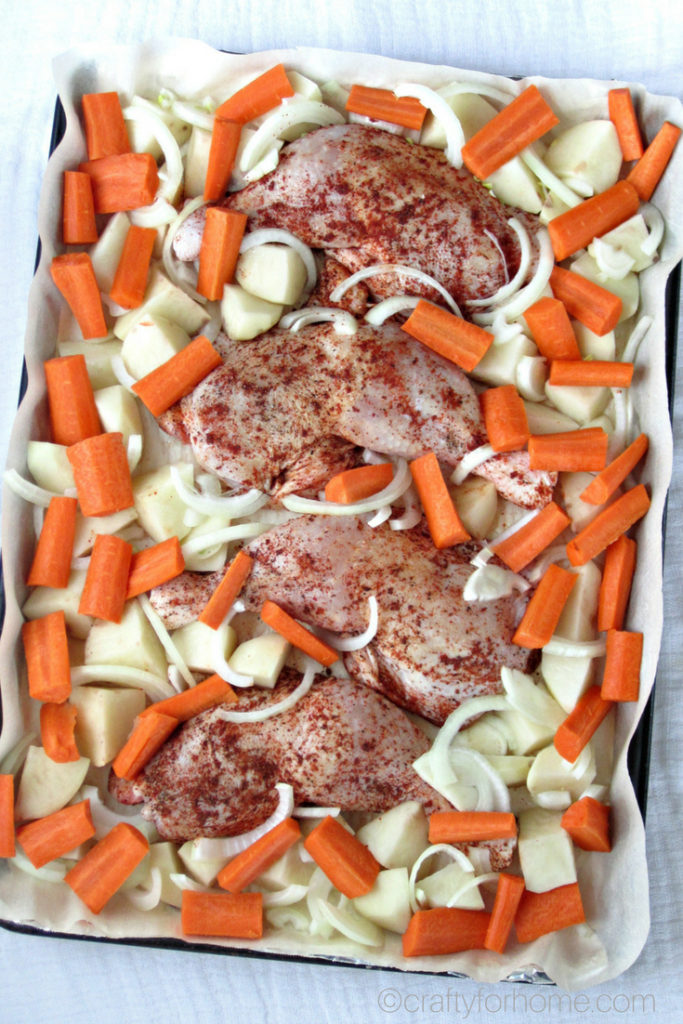 Ok, back to the recipe, this Sheet Pan Chicken Onion is very straightforward, you only need six ingredients plus carrot and potato. The best is marinate the chicken piece first with the seasonings for 30 minutes or even a day in advance.
Say you prep it in the night before bed, keep it in the fridge, then get it ready to bake 40 minutes before supper in the next day. But I am telling you that sometimes I forgot to do that, then I marinate it while I cut up some vegetables and the oven is preheating.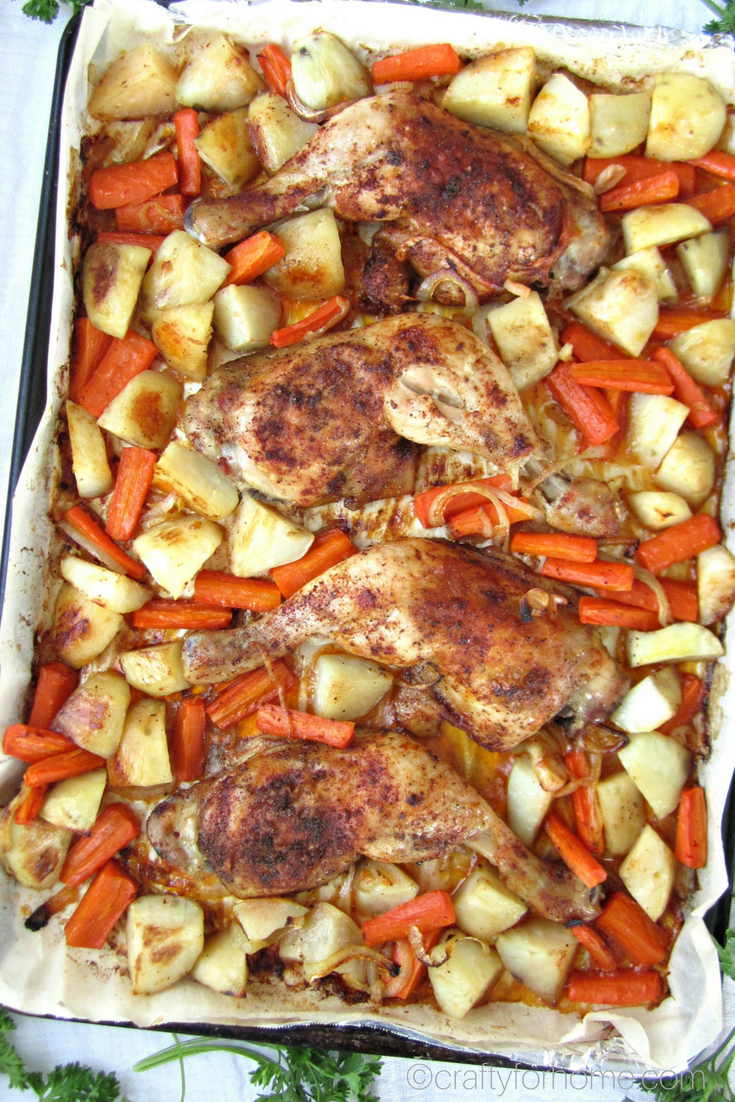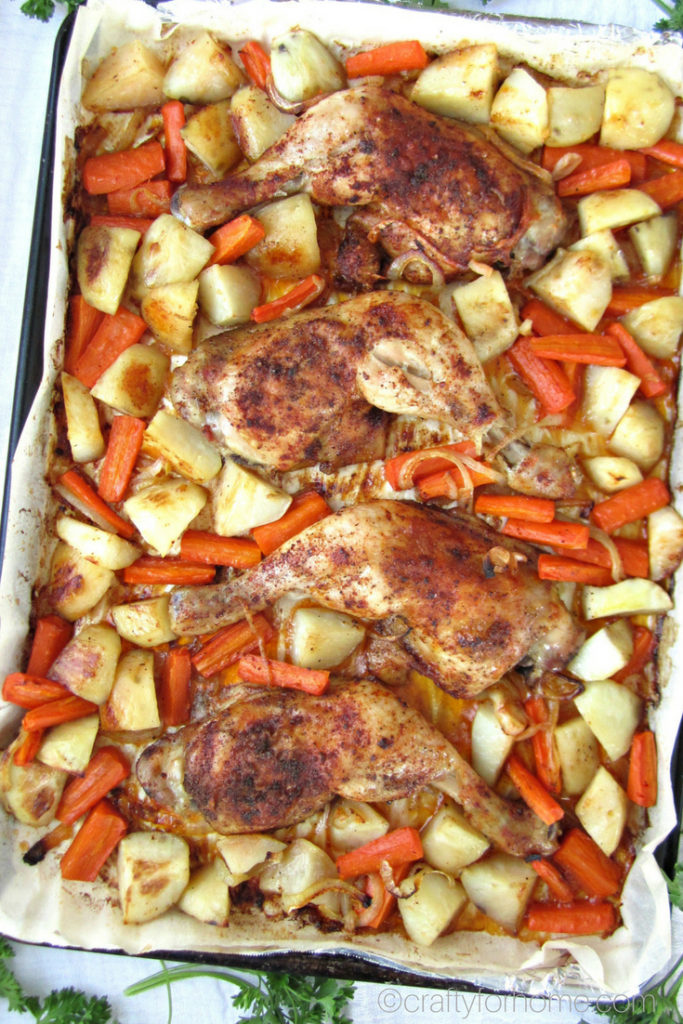 To prevent it stick to the pan, I recommend to layer the pan with non-stick foil or parchment paper. It also will save you more times without cleaning the pan after.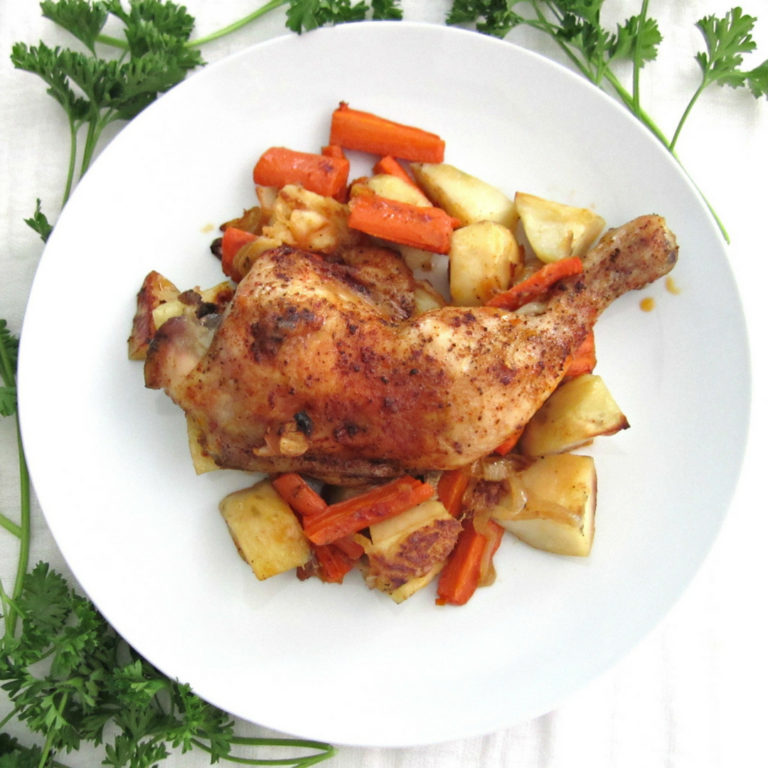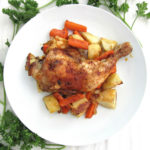 Sheet Pan Chicken Onion
Healthy baked Sheet Pan Onion Chicken for a quick and easy weeknight meal with simple ingredients, tender and burst with flavor!
Keyword:
chicken, sheet pan
Ingredients
4

chicken legs

1

onion

1

tbsp

paprika powder

1 1/2

tsp

salt

1

tsp

black pepper powder

6

medium potatoes

peeled and cubed

6

carrot

peeled and slice in chunk

1/4

cup

melted butter (dairy-free)
Instructions
Marinated the chicken with salt, black pepper powder and paprika powder about 30 minutes or a day in advance.

Preheat oven to 425° F. Prepare the sheet pan, layer it with nonstick foil or parchment paper.

Arrange the chicken legs in the middle of the pan, cubed potatoes and carrots around the side of the chicken

Arrange sliced onion all over the pan.

Pour melted butter on top of chicken and veggies.

Bake it in the oven for 35 minutes.
Recipe Notes
Preparation is only around 10 minutes from preparing vegetable until it ready to bake. It does not include marinating time. You can do marinate the chicken in 30 minutes or a day in advance.
I use dairy-free butter, feel free to use any butter you like.
Do you make this Sheet Pan Chicken Onion? Take a picture of your delicious meal, hashtag #craftyforhome, or you can tag @craftyforhome on Instagram.
There you go, you will have a complete meal in one pan for the whole family. For sheet pan cooking, I choose dark meat like chicken thigh or legs because this part of the chicken is juicier after cooking.
I also use chicken breast, but this one is better to bake in short amount of times and higher temperature to prevent it dry after cooking or do slow cook method to get it soft and juicier.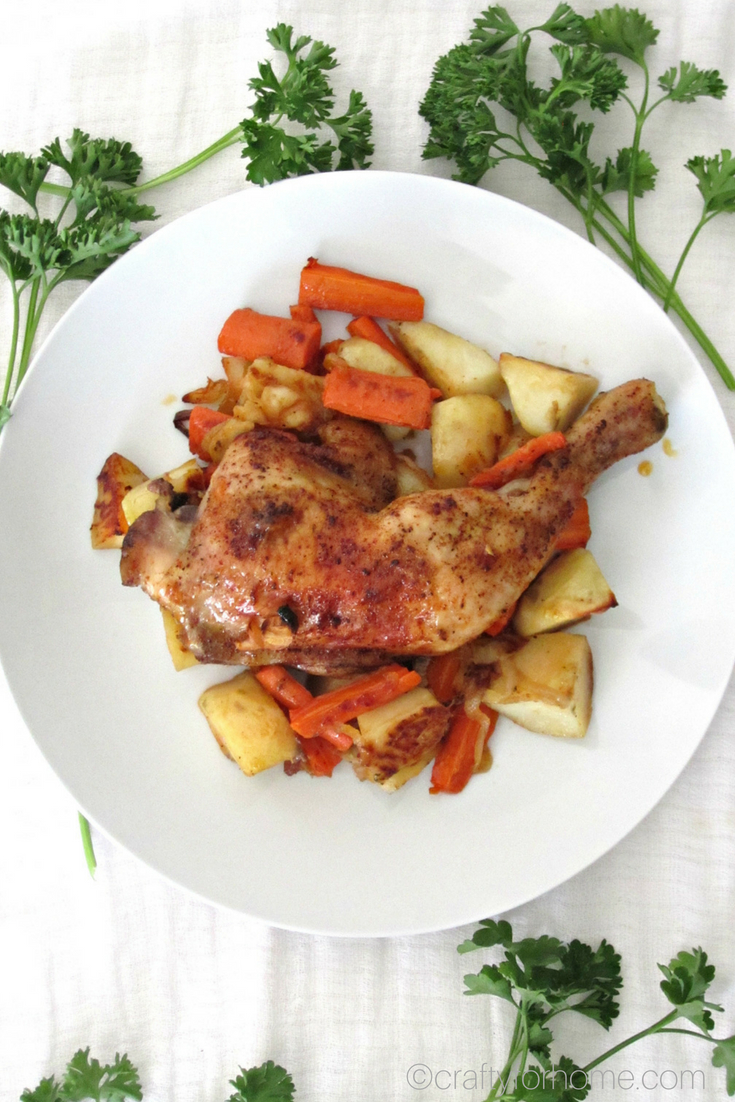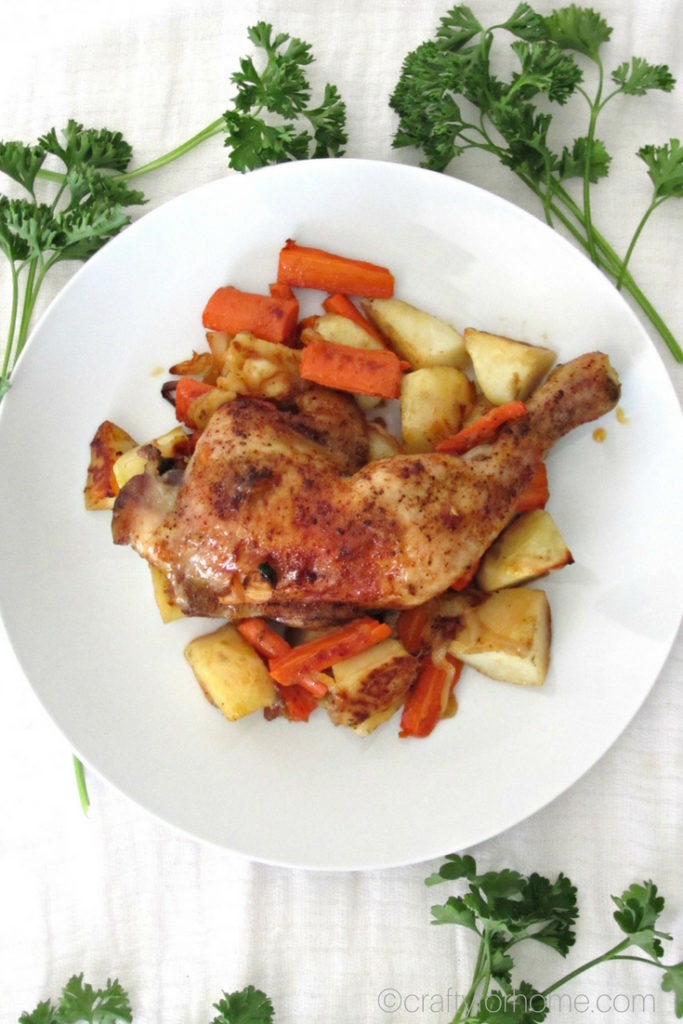 Do you have your favorite go-to meals for the family when you have a hectic day? I am sure everyone does. Do you like chicken dinner? Well, that is a silly question, I know, well who doesn't love chicken for supper if you don't have a dietary restriction. Then try this quick Sheet-Pan Chicken Thigh With Root Vegetables, this meal will save your day too.
Pin this recipe to save it for later!