A traditional dairy-free and gluten-free Indonesian chicken rice porridge served with aromatic broth, omelet and shrimp cracker.
Bubur is porridge, ayam is chicken. The base ingredient is rice. So bubur ayam is Indonesian language for Chicken Rice Porridge. It is one of the staple food in Indonesia, each city has different seasoning and how to serve it, but it is the same base for the ingredient, rice and chicken.
This post may contain affiliate link, please see Disclosure Policy for details.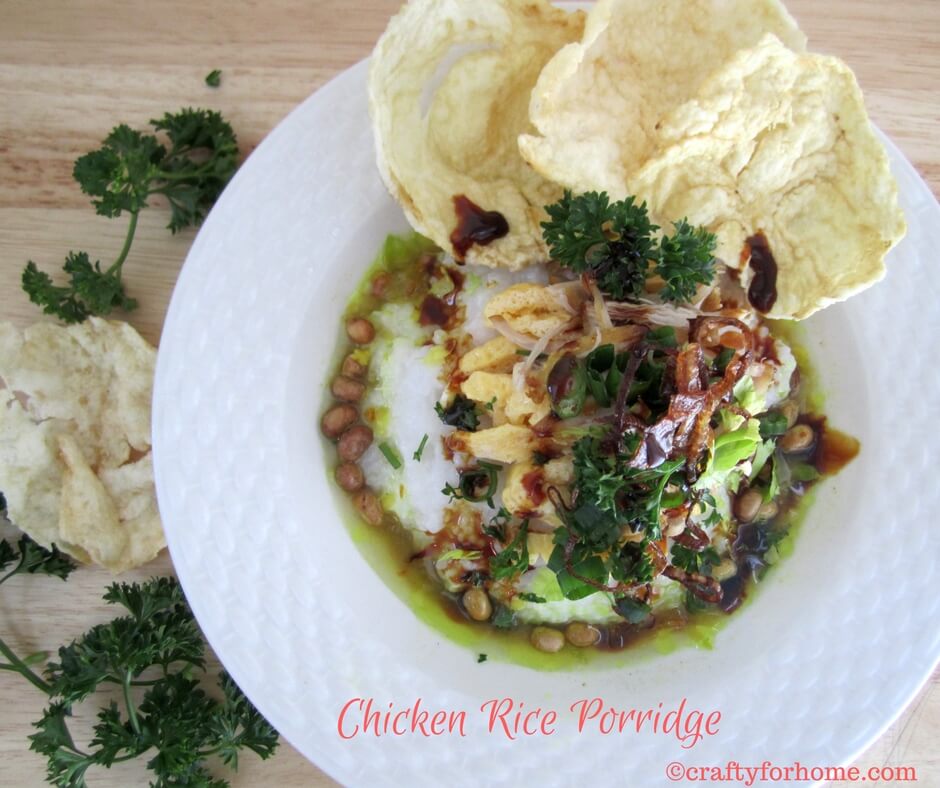 When we were a kid, my mom usually fed us chicken porridge when we get sick too. I guess it because of containing all necessary nutrient like chicken soup to help our body to fight with common cold or flu, and it sure can fill up the belly at the same time, while we were just stayed in bed waiting for that sickness gone. We also feed the baby who starts eating solid close to one-year-old with this porridge, without ingredients for garnish and condiment, it still a better choice than package store-bought baby food, but it is totally up to the parent choice for this one.
You can serve the porridge with few spoons of the yellow chicken broth or just the porridge with the other ingredients without broth. If you like all the aromatic herb like lemongrass or coriander then you will know how the broth taste will be, it tastes like chicken soup with the citrus fragrant, just like any other Asian food with similar herb they use on cooking.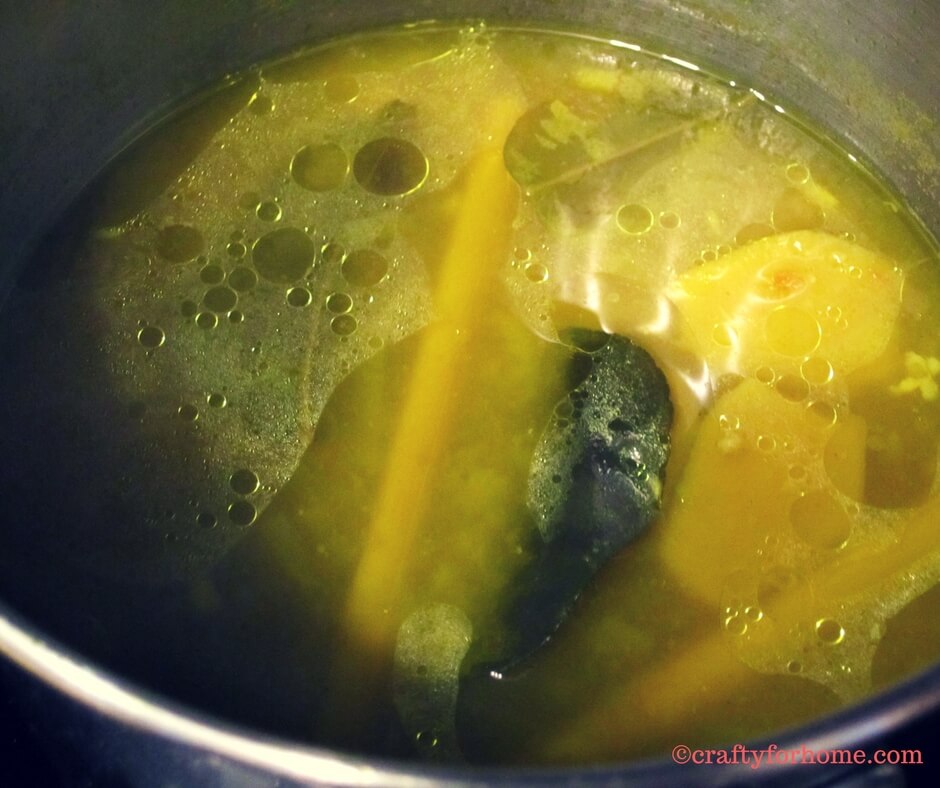 I use chicken thigh for the recipe. But you definitely can use chicken breast, and you can replace water with chicken broth instead.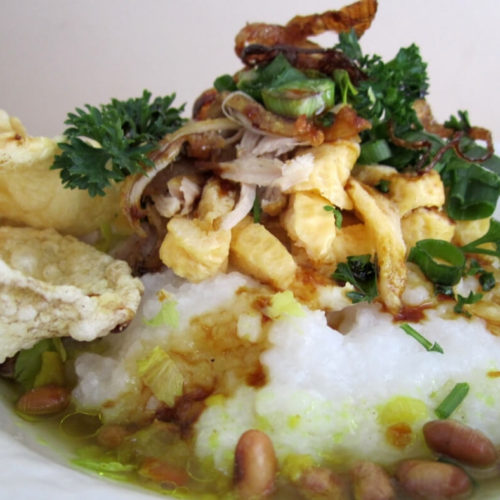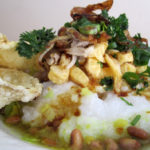 Bubur Ayam (Chicken Rice Porridge)
A traditional dairy-free and gluten-free Indonesian chicken rice porridge served with aromatic broth, omelet and shrimp cracker.
Ingredients
For the rice porridge
1

cup

rice ( I use jasmine rice)

6

cups

water or chicken broth

1

stalk lemongrass

1

clove garlic, chopped

1

shallot, chopped

1

boneless skinless chicken thigh

1

tsp

salt

3

bay leaves
For the yellow chicken broth
2

2 boneless skinless chicken thigh

1

1 stalk lemongrass

1

1 shallot

4

4 cloves garlic

1

tsp

coriander powder

1/2

tsp

white pepper powder

1

inch

fresh ginger or 1 tsp ginger powder

1

inch

fresh turmeric or 1 tsp turmeric powder

2

bay leaves

3

lime leaves

1

tsp

salt

1

tsp

cooking oil

2 1/2

cups

water

enough oil for frying the cooked chicken for garnish
For garnish
2

egg

1

tsp

cooking oil

chopped fresh parsley

chopped fresh celery leaves

chopped green onion

fried shallot

Fried soybean

Indonesian sweet soy sauce (optional)

Shrimp cracker or emping belinjo ( optional)

shredded fried chicken
Instructions
For rice porridge
Rinse the rice, put it in the medium size pan, add all ingredient.

Cook it over medium heat, once the rice absorbs the water, keep stirring it to prevent scorching or burn the rice.

It is somewhat a labor in the kitchen, you required to stand up in front of the stove until the porridge ready, the rice will look soft and mushy, the chicken is cooked and fall apart when you stir the porridge. It is similar to rice pudding consistency.

Turn the heat off and set aside.
For the yellow chicken broth
Note: You can actually cook this at the same time as the porridge.

Using the pestle and mortar or blender, grind the shallot, garlic, and turmeric, or just mince it.

Peel the ginger skin off then bruise it with knife or spoon.

Also, the same way with lemongrass, bruise it before cook will release the fragrant better while cooking.

In a saucepan over medium heat, put oil then add the ground (minced) shallot, garlic, turmeric.

Add lemongrass, lime leaves and ginger, saute until fragrant.

Add chicken, coriander, white pepper, bay leaves and water, once it boils, turn the heat down, add salt and simmers the broth until the chicken cook, set aside.

Take the chicken out, fry the chicken until a little bit dry, then shred it.
For garnish
Heat up the oil and fry the egg make into omelet. Slice thinly.
To serve
Put rice porridge on the bowl, add few spoons of yellow chicken broth, top it up with garnish ingredients. Best to serve hot or warm porridge.
Recipe Notes
Cooking time is approximate. If you prepare the garnish in advance, then it will be faster to cook until serve.
If you try baking this brownies, post your picture and hashtag #craftyforhome or tag @craftyforhome on Instagram.
Garnish For Chicken Rice Porridge
Make omelet from the two eggs, then slice it up thinly.
To make the fried shallot, slice the shallot then fry it until a bit brown but not burn, you can use the oil from frying the cook chicken thigh or use the different oil.
For shrimp cracker or emping belinjo, this is optional, as some people don't like those things, but it adds the authenticity of the food origin. Most of these are available in any Asian grocery store. You can make the shrimp cracker from scratch like the recipe here or here.
For Indonesian sweet soy sauce, it is optional too, as some people avoid eating soy product due to the dietary restriction. It is different than regular soy sauce, Indonesian sweet soy sauce has a thicker consistency and sweet taste. Same with fried soybean, you can omit it if you prefer.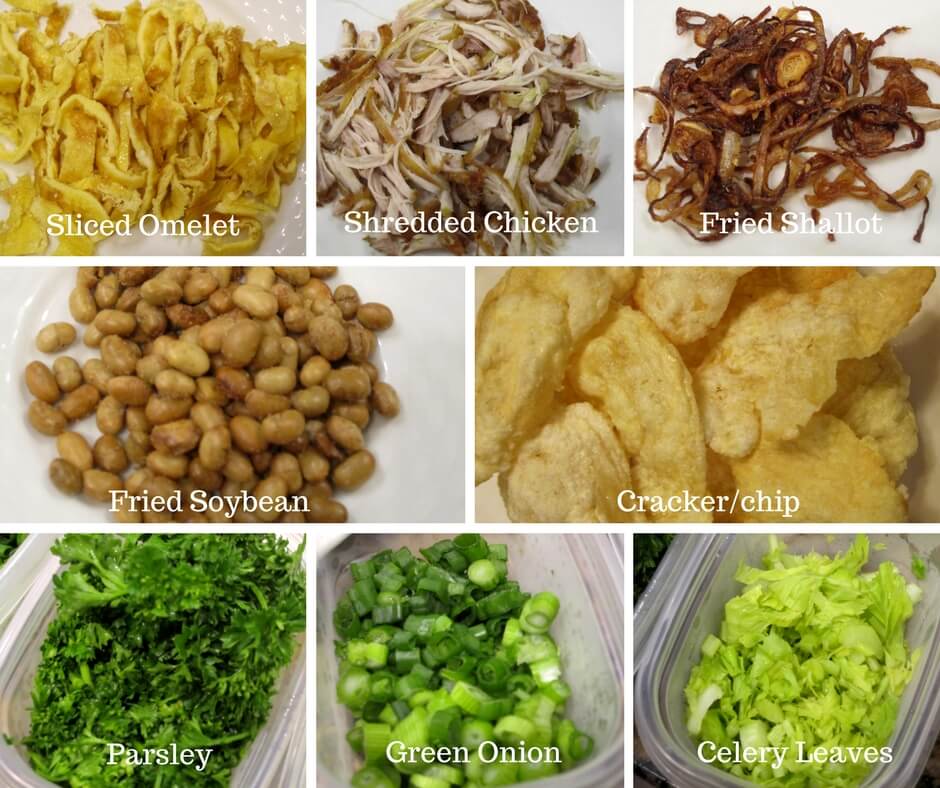 How To Serve Chicken Rice Porridge
Put the porridge on the plate or bowl, add 3 or 4 tbsp of yellow chicken broth over porridge, garnish it with shredded chicken, sliced omelet, chopped green onion, chopped celery leaves, chopped parsley, fried shallot, fried soybean. Top the porridge with sweet soy sauce if you use it. Serve it with shrimp cracker or emping belinjo.
If you like to add spicy kick into it, you can add a teaspoon of hot chili powder or crushed Thai chili when you serve the porridge.
You can also serve the porridge only without garnish if you prefer.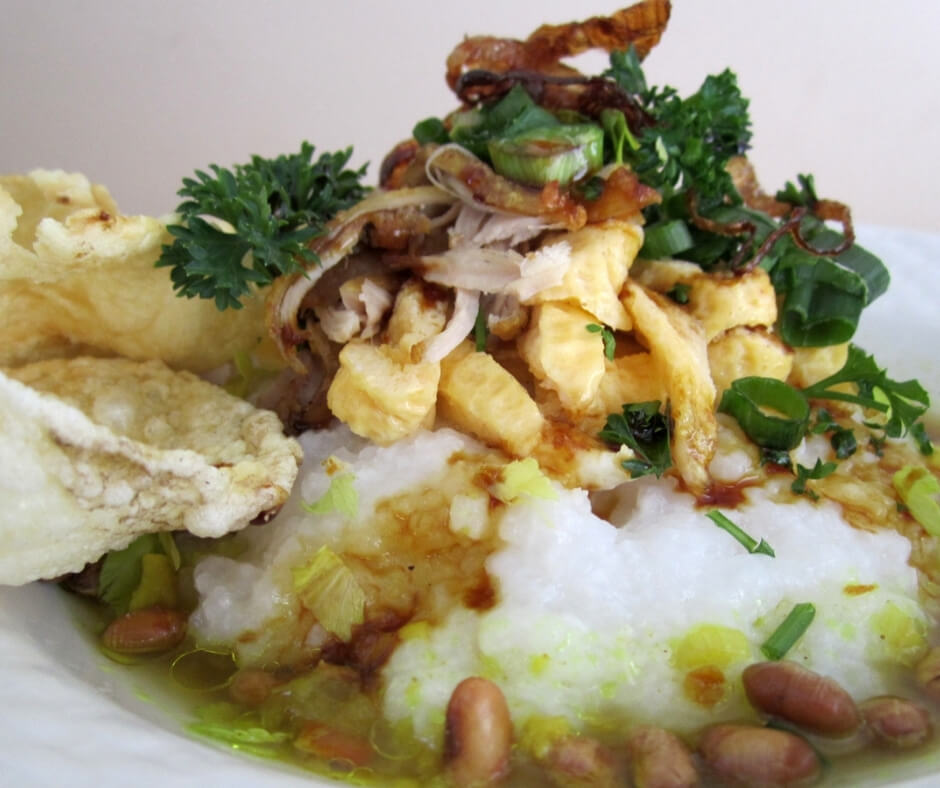 In Singapore and Malaysia, I believe it called congee. In Indonesia, we can easily find rice porridge everywhere, from the people who sell it going around the town by bicycle, motorcycle, simple cart, or in a restaurant. Each city has a different name and a little bit of different taste. This day, chicken rice porridge is not only for breakfast but it also for lunch or dinner. Now, I enjoy it for supper as it is filling and still a complete meal on a bowl.
More Indonesian inspire recipes