Salmon is one of the easiest ingredients to work with. Do you eat salmon a lot? We do, especially my oldest daughter, she loves to eat seafood. Instead of cooking the salmon on the stove, fry or pan searing, I like to just pop it in the oven, simple and mess-free. Bake the salmon at the same time with the vegetables also cut the cooking time, as everything will be ready at the same time. All kind of vegetables can be used here, if you like broccoli or cauliflower, that is perfect. If you like tomatoes and kale instead, that is also perfectly fine. You can add more or double up the number of vegetables you like. Less seasoning also makes the salmon and vegetables keep on its own flavor.
If you have limited time to cook on the weekdays, like me who always catching up with the kids after school schedules, this recipe is perfect. You can prepare all ingredient in the day before, keep it in the fridge in a separate container or ziploc bag for cut-up vegetable and salmon in the other container or ziploc bag. Just season it with salt and pepper while waiting for the oven preheated.
The taste of the vegetables I use here is complimented each other, what I always thought salt and pepper is enough seasoning for this. You can serve it with the potato that baked on the same pan or serve it with rice, it is a simple and complete dish in no time.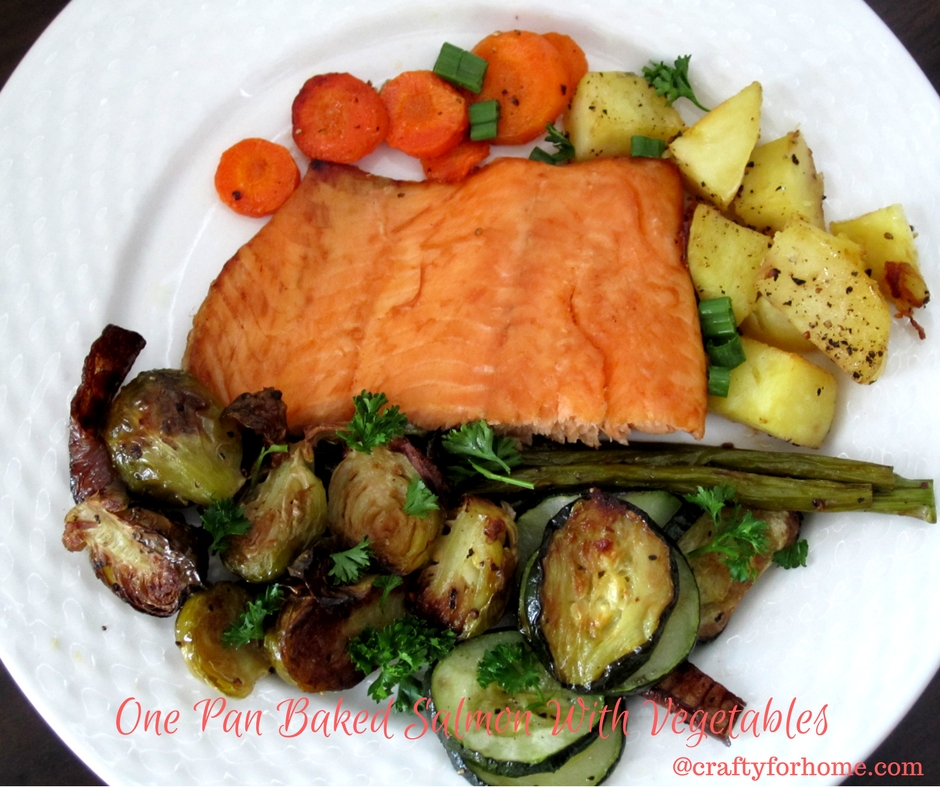 One Pan Baked Salmon With Vegetables
Ingredient
Salmon fillets
4 medium size potato
1/2 medium size red onion
1 zucchini
1 bunch of asparagus
1/2 pound of brussels sprout
3 carrot
salt and freshly cracked black pepper
olive oil
Direction
Preheat oven to 425°F
Chopped all vegetables, cut off the hard part of the asparagus.
Put the nonstick foil on the baking sheet pan, I use foil for easy cleaning, if you preferred without it, then just lightly spray the baking sheet with cooking oil
Arrange all ingredient on the baking sheet, drizzle it with olive oil, sprinkle some salt and fresh cracked black pepper.
Bake it for 15 minutes then flip the salmon to get crispiness on the salmon skin, flip all the veggies to get a nice charred around it, bake for another 15 minutes.
Remove from the oven, let stand for few minutes then serve
You will love to cook the salmon this way, no more splatter oil on frying pan, no more plenty kitchen ware to clean, other than cutting board, knife and dinning ware, or maybe ask the furry baby to lick the plates clean for you…kidding… Anyway, there always no leftover if I cook this for dinner, which is good too, no extra storage container.. wait.. no? Well, leftover is good for lunch tomorrow but it seems everybody in my family like this, so it always finishes at one sitting, except my little one, still working on it.
Pin this recipe to save it for later!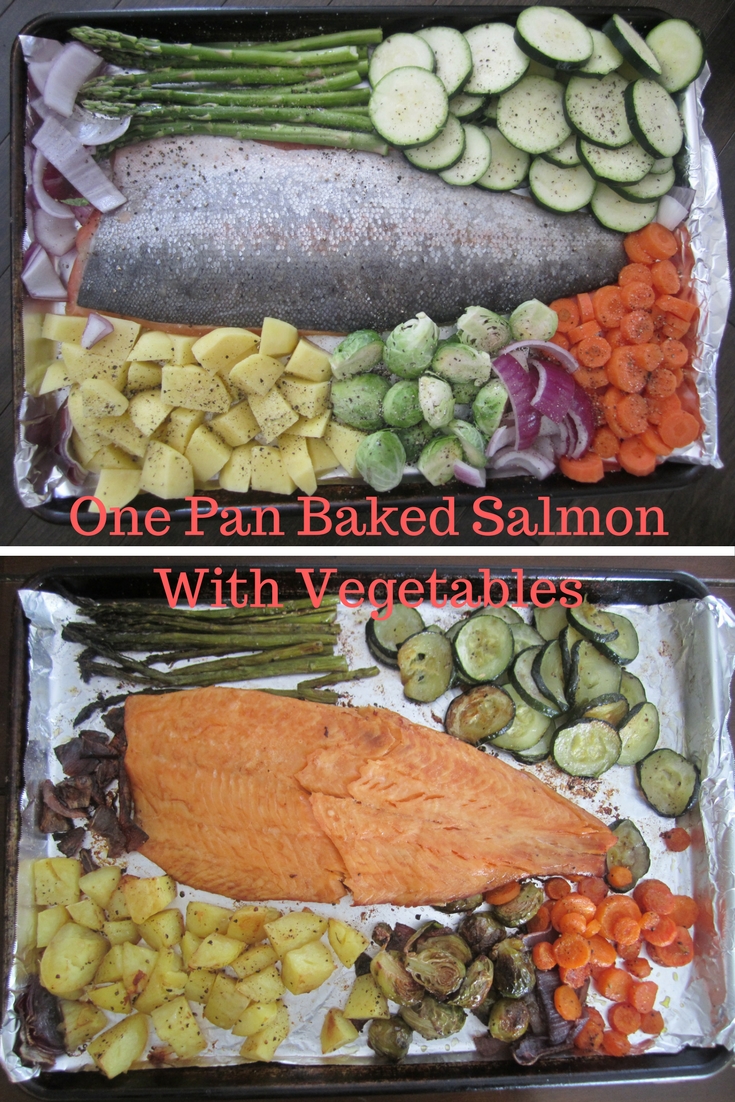 Well, I hope you like the recipe as much as we do.