The second day of the holiday cookie baking week. I bake chocolate chip oatmeal cookies. Maybe there is nothing special about this cookie, but here around me, this cookie is always a hit. So it is a special cookie that deserves to be included in holiday cookie tray.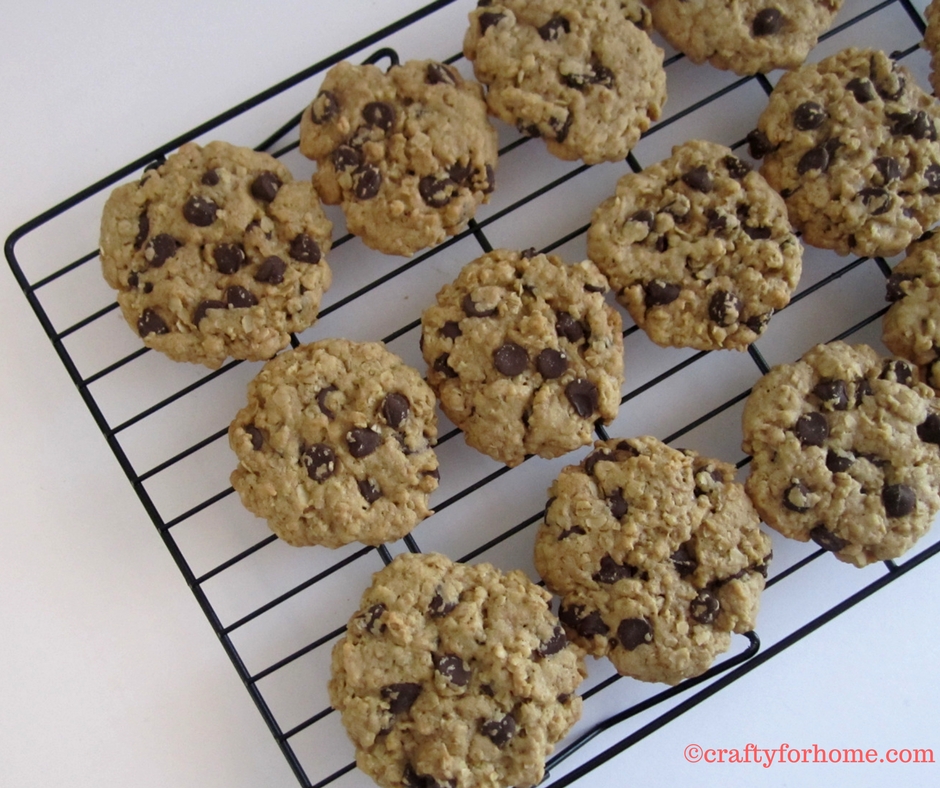 I like Chocolate Chip Oatmeal Cookies because:
Every one love chocolate chip oatmeal cookies.
All the ingredients are the basic staple in the pantry, so it always available.
Easy to make with all the basic tool, no special tool needed.
It is one of the comfort food in the cookie category, this cookie has it all, chocolate and oatmeal.
You can modify this cookie any way you like, if you like chewy then add molasses or double up the brown sugar. If you avoid sugar, feel free to replace the sugar with honey, agave syrup, or any other sweetener your choices.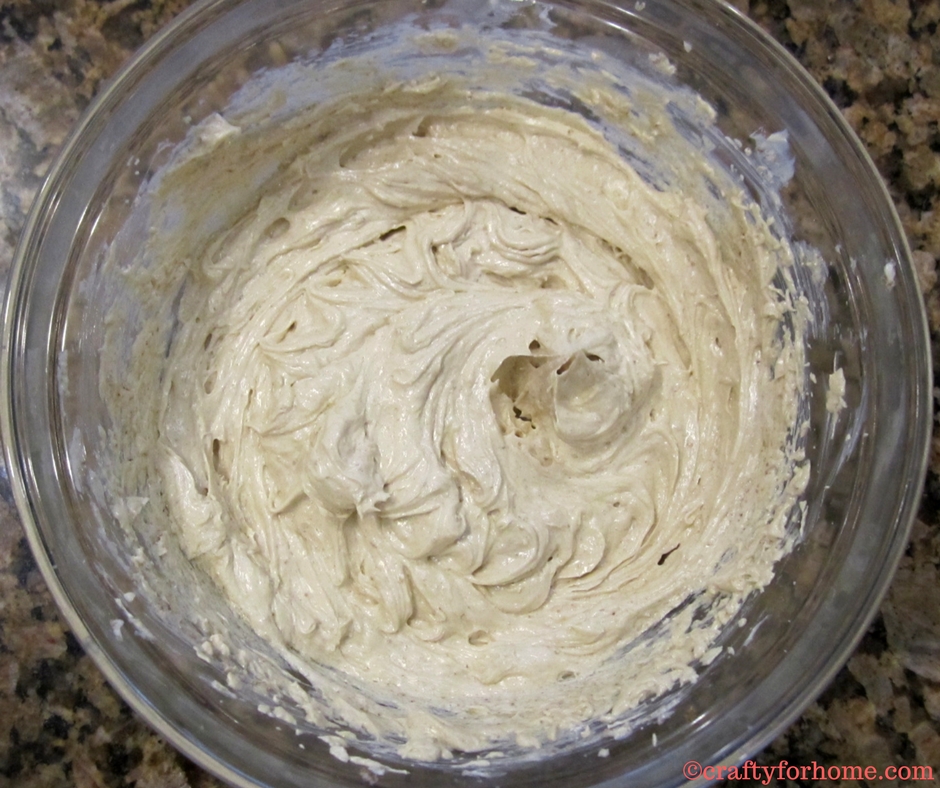 There is no standard how sweet the cookie has to be, I actually don't like overly sweet cookies, so you can add more sugar or another sweetener if you like, or reduce the amount of sugar or another sweetener if you prefer slightly sweet cookies.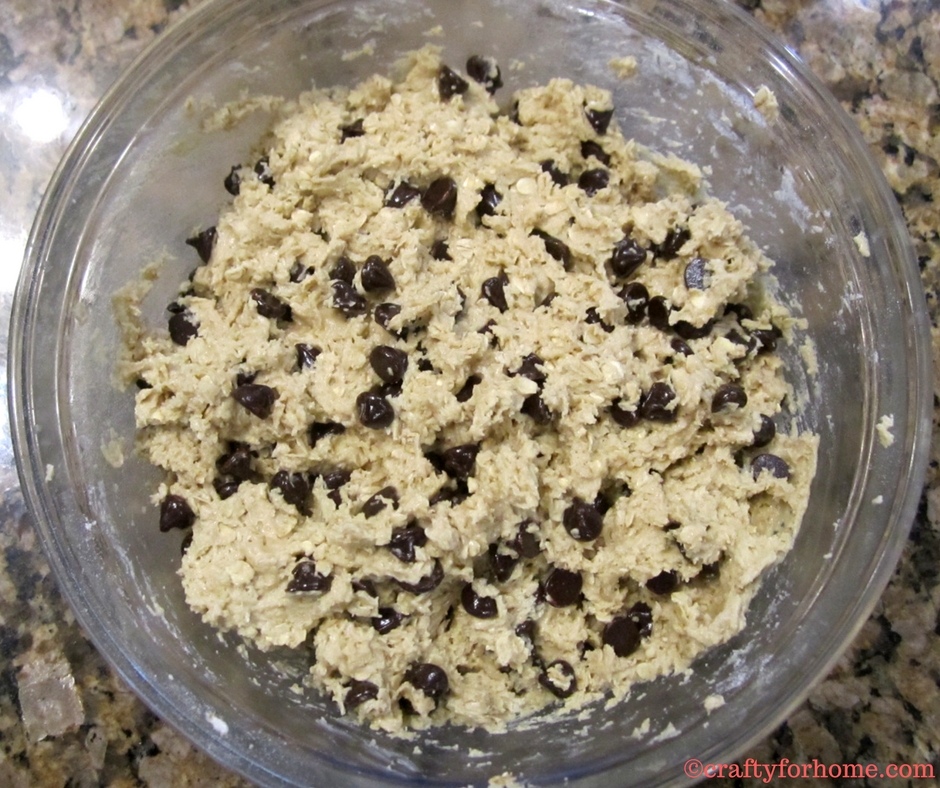 Chocolate Chip Oatmeal Cookies
Serve: 42 pcs
Ingredients
1 cup dairy free butter
1/2 cup sugar
1/2 cup brown sugar
2 large eggs
1 tsp baking soda
1 tsp baking powder
1/2 tsp salt
1 tsp vanilla extract
2 tbsp dairy free milk
2 cups  unbleached all-purpose flour
1 and 1/2 cup quick oat
1 and 1/2 cup semi-sweet dairy-free chocolate chip
Direction
Preheat the oven to 350° F
On the mixing bowl, use the electric mixer, beat the sugar, brown sugar and butter until pale and fluffy.
Add egg, beat well until smooth.
Add salt, baking powder, baking soda, vanilla extract, milk, mix everything until well blended.
Add flour, blend it well.
Add oat, mix it until all blended, you can use the electric mixer to do this or with the spatula will work just fine.
Add the chocolate chip cookies, mix it all together with the spatula.
Put the parchment paper on the baking sheet, by using spoon, drop the cookie dough a spoon at a time on the baking sheet with space an inch between the cookies.
Bake it in the oven for 10 – 12 minutes until it gets slightly golden brown on the bottom of the cookies, please do not over bake it.
Leave it cool on the baking sheet for five minutes, then cool the cookies on the wire rack before put them in the cookie jar.
Please make sure soften the butter first before blending it with sugar, leave the butter at room temperature until soft but not melted. I use dairy-free butter that has the soft consistency, so I don't need to leave it at room temperature first, it works just fine blending this dairy-free butter right from the fridge.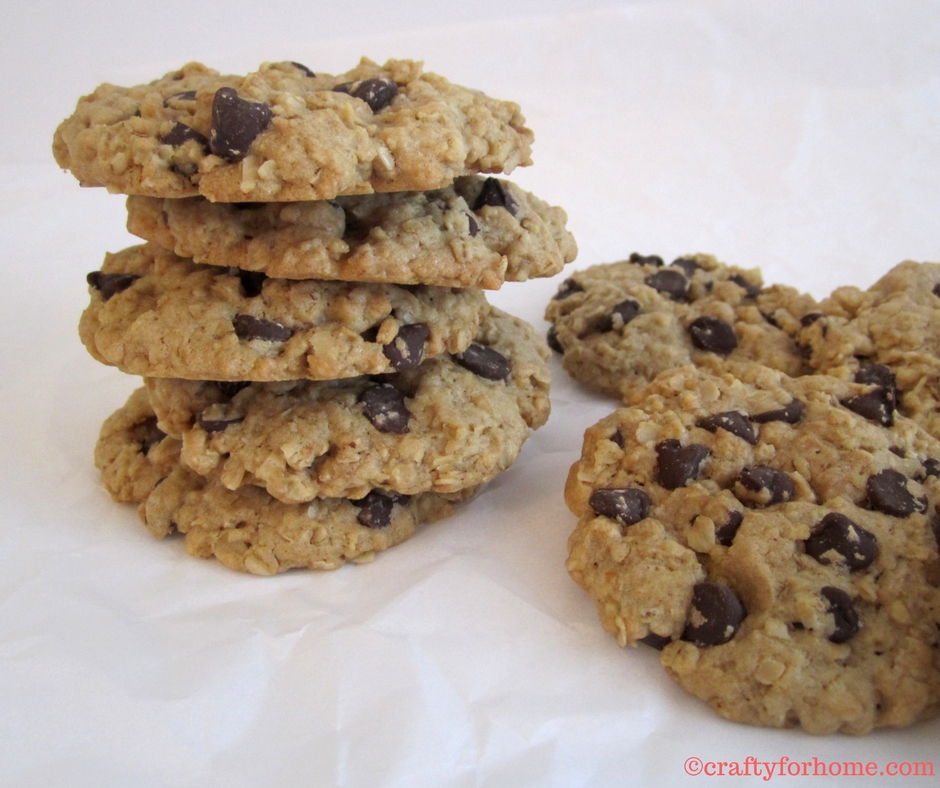 I dare you to stay away from freshly baked Chocolate Chip Oatmeal Cookies. I have to admit, I ate few already while waiting all the cookies baked. The soft and chewy bite of fresh baked cookies, or the melted chocolate chip when the cookie was still warm, it is very comforting.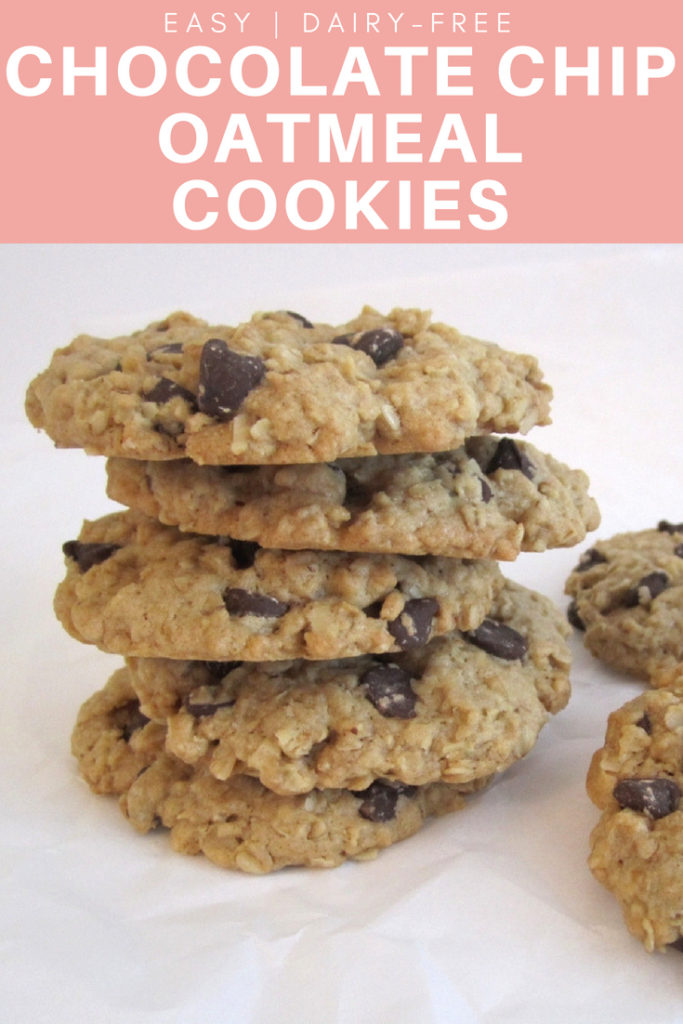 If you make this Chocolate Chip Oatmeal Cookies, write a comment, take a picture, post it and tag #craftyforhome on Instagram and don't forget to pin it on Pinterest, I would like to know if you like this cookies as much as I do.