It is sweet potato, but it is purple. It is donut, but it is baked instead of fried. Purple sweet potato also called purple yam has lots of nutrients, just like any other purple fruits or vegetables like blueberry, I believe purple sweet potato has high of antioxidant properties. I love it on smoothies, baked goods, or just enjoy it on its own. The hard part is try to feed my kids with this goodness on its own. It always impossible, they turn their nose off as soon as I mentioned it. So, I figured if they like baked good,  why not make it into baked donut and of course dairy free. After I search around, I came across this recipe, it called for pumpkin as main ingredient but it work wonderfully with sweet potato. To get the purée consistency, you can put the sweet potato in microwave, baked, steamed, or boil it with little bit water until it soft when you poke it with fork then purée it on food processor. It doesn't looks like regular yeast donut dough but it is more like cake consistency dough, and I use the donut mold pan to bake it.
Baked Purple Sweet Potato Donuts
Ingredients
1 1/2 cup purple sweet potato purée
1 cup sugar
3 eggs
1/2 cup cooking oil
1 tsp cinnamon powder
1 tsp baking powder
1/2 tsp salt
1 3/4 cup all purpose flour
Directions
Preheat oven on 350 deg F.
In medium mixing bowl, whisk eggs, sugar, and oil until mixed, add cinnamon, baking powder, salt then mix it.
Add purple sweet potato purée, mix it, add flour and fold it until well blended like cake consistency.
Use spoon to pour the batter on donut mold pan, or use the piping bag for easiest way and messy free.
Bake it for 13 minutes or until tooth pick come out clean.
Cool it on baking rack.
From this point you can glaze it with your favourite one. Here I use the simplest chocolate glaze and I use this dairy chocolate glaze for cake pop too.
Simple Chocolate Glaze 
Ingredients
1 cup dairy free chocolate chip
2 tbsp dairy free butter
1 tbsp dairy free milk
Directions
Put all ingredient in microwave safe bowl, put in microwave for 1 minutes, keep checking it to make sure it is not burnt.
mix it well until smooth consistency, if it too thick just add more milk a teaspoon at a time.
Hope you enjoy it as we do, my kids love this donut because it colourful too. And the best thing is the donuts is baked and dairy free.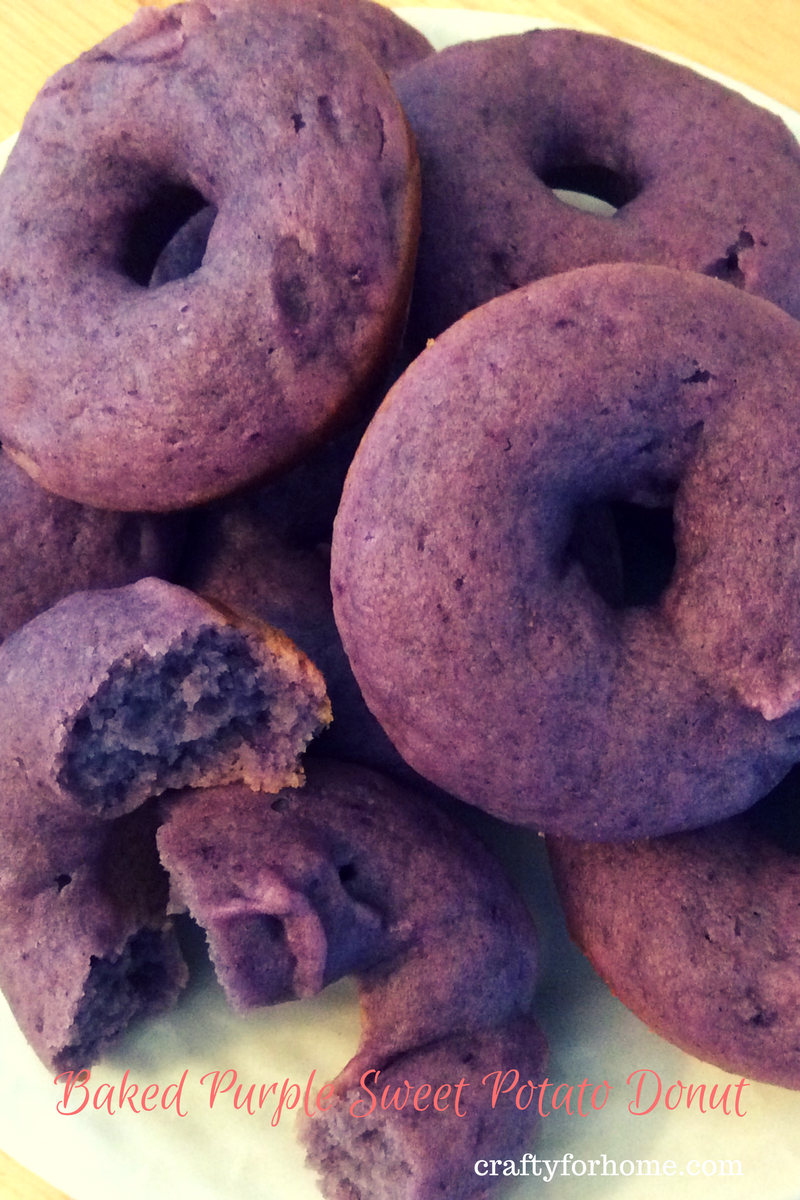 Adapted from http://blog.kingarthurflour.com/
All picture and text @craftyforhome