I have two dozen of mangos in my pantry, yes I am a mango hoarder and also an avocado hoarder, which is I don't mind, I can have so many mangoes and avocados but few apples. There are endless recipes by using mango and avocado, here I make a chopped salad with mango dressing for lunch also for dinner. Serve the salad with baked salmon, there you have a simple and delicious dinner.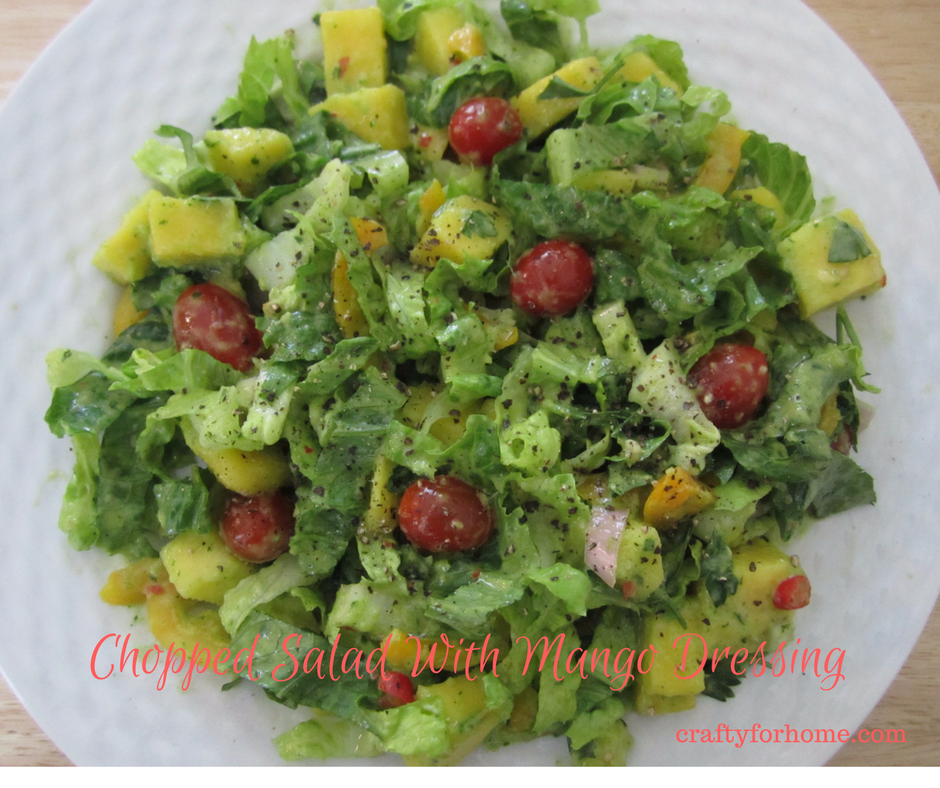 Chopped salad with mango dressing
Ingredient
1 cup chopped lettuce
1 cup diced mango
1/4 cup diced yellow bell pepper
1 shallot, sliced
1/4 cup diced cucumber
1/2 cup grape tomato
Mango Dressing
1/4 cup diced mango
1 stalk green onion
1 clove garlic
1 tsp grated fresh ginger
3 tbsp olive oil
1/4 cup chopped parsley
1 Thai chili (optional)
juice from 1 lemon
salt and pepper
Direction
In medium bowl or serving bowl, put all chopped vegetables and fruits
In a food processor or blender, put all ingredient for mango dressing, process until smooth.
Pour over salad, add more salt and pepper if you desired, serve.
If you don't have nut allergy, you can add peanut, almond or nuts of your choice for topping.
Sunflower seed, hemp or ground flax seed is a good choice for topping if you have a nuts allergy.