We don't cook eggplant often, but this is my kid's favorite way to enjoy eggplant. It is dairy, nut, and oil-free because it is baked instead of fried. But it still achieves the crispy goodness without sacrifice the taste. If you are fine having dairy then add parmesan cheese into the breadcrumb mixture, but even without it, still delicious. I make it into coin shape here, but you can make it into stick shape if you preferred.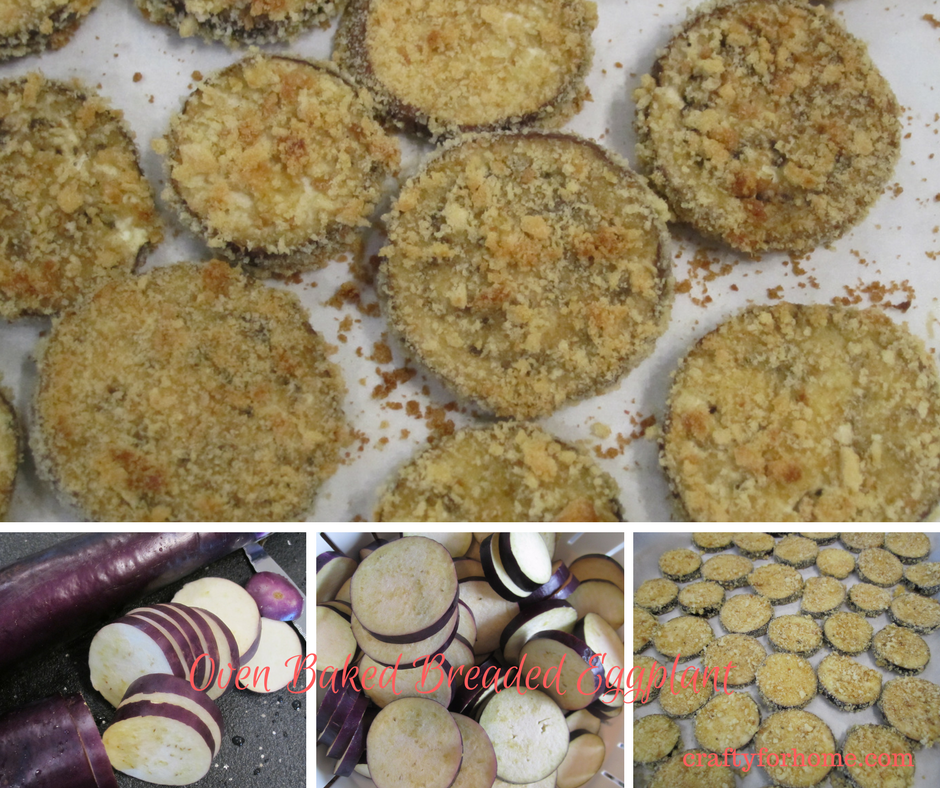 Oven Baked Breaded Eggplant
Ingredient
1 long purple eggplants
2 eggs
1 cups of breadcrumb, I use the homemade one
2 tsp garlic powder
2 tsp dried thyme
salt and pepper
Direction
Preheat oven 400° F.
Wash the eggplant and pat dry, then cut it into coin shape about 1/4 inch thickness.
In the medium bowl or colander, put the cut up eggplant, sprinkle with salt and pepper, let it sit for 10 minutes.
Whisk the eggs in one bowl, and in a separate bowl, mix the breadcrumb with garlic powder, dried thyme, and black pepper. Add salt and parmesan cheese if you prefer.
Dip the eggplant coin into egg then coat it with breadcrumb mixture, repeat it until all eggplant coins coated.
Put all eggplant coins on the baking sheet layered parchment paper.
Bake it for 15 minutes, flip it, bake it for another 15 minutes or until the breadcrumb is golden brown.