Easy dairy-free blueberry zucchini cake recipe with the lemon icing glaze. Bake it on the sheet pan to make cake bars.
Easy Blueberry Zucchini Cake
What does make you excited in the middle of June? The official of summer is here? Yes, that is correct. School season is over mean summer break! Yes, that is correct too, mean more plan to have some fun summer. Well, there is another thing that is exciting at this time, fresh veggies from the garden! Lots of fresh produce in the farmer market and grocery store!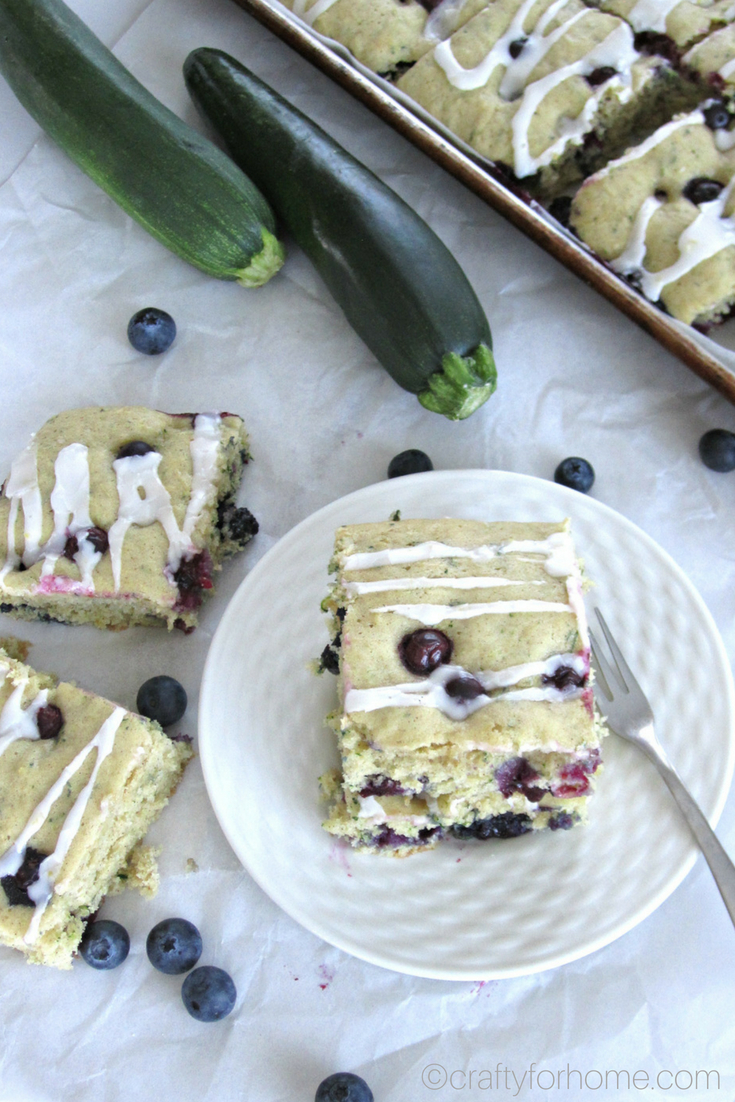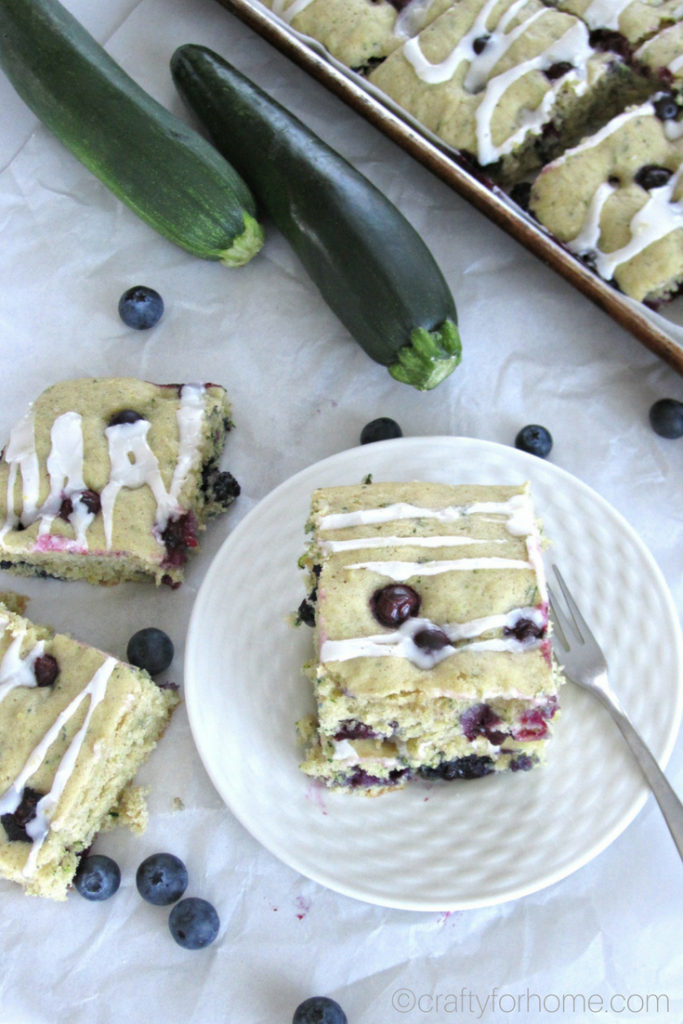 One of these freshly picked veggies for the middle of June is zucchini, although it is available all year long at the grocery store, but the fresh pick is more fun, at least that is for me.
I will keep checking the garden when I see the first zucchini plant has flower on it, mean the zucchini will coming soon if there is good pollination happen in the yard.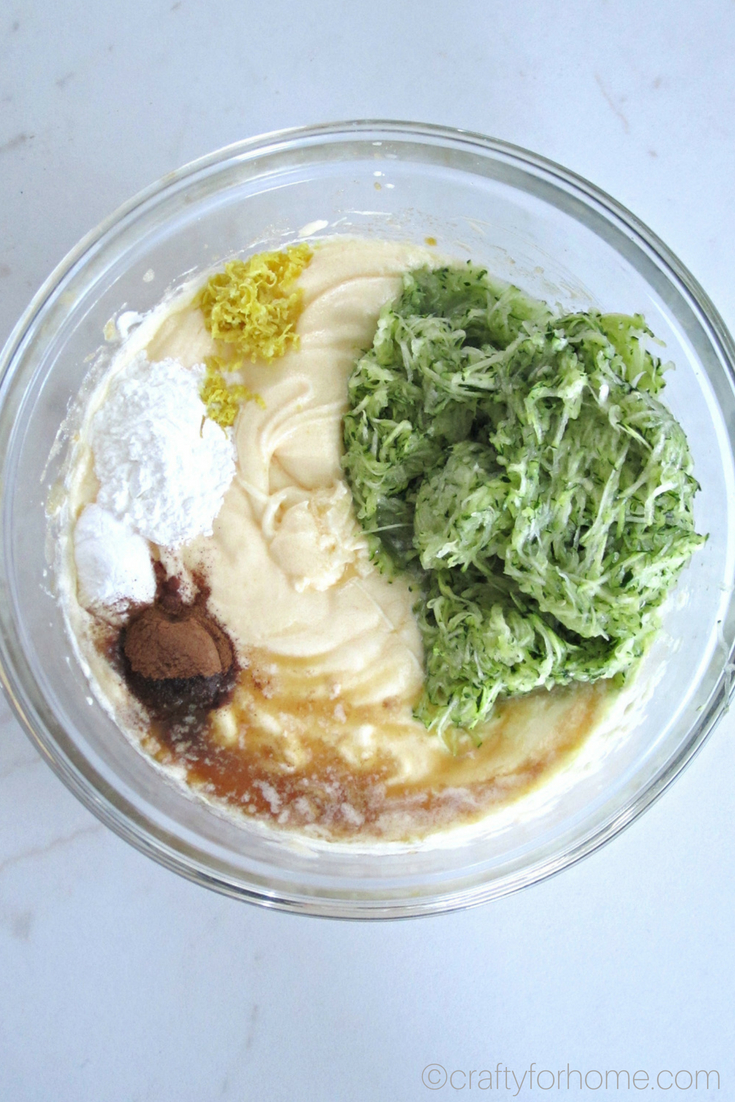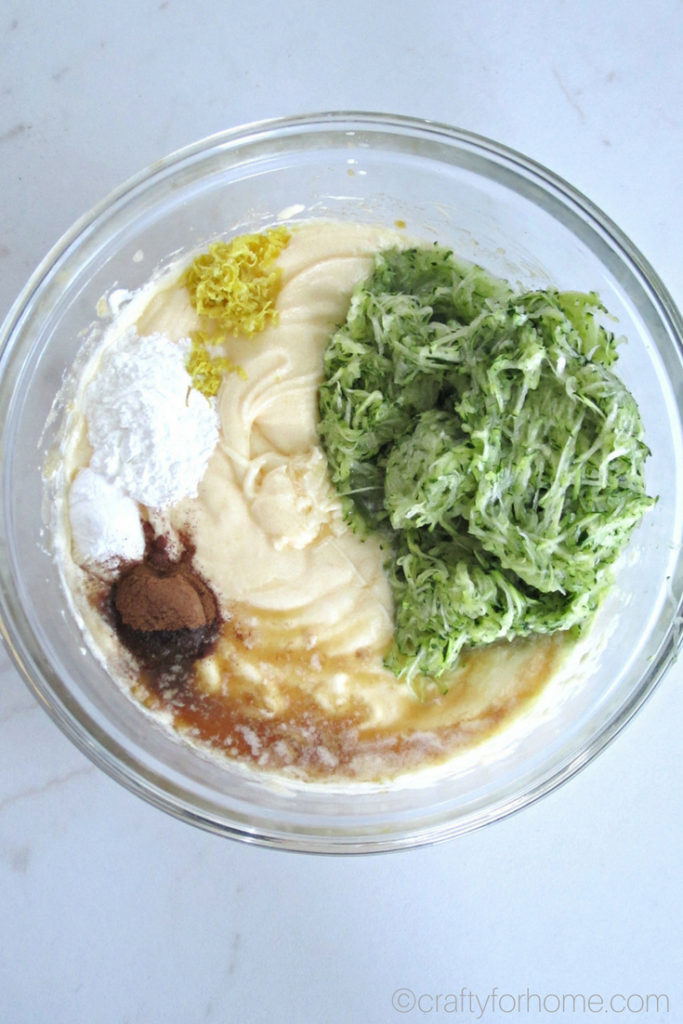 Then you will realize what to do with these overabundances of zucchinis. Luckily, there are lots of recipe for zucchini from the sweet to savory ones.
Here I make Blueberry Zucchini Cake that I bake it on my favorite sheet pan. So, with one batch of this recipe, you will have lots of cake more than enough to feed the whole family and neighbors if you want to share it with them, that is.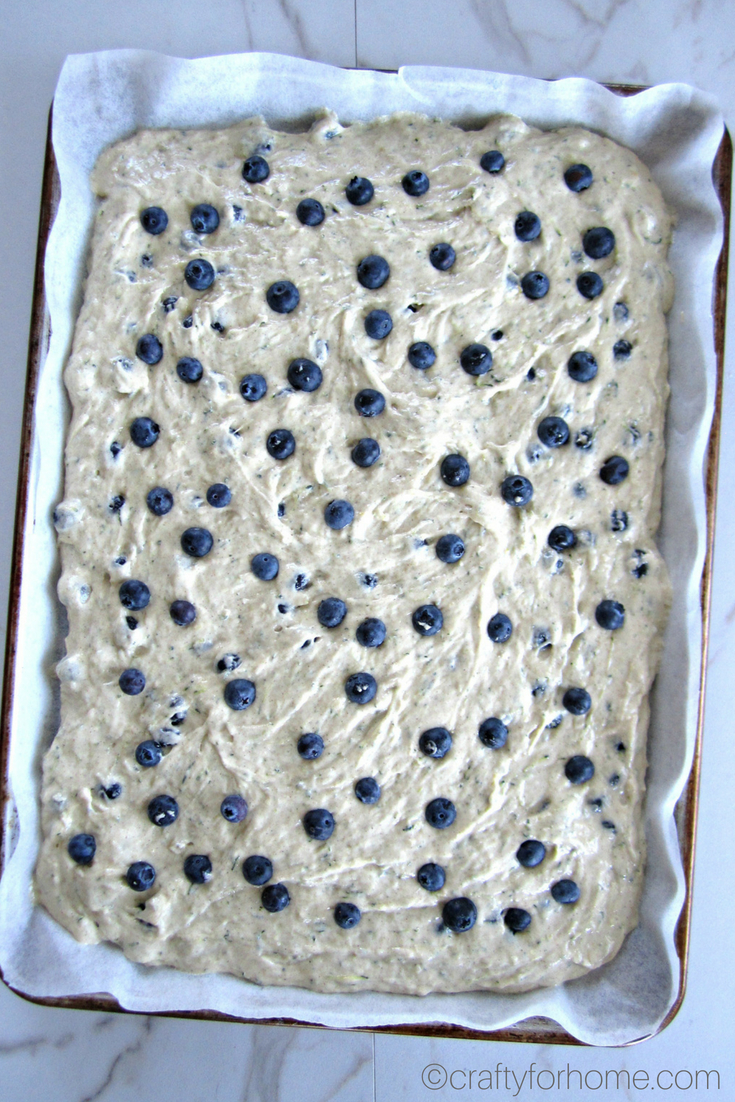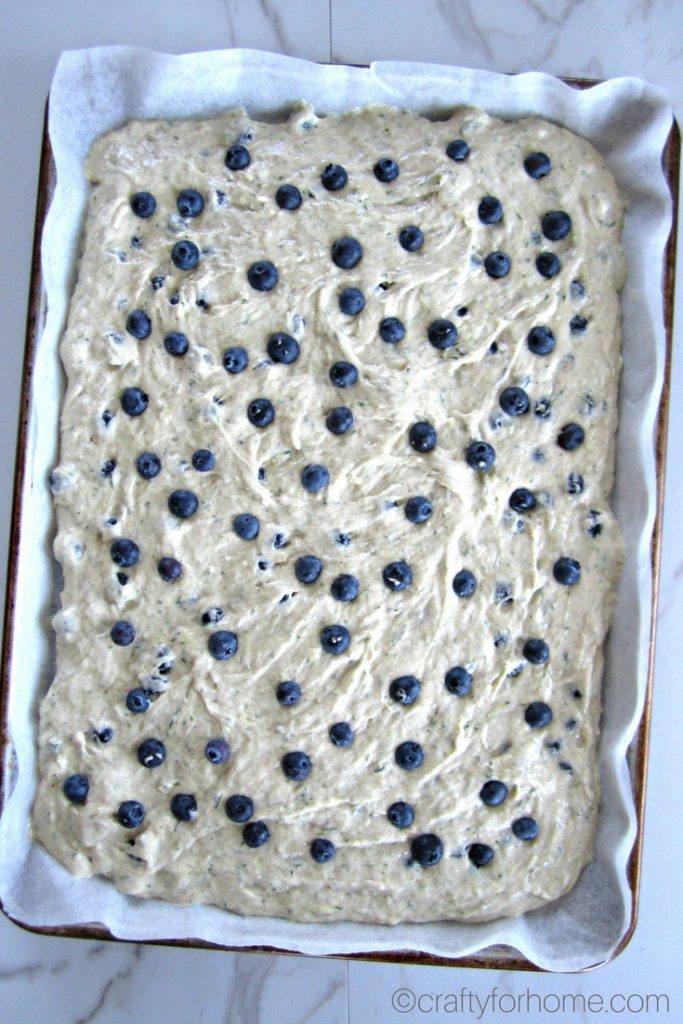 How I describe this cake:
Easy to make, dairy-free, nut-free.
The cake has hidden fiber on the cake from the zucchini and blueberries.
Lemony because I add lemon zest, lemon juice, and lemon extract, I think there are too many lemon words here!
You can customize the icing with dairy or non-dairy.
Zucchini, blueberry and lemon pair perfectly, trust me!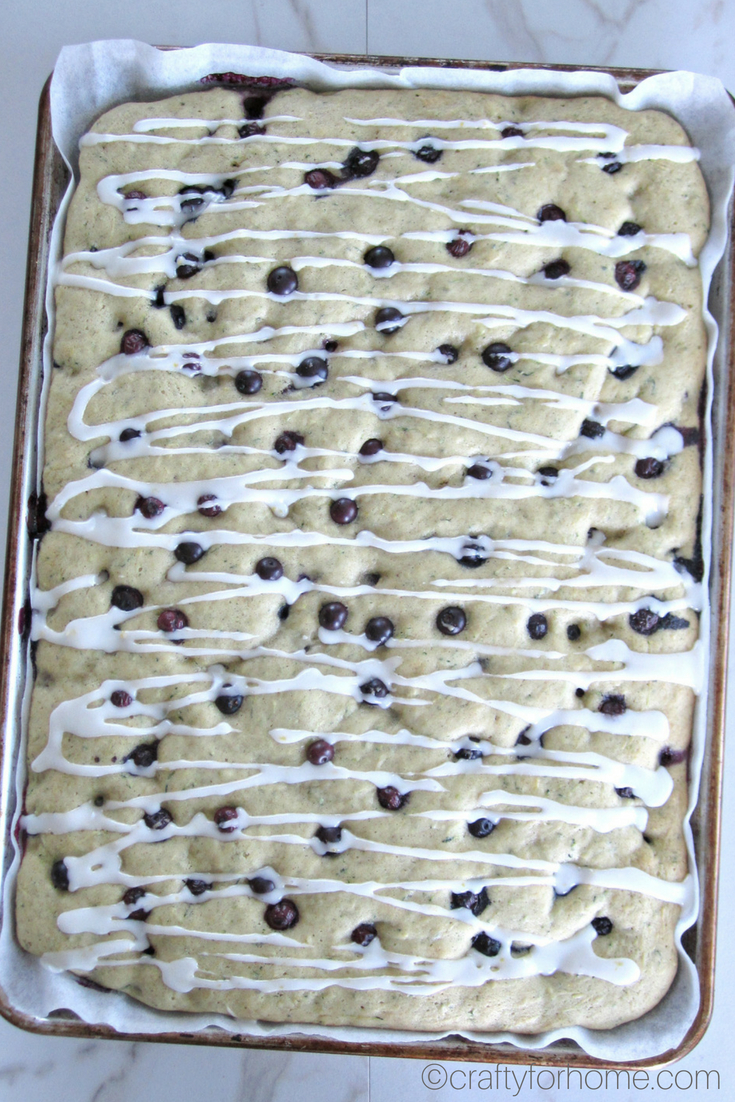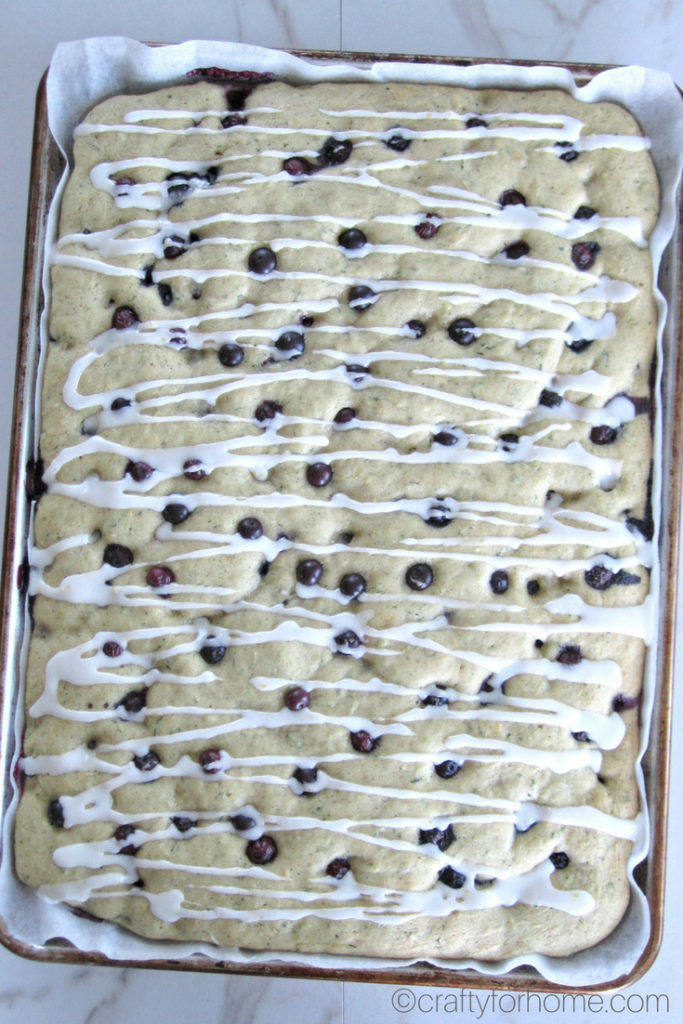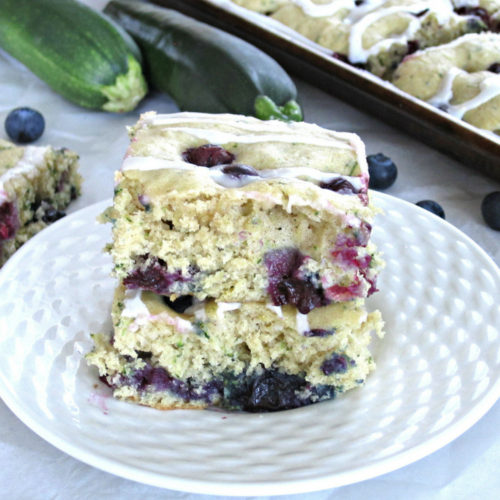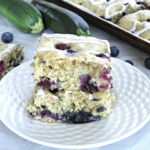 Blueberry Zucchini Cake
Easy dairy-free blueberry zucchini cake recipe with the lemon icing glaze. Bake it on the sheet pan to make cake bars.
Ingredients
2

cups

shredded zucchini

about four medium size zucchini

2

cup

sugar

1

cup

dairy-free butter

3

eggs

2

tsp

baking powder

1

tsp

baking soda

1

tsp

salt

1

tsp

vanilla extract

1

tsp

lemon extract

1

tsp

cinnamon powder

1

tbsp

lemon zest

1

tbsp

fresh lemon juice

3 1/2

cups

unbleached all-purpose flour

3

cups

blueberry
For lemon icing glaze
2

tbsp

coconut milk, I use Thai Kitchen

1

cup

icing sugar

1/2

tbsp

lemon juice

1

tsp

lemon zest
Instructions
Preheat oven to 350° F, Prepare the sheet pan, line it with parchment paper

Shred zucchini, let it sit on the plate for 5 minutes to let the juice out.

In a mixing bowl and use the electric mixer, beat the sugar and butter until fluffy.

Add egg, beat it until the mixture looks pale and light.

Add shredded zucchini, salt, baking powder, baking soda, vanilla extract, lemon extract, lemon juice, lemon zest and cinnamon powder. Mix it well.

Add flour, mix it well.

Dust the 2 cups of blueberry with one tsp of flour. Fold in blueberry to the dough.

Pour the dough into the prepared pan. Spread it with the spatula. Put the rest of blueberry on top of the mixture.

Bake it for 35 minutes or until the toothpick comes out clean.

While waiting the cake cool down on the pan. Whip up the lemon glaze by add icing sugar, coconut milk, lemon juice and lemon zest into the food processor, process it until the icing is soft and looks fluffy.

Put the glaze into the piping bag or Ziploc bag, cut the tip of the plastic, then drizzle the glaze on the cooled cake.

Cut the cake into bars per portions.
Recipe Notes
Replace the coconut milk with whipping cream if you don't have a dairy allergy.
You can squeeze most of the liquid from shredded zucchini. I just let the shredded zucchini sit on the plate for 5 minutes to let the juice out.
Do you make this Blueberry Zucchini Cake? Take a picture of your delicious meal, hashtag #craftyforhome, or you can tag @craftyforhome on Instagram.
This recipe is a type of sheet cake, so it will save your time if you are going to serve sweet for the get-together barbeque party. I mean feed the crowd with only one baking time, that is the winner, right?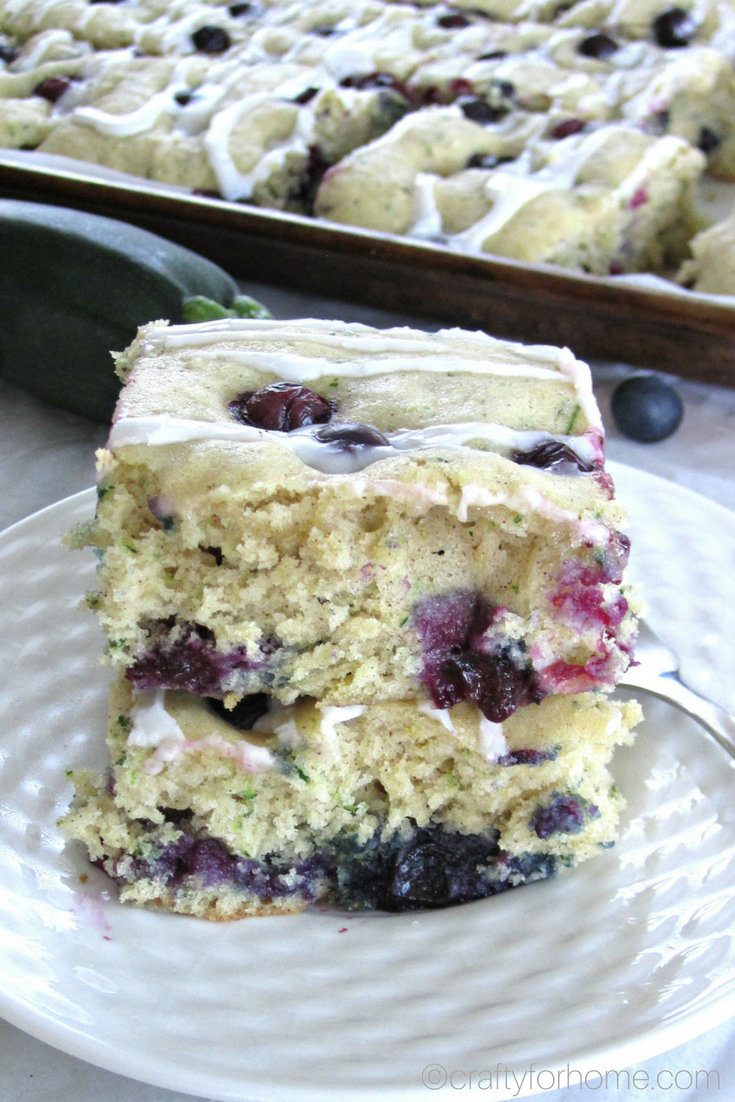 But wait, there are more cakes and cookies baked on the sheet pan on this blog. These cookies and cakes are easy to make and famous as well.
Pin it to save it for later!