At this time of the year, early spring is the perfect time for asparagus shopping, although we mostly find asparagus in the grocery isle all year long, the reason why early spring is the perfect time is that:
Asparagus mostly harvested in the spring.
It's abundant stocks in the grocery produce aisle.
It is one of the seasonal eating because of the harvest time
It is on sale in the grocery store, so cut up the grocery budget but still manage to get fresh and delicious choice always a good idea.
The most important is that asparagus is a very healthy choice and tasty on every dish you make.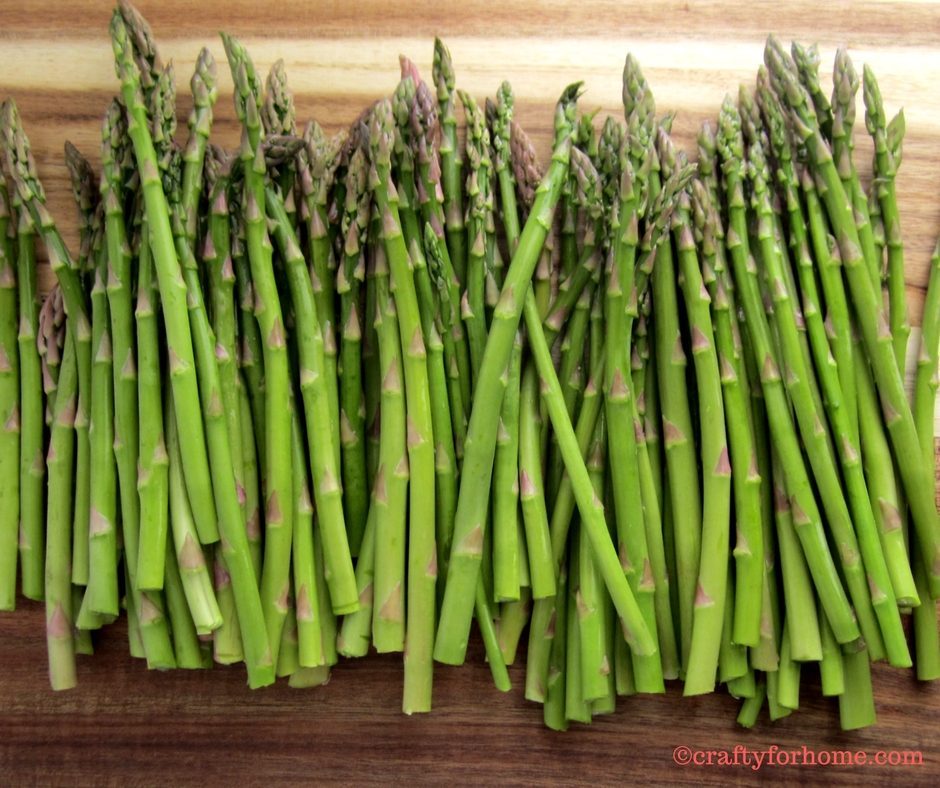 What I will share here now is the recipe for Beef Bacon Wrapped Asparagus. Why did I use beef bacon, well, it is because that's the only bacon I have now available in the fridge, and my family loves beef bacon. I got this beef bacon Traditional Hutterite from local Planet Organic here.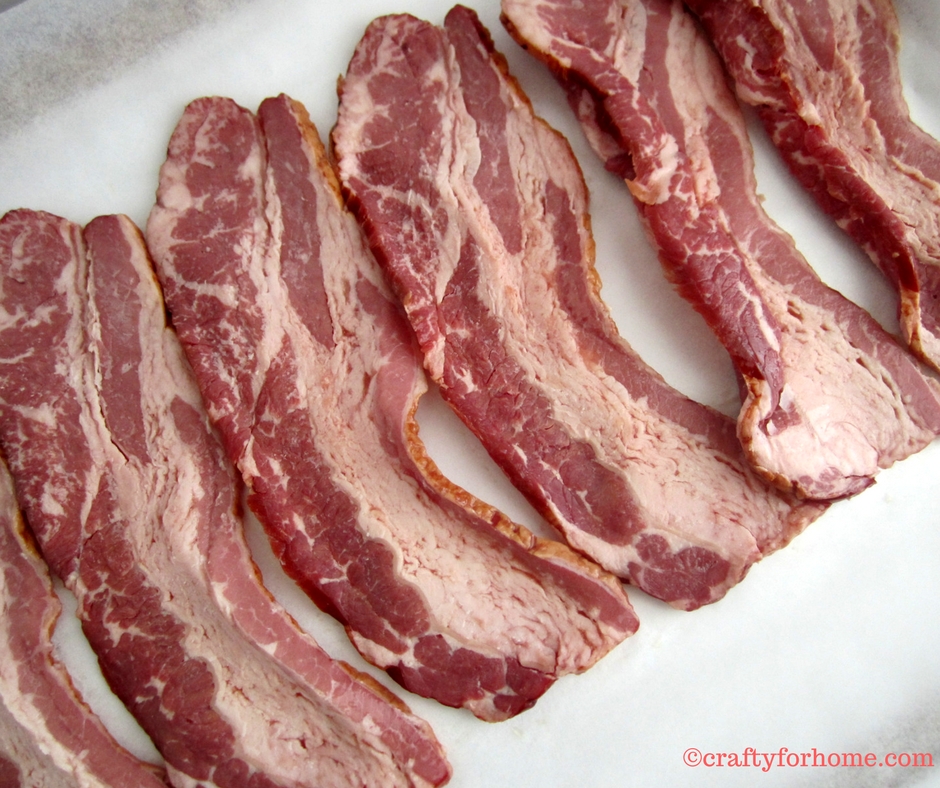 If you don't have beef bacon, then feel free to use any bacon you like, pork bacon, turkey bacon, chicken bacon, all tasty depending on your own preference.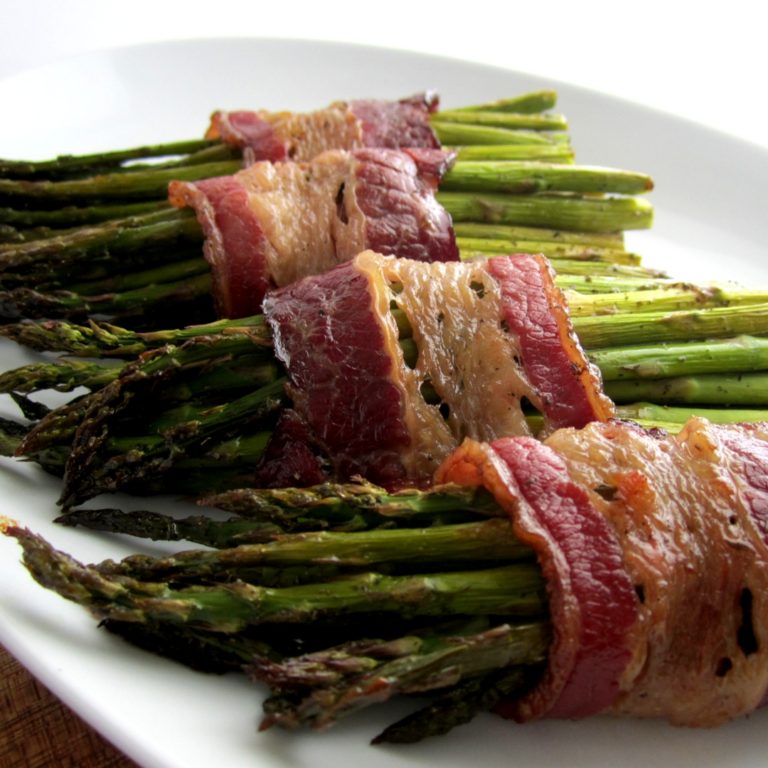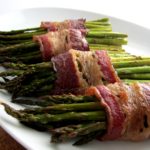 Beef Bacon Wrapped Asparagus
A tasty twist to bake asparagus for a quick and simple meal by wrapping it with bacon to add more flavor.

Ingredients
6

pcs

beef bacon

2

pounds

asparagus

1

tsp

dried thyme

2

sprigs

rosemary
Instructions
Preheat oven to 425 deg C.

Layer the baking sheet with parchment paper or nonstick foil.


Wash the asparagus, pat dry then trim the hard part off. Sprinkle the dried thyme over asparagus.


Divide the asparagus into 6 portions, wrap them with the bacon slice.


Put the wrapped bacon on the baking sheet, tuck the bacon end under neat. Repeat this step until all asparagus wrapped. Put the rosemary sprigs just beside the asparagus.


Bake in the oven for 20 minutes, flip it once, if you want crispier bacon, bake it for more time about 5 to 10 minutes or until the bacon looks crispier.


Serve this on its own, or with baked potato, baked sweet potato or quinoa.
Recipe Notes
This recipe is great to serve on spring season meal, for prep meal, lunch box, or a quick weekday supper.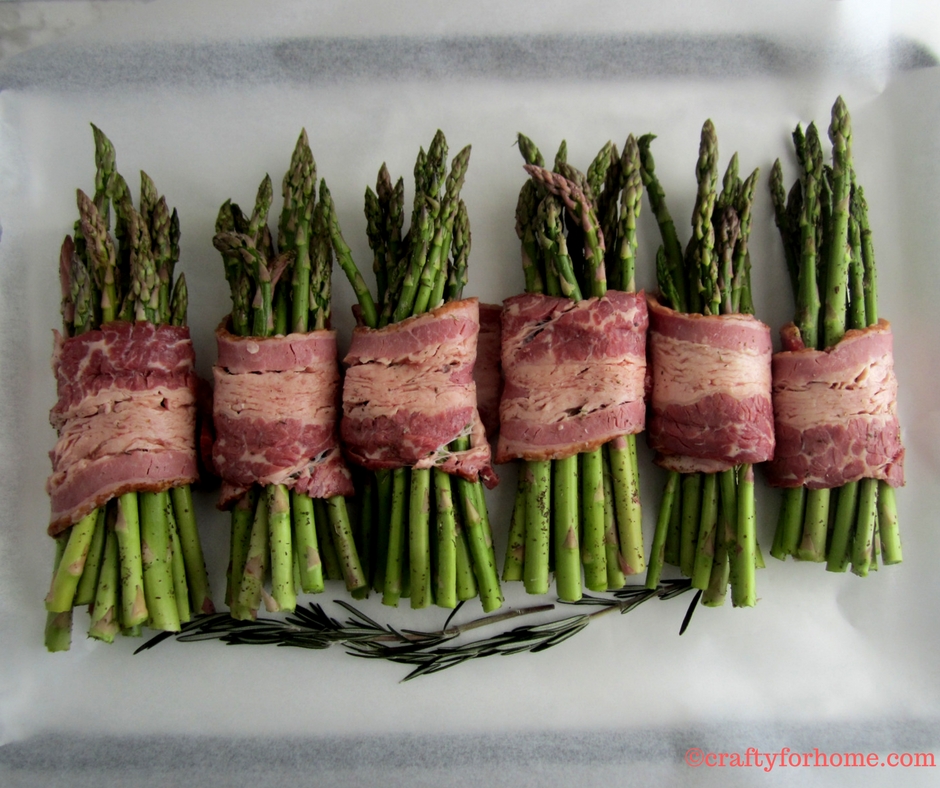 This is one of the great recipes to get everyone who doesn't like to eat asparagus especially little kid just like in my family to eat more asparagus. The bacon definitely adds more taste to it, if you are not on a vegetarian diet, then give this recipe a try.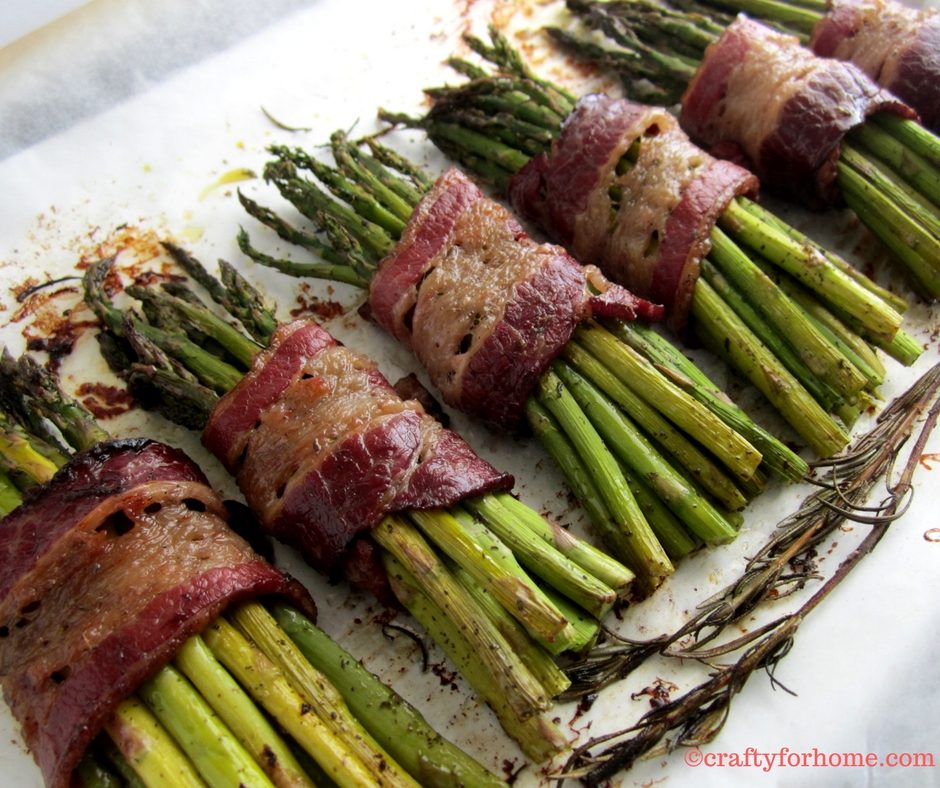 This is one of the sheet pan cooking, that you only using sheet pan to cook. This is one of the easiest cooking methods. Layer the sheet pan with nonstick foil or parchment paper to make cleaning easier and mess-free. Isn't it that what we wish for? Tasty food, mess-free, less time to spend in the kitchen, easy cleaning and of course perfect for busy weekday cooking.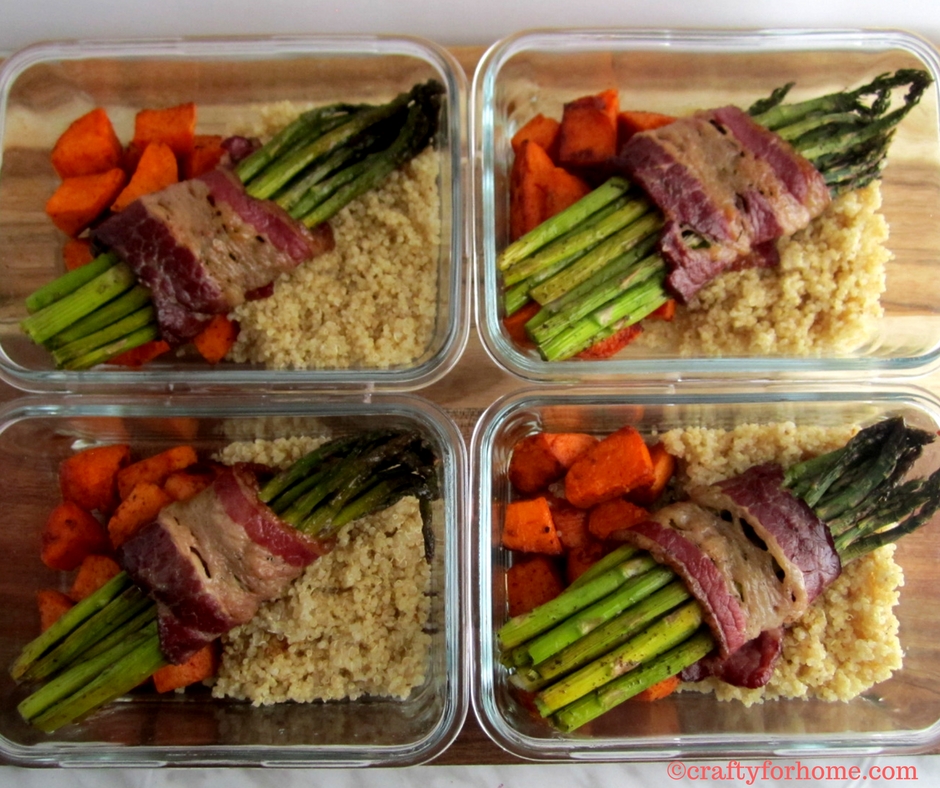 We rarely have leftover with this meal, but if we do or we intend to make meal prep, you can make this meal to pack for few days lunch. Here I pack for few days lunch containing Beef Bacon Wrapped Asparagus, roasted sweet potato, quinoa, for a complete fiber and protein meal.\
Pin it to save it for later!

Do you make this Beef Bacon Wrapped Asparagus recipe? Write a comment please, take a picture of your meal and share it to hashtag #craftyforhome and/or tag @craftyforhome on Instagram, and don't forget to pin it on Pinterest.
Looking for more ideas for sheet pan cooking? Try these please :
Sheet Pan Breaded Tilapia Veggies