Make this healthy leftover turkey recipe with roasted vegetables for clean eating, dairy-free, and gluten-free meal options for the whole family.
Easy Sheet Pan Leftover Turkey Recipe With Vegetables
Have you found yourself wondering what to do with leftover turkey meat? While there is nothing wrong with turning it into leftover turkey sandwiches, there are various easy recipes to revamp the leftover turkey.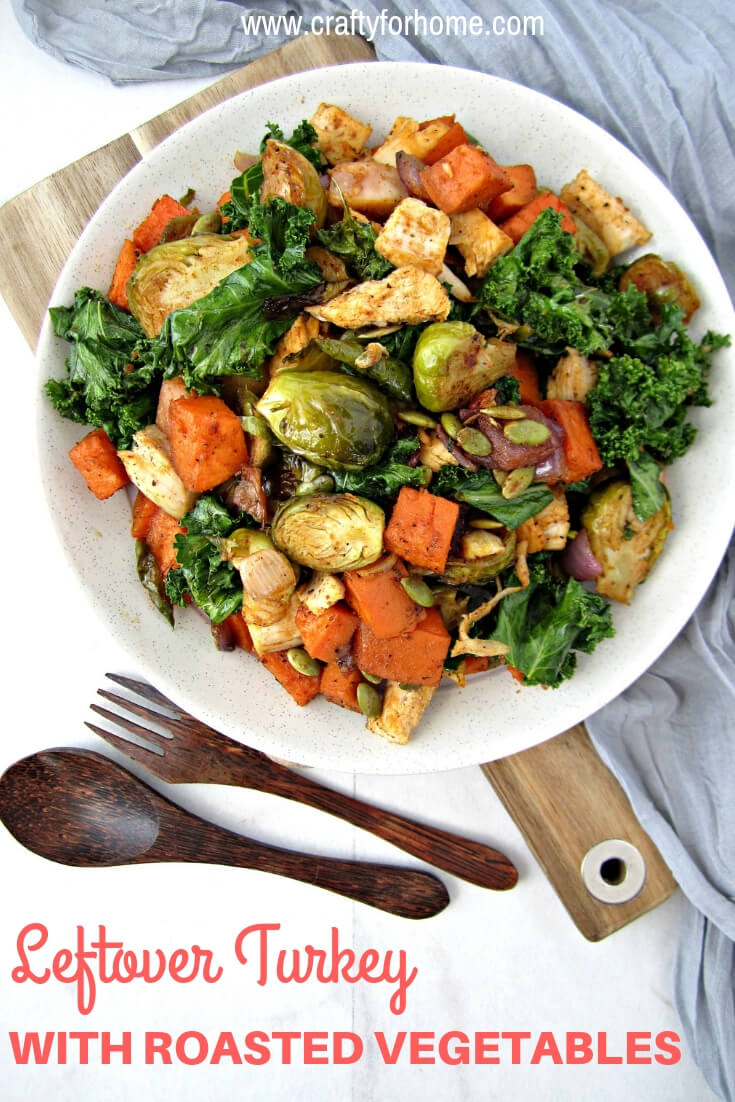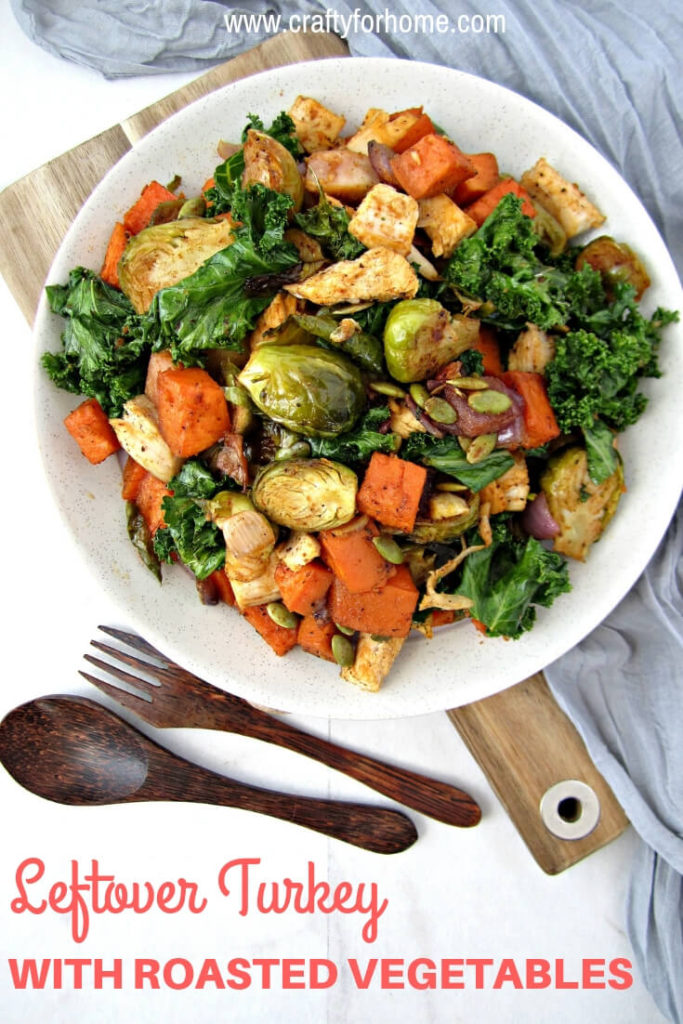 For example, this Baked Rice With Leftover Turkey is an easy meal but perfect for a main dish or even a side dish with only staple ingredients from the pantry for the post-Thanksgiving meal idea.
Vegetables To Bake With Leftover Turkey
For another easy but tasty meal, mix the turkey meat with roasted vegetables. It is even better to cook everything on a cookie sheet as a one-pan meal. There is no need to spend lots of time preparing it and of course easy to clean it.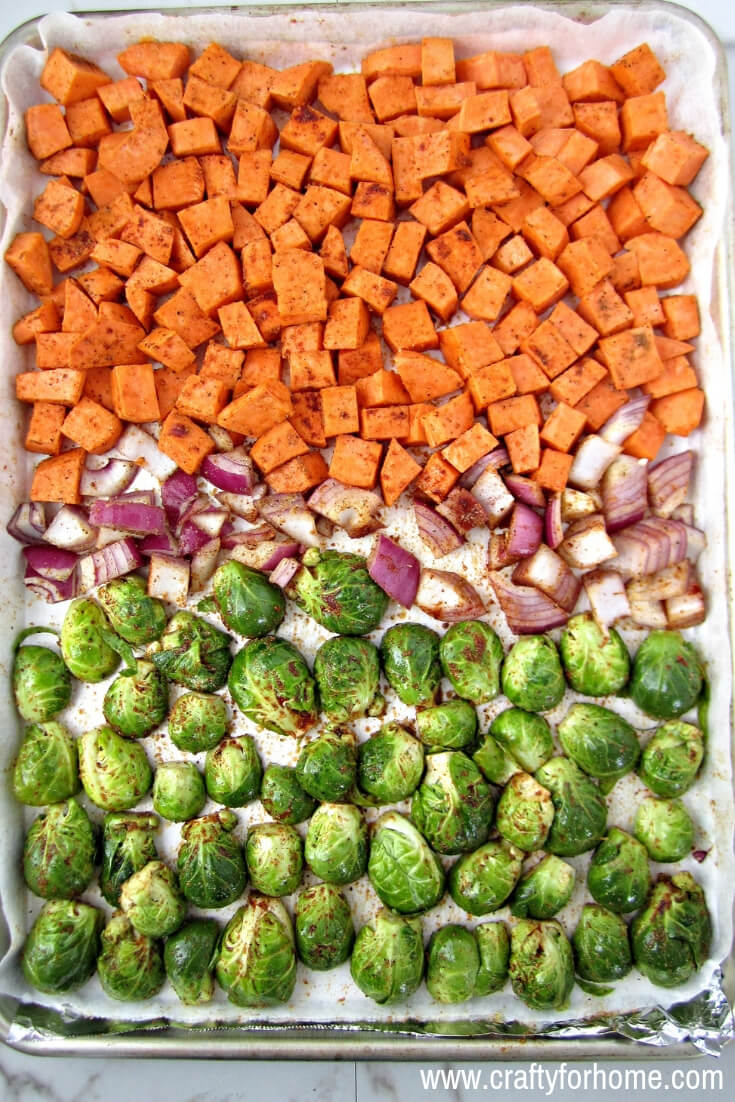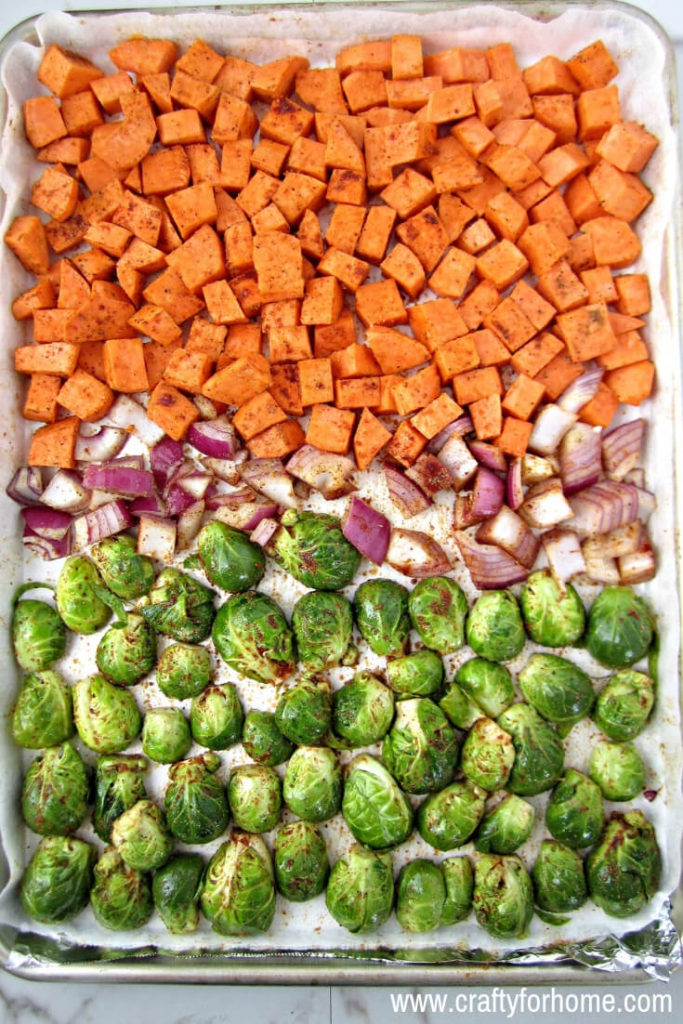 For this recipe, I use fall-season veggies, but you can use any vegetables you like. Carrot, brussel sprout, asparagus, sweet potato, plantain, cauliflower, broccoli, bell pepper, and rutabaga are excellent choices for this recipe.
Use basic seasoning like garlic powder, onion powder, cumin, smoked paprika, salt, and black pepper. I use olive oil, and you can use any oil you like.
I use pumpkin seed for adding crunch. You can use slivered almond or chopped pecan if you don't have a nut allergy.
How To Make Sheet Pan Leftover Turkey With Roasted Vegetables
Prepare the sheet pan, line it with foil, then parchment paper. The parchment paper is a non-stick liner, and you will be able to reuse the foil for your next sheet pan recipe.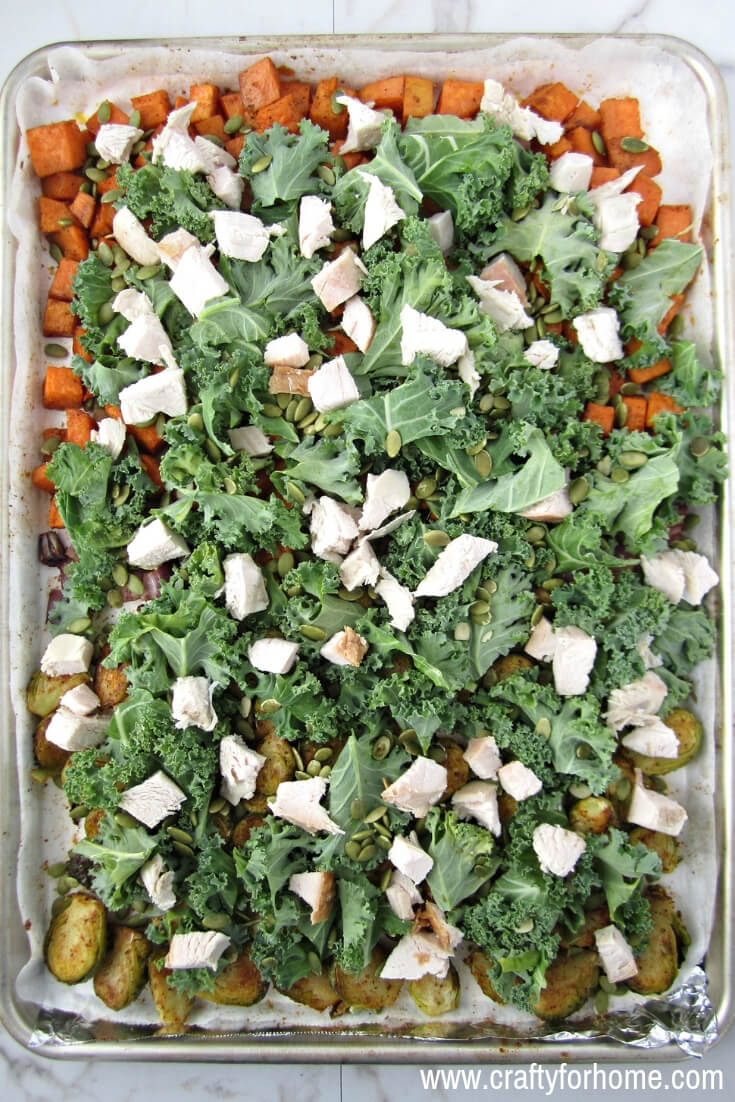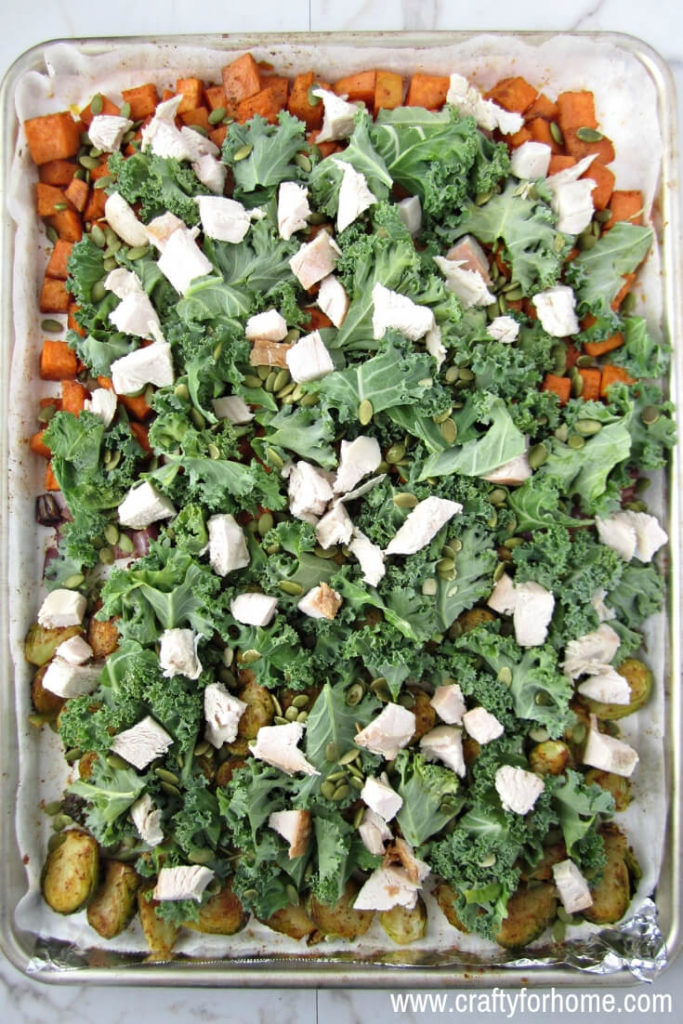 Add cut-up veggies to the sheet pan, then add seasoning and oil. Use the spatula to mix it up.
Bake in the preheated oven on 425°F for 20 minutes, then take the pan out.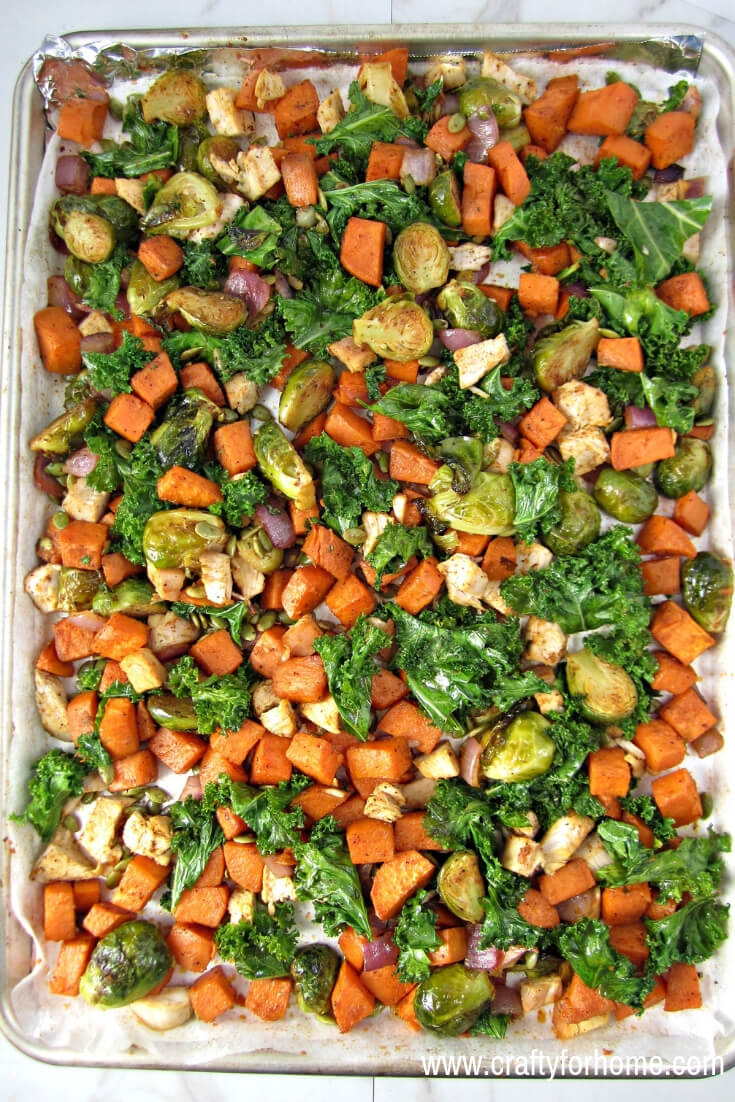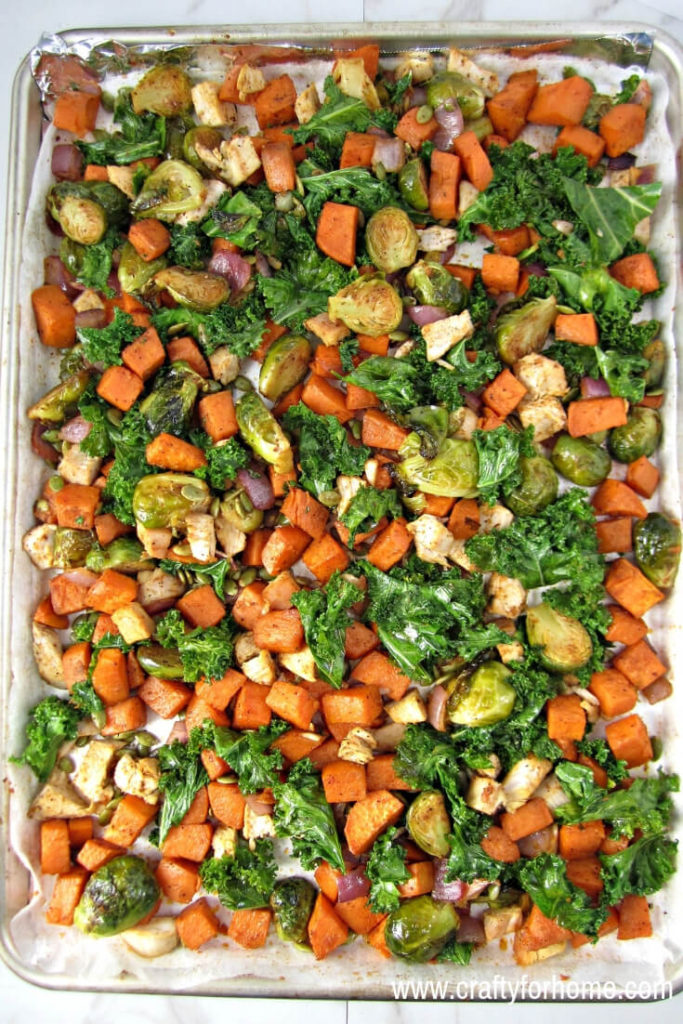 Add cube turkey meat, kale, and pumpkin seed. Use the spatula to mix it.
Return the sheet pan to the oven, then bake it for another 5 minutes.
Meal Prep Idea With Leftover Turkey
One of the best things with this sheet pan leftover turkey is that you don't need to spend too much time preparing a good meal for the family.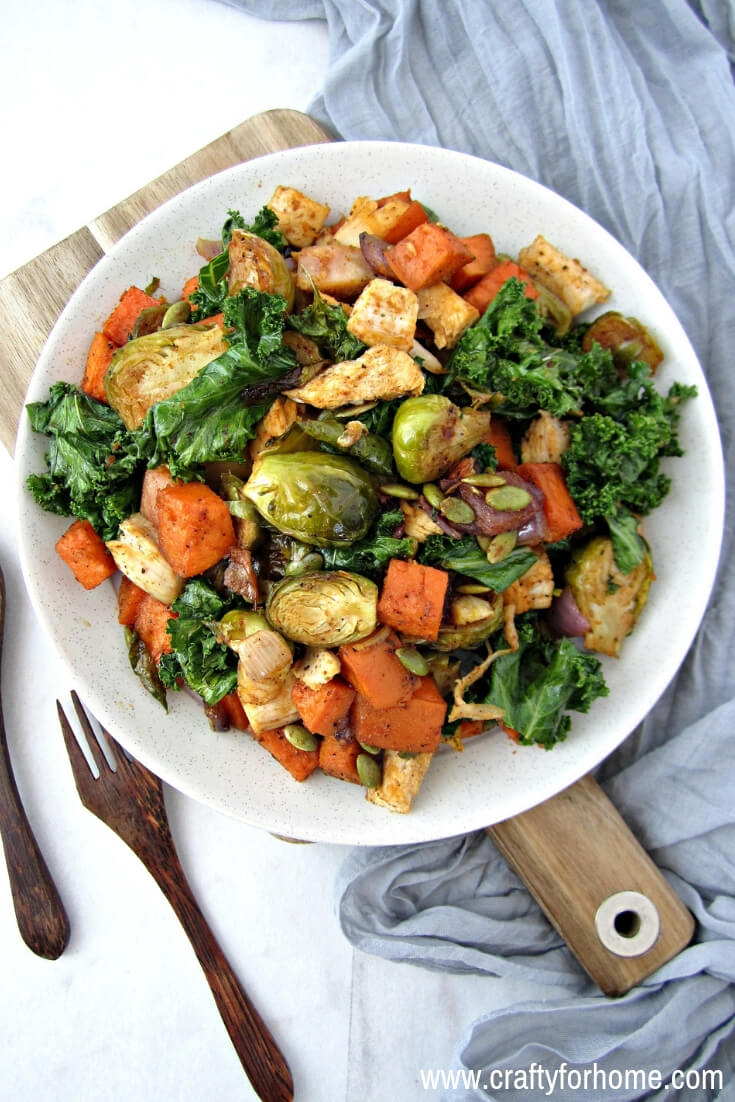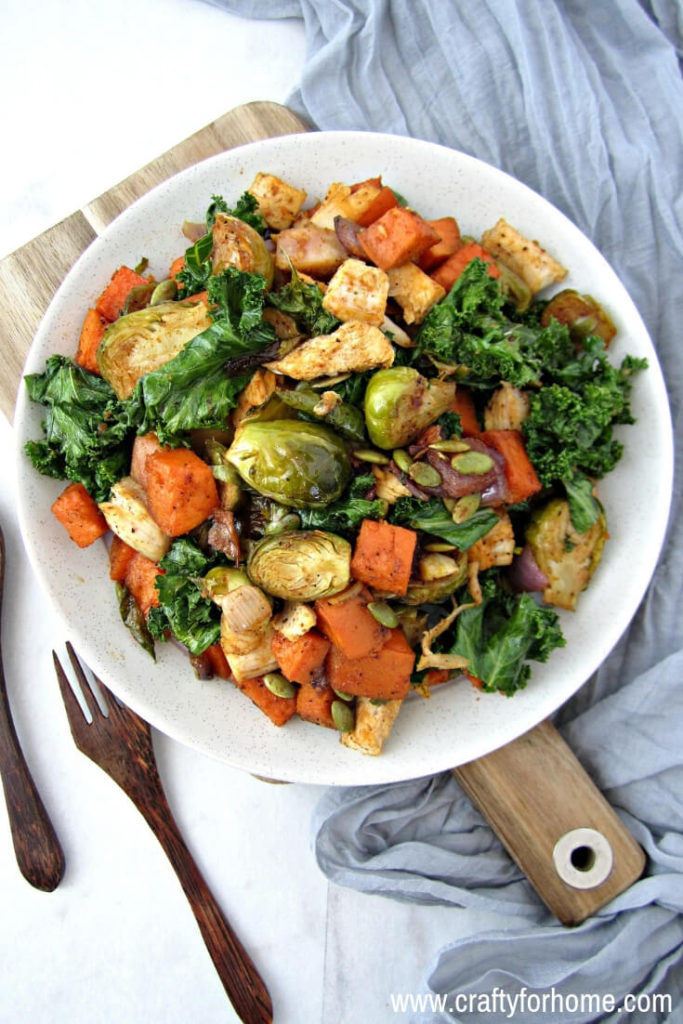 Prepare in advance by pre-cut veggies and keeping them in the fridge. Then, put them on the sheet pan when you are ready to make this meal.
This Leftover Turkey With Roasted Vegetables is excellent for meal prep. The addition of pumpkin seed adds a crunchy texture. Overall it is a light meal but filling and healthy.
This Turkey Veggies Croquette is another leftover turkey idea for meal prep. You can make bunches of it and keep it in the freezer on a ziplock bag or airtight container as an individual serving size.
Whenever you need a quick lunch, take one croquette and warm it up in the toaster oven at 400° F for 5-10 minutes.
Turn the leftover turkey into this easy and healthy one-pan meal.
Click To Tweet
Leftover Turkey With Roasted Veggies Recipe For A Post-Thanksgiving Meal Prep Idea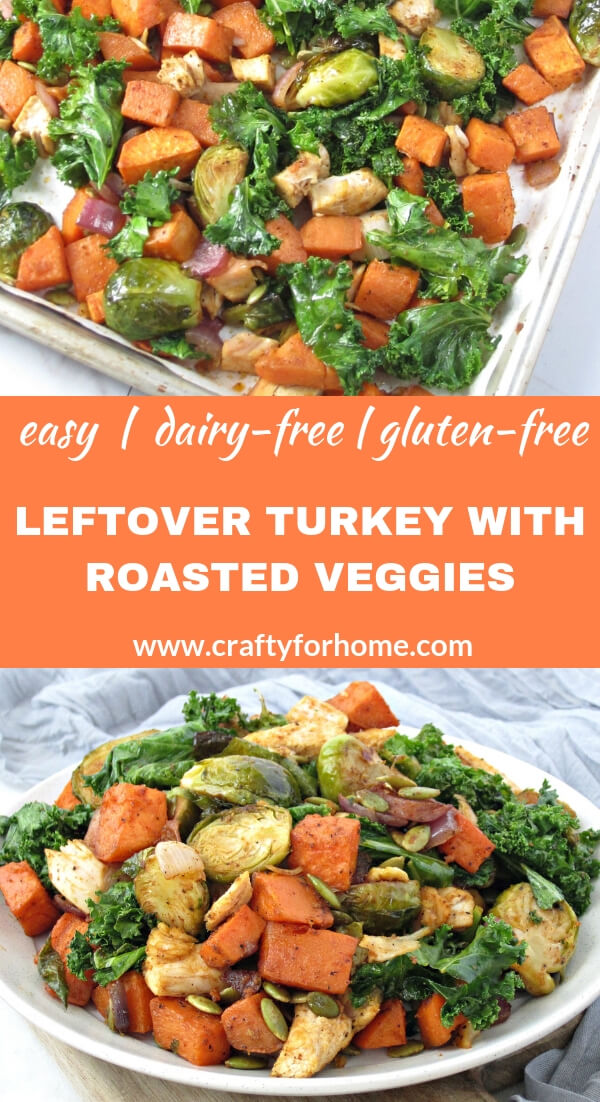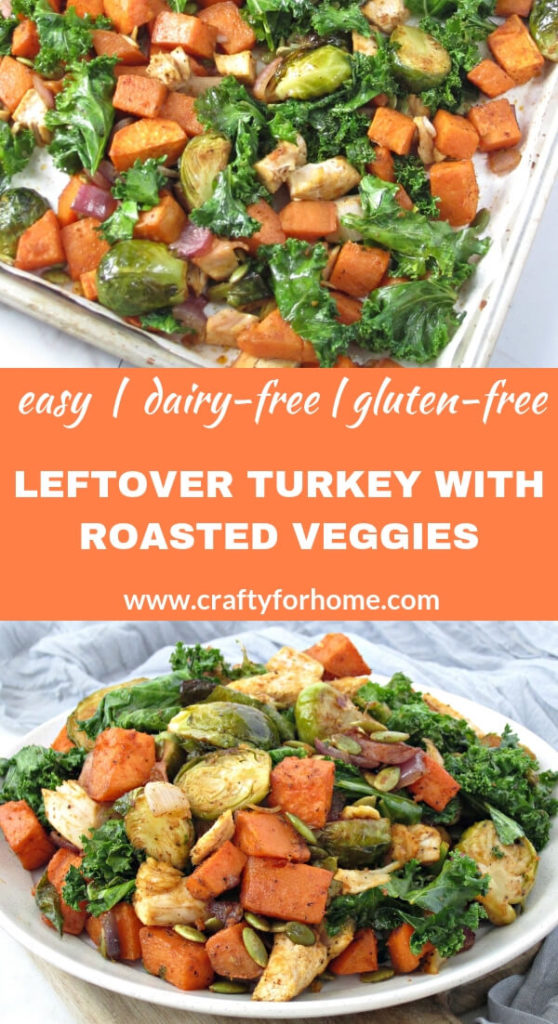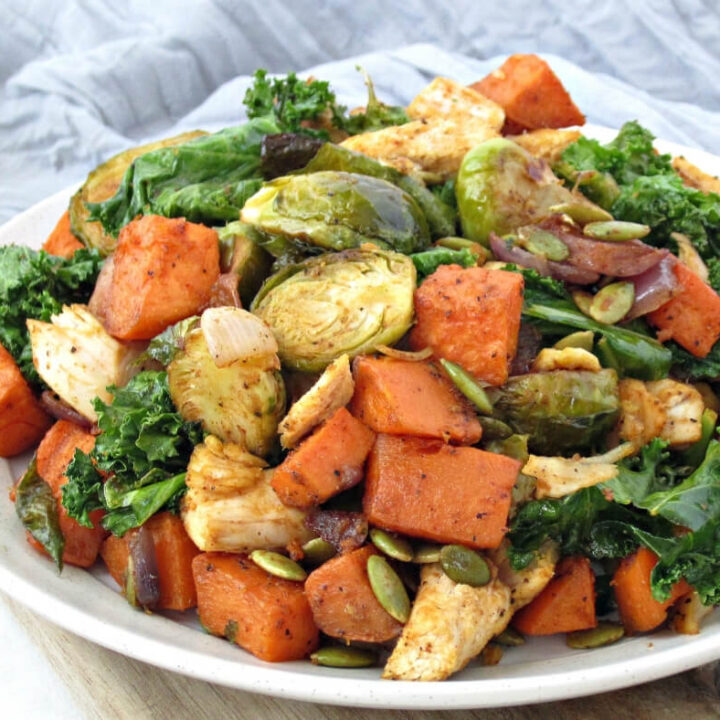 Leftover Turkey With Roasted Vegetables
Make this healthy leftover turkey recipe with roasted vegetables for clean eating, dairy-free, and gluten-free meal options for the whole family.
Ingredients
1 pound Brussels sprouts
1 medium-size sweet potato
1 purple onion
1 tsp salt
1 tsp black pepper powder
1 tsp onion powder
1 tsp garlic powder
1 tsp smoked paprika
1 tsp cumin
2 tbsp olive oil
1/2 cup shelled pumpkin seed
1 bunch kale
2 cup or more of cubed turkey meat
Instructions
Preheat the oven to 425° F, prepare the sheet pan and line it with parchment paper.
Peel and cube the sweet potato, halve the Brussel sprouts and slice the purple onion. Put the veggies on the sheet pan.
Sprinkle salt, black pepper, onion powder, garlic powder, smoked paprika, cumin, and oil, mix it up.
Roast it in the oven for 20 minutes, take the pan out of the oven.
Add chopped kale, cubed turkey meat, and pumpkin seed. Use the spatula to mix it up.
Put the pan back to the oven, roast it for another 5 minutes.
Notes
Do you make this Leftover Turkey With Roasted Vegetables? Take a picture of your delicious cookies, hashtag #craftyforhome, or you can tag @craftyforhome on Instagram.
Nutrition information isn't always accurate. Any change or substitute for one or more of the ingredients might alter the nutrition calculation.
Nutrition Information:
Yield:

6
Serving Size:

1
Amount Per Serving:
Calories:

226
Total Fat:

9g
Saturated Fat:

2g
Trans Fat:

0g
Unsaturated Fat:

7g
Cholesterol:

45mg
Sodium:

468mg
Carbohydrates:

20g
Fiber:

6g
Sugar:

4g
Protein:

19g
Originally published on November 06, 2018. Updated on November 23, 2021, by adding more tips.