Easy to make dairy-free and gluten-free spritz cookies recipe that melts in your mouth on every bite, a perfect addition for your holiday cookie swap.
The sixth day of the holiday cookie baking week, I bake Tapioca Spritz Cookies because it is a pretty shape cookie. I grew up with Spritz Cookies when we have a big celebration. We will make lots and lots of cookie jars full of spritz cookies to give it away or to put it on the serving table for family and friends that always come visit us during the celebration.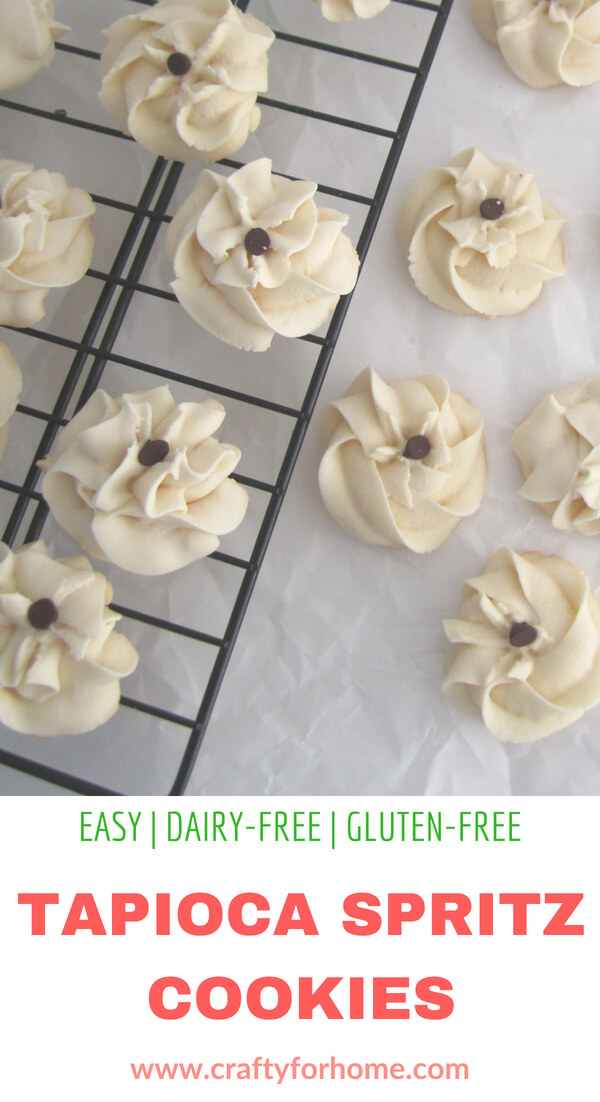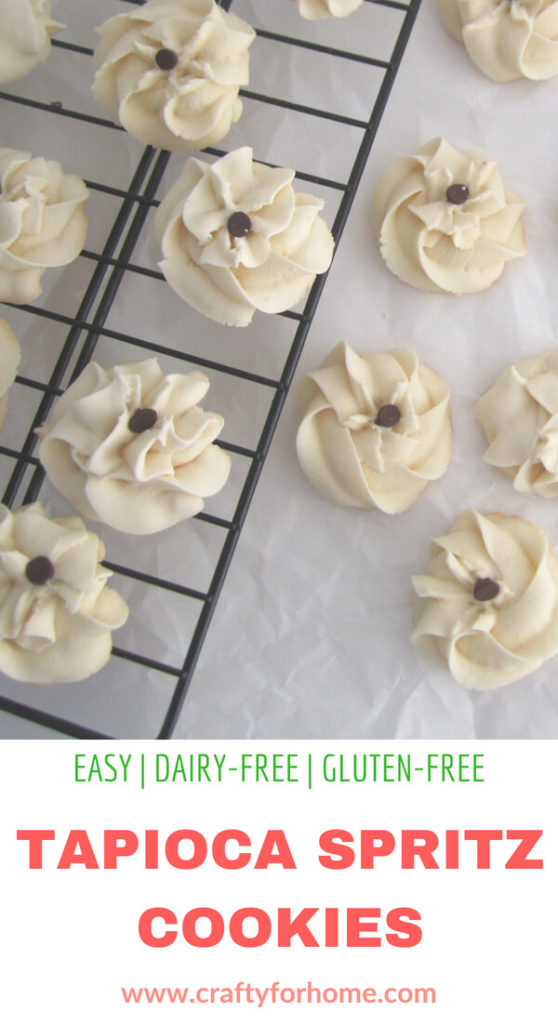 The cookie we made was from wheat flour, it tastes good, but what I remembered the way we made it was using lots of butter and lots of work. Because we only use standard type oven than we put on top of the portable gas stove, we did not have the conventional or the toaster oven like today. But it was fun, and I was so excited to eat that freshly baked spritz cookie we made.
Then we tried to bake tapioca spritz cookie once. This one has quickly become my favorite cookies, the texture was soft and melt in the mouth.
How To Make Spritz Cookies
After I tried a few times with different portion and measurement of the ingredients, here I share the recipe for melt in the mouth Tapioca Spritz Cookies. It is only five ingredients and easy to make. If you don't have a cookie presser, then you can use an icing bag with the star piping tip, and it still works just fine to make into classic spritz cookie shape.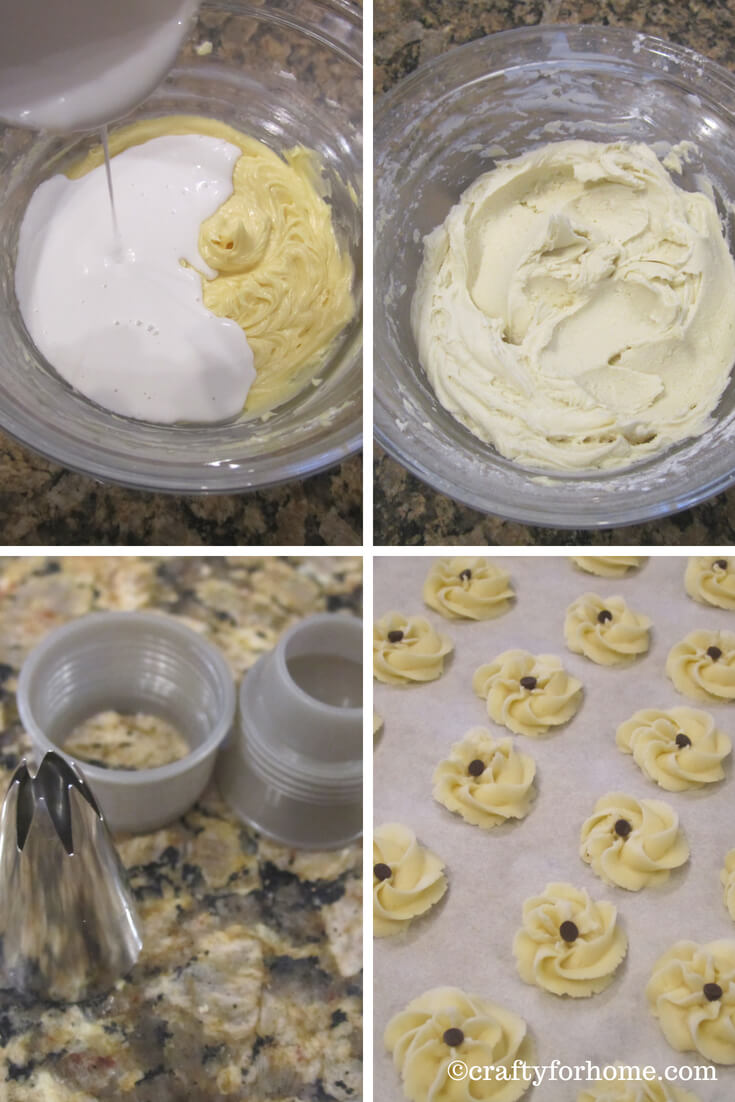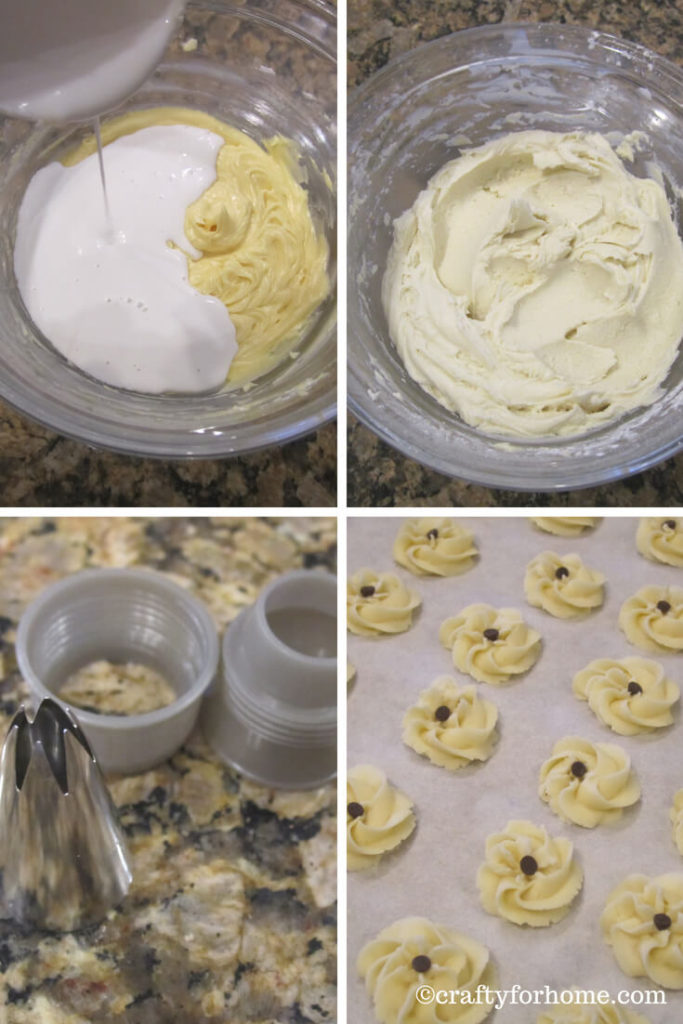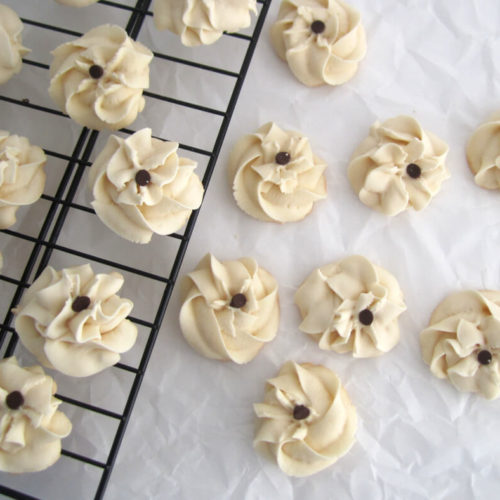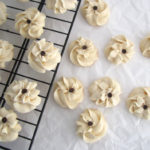 Tapioca Spritz Cookies
Easy to make dairy-free and gluten-free spritz cookies recipe that melts in your mouth on every bite, a perfect addition for your holiday cookie swap.
Cuisine:
American, Indonesian
Ingredients
1/2

cup

dairy-free butter, softened

3/4

cup

icing sugar /powder sugar

2

egg yolks

3/4

cup

coconut cream

3

cup

tapioca flour
For decoration (optional):
Mini chocolate chip, candied cherry, sugar sprinkle.
Instructions
In a mixing bowl, use the electric mixer, beat the sugar, butter and egg yolk until light color.

Add coconut cream, mix it well.

Add tapioca flour, mix it until all well blended.

Preheat oven to 350° F.

Prepare the baking sheet layer it with parchment paper.

Put some portion of the dough in the icing bag with the star piping tip.

Squish the dough, pipe it out on to the baking sheet, pipe it to make a flower shape.

Put the mini chocolate chip or candied cherry (any decoration ingredient you use) on the cookie tip.

Bake it in the oven for 8-10 minutes.

Leave the cookie cool on the baking sheet for 5 minutes before moving them to the wire rack, leave the cookie until it completely cool before putting them in the jar.
Recipe Notes
Do you make this Tapioca Spritz Cookies? Take a picture of your delicious cookies, hashtag #craftyforhome, or you can tag @craftyforhome on Instagram.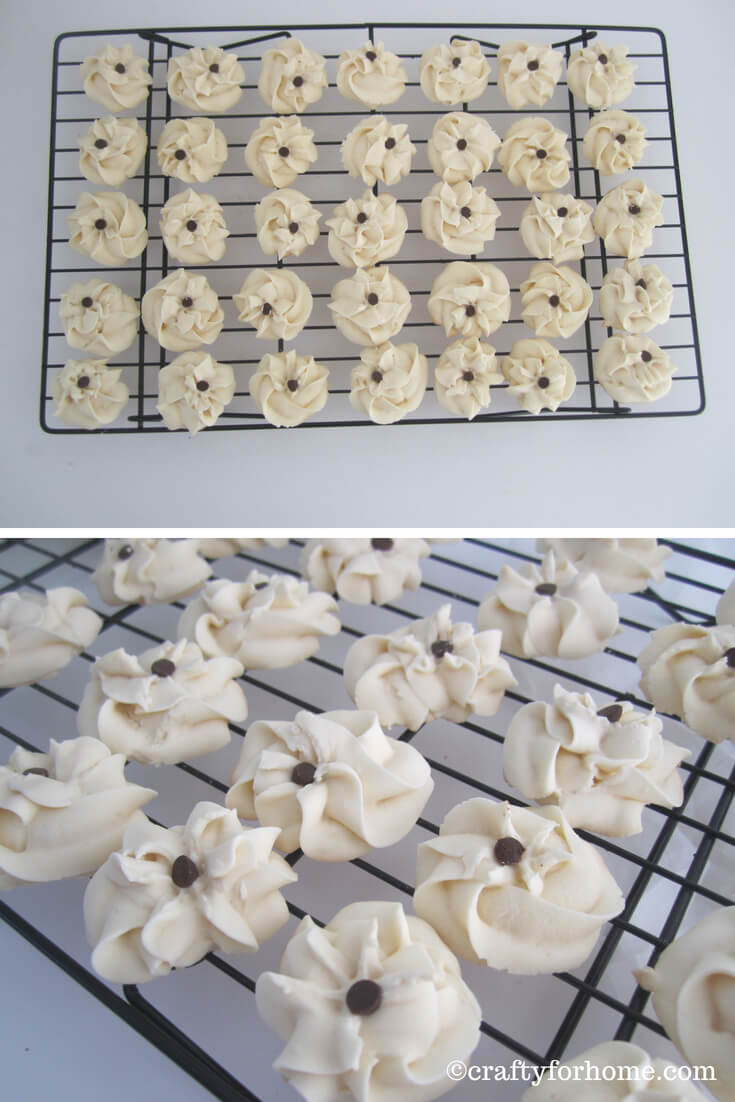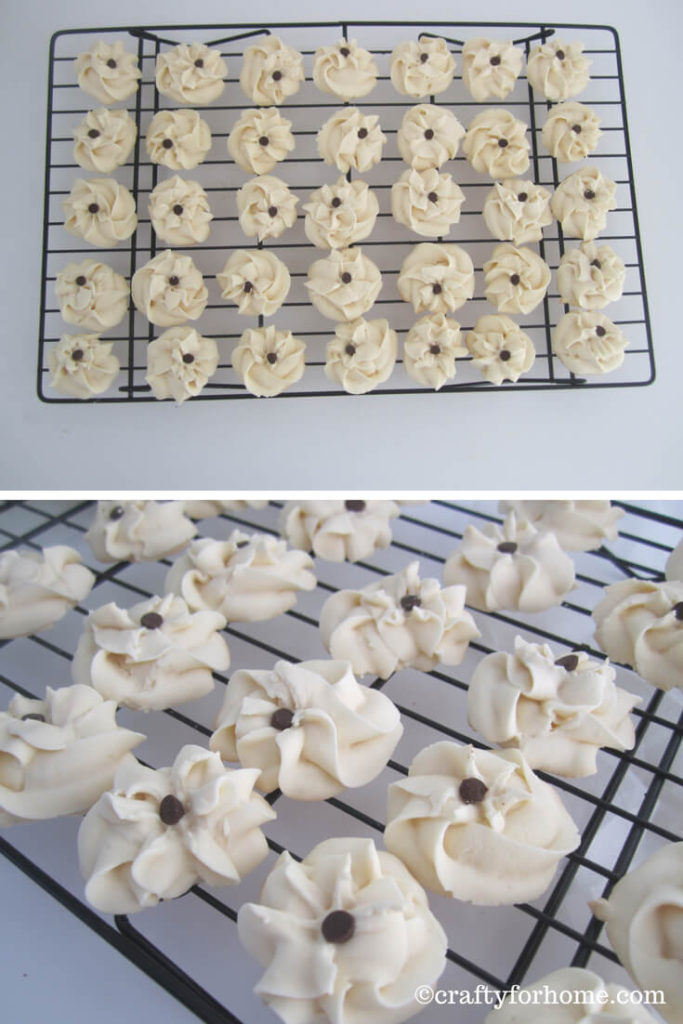 Gluten-free Dairy-free Spritz Cookies
Because of these spritz cookies made of tapioca, so it is gluten-free for sure. What I like about this Tapioca Spritz Cookies:
It is melt in the mouth as soon as you get the first bite.
It is an excellent cookie for the gluten-free option.
You can make lots of different shape from a flower, spiral, heart shape, swirl, or mini wreath if using the icing bag with piping tip or cookie presser, or roll it into a rectangle and use a cookie cutter.
It is a pretty shape cookie so that it will be an excellent addition to a holiday cookie tray.
Holiday Cookie Tray Ideas
Add these Double Mini Chocolate Chip Cookies and the most favorite of all time Chocolate Chip Oatmeal Cookies for your holiday cookie tray. You can also include these sweet treats for your holiday cookie exchange party.