The best fudgy chocolate brownies without egg. Triple the chocolate to get more chocolate in each bite. Dairy-free, egg-free.
If you have dark chocolate bars, you can actually use it for baking the brownies. My kids kept asking for brownies, but it has to be fudgy. Come to the kitchen with my surprise that I run out the egg, and check in the pantry, I have ground flax seed. Well, flaxseed is the perfect ingredient to replace the egg in a recipe. I use ground flax to sprinkle with smoothies, oatmeal, salad, baked good.
I also have dairy-free 70% dark chocolate bar for snacking. It is bite-size on individual wrapping. So, instead of using semi-sweet chocolate for baking the brownies, I use this chocolate bar too for the fudgy brownies on this recipe. Measure it for 100 gram, melted, and it results in almost 1/2 cup melted chocolate.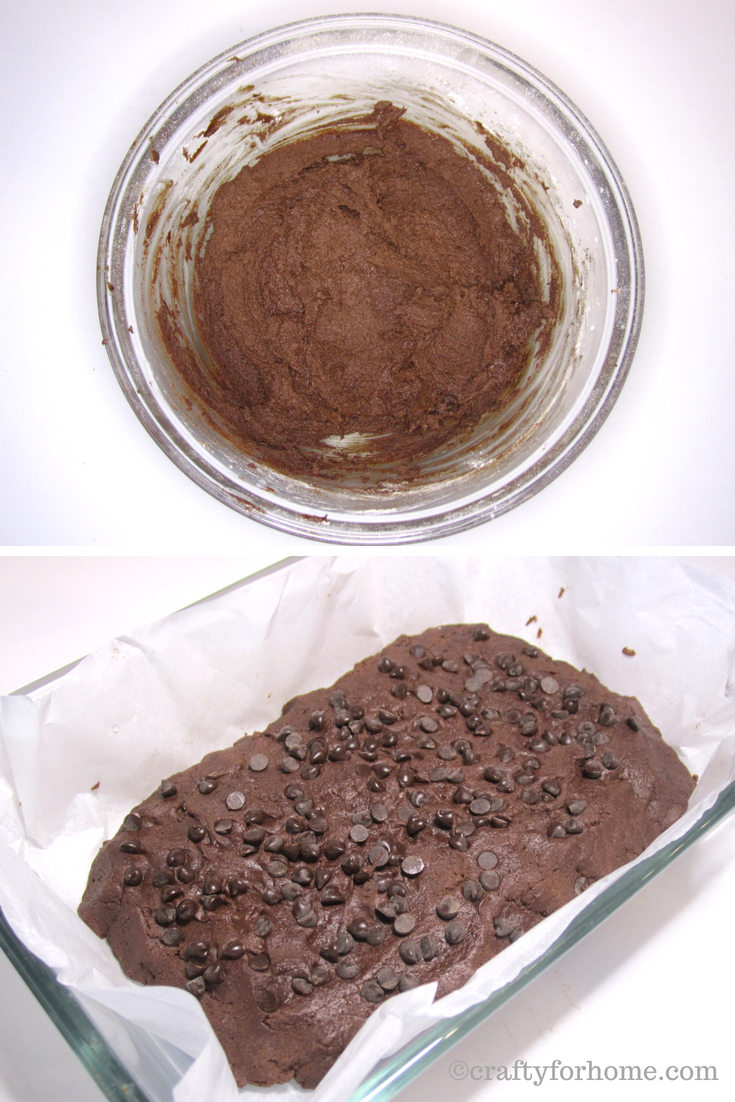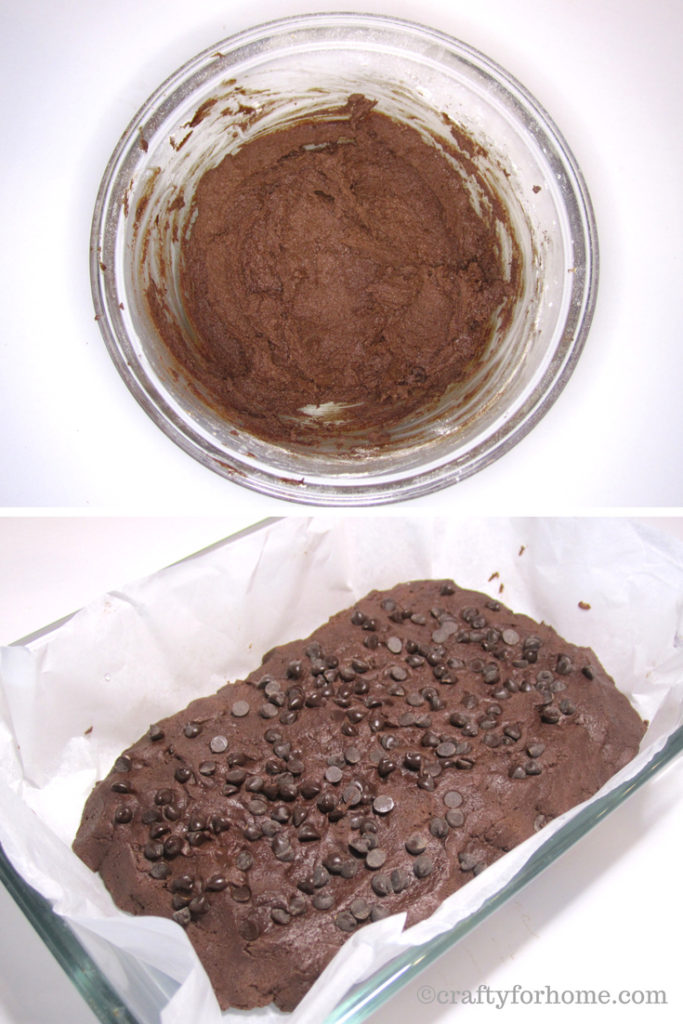 To make the flax egg, use one tbsp ground flax with 2 and 1/2 tbsp water. This is for replacing one egg. So, if you use two eggs then double the measurement for the flax egg. Feel free to use two eggs in this brownie recipe, if you would like to replace the flax egg.
This brownie is so fudgy, dairy-free, nut-free, not too sweet, the texture is not dry, very chocolatey, well, because it is triple chocolate there from cocoa powder, dark chocolate bar, and chocolate chip. I feel like I am talking about chocolate everywhere here, but actually, it is on that brownie bar you going to take a bite or two.
Eggless Fudgy Triple Chocolate Brownies
Serving: 12 brownie bars
Ingredients
1/2 cup sugar
1/2 cup brown sugar
1/2 cup Butter
2 tbsp ground flaxseed
5 tbsp water
1/2 cup cocoa powder
1/2 tsp baking powder
1/2 tsp salt
1 tsp vanilla extract
100 gram 72% dark chocolate bar
1 cup unbleached all-purpose flour
2 tbsp coconut oil or butter
1/4 cup mini semi-sweet chocolate chip
Direction
Preheat oven to 350°F
In a glass or cup, put the ground flax seed with water, let it sit until it thickened. Omit and skip this step if you use two eggs.
In a microwave-safe bowl or double boiler, melt the chocolate bar with coconut oil, feel free to use butter or any other oil of your choice. Let it cool.
In a mixing bowl, use the electric mixer, mix sugar, brown sugar, and butter.
Add flax egg, salt, vanilla extract, baking powder, melted chocolate and cocoa powder. Mix it well.
Add flour and mix it until all well blended. The dough will be thick looks like a cookie dough.
Put the parchment paper on a baking sheet or 9 x 12-inch baking pan.
Put the brownies dough on the prepared baking pan, use the spatula or your finger to shape the dough. Sprinkle the mini chocolate chip on top.
Bake it for 22 – 25 minutes, do not overbake it.
Leave it cool in the pan. Then put it in the freezer for 10 to 15 minutes to make clean cut on the brownie bar.
Take out of the freezer, then cut the brownie in to bars.
While taking the picture of this Eggless Fudgy Triple Chocolate Brownies, everyone in my house was lining up behind me, waiting for their fudgy brownie bar. Well, it did not take long for this brownies, there were only three bars left within an hour then it was gone in the next day.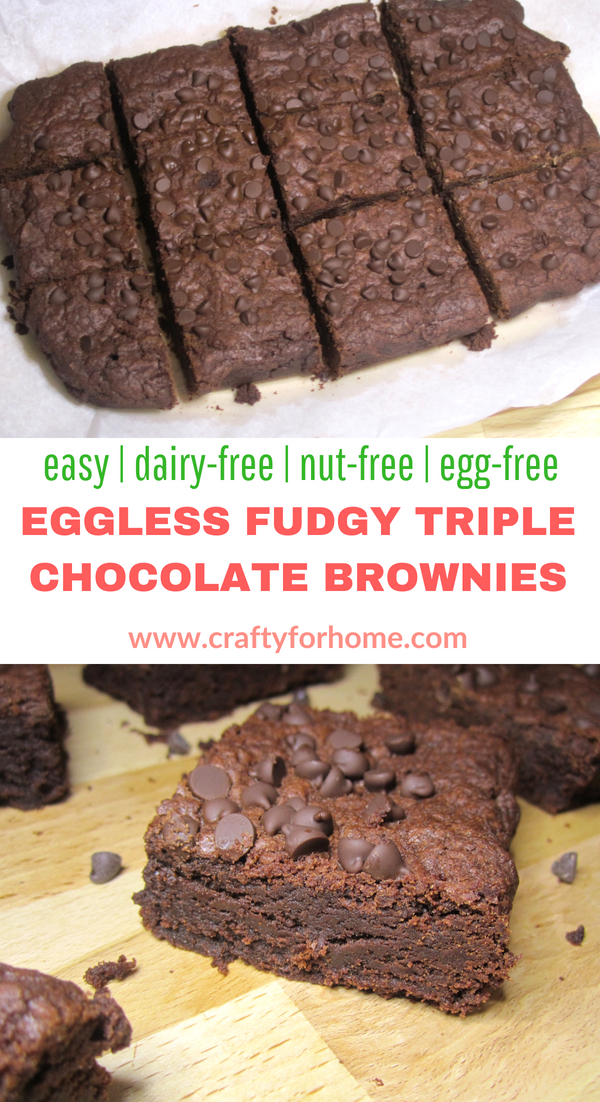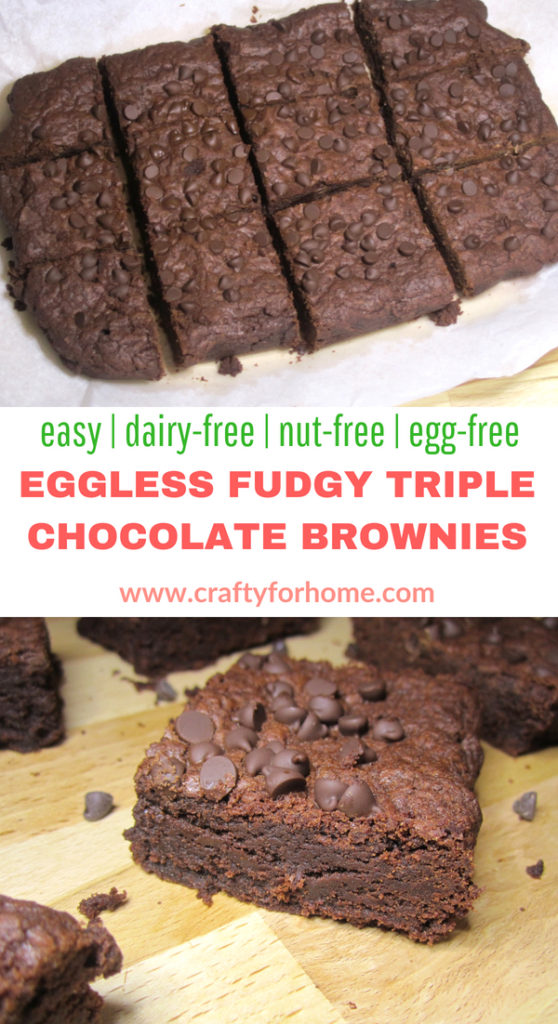 If you like this recipe, write a comment below, if you bake this Eggless Fudgy Triple Chocolate Brownies, take a picture, post it and tag #craftyforhome on Instagram and don't forget to pin it on Pinterest, I would like to know if you like this fudgy brownies as much as we do here.