Fresh dairy-free tropical smoothies you can make for healthy breakfast ideas.
During winter, I always miss sunshine, warm summer air, and everything tropical related. Maybe that is me but who doesn't love summer. This thing leads me to make something tropical in the kitchen. I got this lovely papaya from the local grocery store a few days ago. It is ripe now, great for snacking or smoothie.
Back at my parent house, we always have at least one papaya tree in front of our house. Although only one tree, we actually got abundant of papaya fruit, seems like never-ending stock there. Not only the fruit, we eat the papaya leaves too, the young papaya leaves need to boil it first until it soft, then squeeze the water, and serve it with Spicy Chili Sambal for dipping. Papaya leaves also can be used to tenderize meat.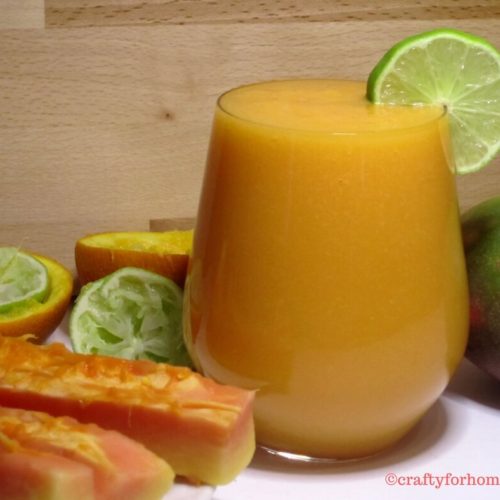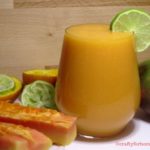 Papaya Mango Smoothies
Fresh dairy-free tropical smoothies you can make for healthy breakfast ideas.
Ingredients
1

cup

cubed papaya

1

cup

cubed mango

1 1/2

cup

coconut water

1

orange

1

lime
Instructions
Squeeze the orange and lime to get the juice out.

Put all ingredients in your favorite blender include the orange and lime pulp.

Process it until smooth. Serve.
Why does papaya good for smoothies
Just like any other tropical fruit, papaya has high in sugar, but it is very high in beta-carotene, vitamin A, vitamin C and some other vitamin and mineral that important for our body. It also contains enzyme papain that is important for our digestive system. So, papaya is great for morning smoothie routine, or for snacks at lunchtime.
The unripe papaya is also great for salad. We usually have unripe papaya for spicy fruit salad. This time I make papaya smoothies by adding mango and use citrus to add the sour taste, so it won't be very sweet from the natural sugar on papaya and mango.
This Papaya Mango Smoothie is not too sweet, there is tartness from the lime, refreshing, beautiful orange color. When I drink this smoothie, I feel like in the tropical place overlooking the blue ocean. Well, I am still thinking about warm summer air here definitely.
Liquid for making papaya mango smoothies
If you don't have fresh mango available, feel free to use the frozen one. Coconut water is great for adding the tropical taste. Feel free to use any liquid you like, water, milk, plant milk, or fruit juice. I use the coconut water from the package that without additional sugar on it. Coconut water from the original coconut would be great, but it is not always available here.
More fresh breakfast smoothies you can try.