Super easy dairy-free slow-cooked beef ragu recipe from scratch and serve it with broad noodle, perfect for weekday meals.
Another way of simple cooking for the busy weeknight supper also great for Sunday supper. Instead of spending lots of time in the kitchen during the weekend, slow cooking will give you relaxing time to enjoy your weekend. It also great for meal prep by making a big batch on Sunday, then pack it for weekday lunch or supper.
Slow cooking is not a new thing. But it helps me a lot to prepare a meal for my family on a busy weekday. So, it easily becomes one of my favorite way to cook.
Beef Ragu Recipe From Scratch
This time, I make Slow Cooker Beef Ragu With Broad Pasta, I also use homemade beef broth. I always make a big batch of beef bone broth in a day, then freeze it on a cup portion container. I only use broad noodle pasta, but I am sure it will taste good to use any kind of pasta to serve with the ragu sauce.
This recipe is easy to make it from scratch. Make ahead by preparing the chopped veggies and keep it in the fridge until you ready to cook it. Even the beef bone broth is homemade that you can easily make it days ahead. But feel free to use your favorite broth. The only premade ingredient here is canned crush tomatoes.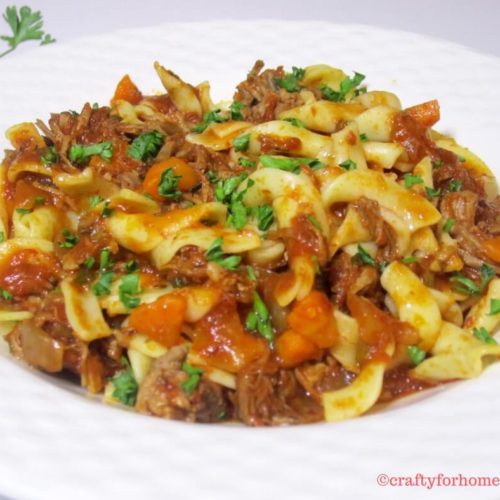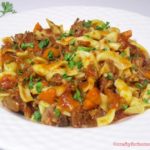 Slow Cooked Beef Ragu With Broad Pasta
Super easy dairy-free slow-cooked beef ragu recipe from scratch and serve it with broad noodle, perfect for weekday meals.
Ingredients
1 kg beef brisket

796 ml crushed tomato

2 tbsp dried garlic

1 medium-size onion, chopped

1 tsp Himalayan salt

1 tbsp fresh cracked black pepper

3 bay leaves

1 tbsp dried thyme

1 tbsp paprika powder

1 cup diced carrot

1 cup diced celery

1 cup beef broth

few twigs of fresh thyme

fresh parsley for garnish

1 package broad noodle pasta, or pasta of your choice
Instructions
Put all ingredients in the slow cooker, except parsley and pasta noodle, turn it on high for six hours, until the meat falls apart.

Take the meat out, put on the plate, use the fork, shred the meat then put the shredded meat back to the slow cooker.

Cook for another 30 minutes, then keep it warm.

Prepare the broad noodle or pasta of your choice as per package direction.

Serve the ragu over pasta, sprinkle some chopped parsley.
Recipe Notes
If you have a chance to make this meat ragu, write a comment, take a picture, post it, and tag #craftyforhome on Instagram and don't forget to pin it on Pinterest.
How to use leftover beef ragu sauce
If there is any left-over ragu sauce, it will be good to use it for wrap sandwich or grilled sandwich for tomorrow lunch, or maybe for pizza topping would be good too. You can use water if the beef broth is not available. And use crushed tomato with tomato paste for a thicker sauce. I only use crushed tomato here, but the sauce is perfectly thick.
It might not the authentic ragu recipe, but it sure satisfied our taste bud, and it is very simple to make. I use beef brisket because it is an inexpensive meat cut and a perfect cut for the slow cooking method. I also used beef roast cut or beef cube for stew before, all came out perfect. That is what I like about slow cooker. Put everything on it, turn it on, forget about it for few hours, there you go, you have a meal without lots of work in the kitchen. The fall apart meat from slow cooking is the best part because I am personally like overcook meat with lots of sauce on it. Include a steak too, it has to be well done.
More of beef recipes