This herbed-roasted whole duck with crispy skin is one easy recipe to prepare, and it is dairy-free and perfect for a weekday meal or Easter dinner idea.
Easy And Crispy Skin Roasted Duck
We cook duck often, we don't serve duck only on special occasion. We have duck for Sunday night supper or weekday supper.
The only problem is I only find frozen duck in the grocery store around here. So, in order to cook it, I need a plan for it, at least one day before to thaw it first.
Cooking duck is not that hard, just like making any roasted chicken. Pop it in the oven then leave it until it cooks.
On the side note, the duck has a lot of fat, as far as I know, lots of people use the duck fat for cooking too, like making roasted potato or veggies.
What Herbs Go With Duck
Some herbs to use for the best flavor in this roasted duck recipe are marjoram, rosemary, onion, and garlic. It is a simple seasoning but flavourful result.
You can add more herbs like thyme, but I find it is enough seasoning only using marjoram, garlic, onion, salt, and pepper.
How To Get The Roasted Duck Skin Crispier
To preserve the duck fat, you can collect it after the duck finishes roasting and glaze the duck. Here I roast the duck and no glaze on it.
Once you rub the seasoning on the duck, let it sit for at least an hour. Then, roast the duck at 350°F for 3 hours.
Drain the duck fat and put it aside. Then roast the duck for ten more minutes at 400°F until the skin is slightly crispier. I got 3/4 cup of duck fat from one whole roasted duck.
How To Serve Roasted Duck
The choice to serve it in our family varies, I personally like to serve duck with fluffy cooked rice then serve it with Spicy Chili Sambal complete with the raw veggies.
Serve the roasted duck with roasted potato that cooked on duck fat along with a salad of your choice. If you have leftover, mix chopped roasted duck meat with citrus beet salad for the next day lunch.
Salad to serve with roasted duck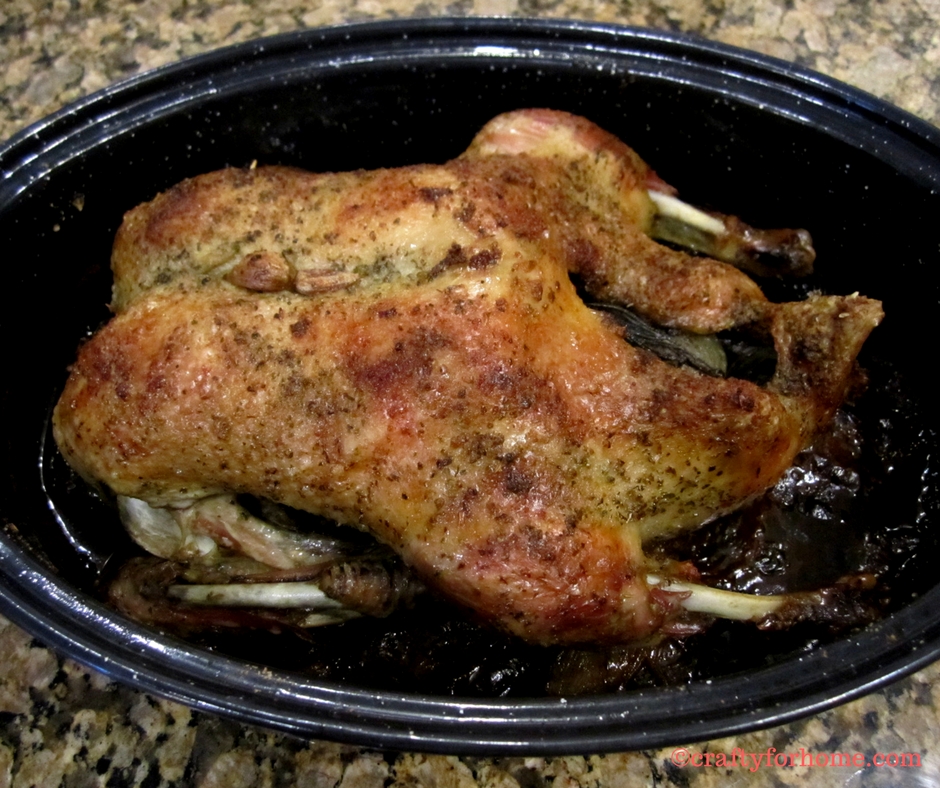 Easy Roasted Duck With Herb
Additional Time:
10 minutes
Total Time:
4 hours
10 minutes
This herbed-roasted whole duck with crispy skin is one easy recipe to prepare, and it is dairy-free and perfect for a weekday meal or Easter dinner idea.
Ingredients
1 whole duck
1 medium onion, white or yellow, cut in 4 quarters
10 cloves garlic
2 tbsp onion powder
2 tbsp garlic powder
2 tbsp dried marjoram
2 tbsp salt
1 sprig fresh rosemary
Blackpepper
Instructions
Make the spice rub by mix together onion powder, garlic powder, dried marjoram, salt
Put the duck on the roasting pan without the rack.
Stuff the duck cavity with onion, garlic, and rosemary, sprinkle a tsp spice rub.
Rub whole duck with the spice rub generously.
Put the other half of onion and 3 cloves of garlic clove around the duck.
Let it sit for at least an hour to marinate the duck.
Preheat oven to 350°F.
Put the roasting pan lid on, roast the duck covered for 3 hours.
Check every hour, and basting the duck with its liquid.
After 3 hours, drain the liquid and the duck fat into heatproof bowl.
Raise the oven temperature to 400°F, roast the duck uncovered for 10 minutes or until the skin looks crispier.
Take out the duck from the oven, let it sit for few minutes before carve it.
Notes
The one-hour preparation time includes seasoning the duck and marinating time.
Do you make this recipe, tag #craftyforhome on Instagram, and don't forget to pin it on Pinterest.