This easy sewing tutorial makes octagon-shaped placemats for your next summer parties that are also durable for outdoor use.
Use This Guide To Make Octagon Shaped Placemat For Outdoor
What are your favorite things to do in the summer? Mine is being outside as often as possible when it's warm sunny days, that could be gardening, lounging in the porch, biking, going to the river or lake, hiking, camping, fire pit, barbecue, well looks like I have to list hundreds of them here.
As an Amazon Associate I earn from qualifying purchases. This post may contain affiliate links. Please see the Disclosure Policy for details.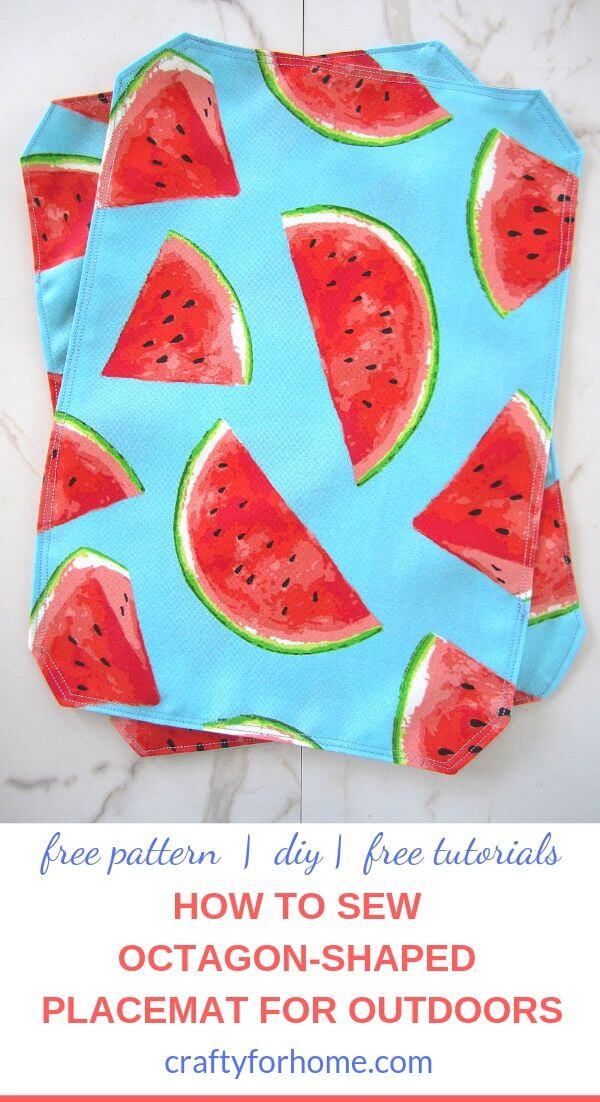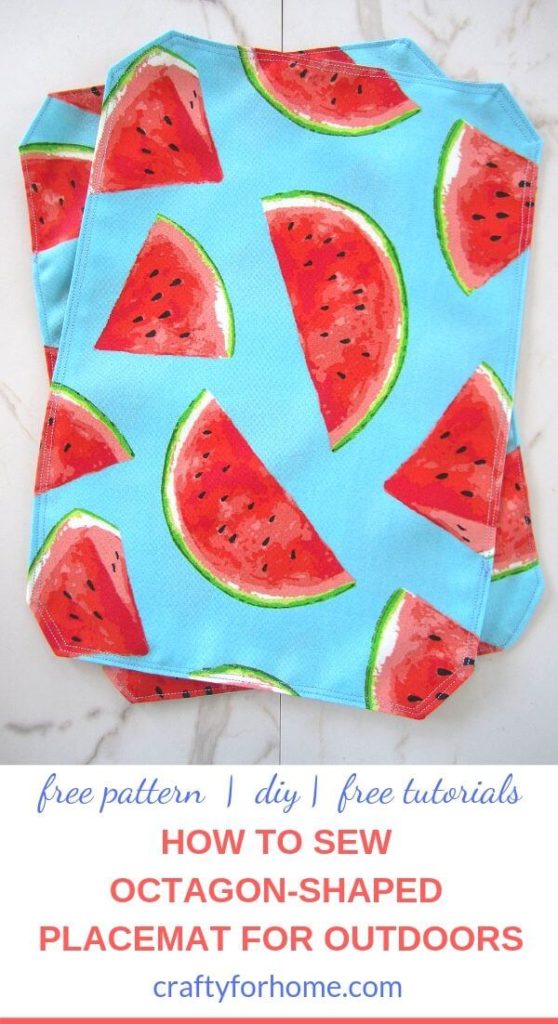 Once a while we have family and friends gathering to have a barbecue and then continue with fire pit until late at night. So, guess what, I sew the placemat for outdoors use to make the table setting looks more interesting when we have supper outside.
Sure there are lots of choice of the ready-made placemat in the store, but I always thought handmade is the best one to have. It also gives the unique looks and personality for the table decor.
What Fabric To Use For Outdoor Placemats
There are several fabric types for outdoor use. Oilcloth, vinyl, specifically called outdoor fabric, are some of the materials you can use.
For this project, I use outdoor fabric I got from the local fabric store here. The material is thicker, medium weight, water-resistant, and easy to clean.
Related: How To Sew Freezie Cozy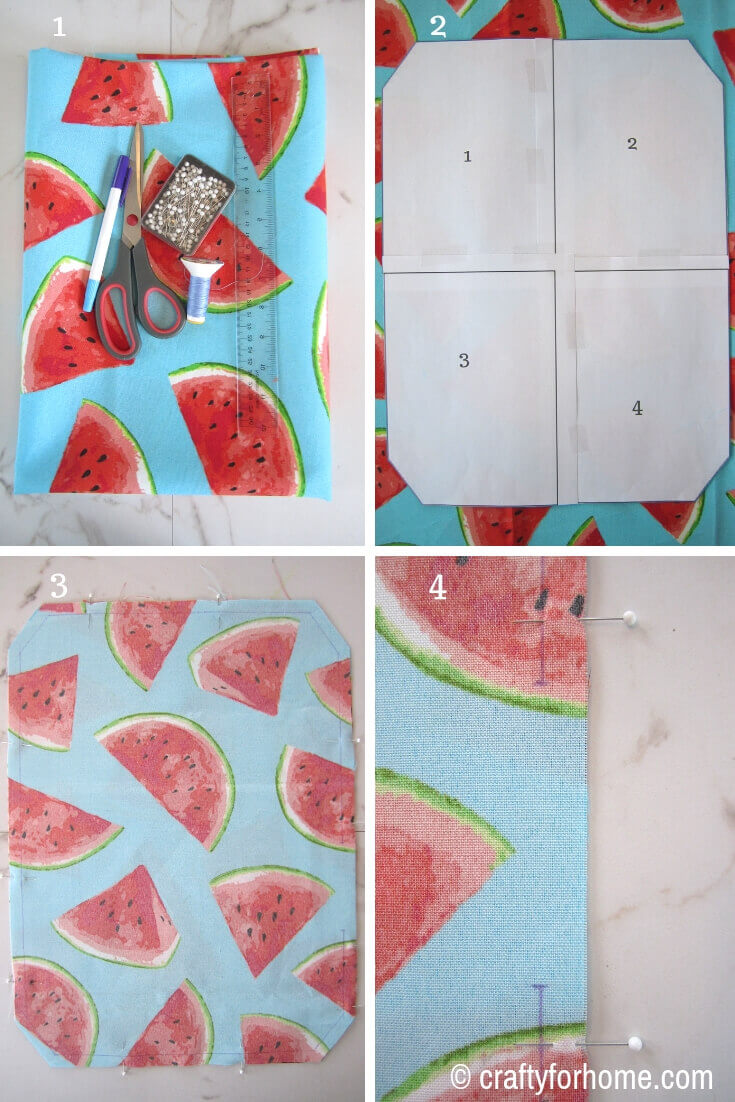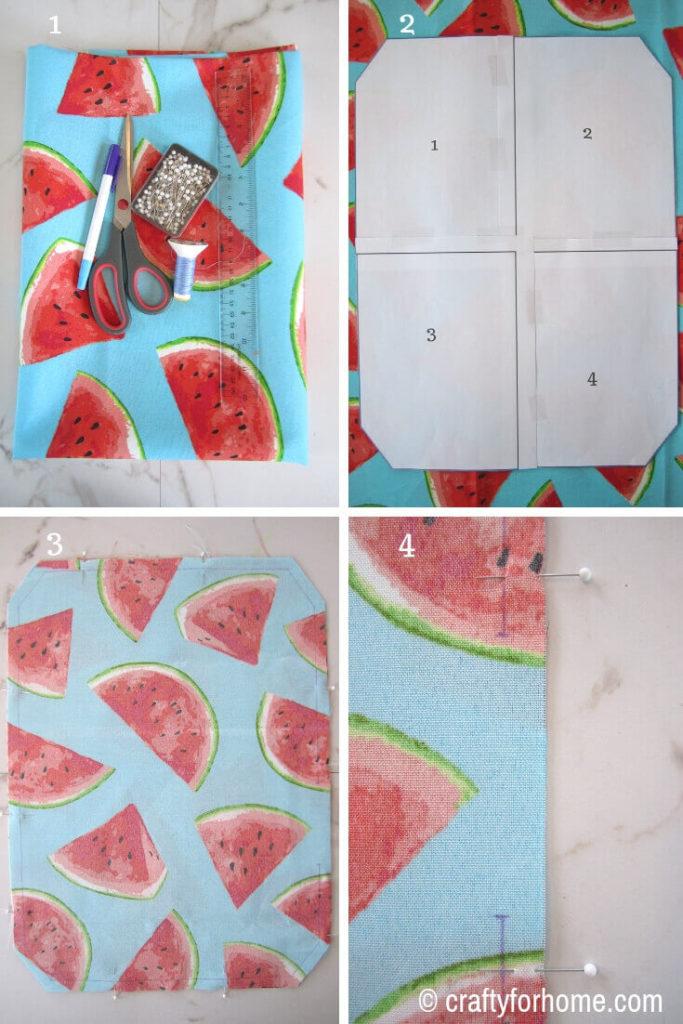 Any fabric store in your area carries outdoor fabrics. If you can not find the specific print you like, then you can check the online store. This store has fabric print similar to the material I use here.
Shape For Outdoor Placemats
The outdoor fabric is thick enough, so you don't need quilt batting to make this placemat. The tutorial is similar to the double-sided cloth napkins. It is just a different shape.
Here I sew octagon-shaped placemat for our rectangle outdoor dining table. If you prefer, you can sew different ones like a rectangle or oval shape placemat.
What You Need To Make Octagon-shaped Placemats For Outdoors
Outdoor fabric has about 145 cm or 1.58 yards in width. You will have six sets of octagon placemats from 2 meters or 2.18 yards of materials. Each placemat size is 33 cm x 45 cm or 13-inch x 18-inches.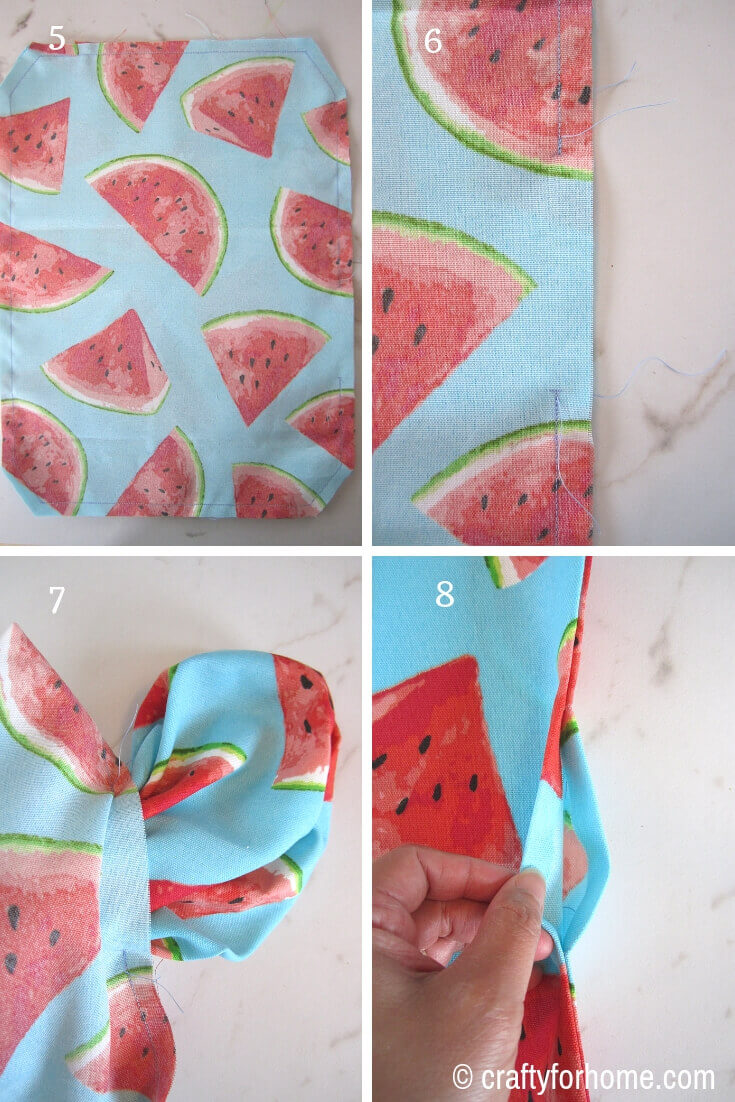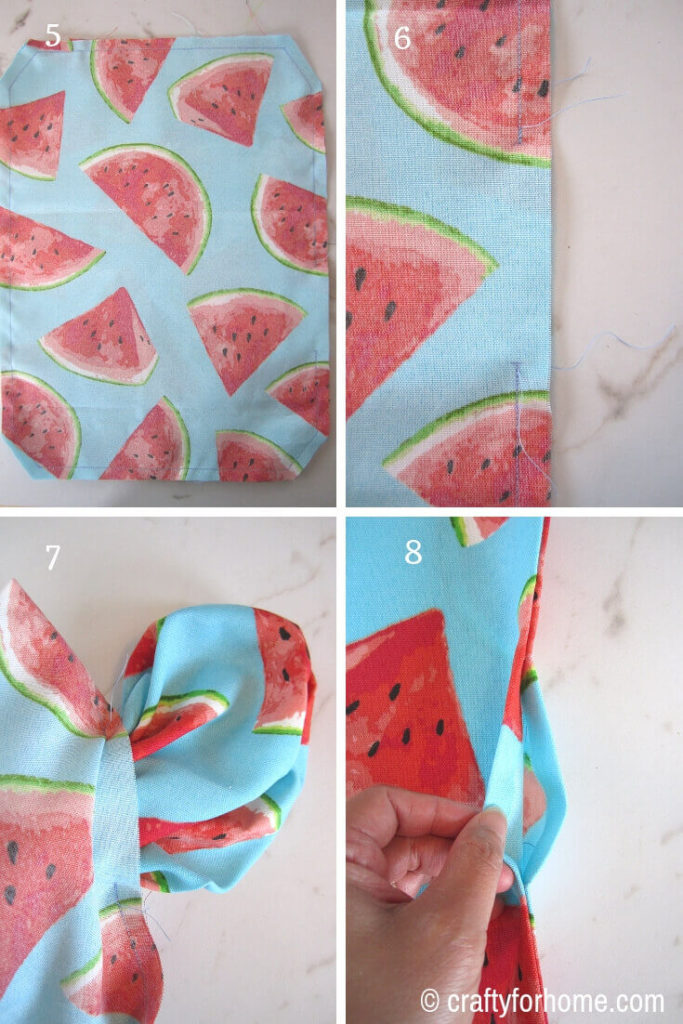 Scissors
Ruler
Pin
Ironing machine
Sewing machine
How To Sew Octagon-shaped Placemats For Outdoors
Use the washable fabric marker to trace the octagon placemat pattern.
Cut the octagon-shaped fabric.
Stack the two-piece of octagon-shaped fabric with the right side facing each other. Pin it to secure it in place.
Use a washable marker to mark 1/2 inch of seam allowance on one side of the fabric.
Sew along the marked lines and skip 6 inches for the opening.
Turn the fabric inside out through the opening.
Iron the placemat to make it easier to topstitch along the edge.
Topstitch the placemat along the edge and close the opening at the same time. You can do a single or double topstitch for this placemat.
Repeat the process for all placemat sets.
Tips: Put a piece of cotton fabric or pillow case on top of the placemat before press it with the ironing machine to prevent burn or discoloration on the material.
Sew the perfect placemats for your next outdoor party with this easy tutorial #sewingtutorial #summerparty
Click To Tweet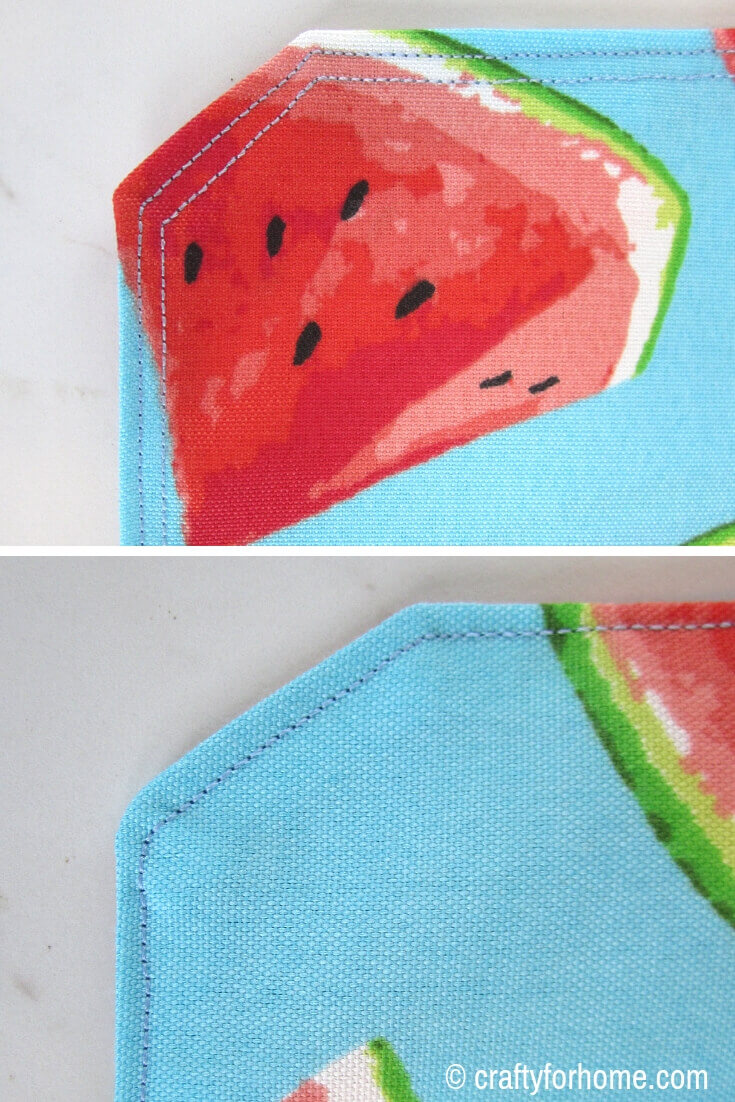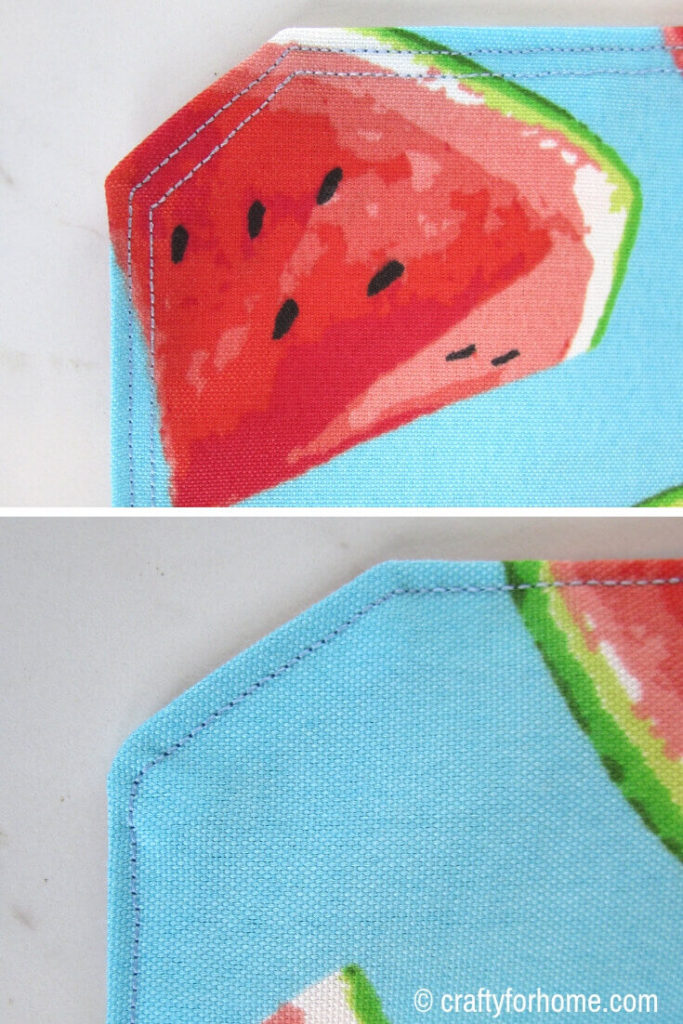 The picture shows how it looks like for a single and double topstitch on the placemat. There is no specific rule about it. The top stitch is for closing the opening and decoration purpose only.
How To Clean Outdoor Placemats
Although these placemats made of specifically outdoor fabric, you still need to maintain it. Bring the placemats indoor when not in use.
Handwash the placemat by wiping it down with warm water and mild soap if needed. Rinse with clear water and flat dry or hang dry.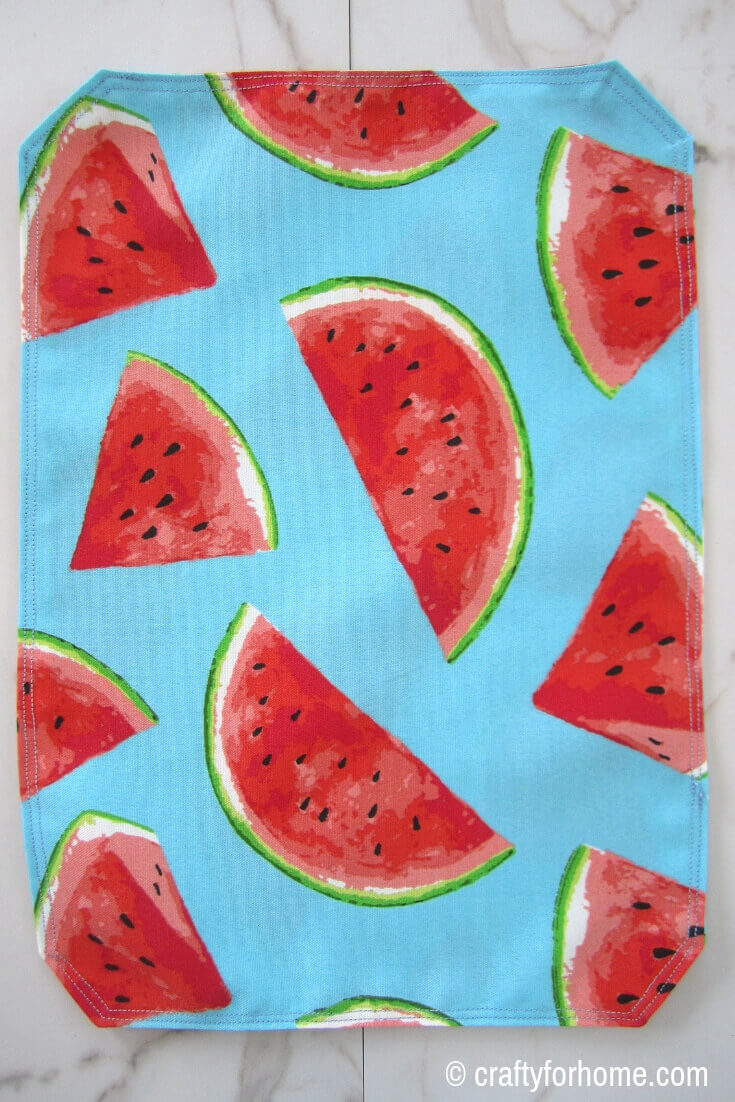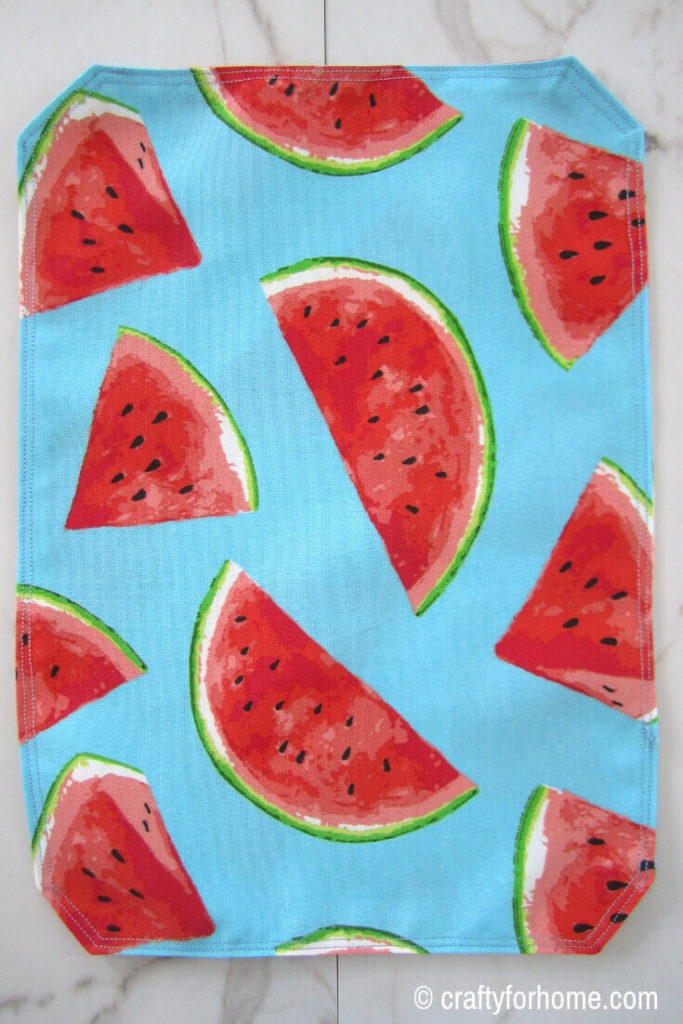 The best thing with this sewing project is you will finish six sets of placemats in just under one hour. So, you will have extra times to prepare other items for your summer party.
More easy sewing project to make placemats
DIY Placemat For Outdoors