Use these helpful tips on how to grow tomatoes in a container that is perfect for a patio garden, balcony garden, or any small space garden.
Growing Tomatoes In A Container
Growing tomato in a container is possible and doable even if you have never done a garden before. Tomato can grow anywhere as long as there is a suitable growing condition for it. If there is limited space in the yard or cold and short growing season, you can build a container garden instead.
As an Amazon Associate I earn from qualifying purchases. This post may contain affiliate links. Please see the Disclosure Policy for details.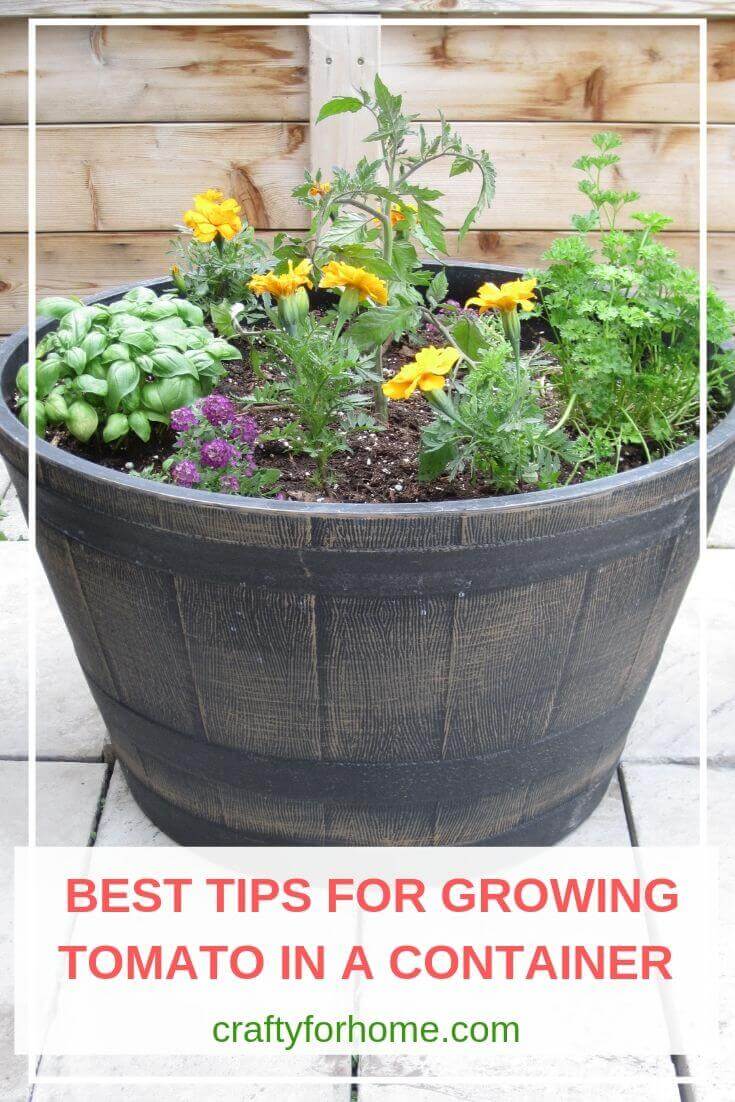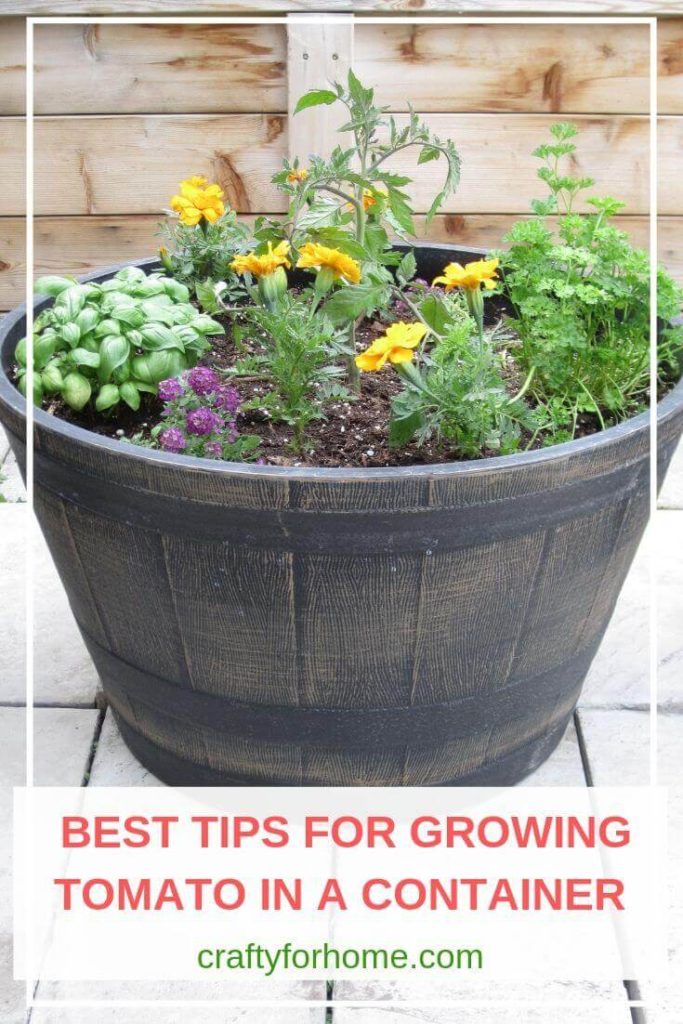 Tips To Grow Tomatoes In A Container
Choose The Right Size Container
Tomato has an extensive root system. The smaller one like 2 or 3 gallons container works fine for the particular tomato variety. To prevent root bound, choose at least 5 gallons size container.
Some people have success growing tomato on a bucket. If you choose a bucket for a container garden, you have to make sure to drill drainage holes in the bottom.
Related: All New Square Foot Garden Book Review
You can also use tote plastic bins, wine barrels, resin barrels, terra cotta, or garbage bins. The most important is to make sure these containers have proper drainage holes in the bottom to prevent water pooling on the root system.
Clean the container if you use it in the previous season to prevent fungus or any plant disease. You can use bleach, vinegar, or dish soap to clean the pot before you get the container ready for planting.
Use Potting Mix
Choose the proper growing mix that specifically for a container. Any hardware store, grocery store and garden center carry bagged potting mix ready to use.
It is not recommended to use garden soil, as it's possible to carry pest or plant disease. Also, the potting soil mix is lighter in texture and contain trace minerals that plant needs.
Add fertilizer into the tomato hole
Add growing mix about 1/4 of the planter and put these seven things as the best fertilizers for tomato into the planting hole. Cover it with the rest of the soil mix before you put the tomato plant in.
Choose The Right Tomato Variety
There are indeterminate and determinate tomatoes, with so many varieties. It is better to choose determinate tomato for growing on a container.
Bush Early Girl Tomatoes or this heirloom Roma Tomato are good ones to pick. You can also grow cherry tomato varieties such as Tumbling Tom Tomato or Patio Choice Yellow Tomato.
Plant Tomato Deeper
Always put the tomato plant deeper to make the plant well-rooted for better growth. You stripe off the two lower leaves include the suckers that might already pop up before plant it.
Grow Companion Plants
Growing tomatoes in a container would still get benefit from companion planting. These flowers and herbs are excellent companion plants for tomatoes. These plants attract beneficial insects as well as improves the taste of the fruits.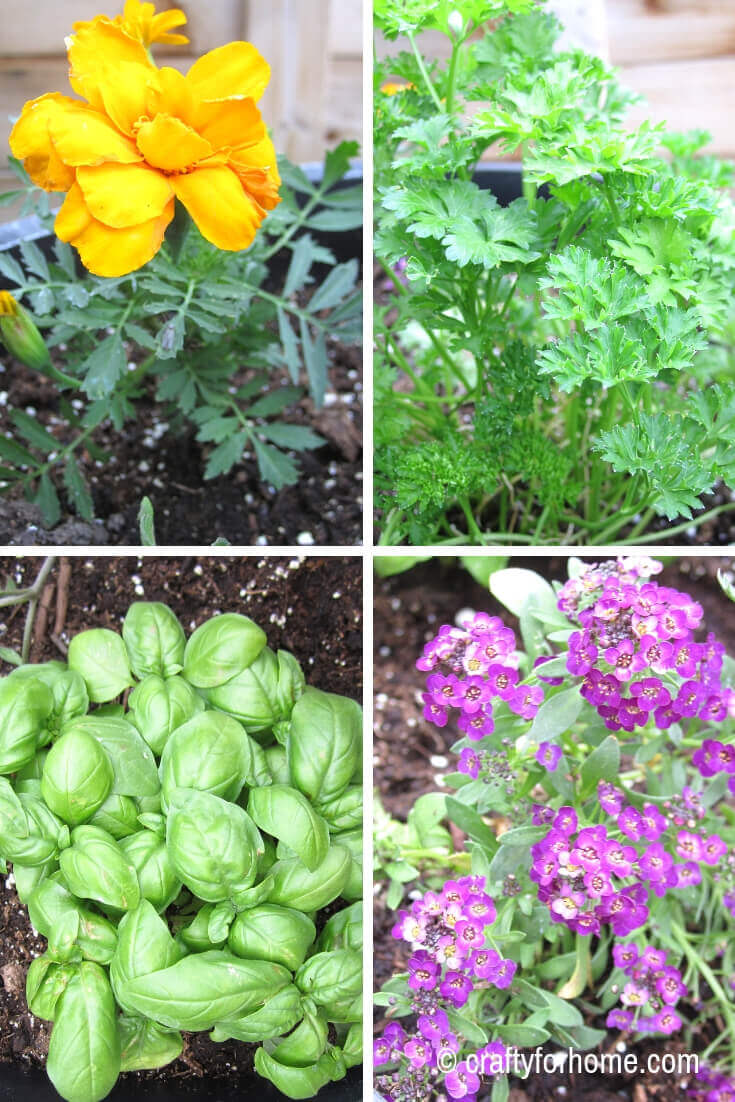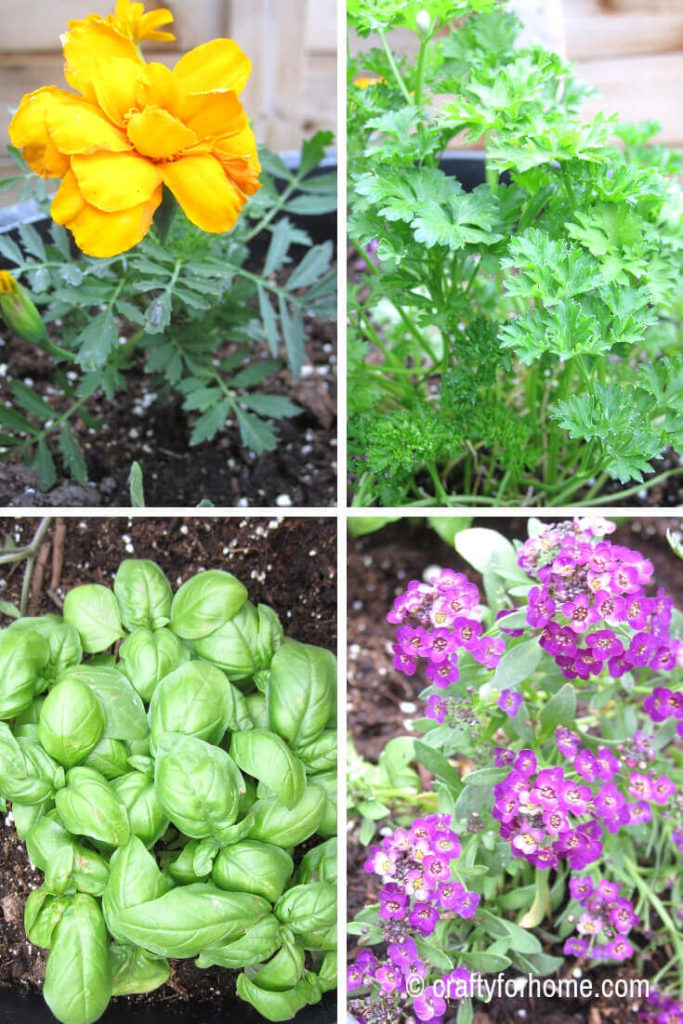 Here is the sample of interplanting tomato in a container. I use resin half-barrel planter to grow Bush Early Girl Tomato.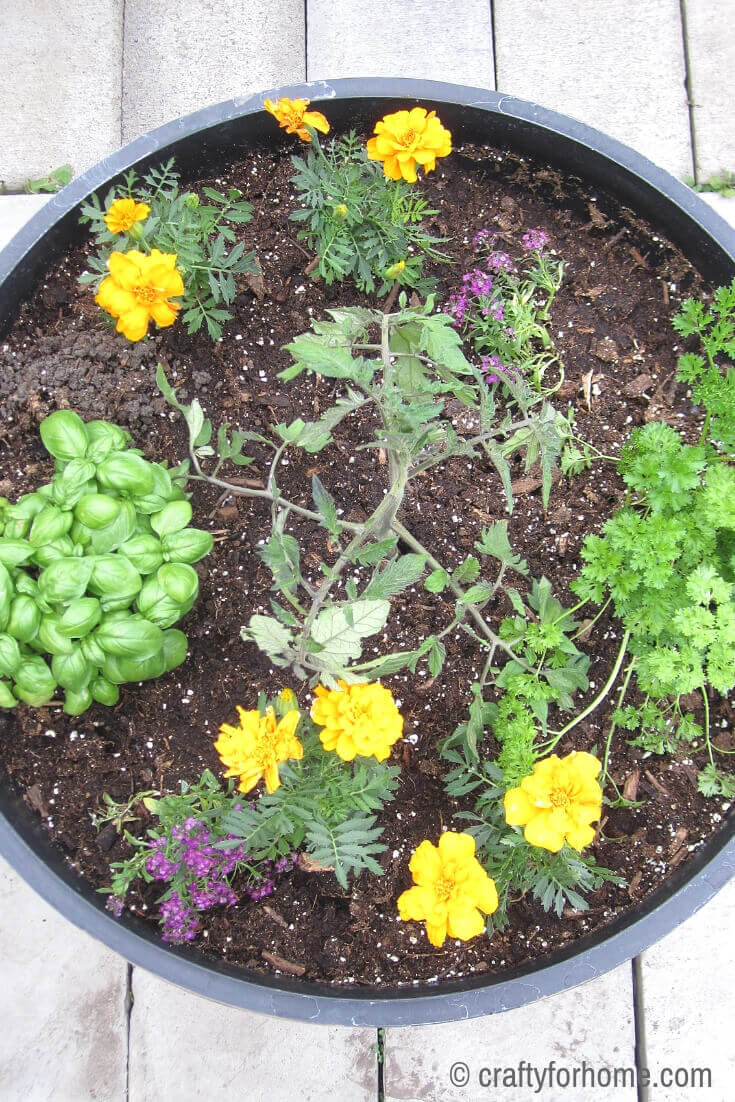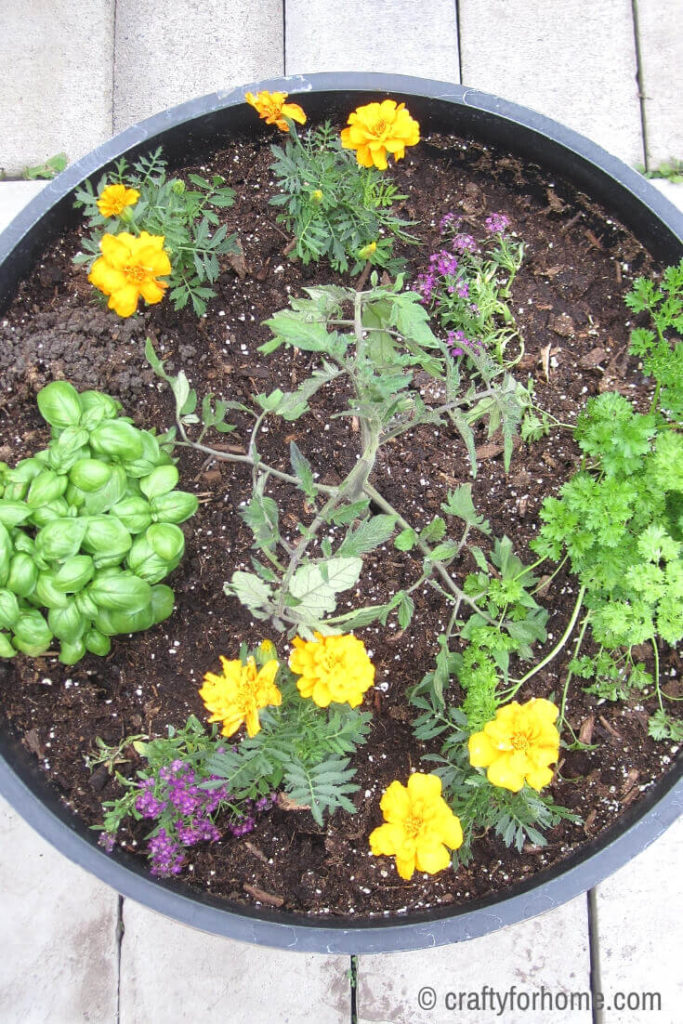 Put the tomato plant in the middle along with two marigold flowers, alyssum flowers, basil, and parsley as companion plants.
Related: Free Printable Vegetable Plant Markers
Water often
Unless you use a self-watering planter, keep watering the container frequently, especially during hot summer. It is best to water it in the early morning on the soil surface, so it has time to dry up before night.
You can also put mulch such as untreated grass clipping, fall season leaves, straw, or cedar mulch to keep the soil moist.
Position The Container In The Full Sun
Tomato grows better in the full sun for at least 6-8 hours a day. Observe the sun exposure in the yard, and it could be in the deck, pathway, or even by the side of the garage.
However, it doesn't mean consecutive direct full sun all day long. It could be six hours morning sun and continue with two hours afternoon sun which is still desirable for tomato plants.
Put Tomato Cage /Stake For Support
You might want to put the tomato cage for the growing support. Even some determinate tomatoes will be heavy with fruits when it grows in a suitable condition.
Remove These Tomato Plant Suckers
You might need to remove these suckers so that the plant will focus on growing fruit on the main stem only. I tend to leave up to three suckers, especially the cherry tomato variety.
Pruning tomato plant suckers also will improve air circulation to prevent plant disease and encouraging larger fruit size. Keep these suckers, because you can root tomato plants from cutting in a week with this method.
Growing tomatoes in a container are easy to do with these 10 best tips. #gardeningtips #growingtomatoes
Click To Tweet
What To Do With Tomato Plants In A Container When First Frost Is Coming
The first frost can come earlier or later date depending on the growing zone. It is not a surprise when the first frost is coming as early as the first week of September here in the place where I live. There are things you can prepare when the colder weather come for tomato plants.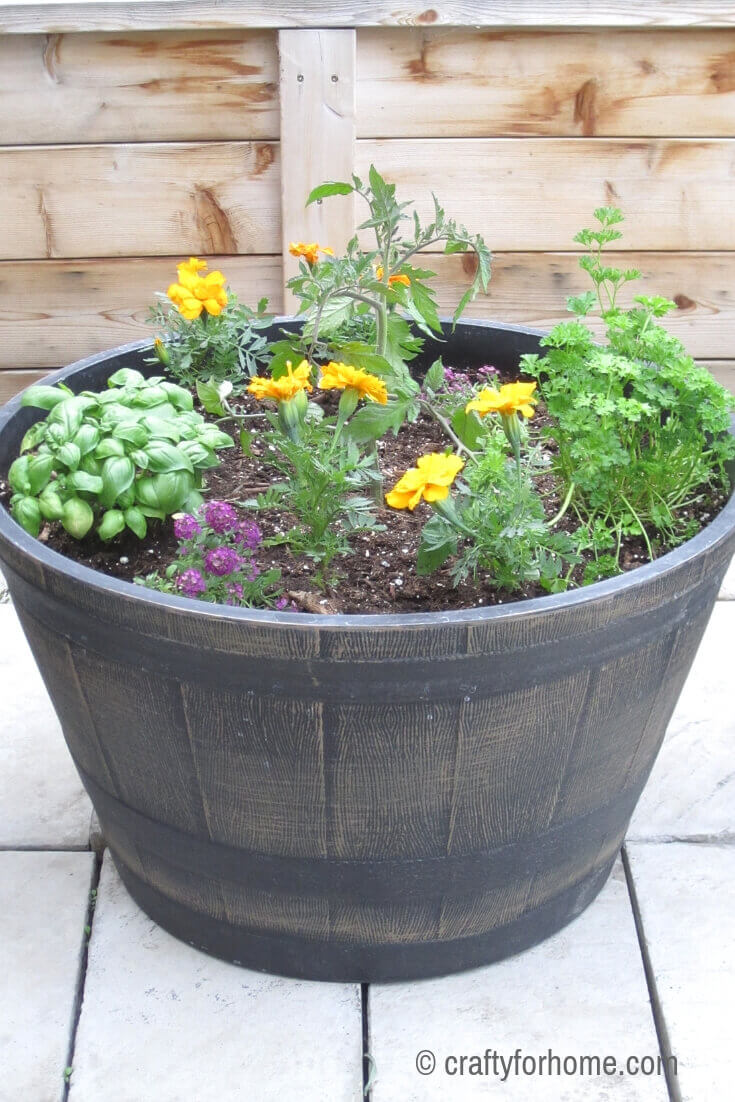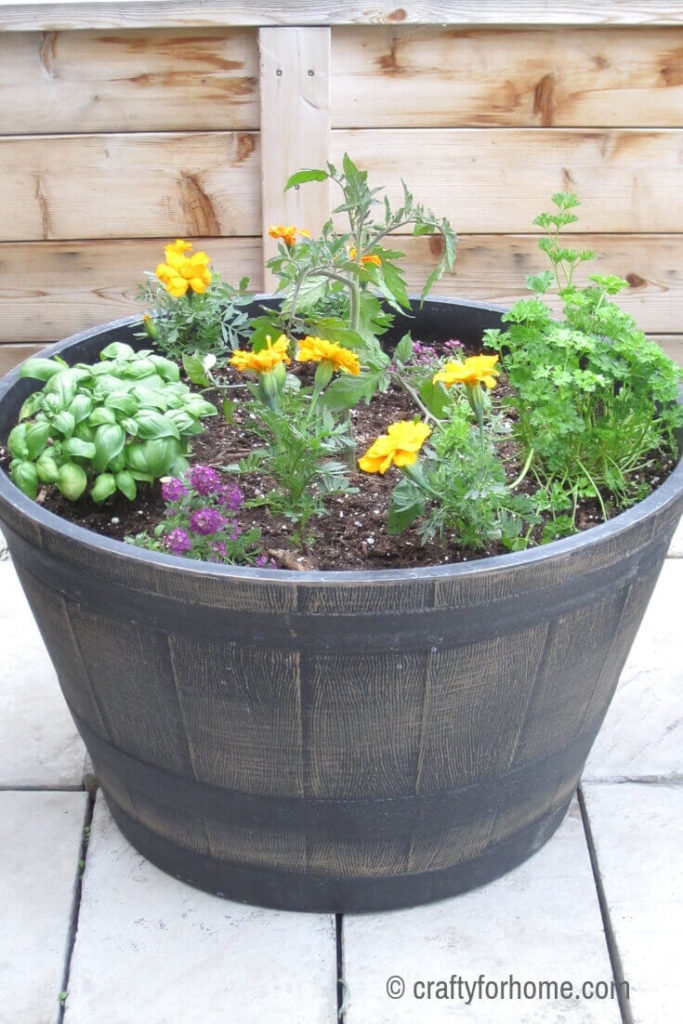 You can cover the plant and the container with frost blanket if warmer days are coming later on. You can pick all tomato fruits and also these green ones and do these four different methods to ripen green tomatoes indoors.
A container garden is portable, and you definitely can extend the growing season. Put the pot indoor by the window to get the maximum sun exposure. Always make sure to clean the plant from bugs or any pest that may be infecting the houseplant before you move it indoors.
Grow these tomato varieties for your container garden this year.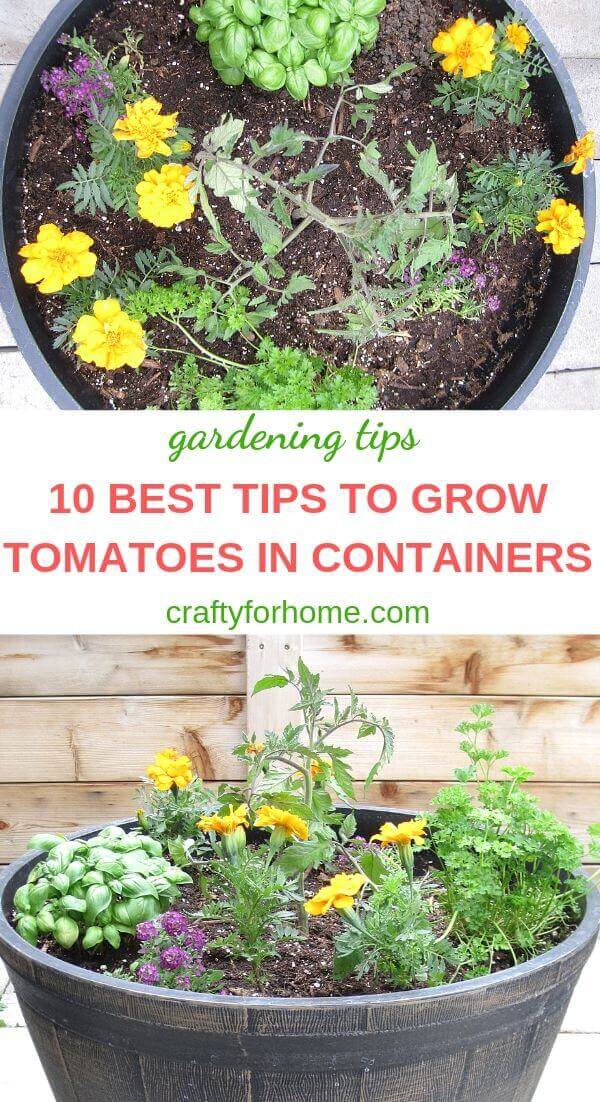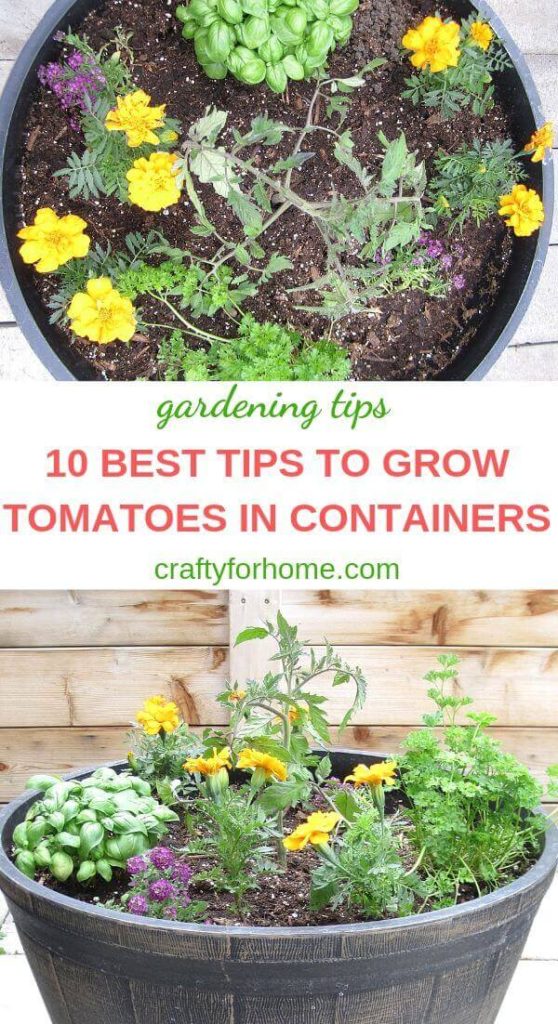 Make your plant markers for your vegetable garden with this free printable. An easy DIY garden project you can do with kids.
These easy to grow herbs from seed are the perfect plant to start your kitchen garden without too much time needed to maintain it.
Store your green tomatoes indoor at the end of growing season. Here are four tips on how to do it so you can enjoy these tomatoes later on in the fall or winter.