These Easter egg placemat tutorials are easy to follow and fun to do for Easter sewing project ideas, and you can do it in one afternoon.
Use This Guide To Make Easter Egg Placemat
Maybe we don't use placemats for everyday use, but I convince you this egg-shape placemat is a must to have for your upcoming Easter dinner. It is super cute and cheerful for easy Easter table decoration and a perfect pair with this DIY mitered cloth napkins and this adorable egg cozy.
As an Amazon Associate I earn from qualifying purchases. This post may contain affiliate links. Please see the Disclosure Policy for details.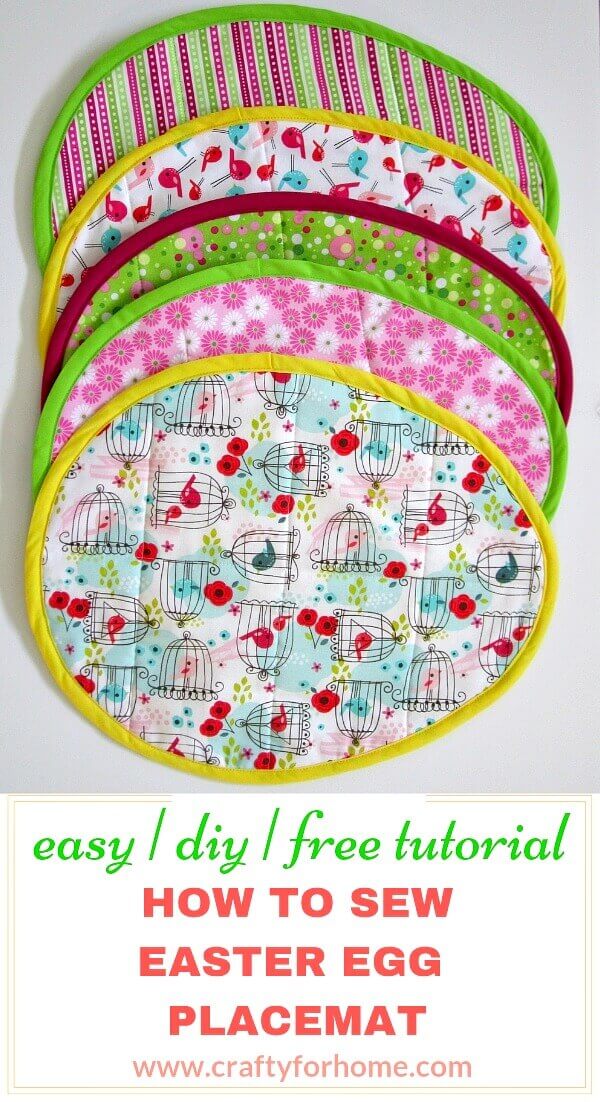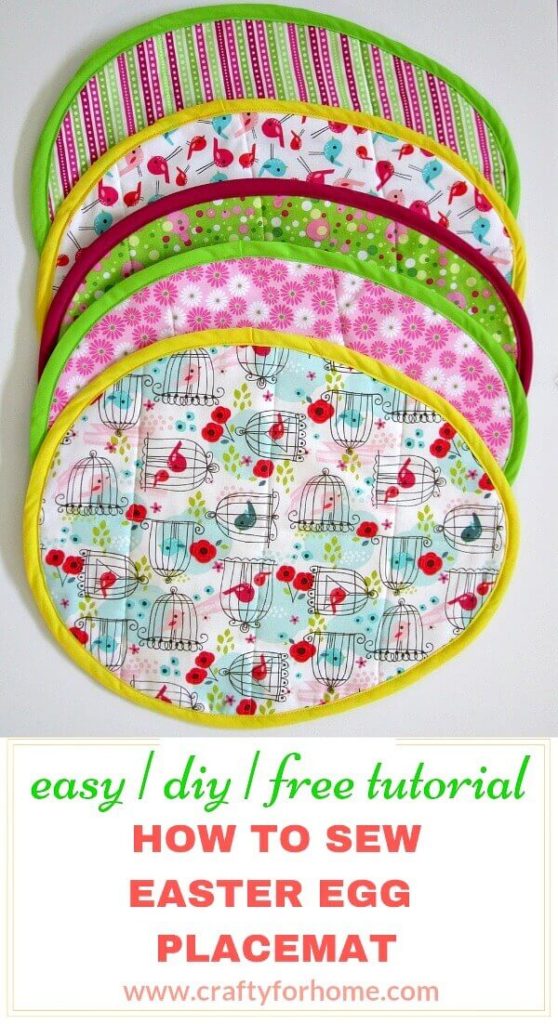 I use a fat quarter bundle for this project. There are usually five or six pieces of fabric per bundle, so you will need two bundles to make five sets of placemats, a bundle for the top side and another bundle for the backing.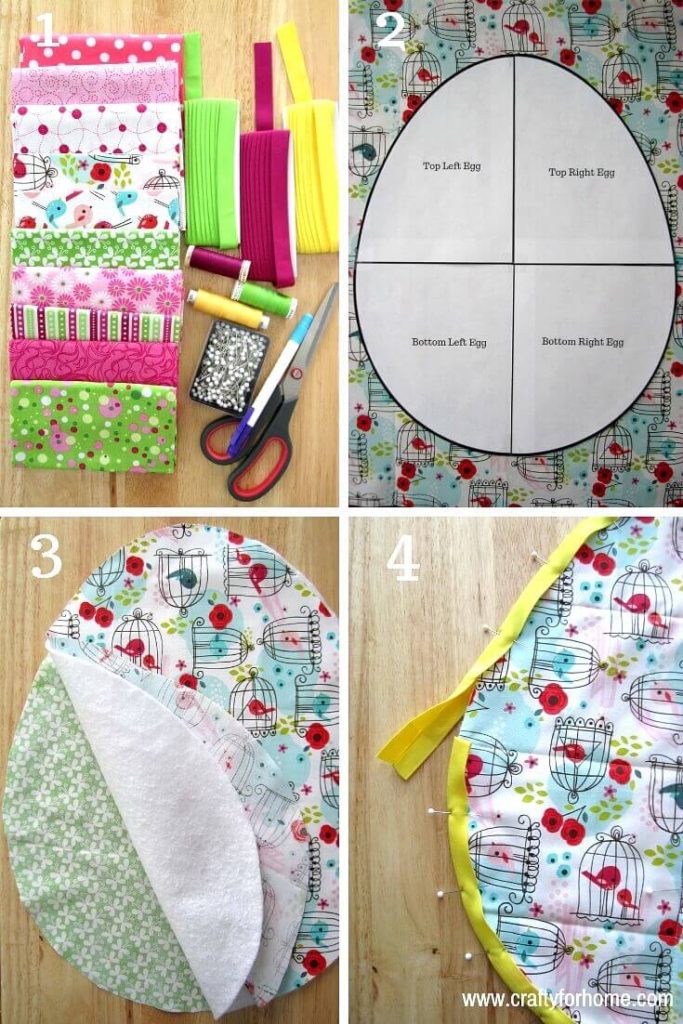 But if you are purchasing fabric per meter or yard, then you will only need 2 meters or 2.25 yards of quilting cotton fabric and turn it into five sets of placemats.
I use quilt batting to give weight on the placemat. The batting I bought was two layer, so from 1 meter of batting, I can have more than ten egg-shaped placemats because I only use one sheet for the mat.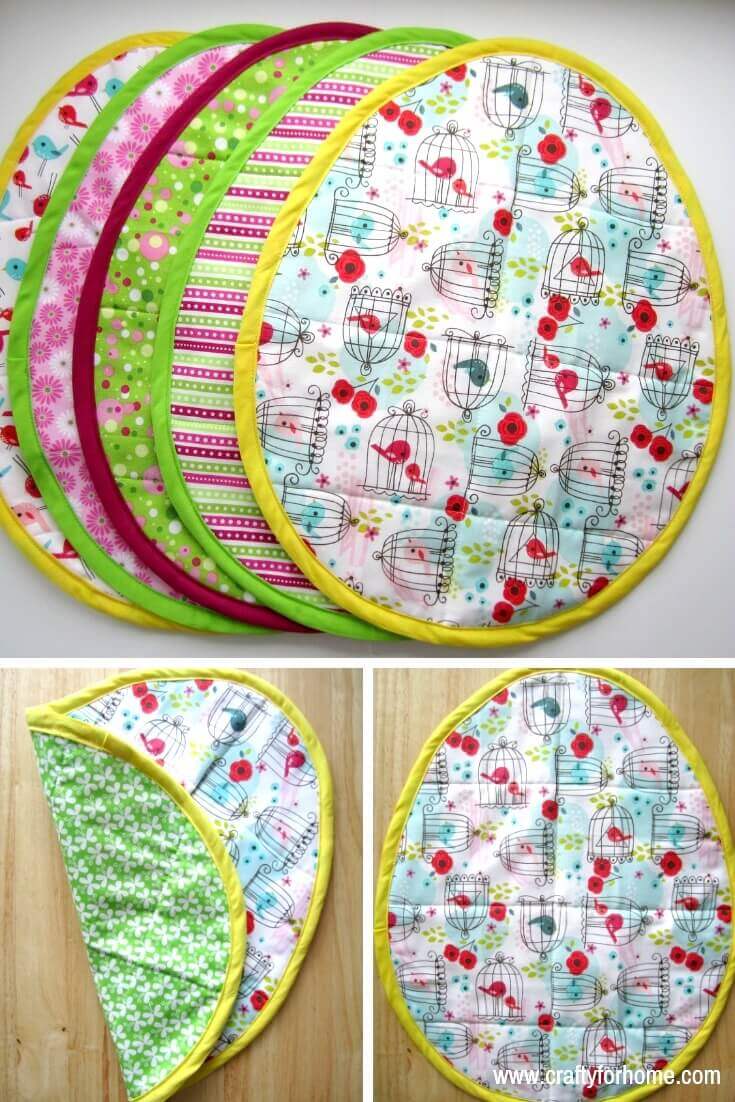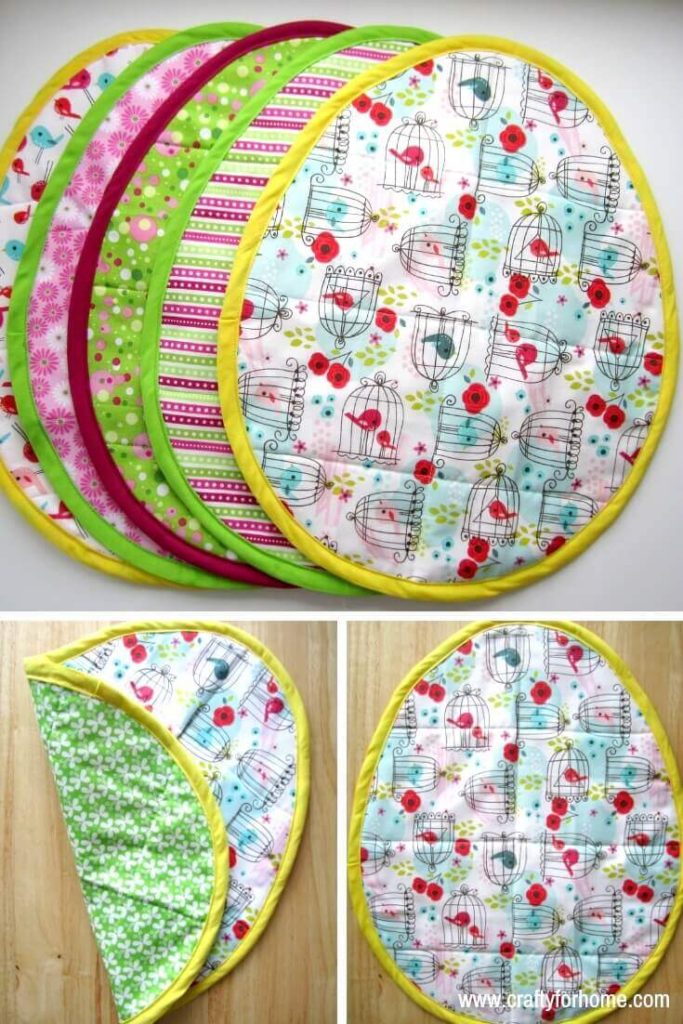 I also use bias tape for finishing. Even though this project requires a bit some work to pin the bias tape around the edge of the napkins, but overall this is a quick project just like this 10 minutes cloth napkins. You can finish five sets of placemats in one afternoon.
What you need to make egg-shaped placemats
How to make egg-shaped placemats
Put together the pattern into an egg shape.
Trace the pattern on batting and fabric, so that would be five egg shape batting and ten egg-shaped fabric
Sandwich the batting between two pieces of fabric. Pin it to make it stay in place.
Sew straight across the placemat. You can also do fancy quilting stitch all over the placemat.
Pin the bias tape along the edge of the placemat.
Top stitch along the hem of the bias tape.
Reversible egg-shaped Placemat
This reversible placemat is completely washable and reusable. Keep in mind though as it made of cotton fabric, so this oval quilted placemat is not a stain resistant one, but you can always toss it into the washing machine and let it do the cleaning for you.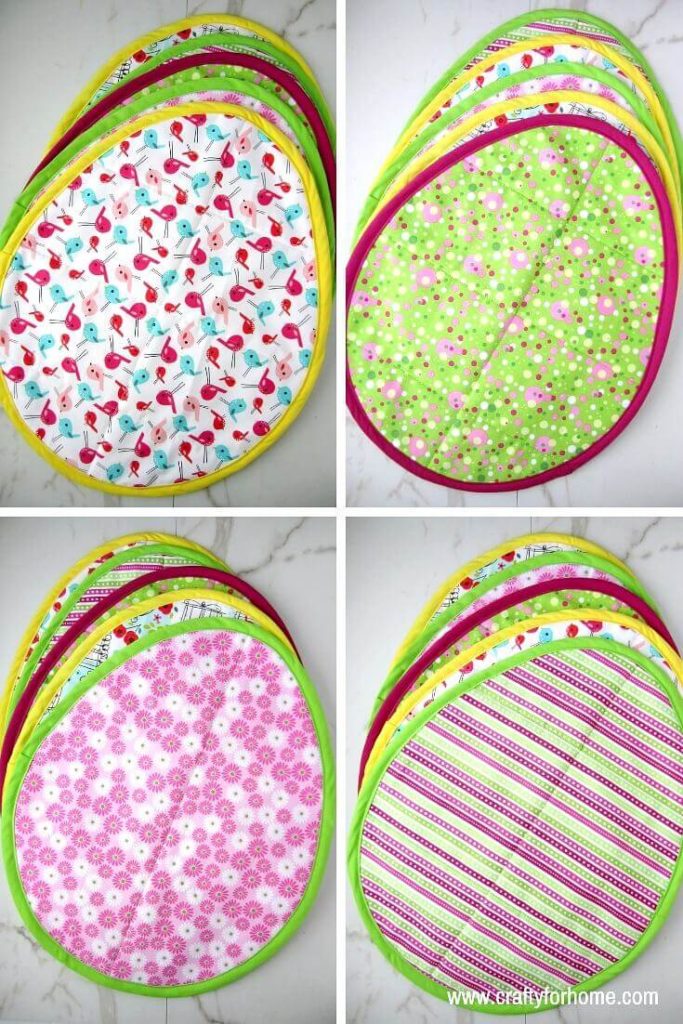 I love to use fat quarter fabric bundle because they already mix and match the fabric based on the color and print.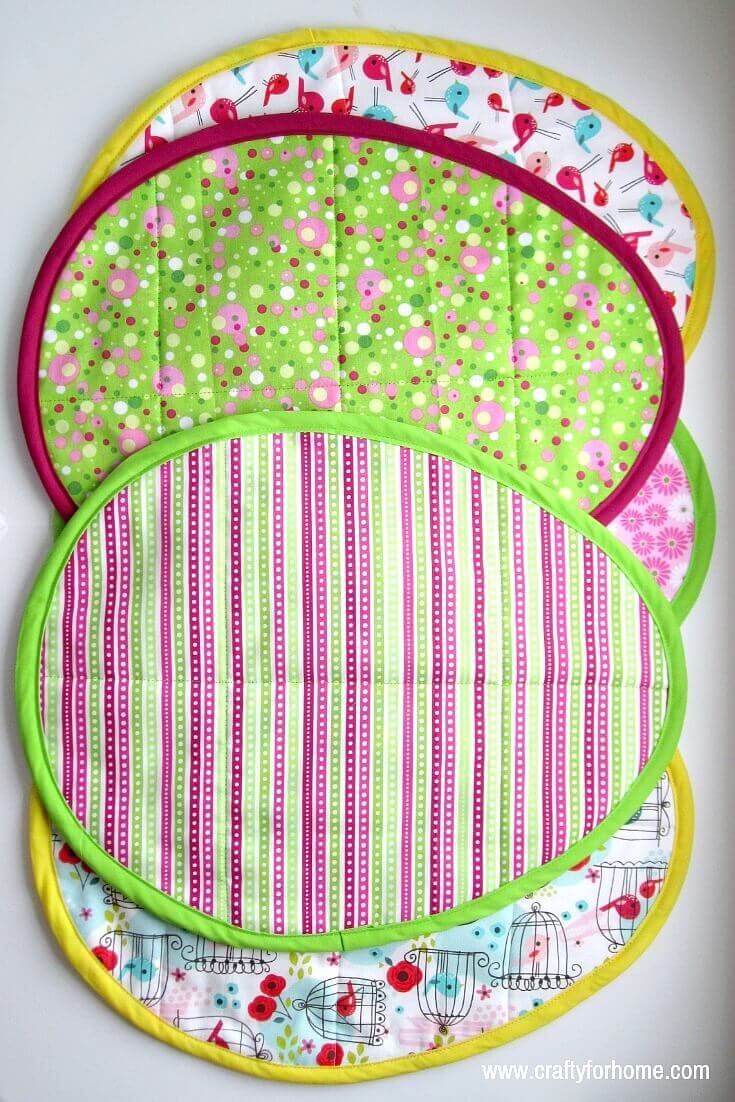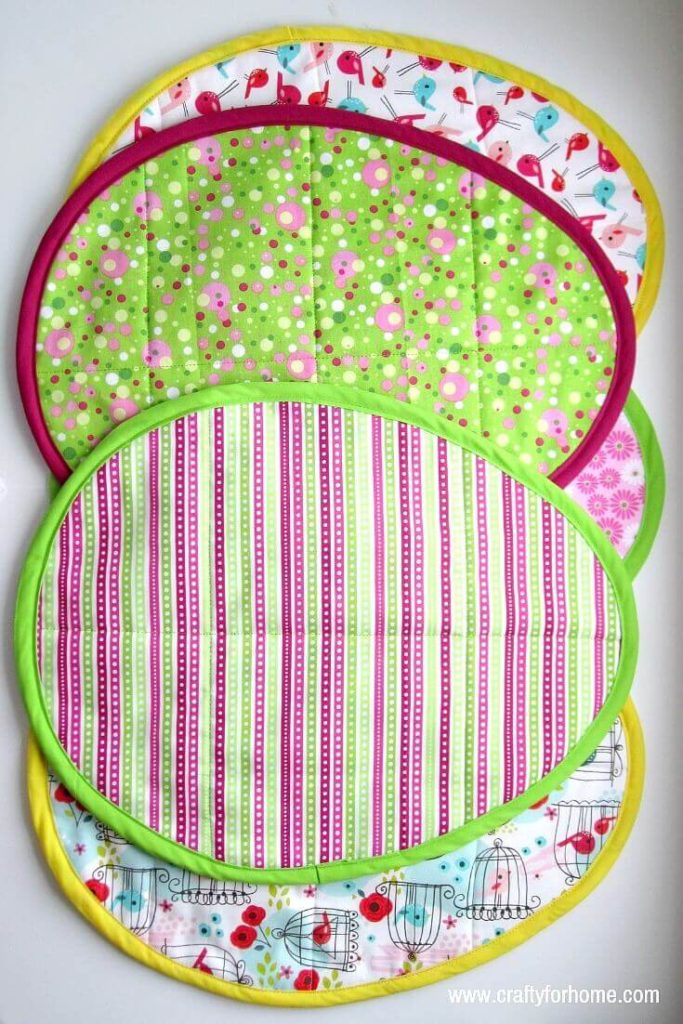 This easy egg-shaped placemat is a fun project for spring decor #sewingproject #freetutorials #eastercrafts
Click To Tweet
But if you like to have the matching color and print, then you would need to get the fabric in meter or yard so that you will have the same print and color for all five placemats.
More of fat quarter sewing project you should try for this weekend
Make This Easter Egg Placemat From Fat Quarter Fabric