Easy sewing tutorials on how to make double-sided DIY cloth napkins for fat quarters project, perfect for table decor on holiday season and fun homemade Christmas gift or any special occasion.
Use this helpful guide on how to make cloth napkins.
Do you use napkins a lot for mealtime daily? Or maybe you were thinking to make a DIY homemade gift? This 10 minutes clothes napkins might be the perfect craft project you can do in one afternoon. It also a great project to do with kids at the weekend.
As an Amazon Associate I earn from qualifying purchases. This post may contain affiliate links. Please see the Disclosure Policy for details.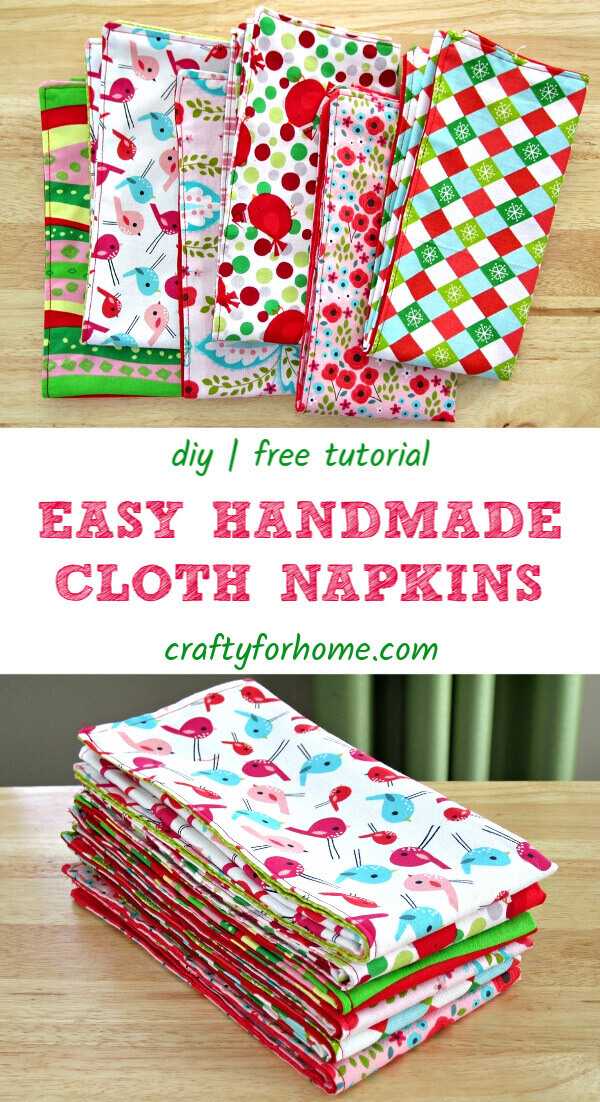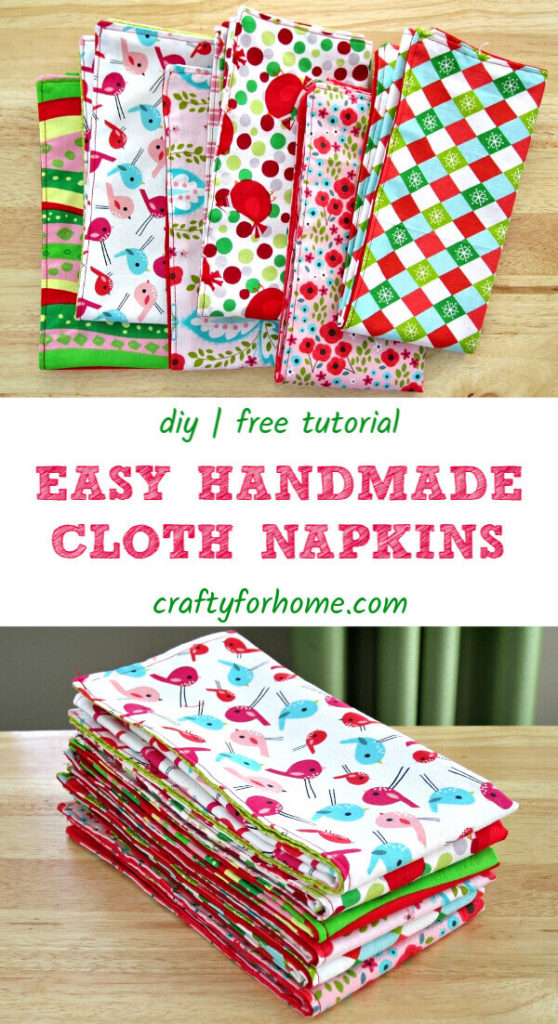 Cloth napkins are gaining popularity lately. It is because of the versatility, and you can customize it based on your preference for the style, color, and print of the napkins.
Fat Quarter Cloth Napkins
I love fat quarter bundle, and it always contains some cute coordinated mix and matches fabric print. From five different square fabrics, you will have so many imagination what next sewing craft is going to be, like the Easter quilted placemat for example.
That is why the fat quarter is the perfect material for making cloth napkins. You can sew them right away, or trim it a little to make specific size napkins.
The good thing is you can find any fat quarter bundle in any big box store like Walmart, craft store, or fabric store of course if you are looking for the specific print.
Best Fabric For Cloth Napkins
The best fabric to use for cloth napkins is cotton or linen because these materials are very absorbent. A mix of polyester and natural fiber work well too, this is what I use for my wedding napkins.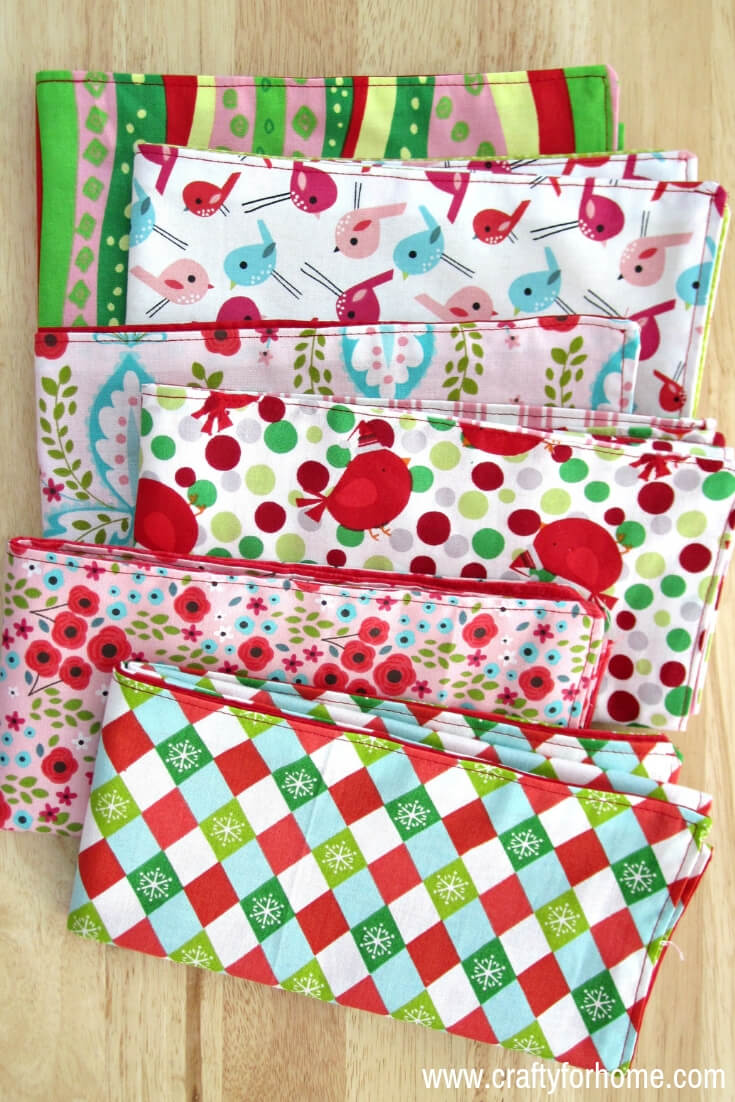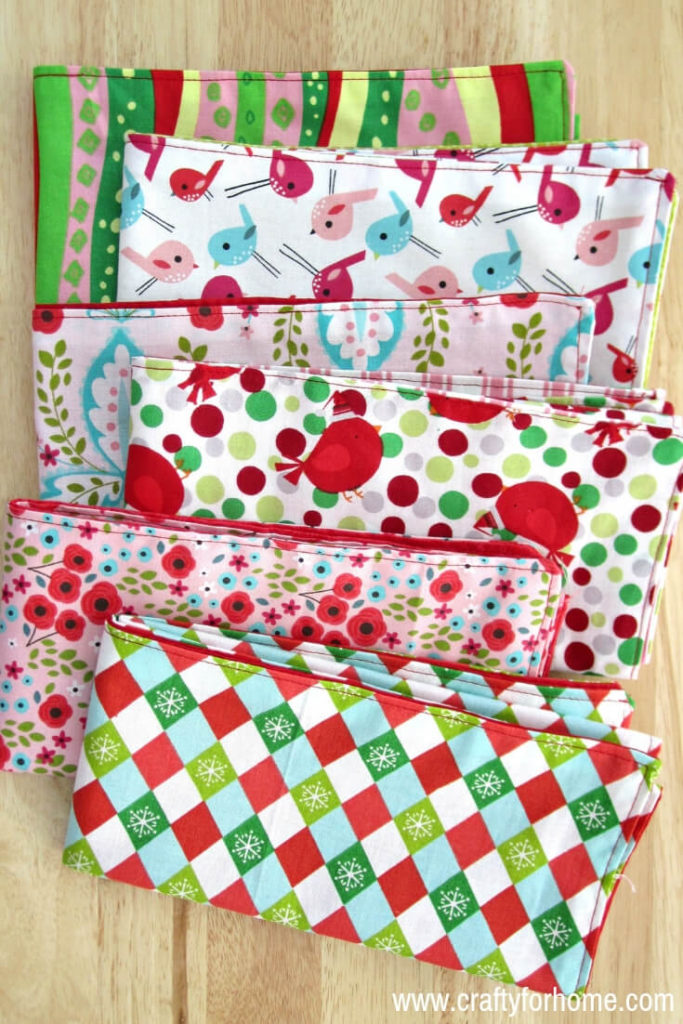 Quilting cotton is an excellent option for lightweight materials. Also, this type of fabric has a fun and beautiful print too.
Easy Cloth Napkins Tutorials
Cloth napkins have varied in size. The small square one for the children's lunch box is around 6-inch squares, and up to 27-inch square is for a fancy dinner. Here I make 18-inch squares, which is a perfect size for everyday use.
What You Need To Make Reversible Cloth Napkins:
Fat quarters bundles. Measure the fabric to 18-inch square and add 1/4 inch for seam allowance.
Scissors
Matching thread
Chopstick
Ruler
Ironing
Sewing machine
How To Make Double-Sided Cloth Napkins:
If you use a natural fiber, you might want to prewash the fabric and pressed. Stack two square fabric together with the right side facing each other.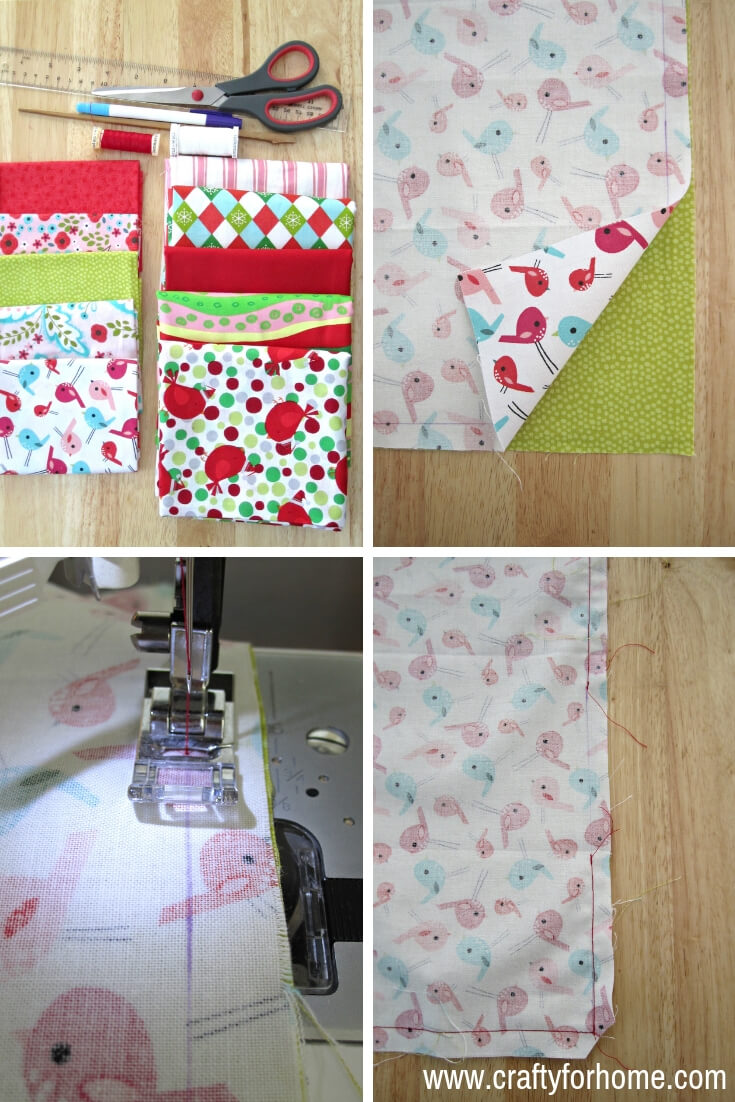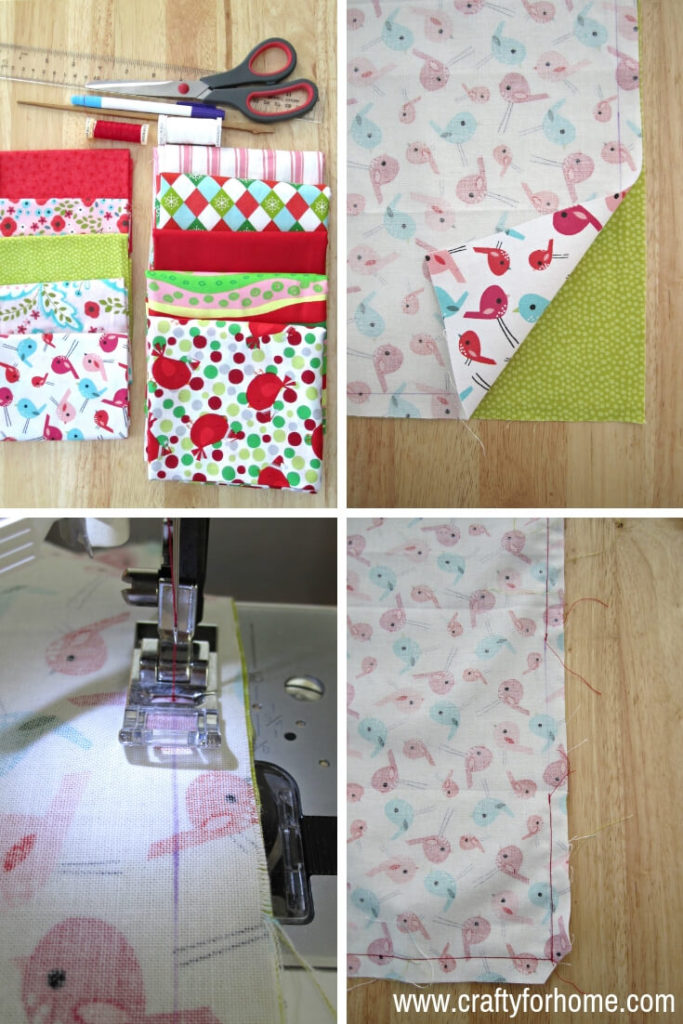 Mark 1/4 inch for seam allowance. Sew along the marked line, then skip the stitch about 4 inches long for the opening.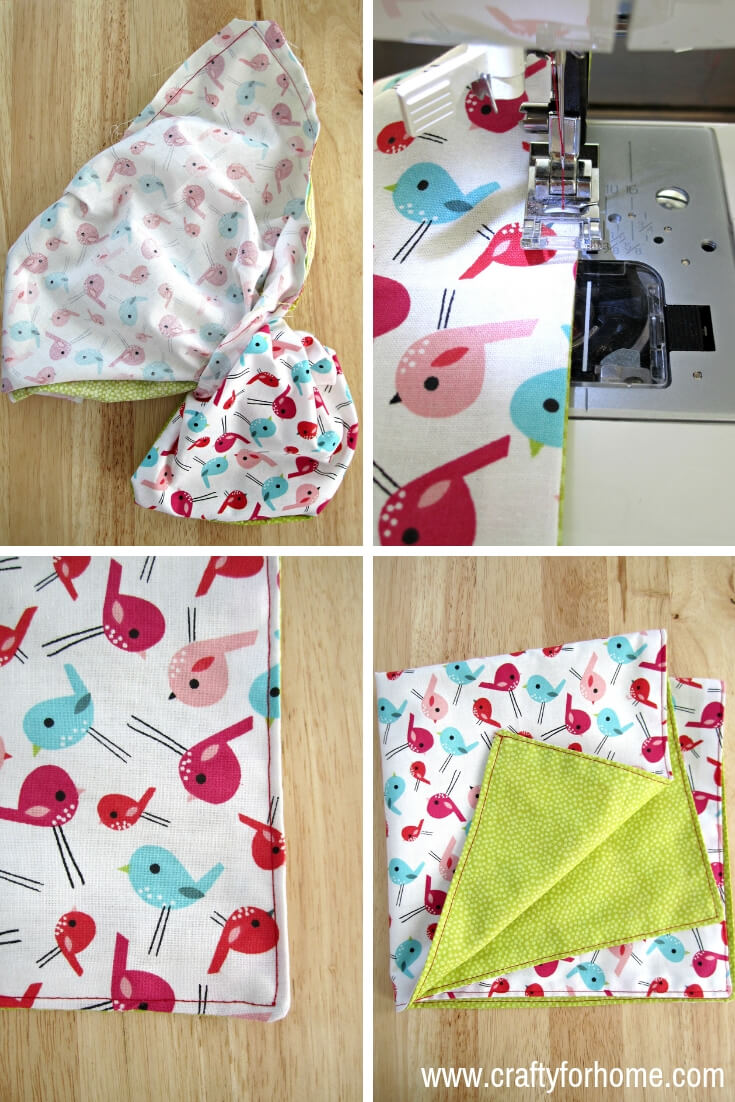 Cut all four corner to reduce the bulky edge. Turn the napkin inside out and use the chopstick to push each corner.
Iron the napkins to make it easier to topstitch along the edges. Topstitch the napkin and close the opening at the same time. Repeat the process for all napkin sets.
Get the PDF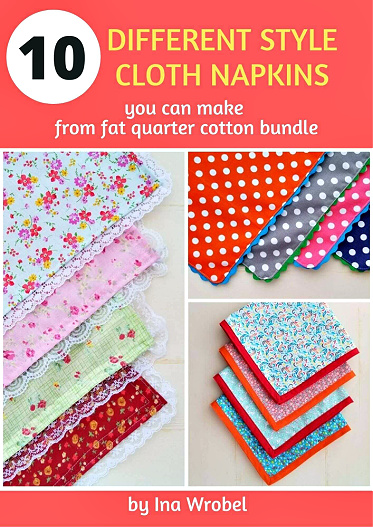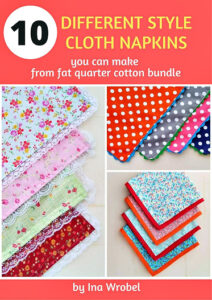 I have a collection of 10 cloth napkins tutorial, which six of them have been published on the blog, and four of them are new and never published on the blog.
If it is more convenient, you can purchase the PDF format ebook of 10 Different Style Cloth Napkins for only $5. The ebook has complete tutorials with pictures included. There is no ads or video display on the PDF so that you can print it, and it will be available for you anytime you need the tutorial for your next project. Click on the ebook cover image above to purchase.
DIY Cloth Napkins
These easy DIY cloth napkins are fun to make. You can make a set to suit your theme need.
Choose the pastel color for Easter dinner napkins, pink or red heart print fabric for Valentine, bright color print for a summer dinner party, flowery fabric print for a garden tea party, fun print for kids napkins, the option is endless.
These cloth napkins are so easy to make and fun for your special event. #sewingtutorials #fatquartercrafts #freetutorials
Click To Tweet
Wrap a dozen set of napkins with ribbon make a perfect home warming gift or pair it with the table runner for a homemade Christmas gift that will be useful and last for a very long time.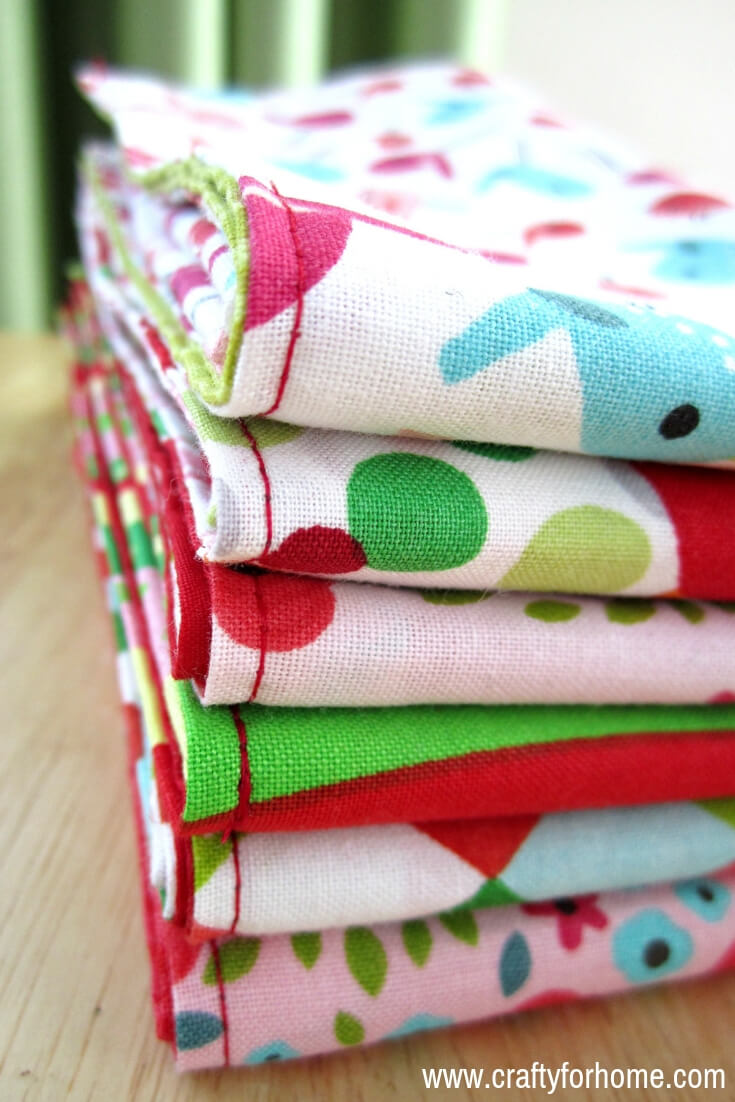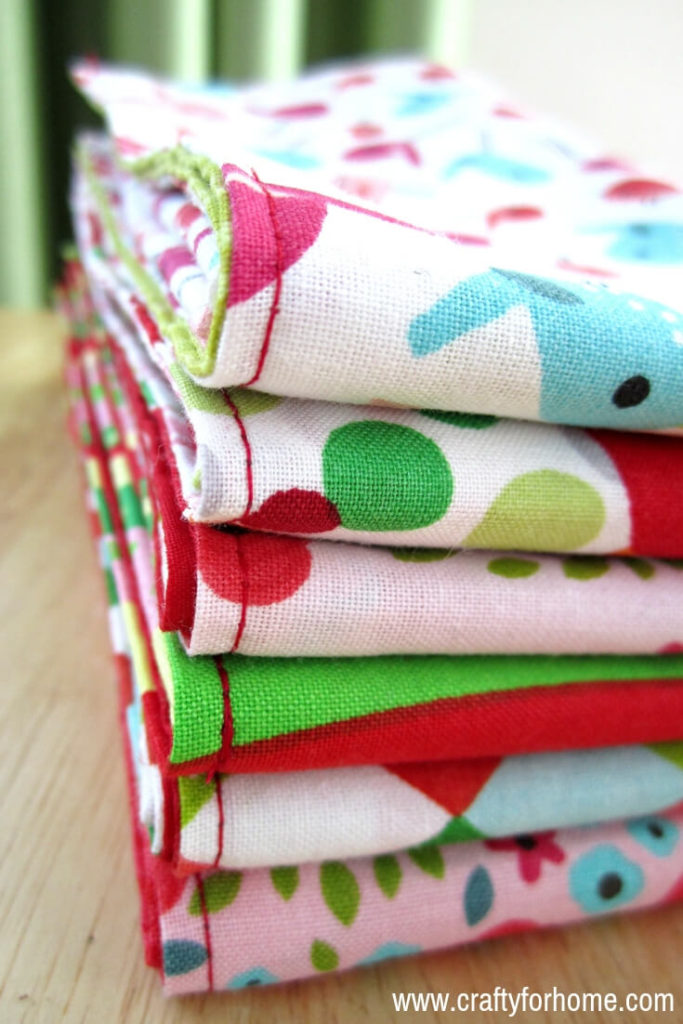 A quick sewing craft is enjoyable to do for the weekend project. You can ask the kids to make these napkins and ask them to pick their favorite fabric print.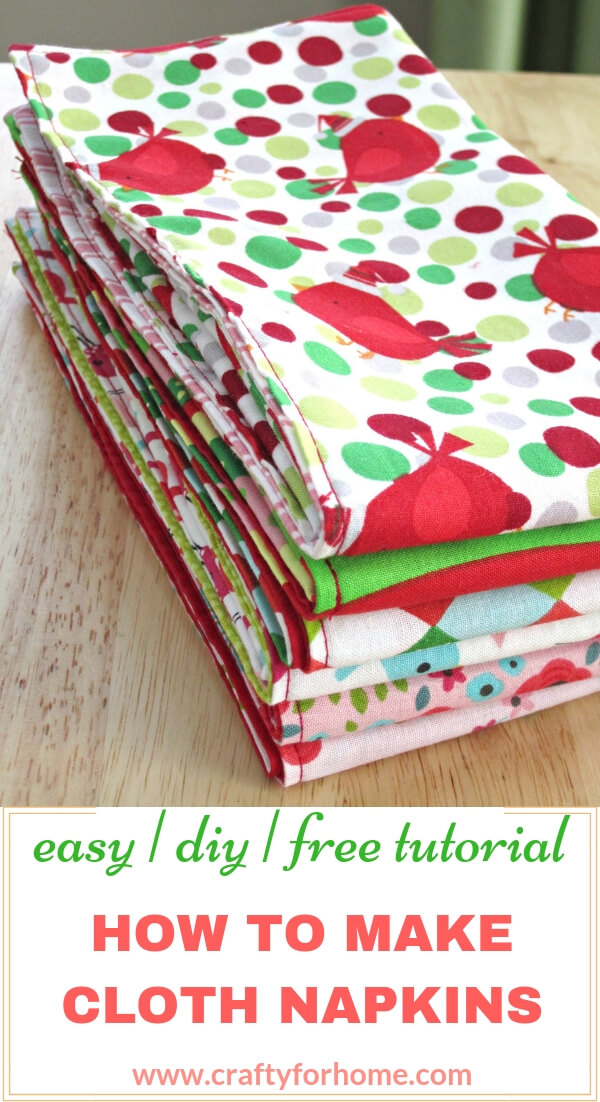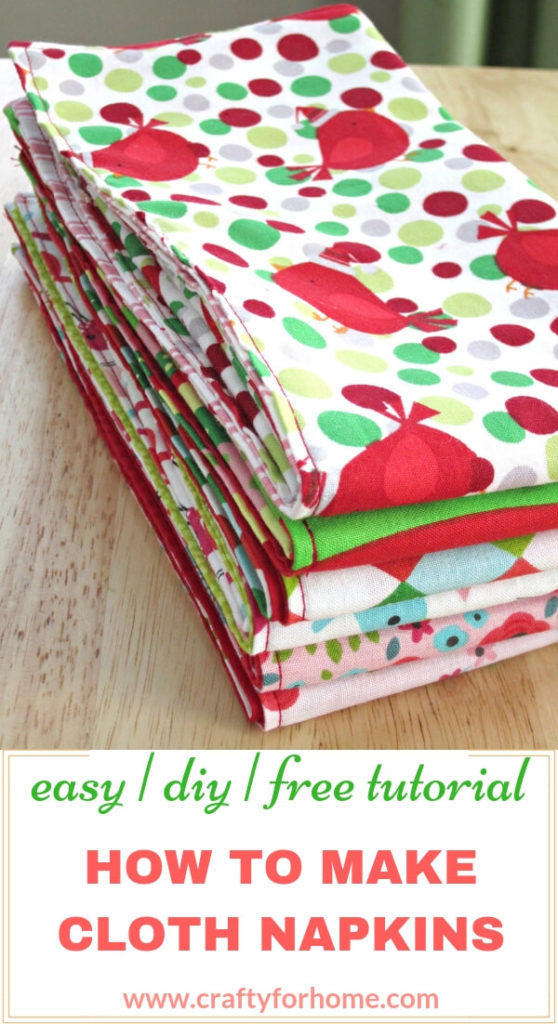 You can also include this simple fabric flower and this useful DIY freezy cozy also this felt envelope for 5 minutes craft into your crafting schedule activity. I am sure they will love their creation and quality time together.
Pair the napkin with this reversible bowl holder and oval placemat for a fully customized dining table decor. Make all fabric print and color match within each item if you prefer.
Quick and easy fat quarter sewing project
This DIY cloth napkin tutorial is easy and quick to make.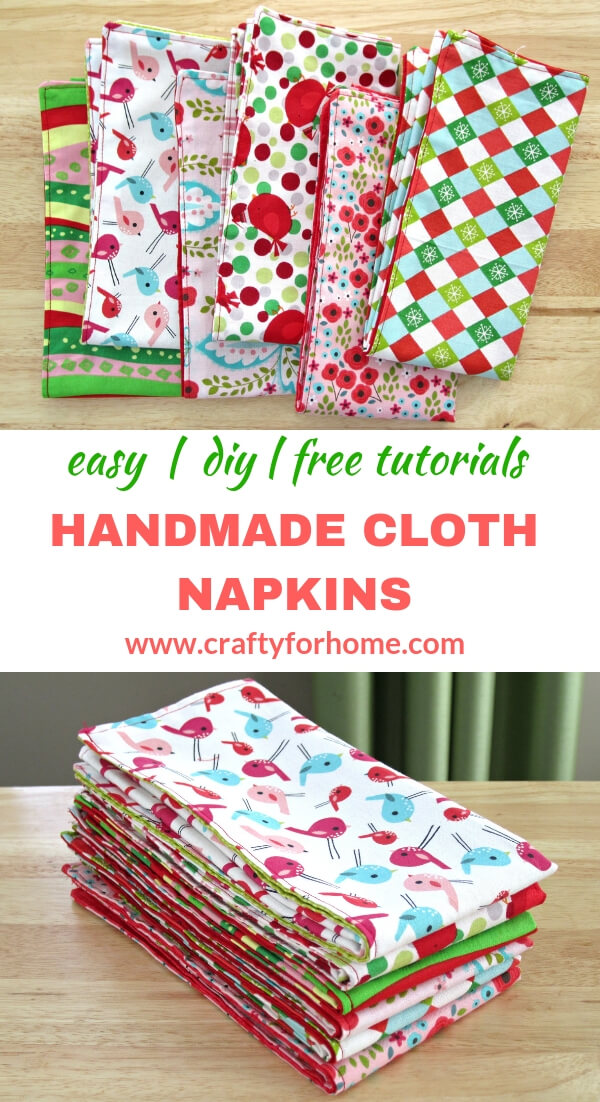 Use the regular sewing machine to make the scalloped edge for vintage-inspired cloth napkins.
Easy DIY sewing project on how to make self-binding cloth napkins for your table setting decor. Make this double-sided mitered napkins by using fat quarter fabric or repurpose materials that perfect for DIY homemade gift.
A simple tutorials on how to make handmade mitered corners napkins from fat quarters as an easy DIY project for home.