Some essential things you need to help you with seed starting indoors before the growing season started.
Supplies You Need For Sowing Seeds Indoors
When you have a long winter, but you love or would like to start a garden, then plan it early enough. If purchasing the nursery grow seedling is not the option because of cost or distance, then you can start planting seeds indoors.
As an Amazon Associate I earn from qualifying purchases. This post may contain affiliate links. Please see the Disclosure Policy for details.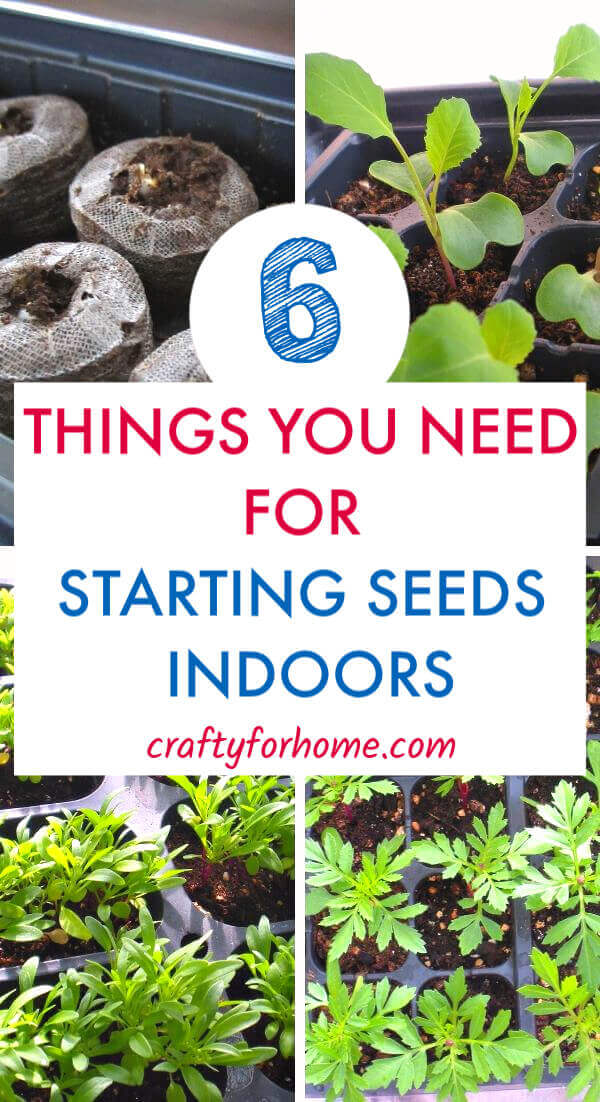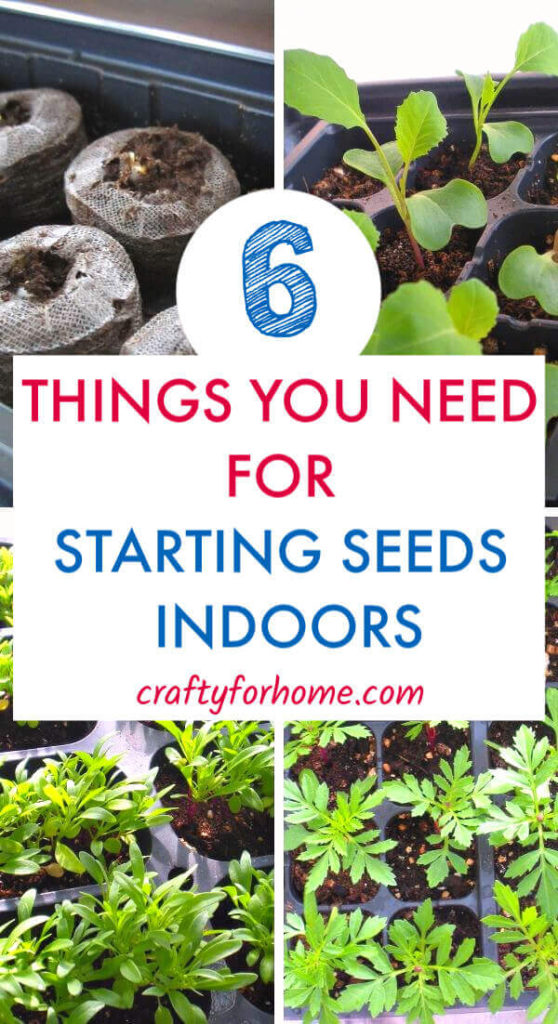 Seeds To Grow Indoors
First, the most important one is getting the specific seeds you want to grow. Lots of grocery stores, hardware stores, even dollar stores carry seeds by late winter as well as online seed specialty stores.
There are usually some seed exchange groups or local gardening groups you might want to contact and join them. Also, you might have some lovely neighbors who love to garden and willing to share the seeds they might have.
Most annual flowers, perennial flowers, and vegetables are easy grow from seeds. Make a plan for what you want to grow. It is easy to get overwhelmed with the variety of plant seeds available out there.
Potting Mix For Seed Starting Indoors
Once you have the seeds ready, then you would need a specific growing medium. You don't want to use the soil from the yard. It might not sterile contain soil born disease or pest.
Invest in a proper soil mix for planting seeds. I like to use this seed starting mix, as it is light, airy and always have excellent germination result. Some other brands also carry the specialty mix for the purpose.
Grow Light For Seed Starting Indoors
Typically, the plant needs at least six hours of sunlight. When you have a long winter, it often gets dark early, and sunrise comes late, resulting in a short daylight.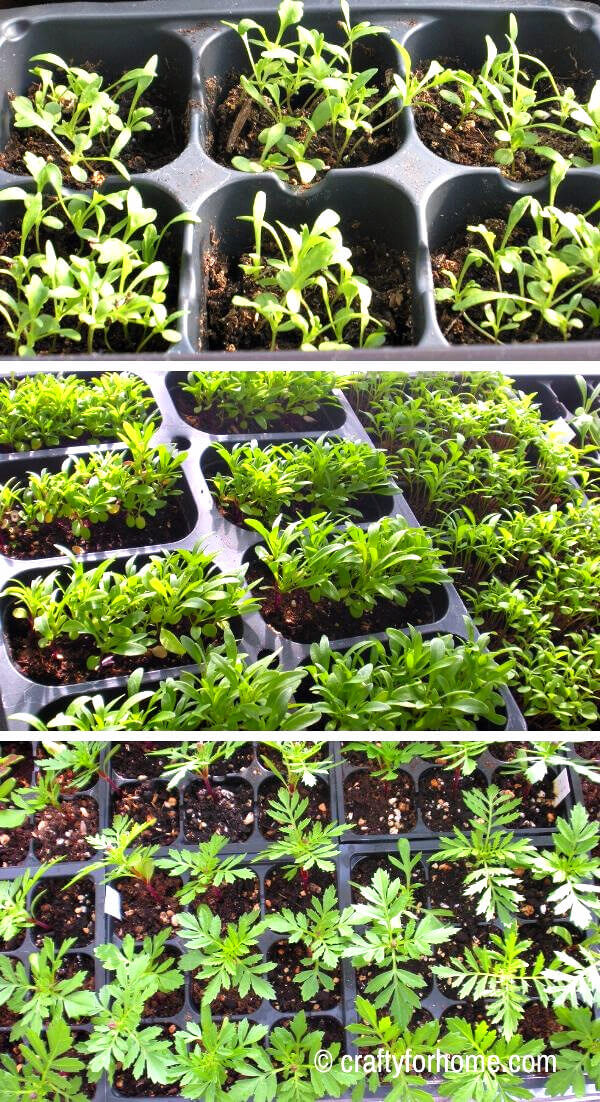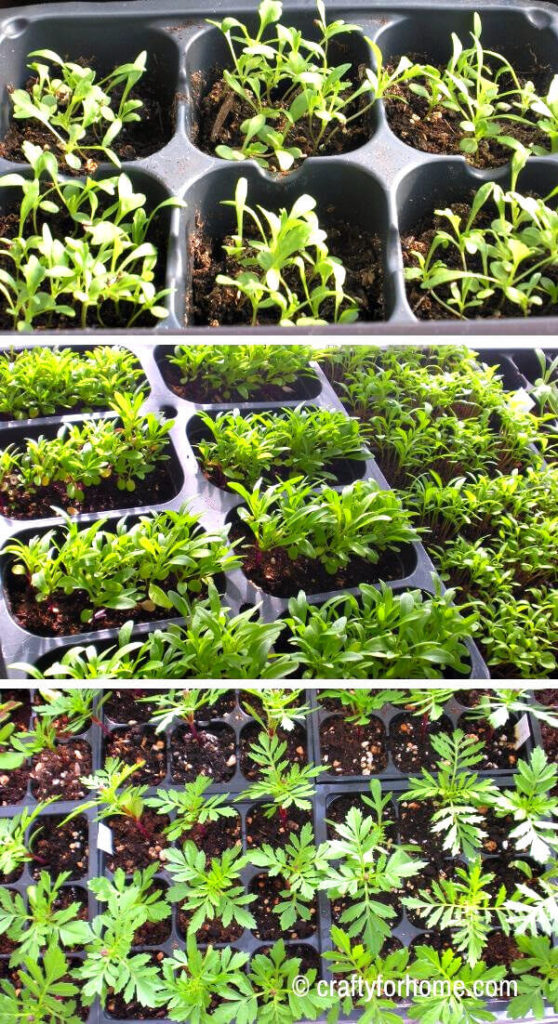 Windowsills are usually a good spot for seed starting and act as a mini-greenhouse if you are planting a few seeds only. But also, the indirect sunlight is not enough for proper growing seedlings. The seedling might look thin, long, and leggy.
To help with successful germination and proper growth seedling, you have to put the seeding tray by the bright sunny side area in your house. I live in the North hemisphere so that I will put the seeding tray by the sunny south window.
Observe your house and the window exposure, put the tray in the sunniest part of the house. This way is to keep the seeding tray warm and create humidity for the seed to germinate.
What to do if there is not enough sunlight around the house? Then you might want to invest in some proper grow light.
Depending on how many seeds you are going to plant and how many seeding trays you are going to use, you can get some of these compact and inexpensive grow light one or the two tiers grow light ones.
Heat Mat For Seed Starting Indoors
What is a heat mat? It is a waterproof mat that helps you germinate the seeds. The mat has the perfect size to put under the seed starting tray. It will create the proper soil temperatures for seeds and plant growth.
Best Seed Starter Kit
There are so many options for the seed starting kit. Some of them come with the heat mat too. Best seed starting kits is one that can provide the humidity needed for germination and have proper drainage to prevent water lodge.
Here is the seed starting kit with a self-watering system, so you don't have to worry about overwatering them. Some seed starting kit system comes in individual plugs to make it easy when you transplant the seedling into their new pots.
I like to use these reusable seeds starting trays with the dome. It is also stackable so that it will save space for storage. You can get up to 48 seedlings cells flat to fit in the tray.
These six-pack seedling cell trays also very helpful when you want to grow multiple seeds of the same plant. These trays are perfect when you want to grow bedding plants or filler plants for a container garden.
In the spring, you will see those seedlings in the garden center comes in a package of fours or six, and you will notice they use these trays.
When you use a seed starting kit, make sure it also comes with the humidity dome as a lid. You will need the cover as a mini greenhouse and keep it on until the seed germinate.
Peat Seed Starting Pellets
How about the peat pellets, do you need them? Peat pellets are a fun choice for kids who want to involve in gardening. Because it is fun when you watch the peat pellets expand after you pour hot water over it.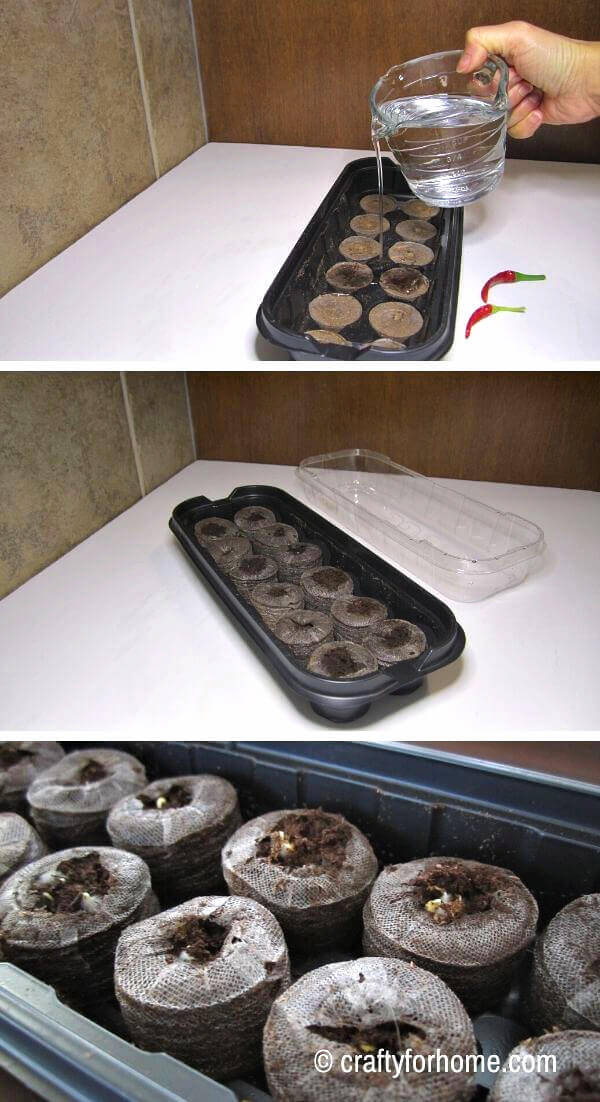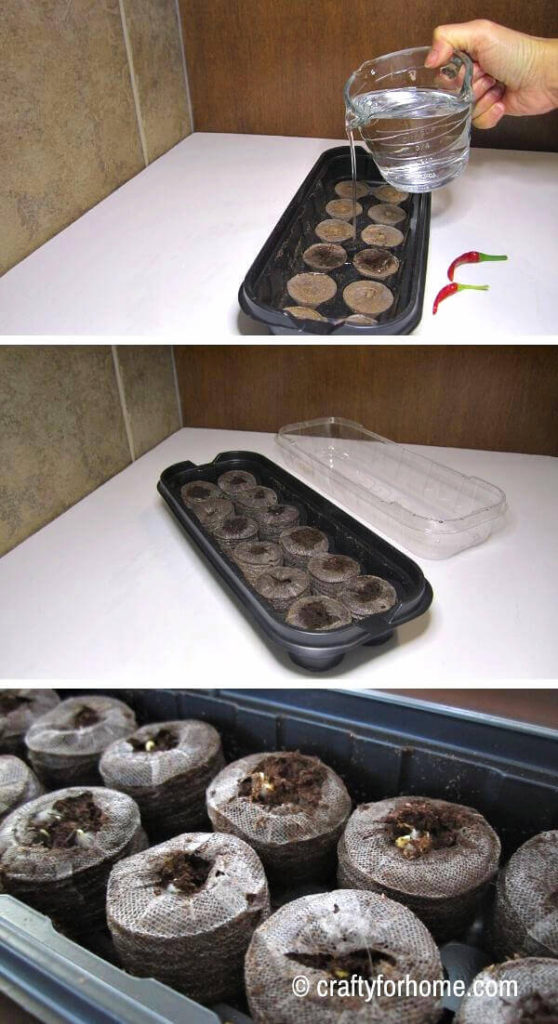 Peat pellets are perfect for starting small seeds like peppers or spring onion. But you will need to transplant them into their new pots as soon as you see the roots forming around the pellet nets.
If you start the seed on the peat pellets, you might want to remove the bottom net before you transplant them.
The good things about using peat pellets are easy to use, less messy, and sterile. I also find some specific seeds like chili pepper germinate faster on the peat pellets.
The cons of these pellets are getting dry quickly, and you need to remove the netting for proper root growth.
If you choose to use these peat pellets for seed starting, you can get a kit that includes a tray, dome for the lid, and a set of pellets.
The tray and dome are reusable, and you can get a package or two of peat pellets only for the next seed starting season.
These essential things are ones that I use most of the time and recommended for starting seed indoors. Some of these things are reusable over and over again.
These are what you need to help you with seed starting indoors! #indoorseeding #plantingseed #seedstarting
Click To Tweet
Some important things related to the seed starting indoors.
What You Need For Seed Starting Indoors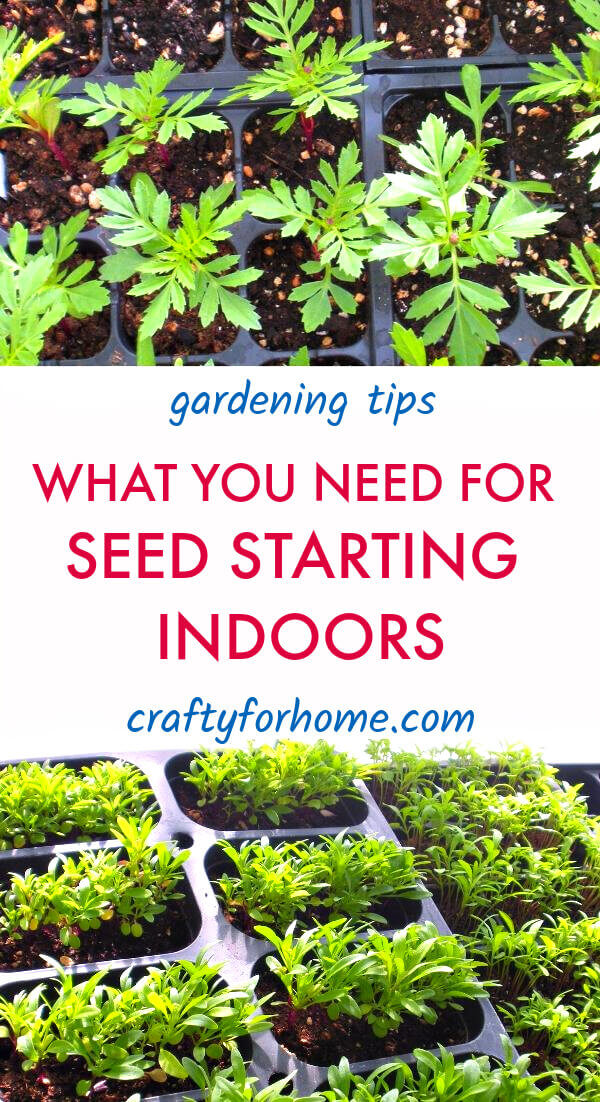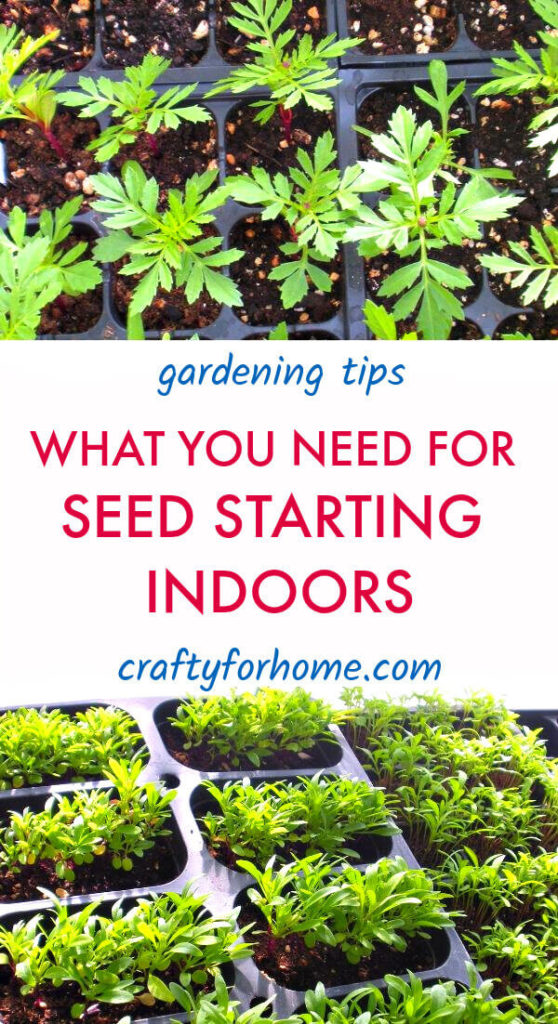 Make your plant markers for your vegetable garden with this free printable. An easy DIY garden project you can do with kids.
If you are starting a garden then try these easy to grow annual flowers from seeds that will be blooming all summer long with minimal care in full sun or partial shade.
Plant these low care perennial flowers that bloom all summer in the full sun or partial shade from seed to save you on the budget for gardening.