Grow these alpine strawberries as a low-care plant providing a continuous summer harvest and delicious treats from your backyard garden.
Alpine Strawberry Plants
Wild or alpine strawberries grow naturally in the woodland area, are native to Europe and Asia and are commonly found growing in North America. The plant has the same characteristic foliage and flower as the modern varieties but is much smaller.
As an Amazon Associate I earn from qualifying purchases. This post may contain affiliate links. Please see the Disclosure Policy for details.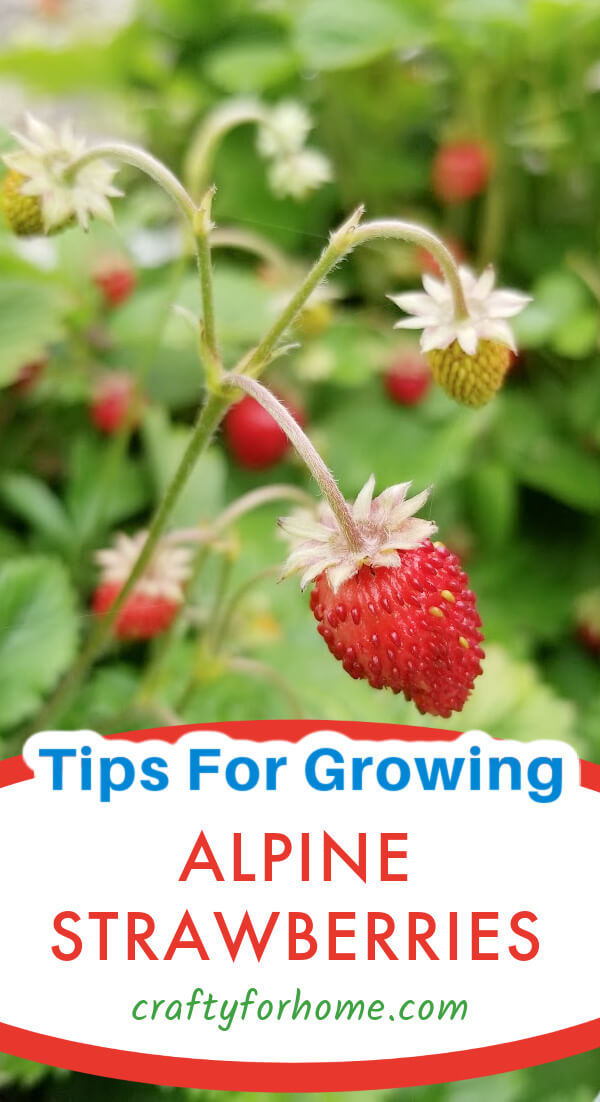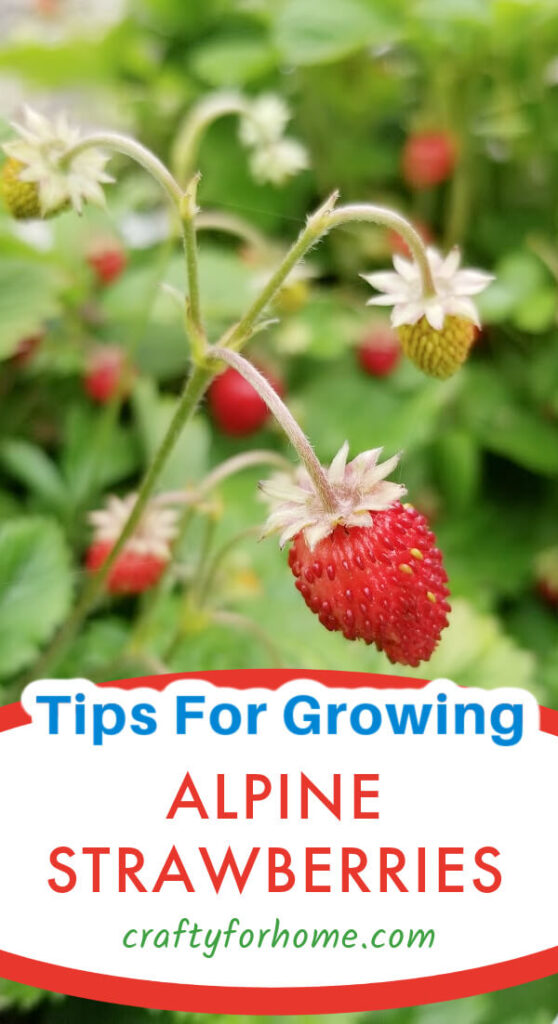 Alpine strawberries are edible, and they taste sweeter than regular store-bought strawberries. The taste is like a typical strawberry mix with pineapple, sweeter and fragrant like strawberry candy. The fruit is a small oval shape, softer and tends to bruise easily.
Plant alpine strawberries in full sun to partial shade. As it is a wild strawberry variety, they tolerate more shade than the modern cultivars.
This perennial plant is hardy to zone 3-10 and will return year after year without protection, making it perfect for a cold climate garden. But, if your garden is in a much colder area, you should protect the alpine strawberry plants with mulch or straw.
Propagating Alpine Strawberries
The alpine strawberry plant grows in clumps and doesn't have runners like other strawberry varieties. Though, it is relatively easy to propagate.
Planting Alpine Strawberries From Seeds
Alpine strawberries are self-seed plants, and I often found some tiny plants around their mother plant. Then I will move these seedlings around the garden.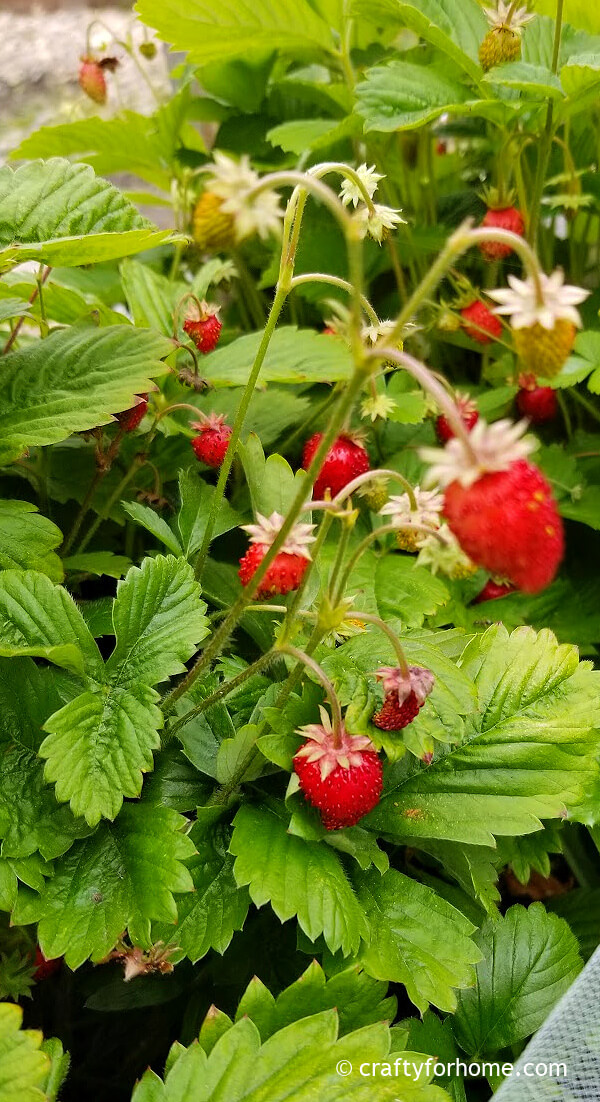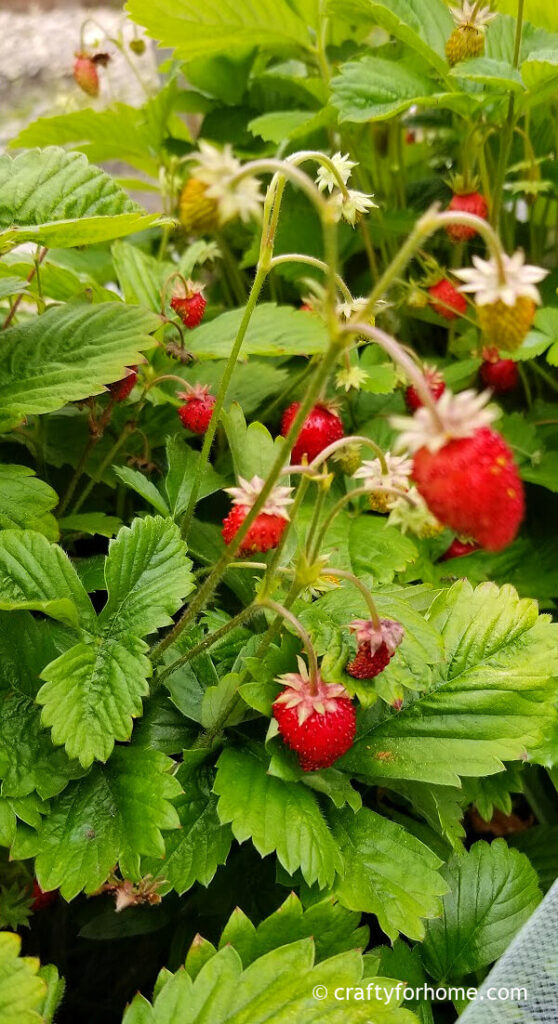 Propagating alpine strawberries from seeds is relatively easy but very slow germination. Most specialty seed company has alpine strawberry seeds available. Always follow the direction on the seed package label.
Another option is to save seeds from the fruit. The seed needs cold stratification for about a month to mimic the natural way. Put the seed package if you purchase it from a seed company, or keep the seed in a sealed envelope, then store it in the refrigerator.
If planting the seed indoors, start around four months before the last frost, as it needs cold stratification and about a month to germinate.
Planting Alpine Strawberries From The Bare Root
Soak the root first to rehydrate it before planting it. Then, plant the soaked bare root with the crown just below the soil surface.
Water the planted bare-root strawberry as usual, keep the soil moist and let the soil surface dries out between watering. Avoid overwatering it to prevent soggy soil and causing the root to rot.
Planting Alpine Strawberries From Starter Plants And Division
This method is the easiest way to propagate, it is more pricey, but you get a good investment for the mother plant. Even though you only get one plant from the nursery, the plant will multiply quickly into a clump.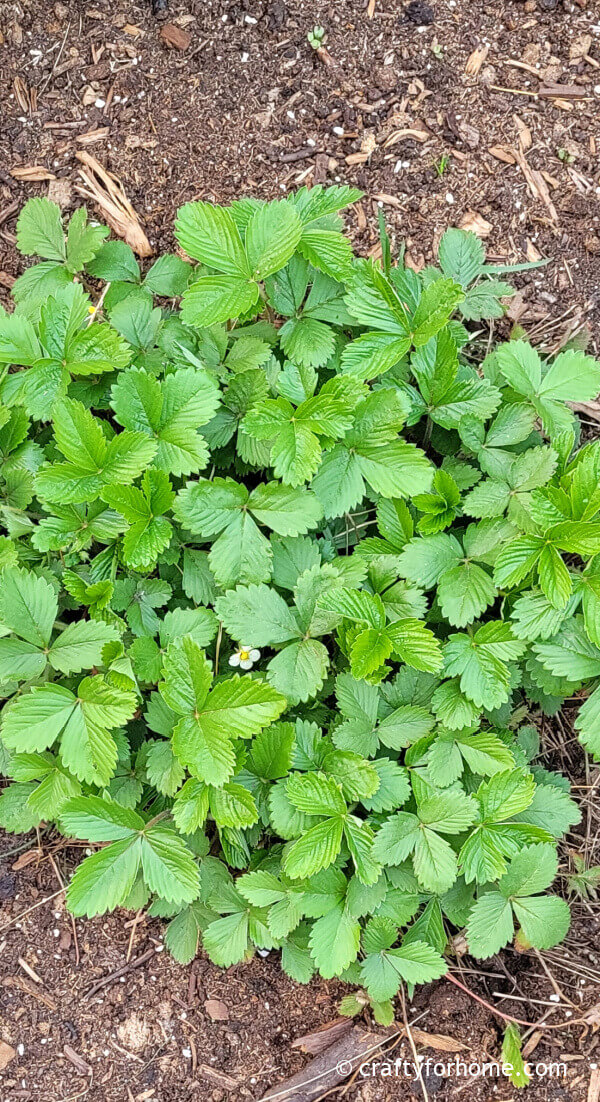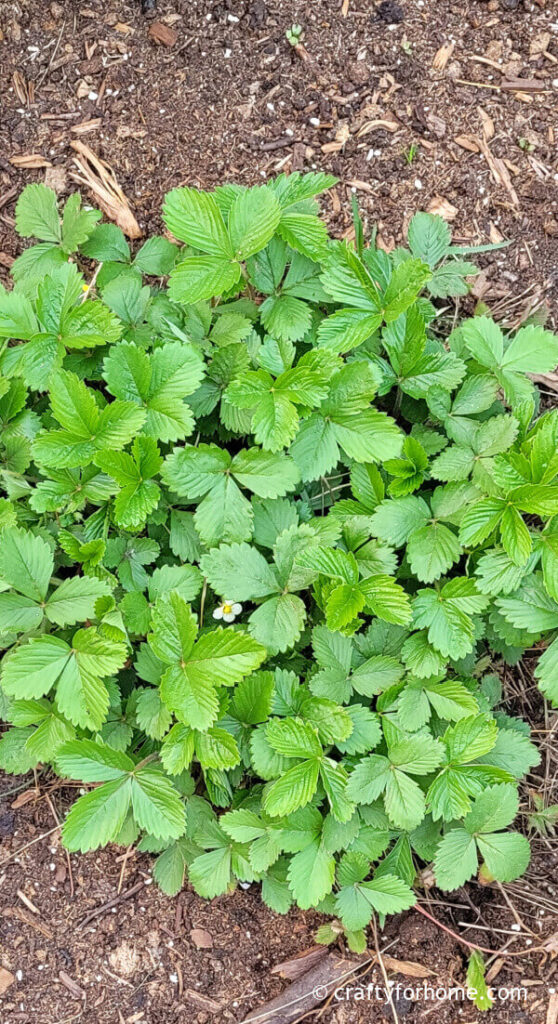 The alpine strawberry plant doesn't produce runners that sometimes will take over the whole garden plot. Instead, it forms a mounding habit as a clump, thus keeping the plant in shape.
From its clump, you can get several new plants by dividing it. The best time for dividing alpine strawberry plants is early spring before the new shoots appear.
Carefully dig the whole plant, divide it into several sections with roots intact, then transplant them to the new area in your garden, and space them about 8″ apart between plants.
Harvesting Alpine Strawberries
Alpine strawberry is an everbearing variety. You will get to harvest the fruit from spring and all summer long.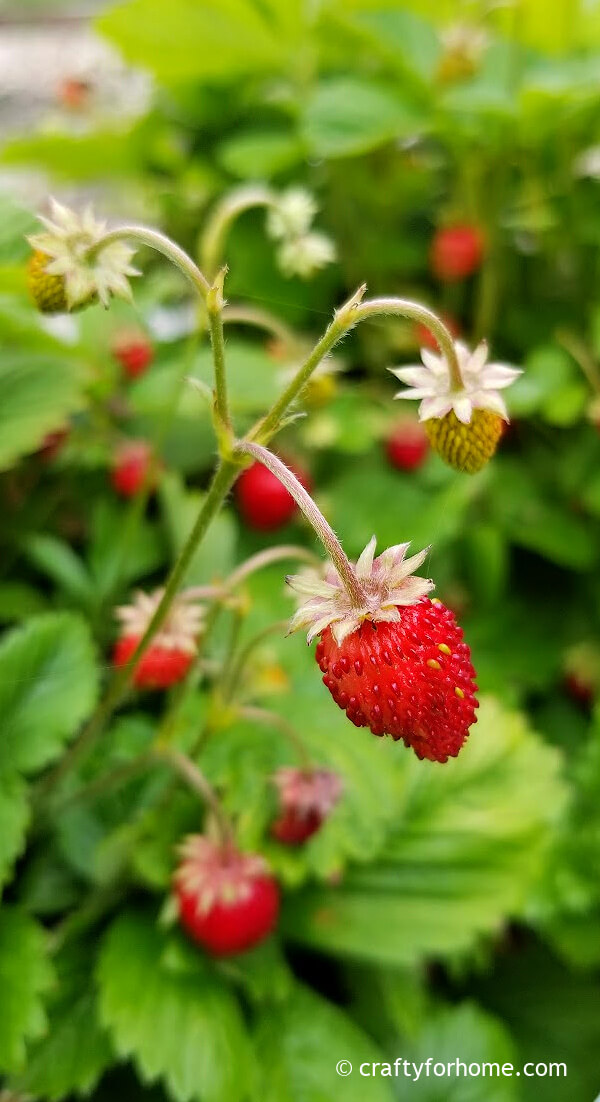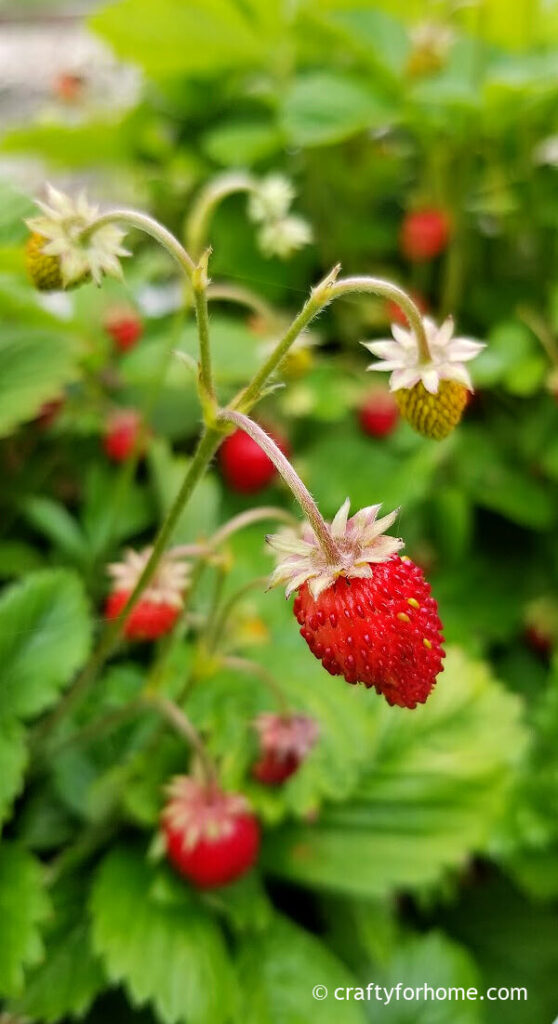 Pick the fruit by cutting the stem off to avoid bruising. But generally, the ripe alpine strawberries are easy to pluck off the stem.
The elongated shape, delicious flavour, and fragrant strawberries are excellent for snacking, salad, or as toppings for cake decoration. Add these alpine strawberries to the lemonade or popsicles for a fun refresher.
Soil Type For Growing Alpine Strawberries
Alpine strawberries need fertile and well-drained soil. Mix compost or well-composted manure into the soil before planting the strawberries. Add compost as mulch for the established plants during the growing season.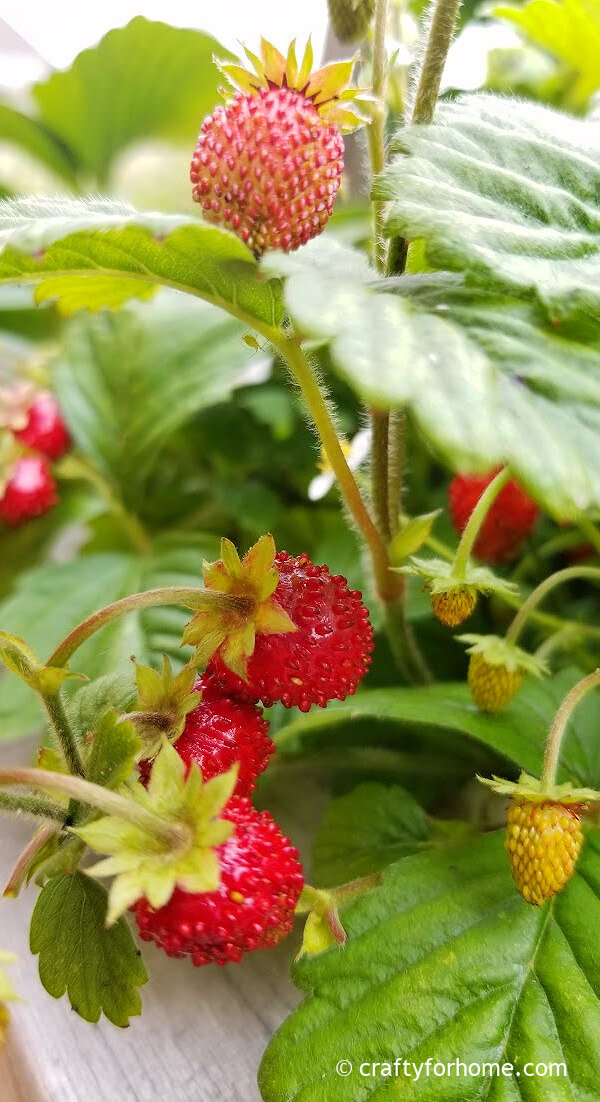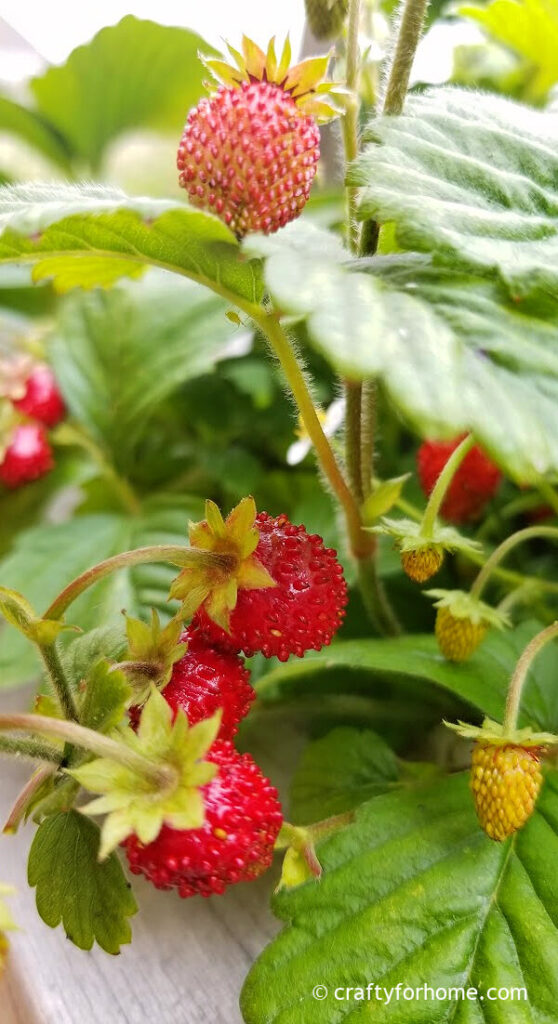 Like all strawberry plants, alpine strawberries must also grow on pH 6.0 – 6.5 in acidic soil. To ensure the soil is suitable for growing strawberries, add as much compost as possible and test the pH level with the pH tester kit.
Growing Alpine Strawberries in Pots
The alpine strawberry is perfect for a container garden with its low-growing and ornamental look. The strawberry plant has a shallow root system, so grow it in an 8″ or 10″ container. Using the wider container is always better.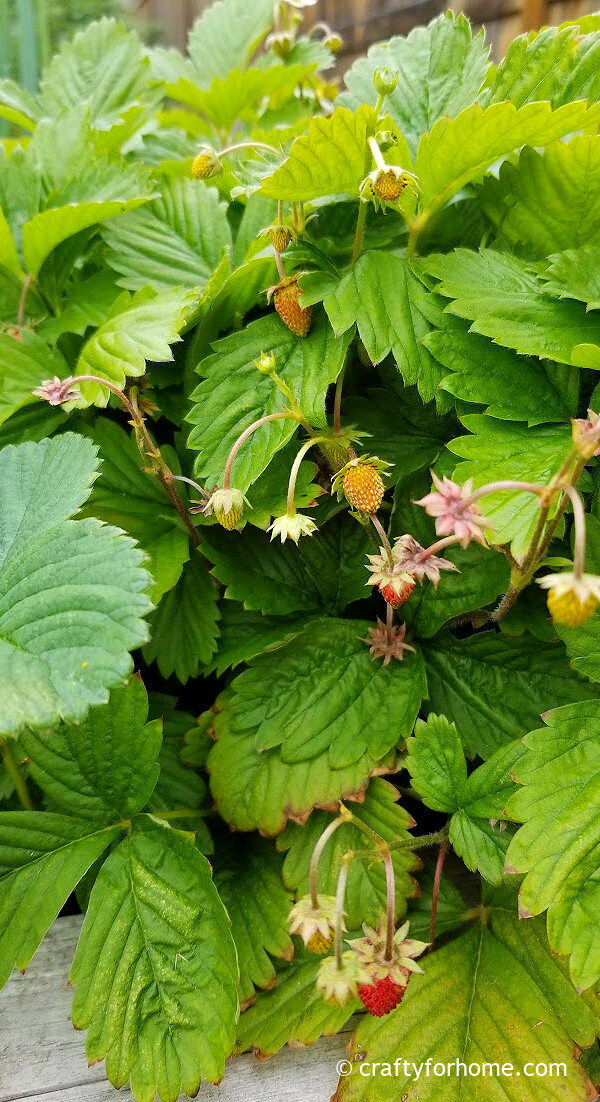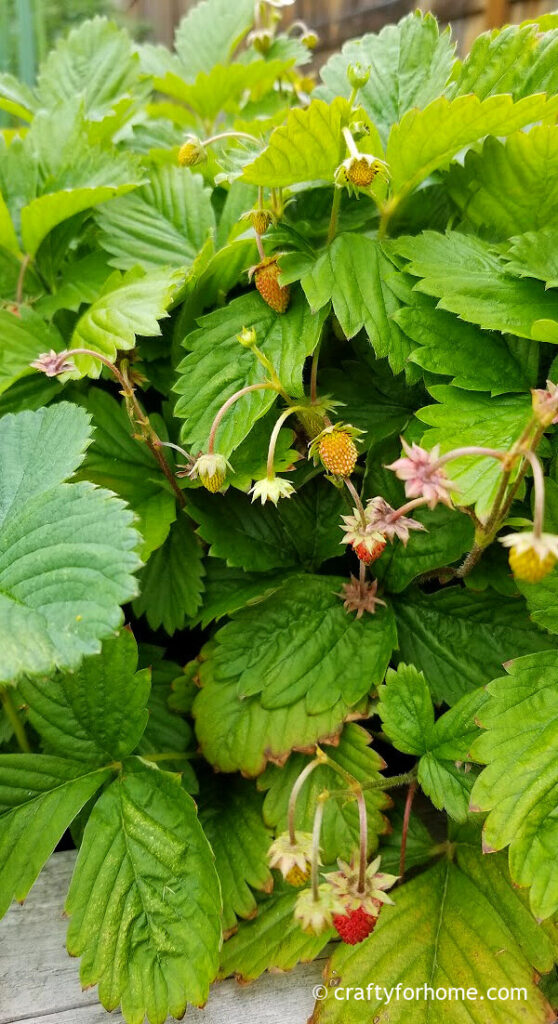 Ensure the container has a draining system at the bottom. Water alpine strawberry plants regularly, and let the soil surface dry out between watering.
Wild Strawberries As Ground Cover
Since alpine strawberries are a low-growing plant with an ornamental look and mounding habit, it is excellent to grow them as ground cover.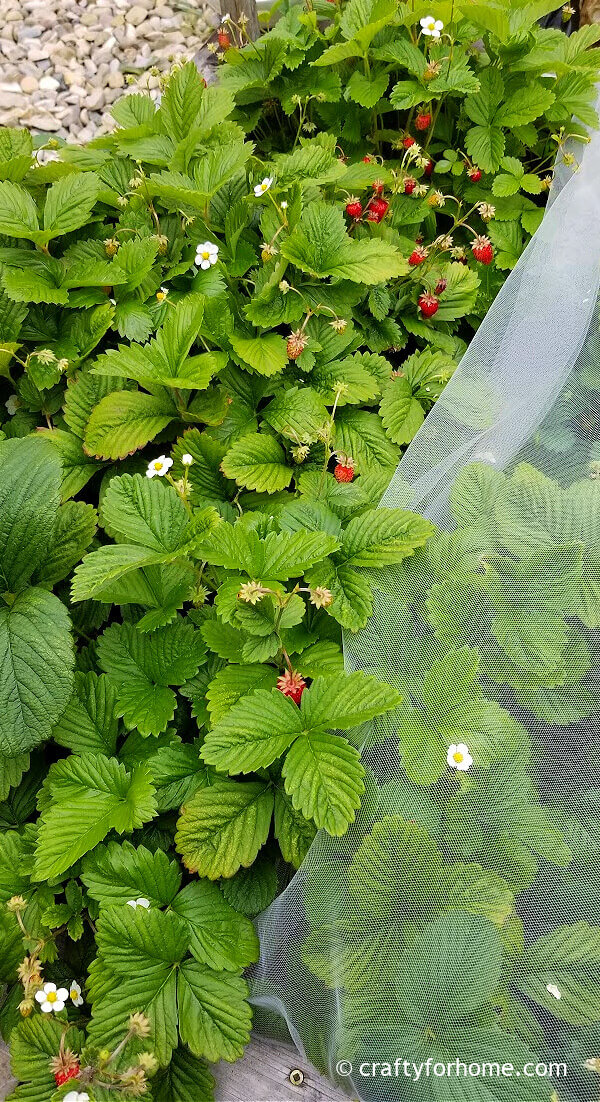 Grow alpine strawberries in the empty spot around your garden to prevent unwanted wild plants from growing there.
Use it as border plants by planting it in front of taller plants, close to the edge of the garden bed.
Plank the pathway with alpine strawberries as edible ground cover. Enjoy delicious fruity snacks while you stroll the path along the garden.
Alpine Strawberries For Interplanting
Good companion plants for alpine strawberries are all allium families like chives, onion, garlic, and leeks to mask the fragrant fruit.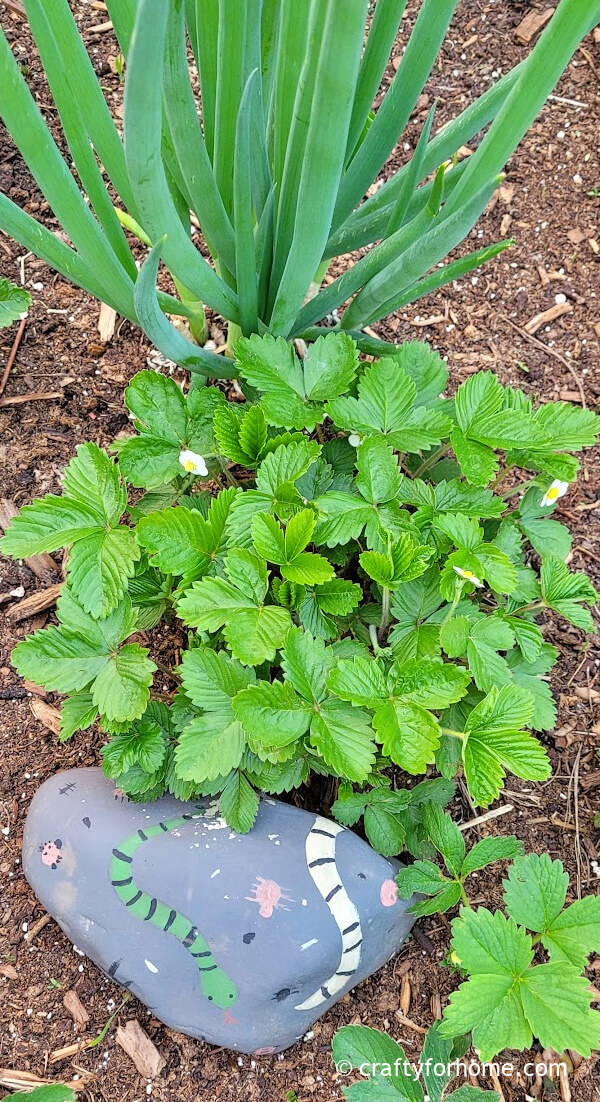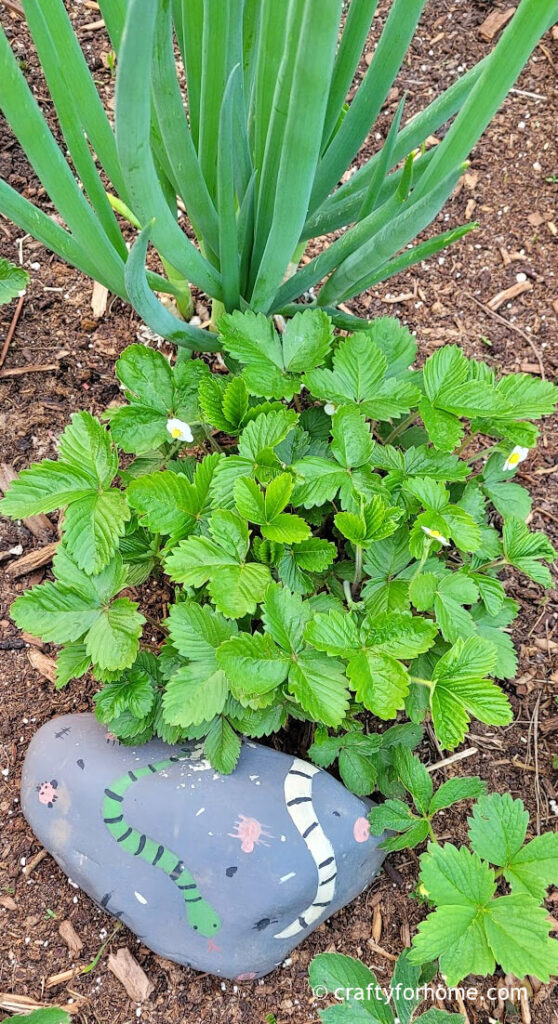 Also, it is good to interplant alpine strawberries with spinach, lettuce, coriander, dills, parsley, carrot, marigold, borage, peas, and beans.
Avoid planting nightshades and brassica families close to strawberry plants. The nightshade, like tomatoes, eggplants, and peppers, can introduce the Verticillium wilt.
Grow flowers like sweet alyssum, marigold, nasturtium, and cosmos to attract pollinators.
Pest On Alpine Strawberries
Aphids, spider mites, and slugs are the most common pests that bother the strawberry plants. However, you can try this remedy to avoid slugs eating the plant.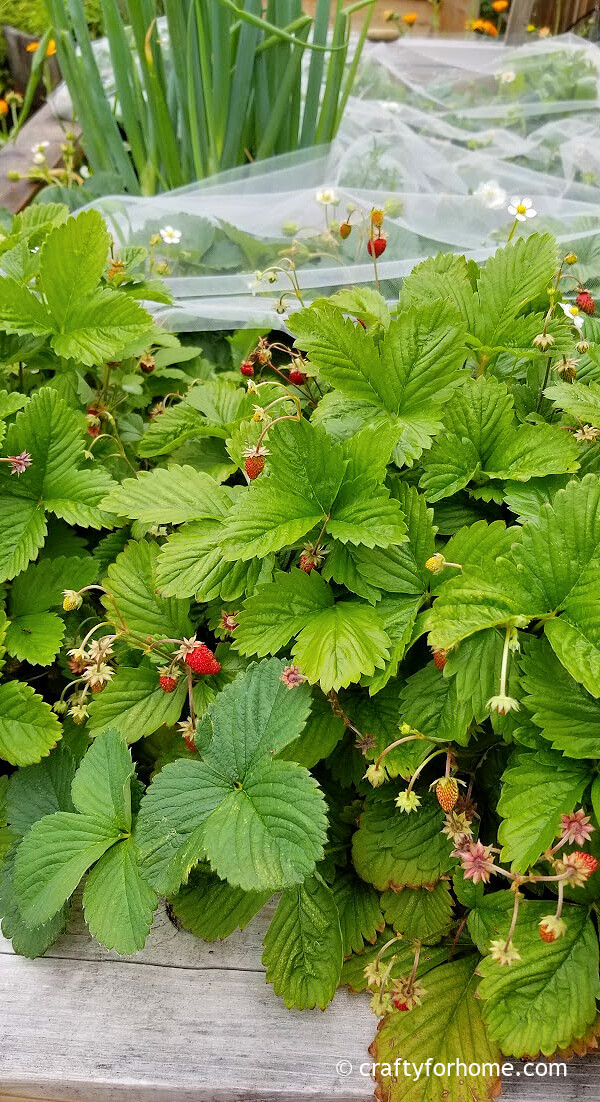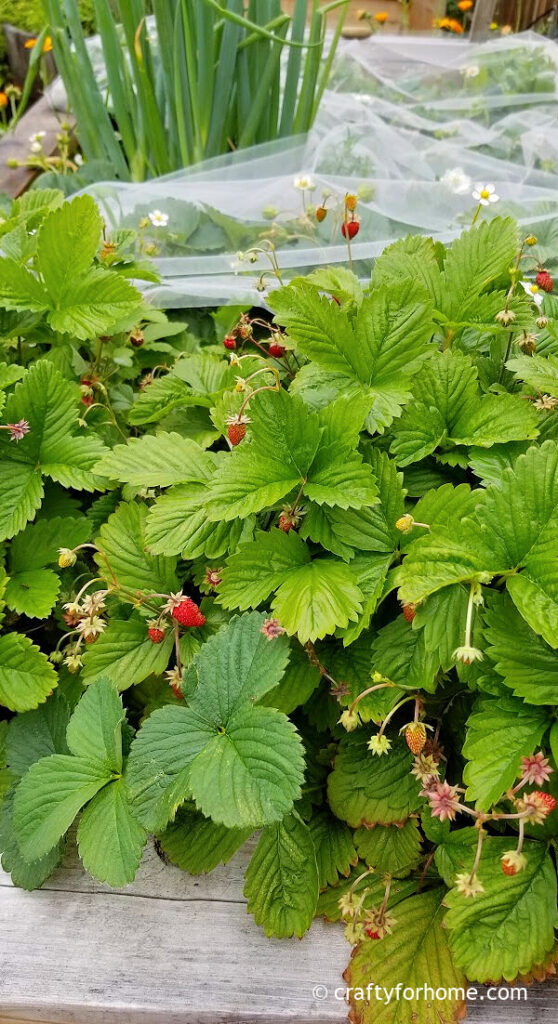 If birds are the problem that keeps eating strawberry fruit, cover the strawberry patch with a netting or tulle fabric.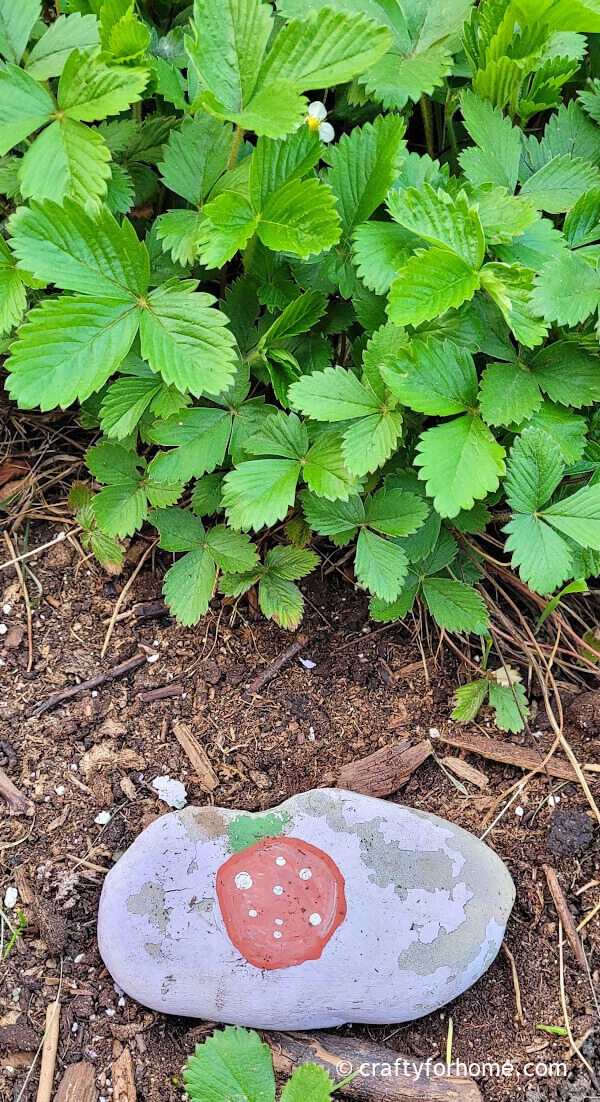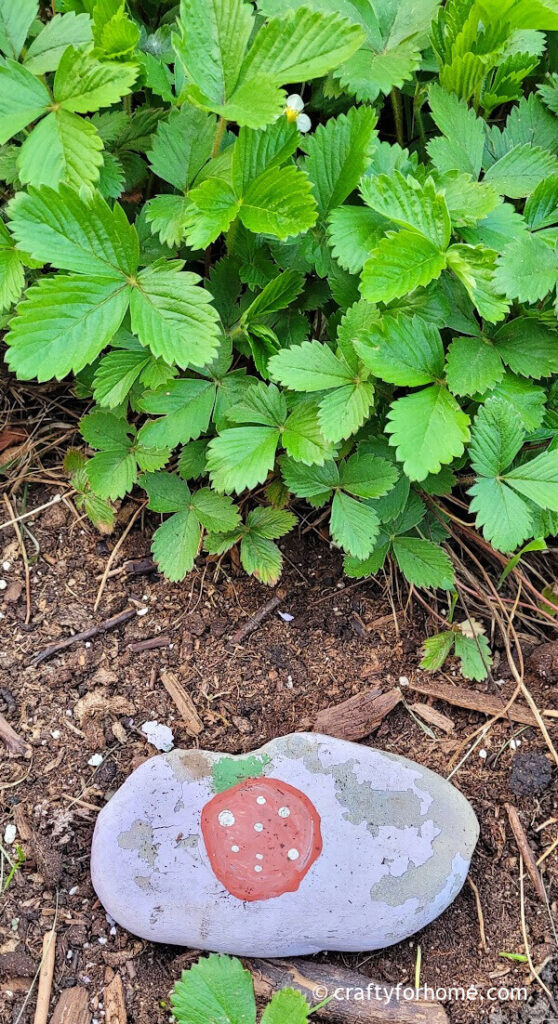 Also another way that works in my strawberry bed is that using rock painted in red will trick the birds from eating the fruits.
More gardening tips to increase the harvest
Cultivating Wild Strawberries For The Edible Garden In Your Backyard