We often ask everyone in the house what's for dinner while we currently don't have a plan for what to cook. This dilemma often hit me like all the time especially when I have the full schedule during the day following the kids after school class, and I did not prepare the meal in advance.
Cooking a tasty meal that everyone will enjoy in a short amount of time is quite challenging, but there are lots of ways to accomplish this matter. Maybe there is an option just to go to drive through or order to your favorite restaurant, but that is not necessary if you would like to keep the budget in control and currently, you have the staple food in your fridge and the pantry.
I have some specific thing to keep as a staple food for like an emergency or quick cooking. Canned salmon is an excellent source of food, and I can say basic veggies like cauliflower, bell pepper, onion, and carrot are stapled food for the pantry.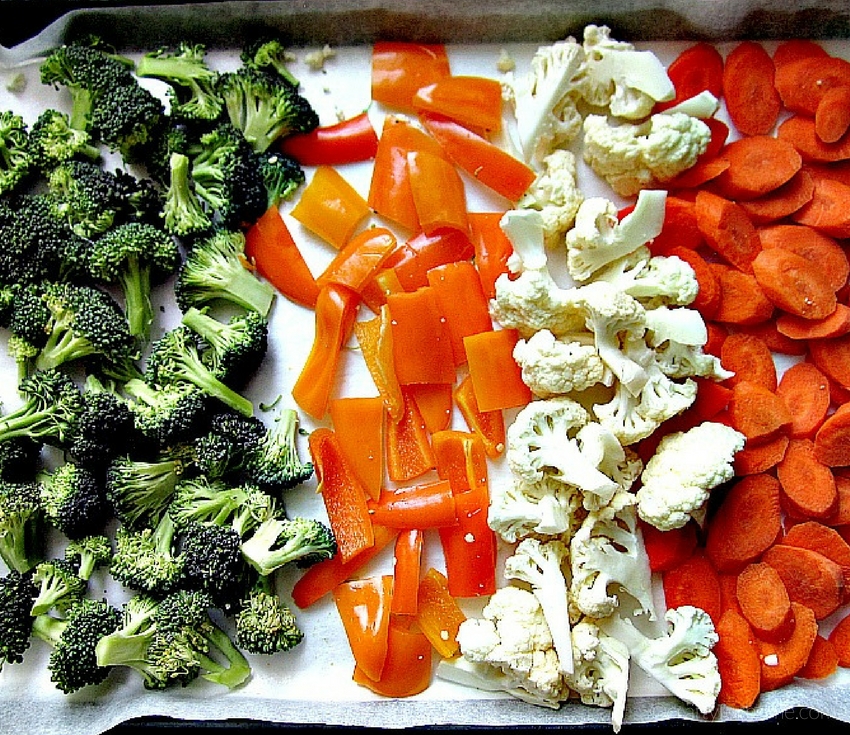 There is a reason for this:
Canned salmon is a nonperishable food although there is expiration date stamped on the can that will be way long to get that expiration happen. Canned salmon also an excellent source of omega-3 if the fresh salmon is not available, it is convenient and portable that you can bring it anywhere like go to camping or road trip without worrying it will go spoiled.
Cauliflower, onion, bell pepper and carrot are basic veggies for staple food to keep in the fridge, because these veggies are great for lunch box, for making fried rice, and of course for soup. My little one favorite vegetable is raw carrot, so this is a top list to be always available in the fridge.
To make your days easier to prepare a nutritious and tasty meal for a family in a short amount of time, here I share you with this nutritious Sheet Pan Salmon Patties With Veggies. This meal is a time saver, and your family will thank you for this meal.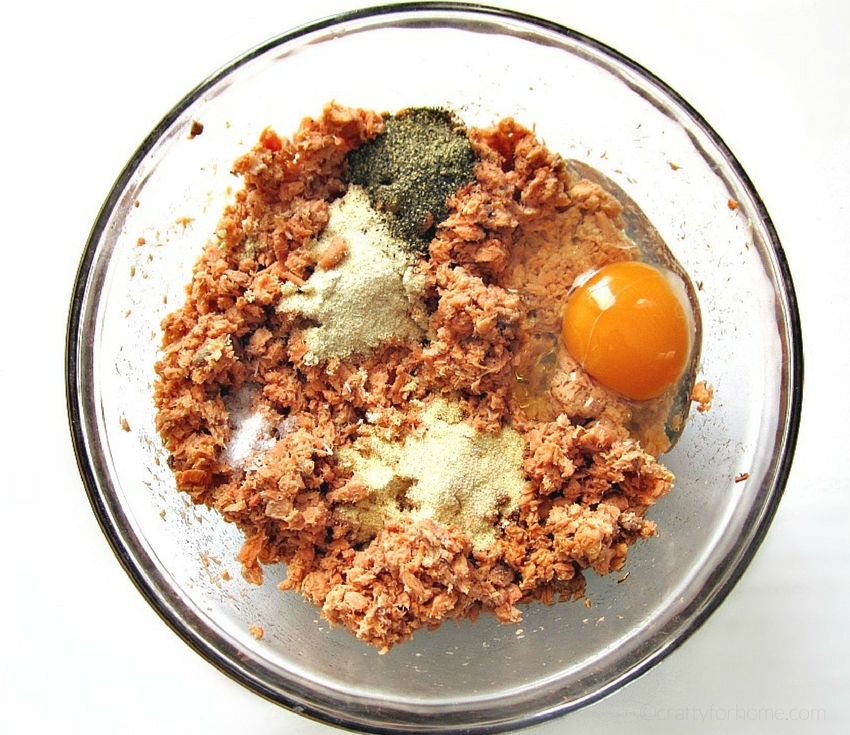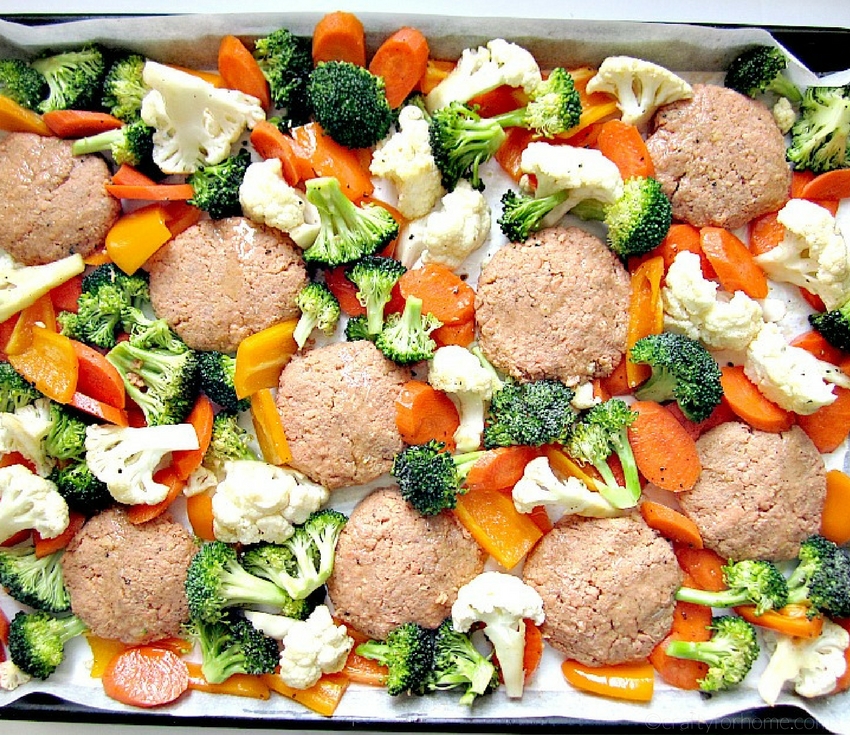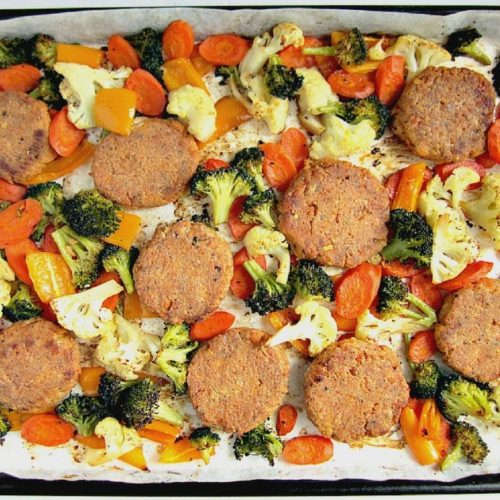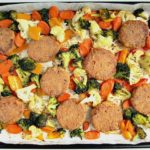 Sheet Pan Salmon Patties With Veggies
Ingredients
3

can of 213 gram

salmon

1

egg

1/3

cup

breadcrumb

1

tsp

onion powder

1

tsp

garlic powder

2

tsp

soy sauce

1/2

tsp

salt

1

tsp

black pepper powder

1

tbsp

oil
For Veggies
3

medium carrot

1/2

pound

broccoli

1

small head

cauliflower

1

yellow bell pepper

2

tsp

soy sauce

2

tbsp

oil

1/2

tsp

salt

1

tsp

black pepper powder
Instructions
Preheat oven to 425°F, prepare the sheet pan, layer it with parchment paper for easy cleaning later on.

Drain it for any liquid from the canned salmon.

In a bowl and use the fork to shred the salmon, add soy sauce, salt, black pepper, onion powder, garlic powder, egg, and breadcrumb, mix it until well blended. Form the salmon into patties.
For Veggies
Slice the carrot, cauliflower, broccoli and bell pepper, arrange the cut up veggies on the sheet pan, toss it with soy sauce, salt, pepper and a tbsp of oil.

Arrange the veggies and salmon patties on the sheet pan, sprinkle 1 tbsp of oil into salmon patties.

Roast it in the oven for 10 minutes, turn the veggies and patties over then roast it for another 10 minutes.

Take it out of the oven. Serve.
Recipe Notes
You can serve it with fluffy cooked rice, quinoa, potato or even bread bun to make salmon patties burger.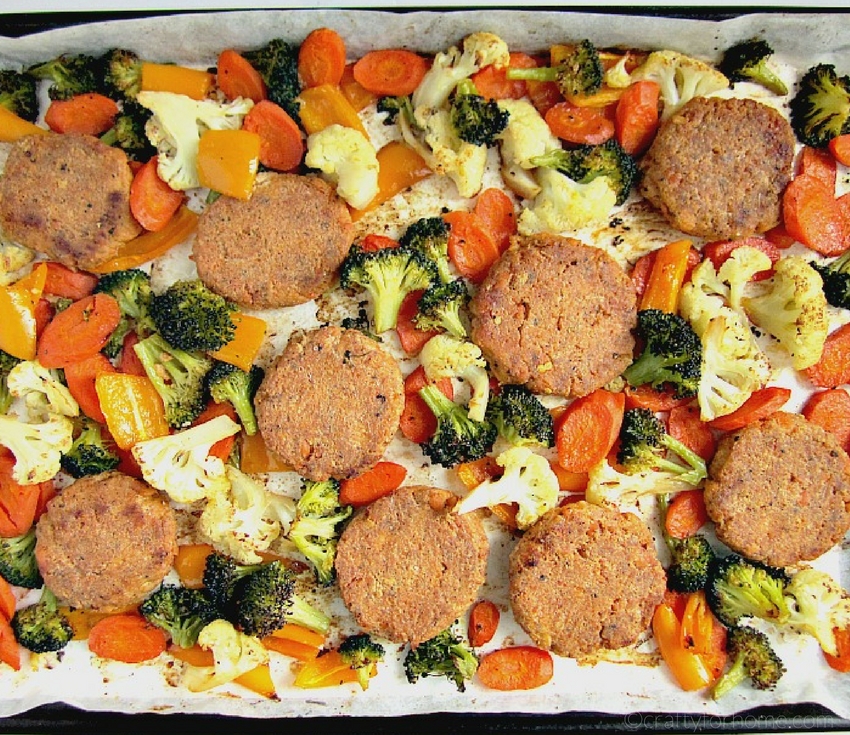 The roasting method is better than frying in my humble opinion because you don't need to use lots of oil to cook the salmon. It also works well to avoid oil splatter around the kitchen backsplash that's mean less cleaning, right?
This meal will also an excellent choice for weekly meal prep, whether you prepare it for kids lunch box or your lunch at work. You can even cut the preparation time by purchasing pre-cut veggies when you go grocery shopping. I always prepared cut up vegetables for lunch box and this cooking method in advance usually on Sunday night or even on Monday night.
If you like fish for dinner, try this
If you like sheet pan cooking, check this sheet pan chicken dinner at the cooking1handed blog, you will find some delicious dairy-free recipes here that everyone will enjoy.
Pin this by clicking the picture below to save it later.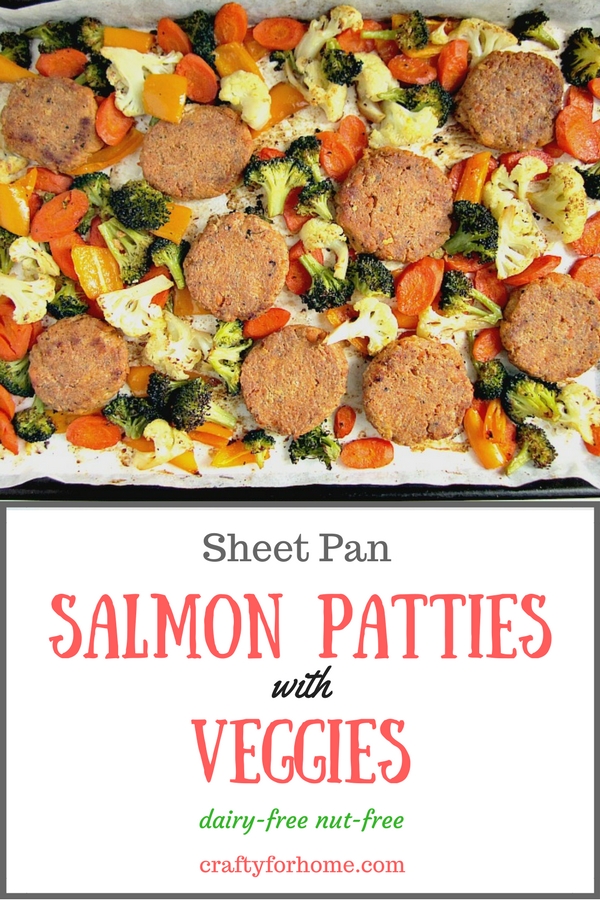 What is one of your favorite staple food to keep in your pantry and the fridge? Do you make this recipe? Post a picture and hashtag #craftyforhome or tag @craftyforhome on Instagram.