A simple tutorials on how to make handmade mitered corners napkins from fat quarters as an easy DIY project for home.
Use this helpful tutorial on how to make mitered corner cloth napkins.
I will show you how to sew napkins edge that looks simple but elegant. Because making cloth napkins is fun, especially using the mix and match fabric prints, just like these adorable double-sided clothes napkins that I shared here a while ago. It was a fun and fast sewing project, and it is a handy thing for everyday wear.
As an Amazon Associate I earn from qualifying purchases. This post may contain affiliate links. Please see the Disclosure Policy for details.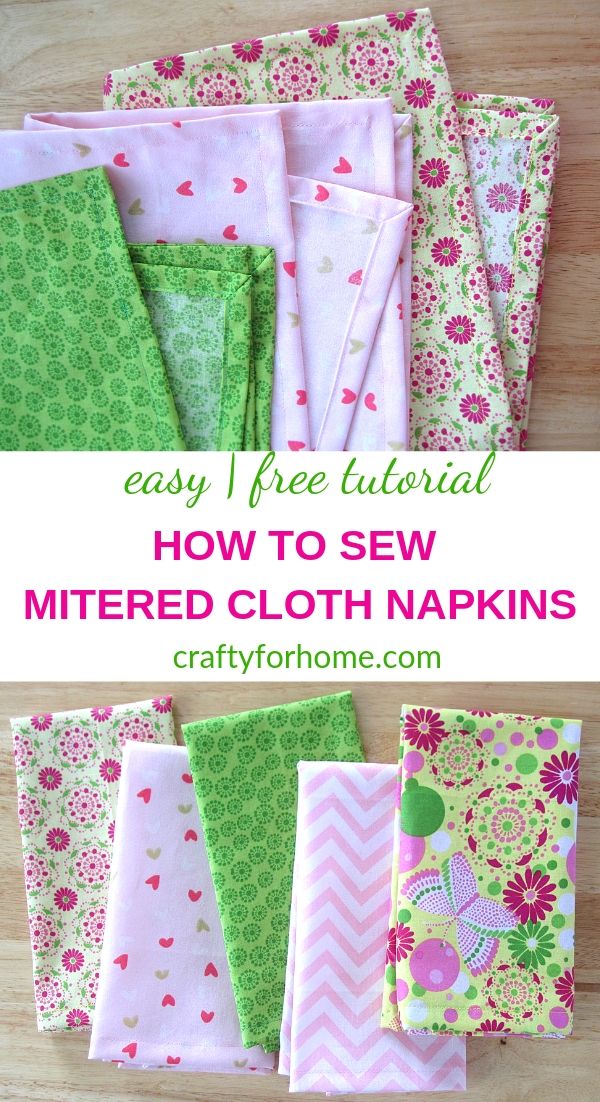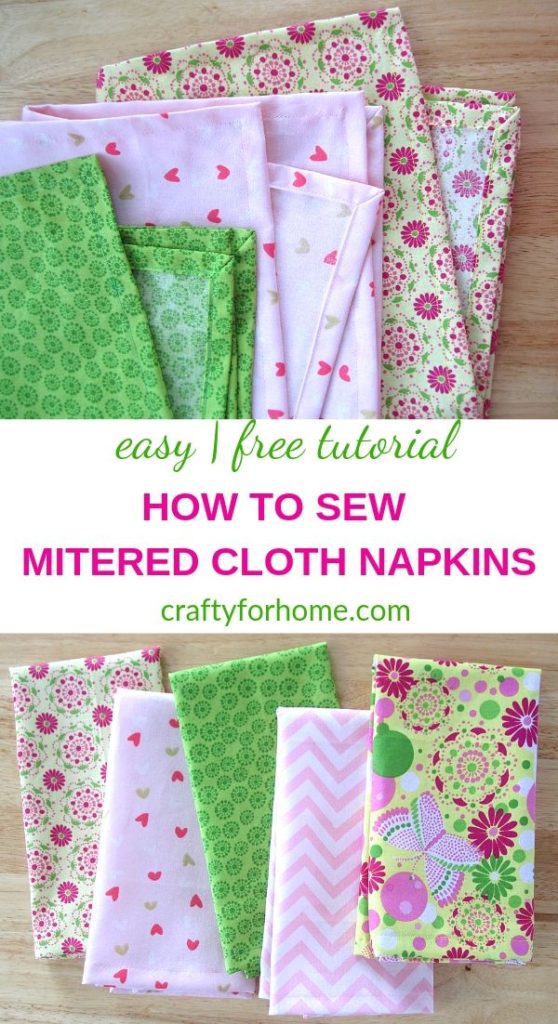 Do you always look for a fun craft project? Well, I do. I like to make cute things to use around the house.
Especially when I see some fun print of the fat quarter fabric bundle, my mind was already imagining that I can make something with it.
This DIY napkin uses the mitered corner for the hem and one of the easiest projects you can do from fat quarter fabric.
What You Need To Make Mitered Corner Napkins
A square piece of fat quarter cotton is a perfect material for making cloth napkins if you don't have linen fabric available. Cotton quilts material has lots of fun prints.
You can also use a lightweight mix of polyester and cotton fabric. The final size of my napkins is 16 inches squares.
How To Sew Napkins With Mitered Corners
Cut the fabric into 18 inches squares. Mark two lines with the first line are 1/2 inch from the edge, and the second line is 1/2 inch from the first line.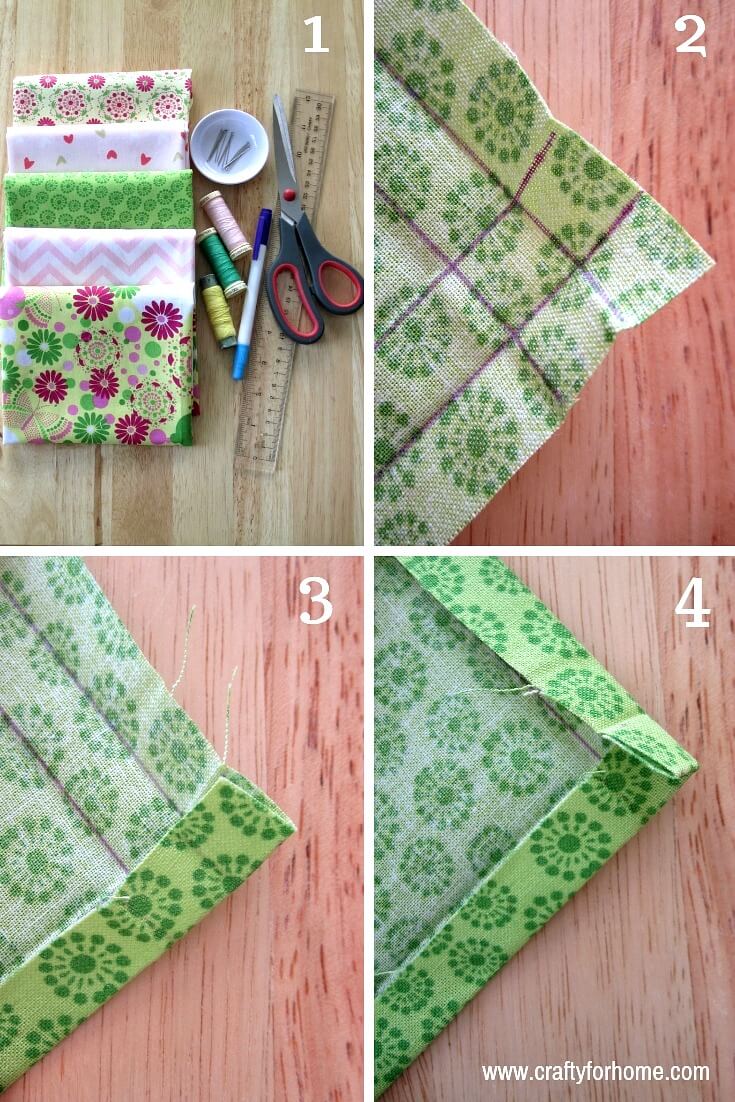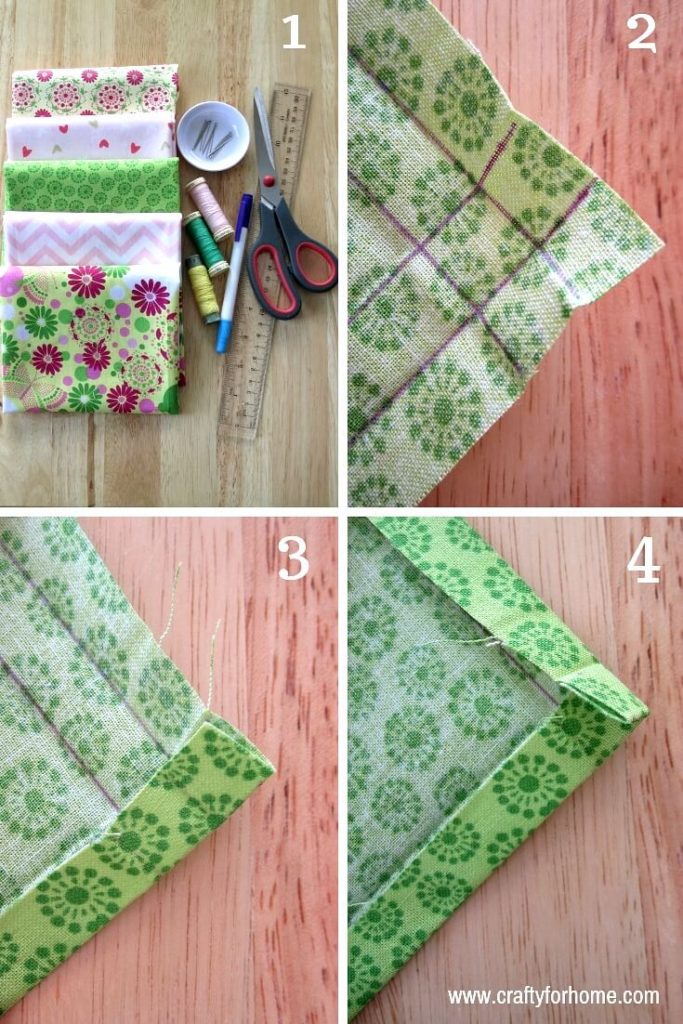 Double fold the fabric by the marked lines, the raw edge should be inside the hem, then press it with ironing.
On the first fold, mark 1 inch from each corner then make a 45 deg angle between each of marked line with 1 1/2 inches long. (image no.5)
Fold the fabric by making pointy triangle edge with the right side of the fabric facing each other (image no.6). Straight stitch on the marked line (image no.8).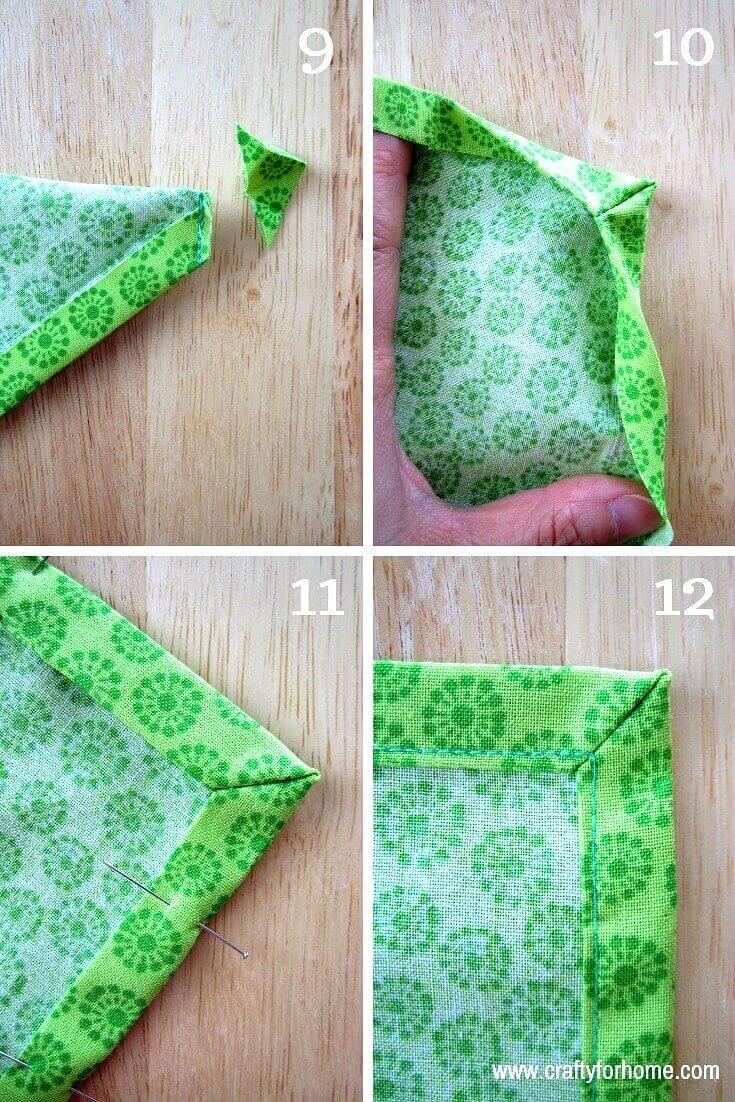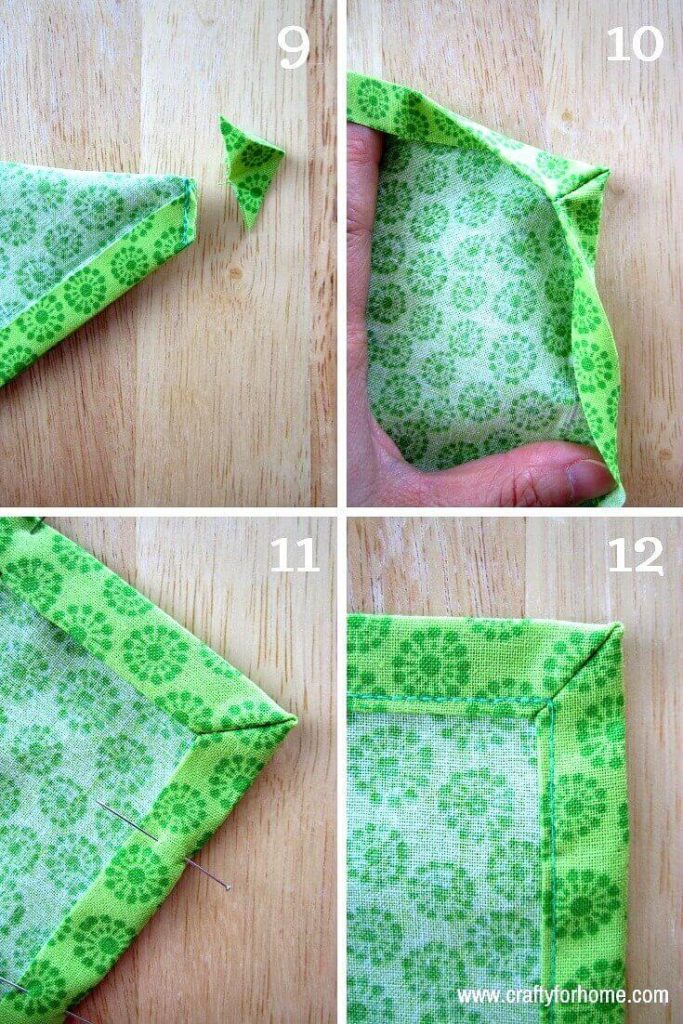 Clip the pointy edge to reduce bulky corner (image no.9). Turn the corner inside out (it should look like on image no.10). Top stitch the hem (image no.12).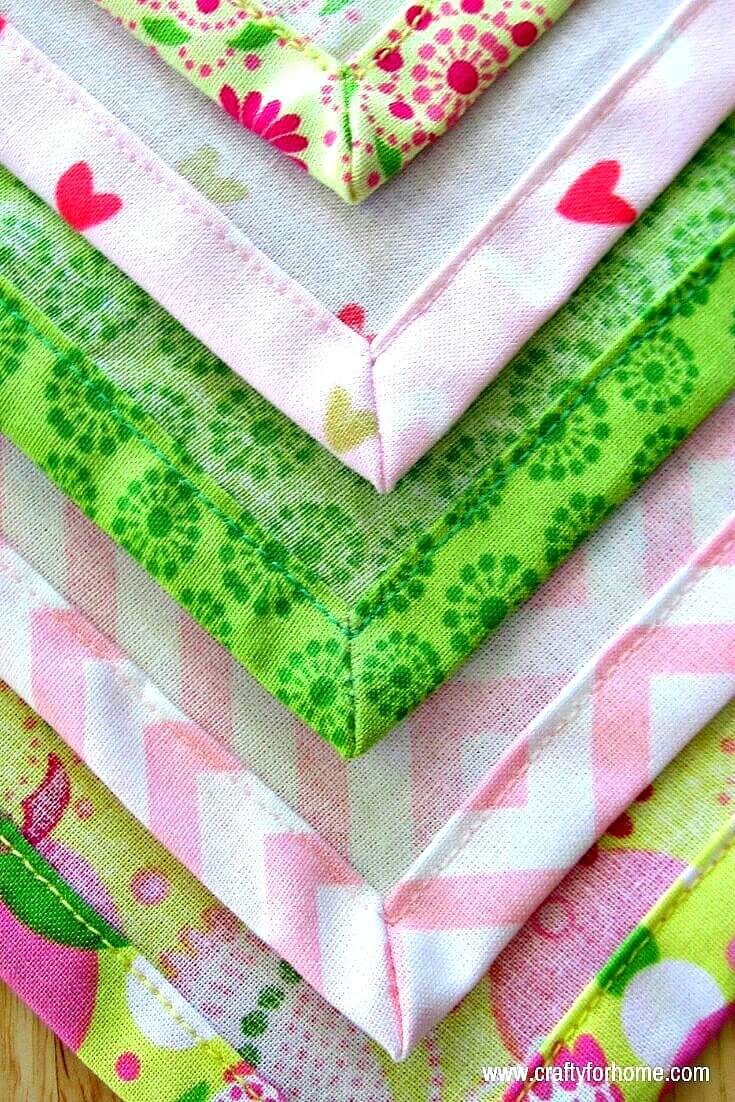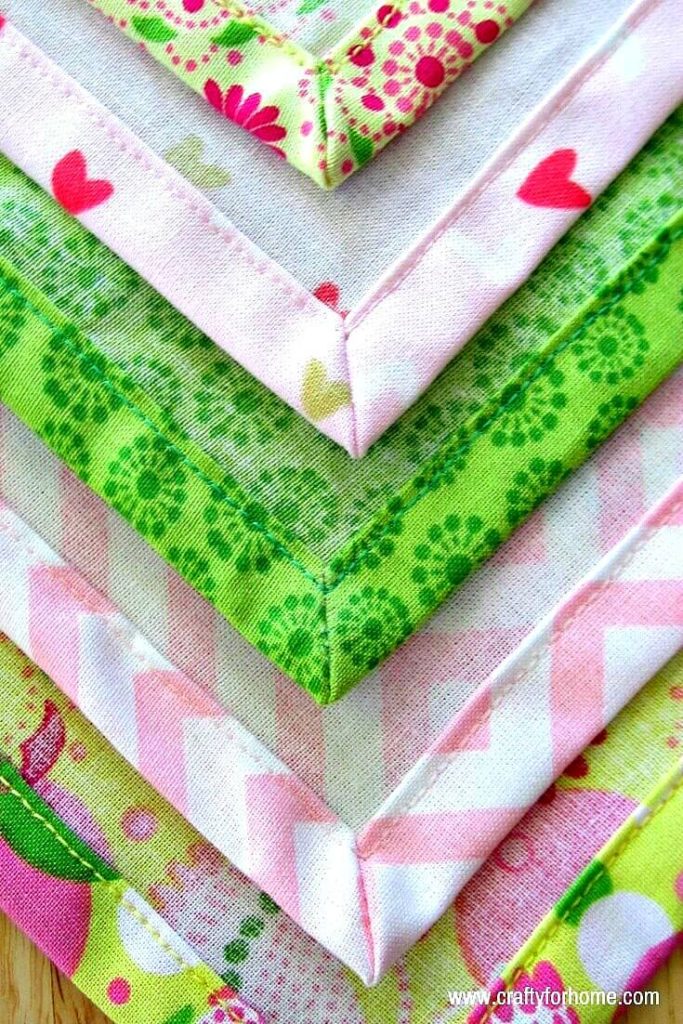 Get the PDF
I have a collection of 10 cloth napkins tutorial, which six of them have been published on the blog, and four of them are new and never published on the blog.
If it is more convenient, you can purchase the PDF format ebook of 10 Different Style Cloth Napkins for only $5. The ebook has complete tutorials with pictures included. There is no ads or video display on the PDF so that you can print it, and it will be available for you anytime you need the tutorial for your next project. Click on the ebook cover image below to purchase.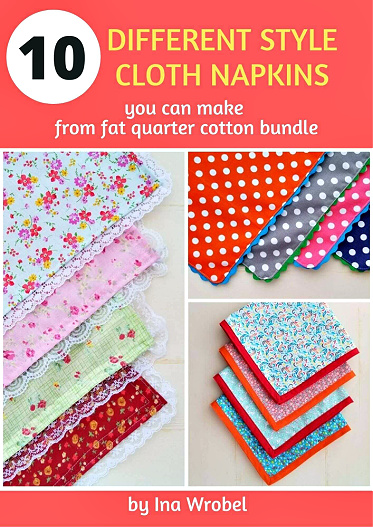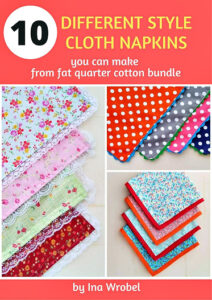 This DIY mitered cloth napkin is perfect for homemade gift ideas, like housewarming gift, Christmas gift, also you can sell it in the craft show as a set.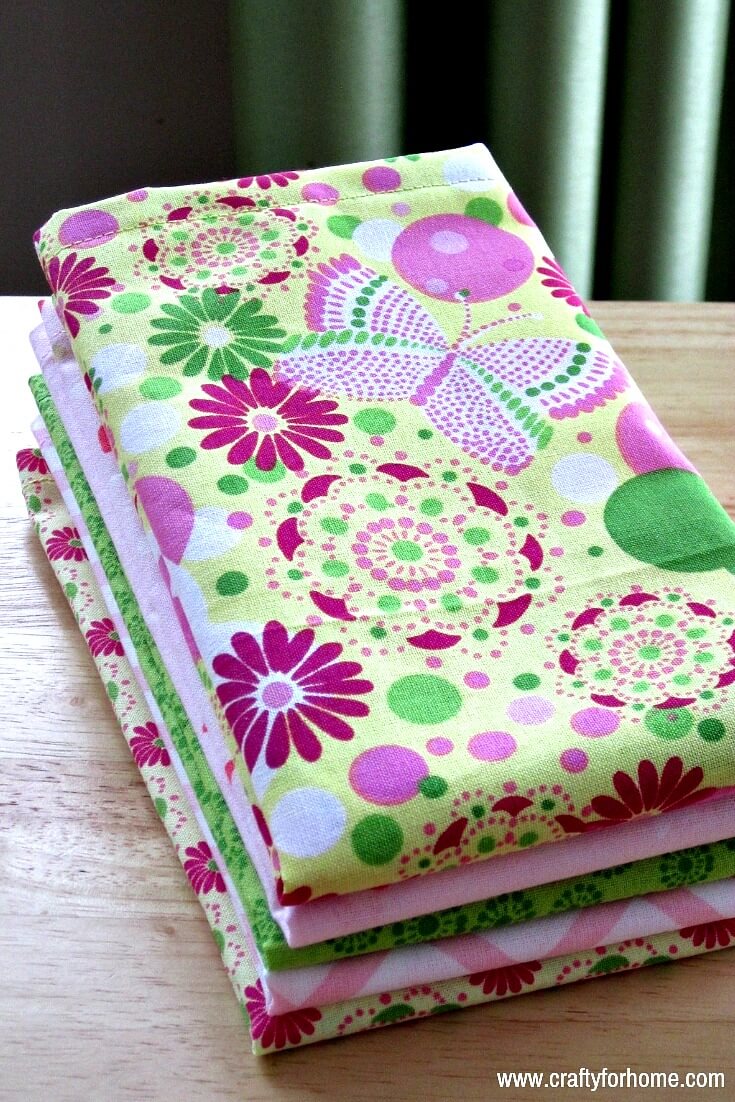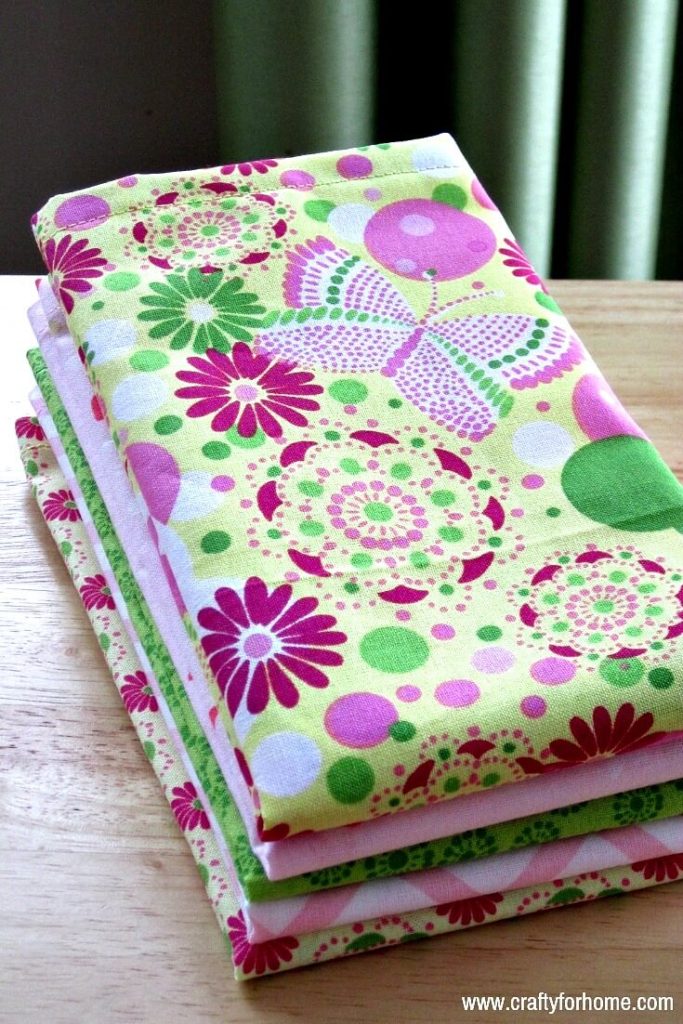 These napkins also one of the quick projects to decorate the tabletop with to match any occasion. Sew a bunch of them for a beautiful addition on your DIY wedding decor.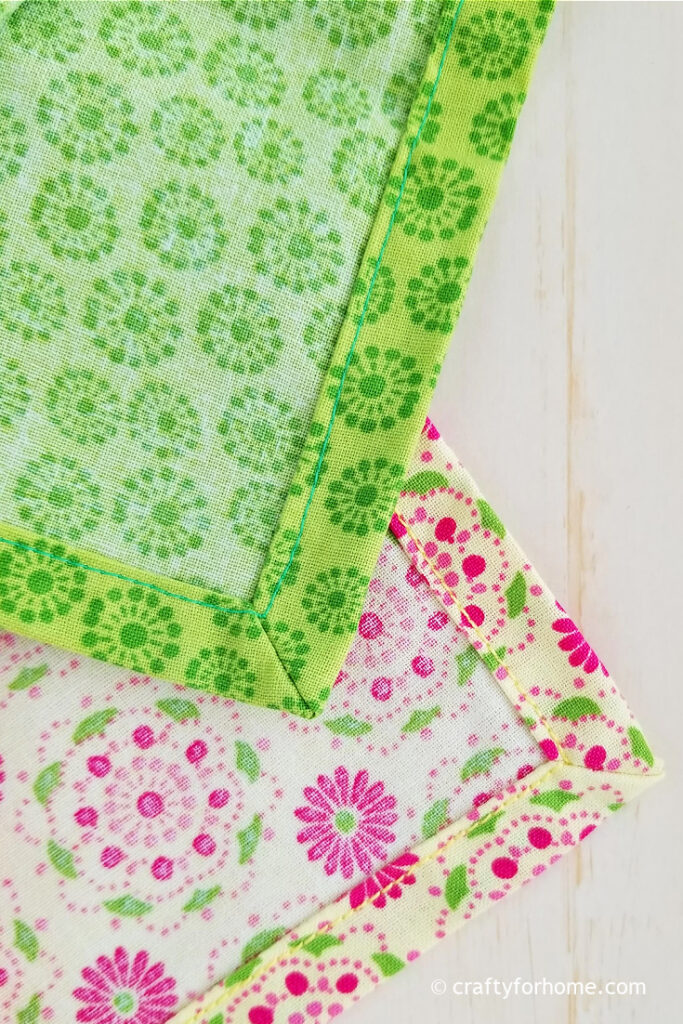 Use this easy cloth napkin tutorial and the egg-shaped placemat as a craft project you can do with kids on the weekend.
Mitered corner napkins are easy to make with these tutorials #sewingtutorials #freepattern
Click To Tweet
You can get any fat quarter fabric bundles in the craft store, Walmart, and any fabric store. If you prefer to shop online, here are lists of online fabric stores to get quilting cotton and home decor fabric.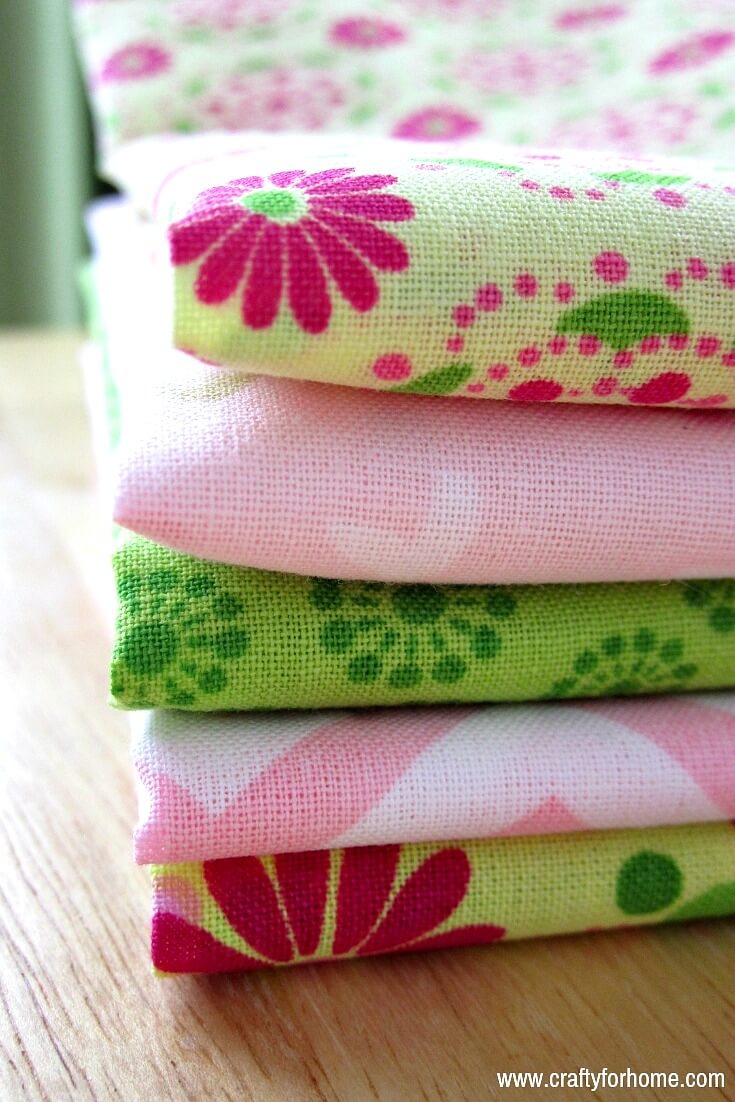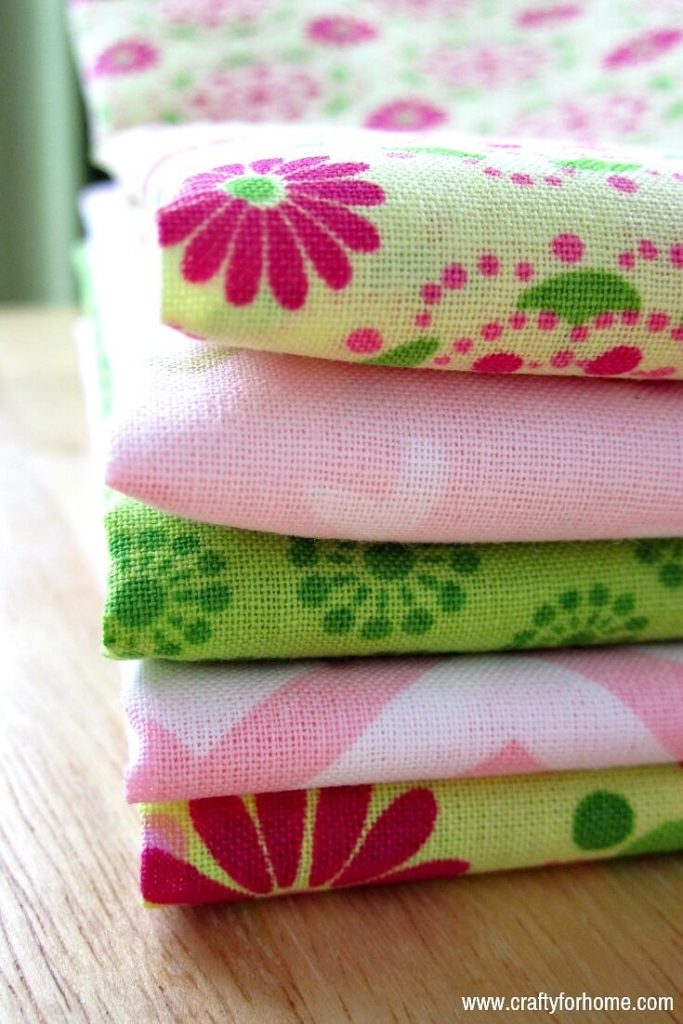 If you have some extra fat quarter fabric, you can turn it into this soup bowl cozy. It is a useful thing to have and easy to make.
More of quick fat-quarter projects.
This mitered corner napkin is easy to make and perfect as a sewing project for the kitchen.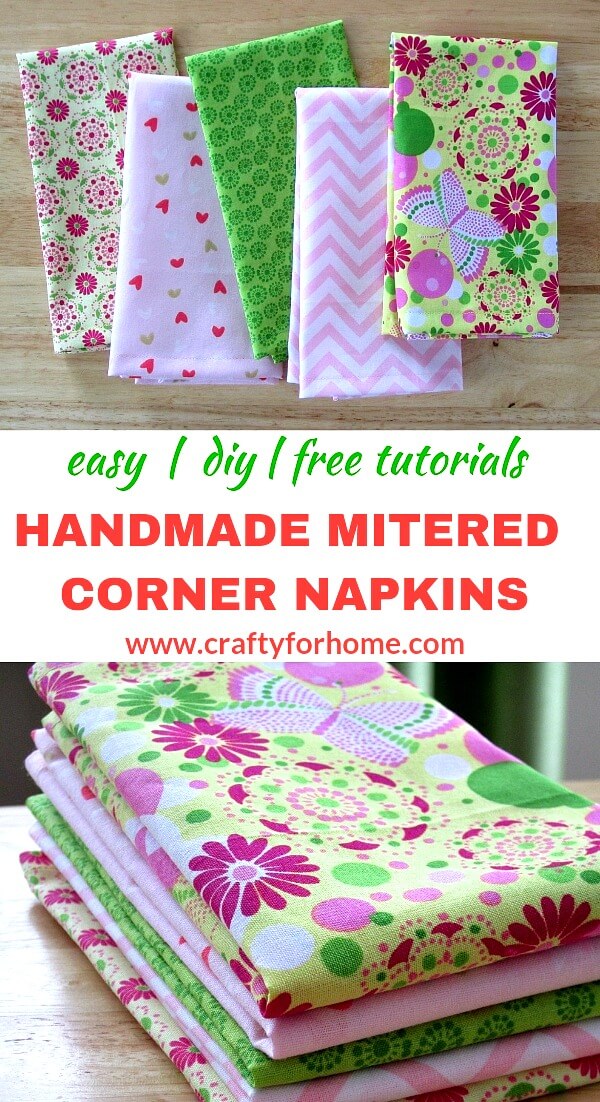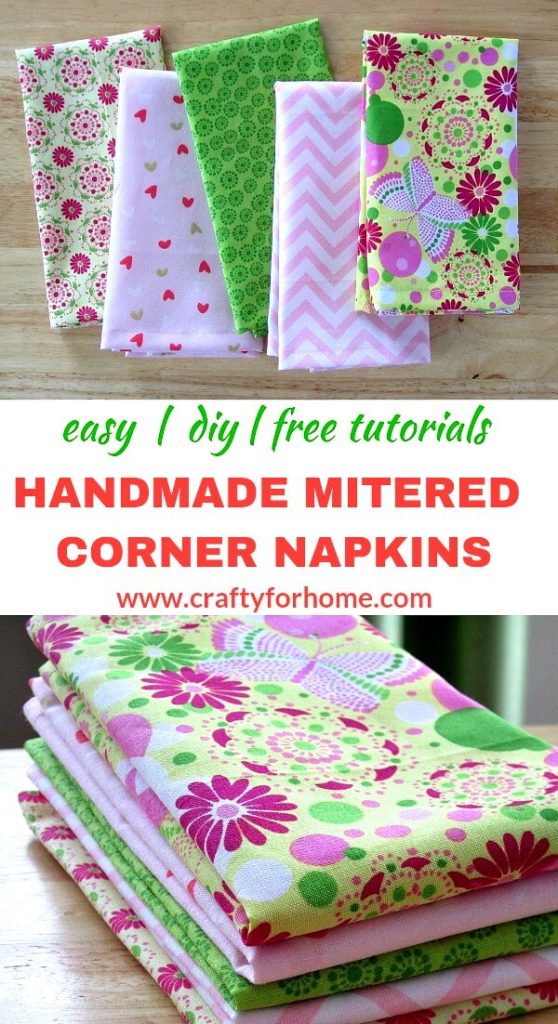 Easy DIY sewing project on how to make self-binding cloth napkins for your table setting decor. Make this double-sided mitered napkins by using fat quarter fabric or repurpose materials that perfect for DIY homemade gift.
Easy sewing tips on how to make cloth napkins with simple patchwork that will brighten up your tabletop setting any time of the year.
An easy sewing craft on how to make a mug rug with the easy binding tutorial using the backside of the fabric.