Easy DIY sewing project on how to make self binding cloth napkins for your table setting decor. Make this double-sided mitered napkins by using fat quarter fabric or repurpose materials that perfect for DIY homemade gift.
Use This Guide To Make Self-Binding Cloth Napkins
I found my self keep making cloth napkins because it is so easy, fun, and reusable. Every time I saw a cute print on quilt cotton, especially those on the fat quarter bundle, I will grab it, and off I go making more napkins. It is an easy and fast sewing project especially if you are using the pattern from the double-sided 10-minute cloth napkins.
As an Amazon Associate I earn from qualifying purchases. This post may contain affiliate links. Please see the Disclosure Policy for details.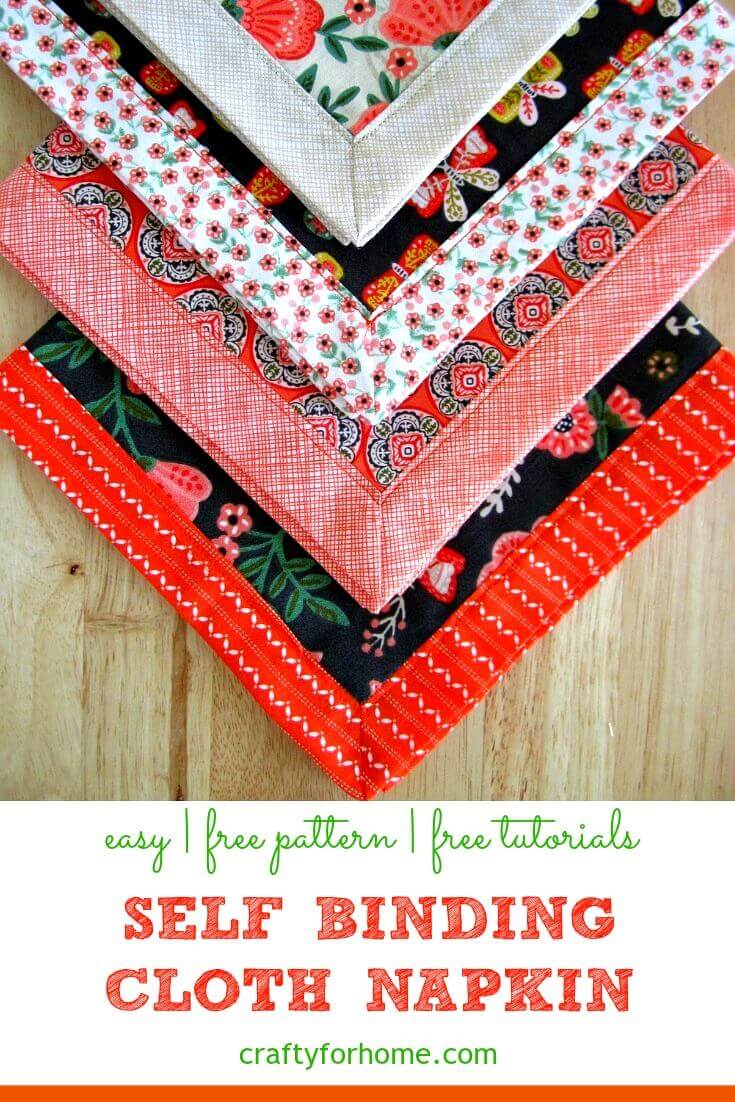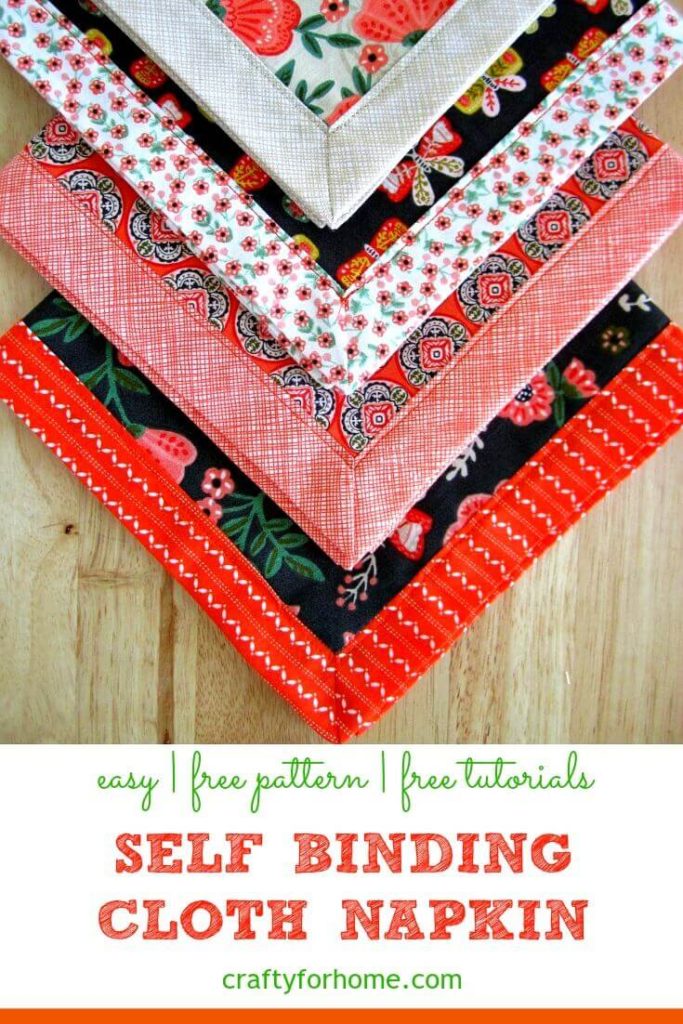 If you try the DIY mitered corner napkins, then you should try to make this self-binding napkin too. It is like the mix of the double-sided napkins and mitered napkins together.
I use the fat quarter bundles that comes with 8 pcs per package of different fabric prints. I found this fabric from the local fabric store where I live here. You can also get a fat quarter bundle from here.
If you prefer purchasing fabric on meter or yard, you would need about 1,82 meters or 2 yards of material to get eight fat quarters. From eight fat quarters, you will get four sets of double-sided napkins.
The bold color is just beautiful and pops when you display it on the dining table. The darker and multiple colors will help to disguise any stain that left on the napkins.
But not to worry, these cloth napkins are washable and reusable over and over again. If you don't have time to iron it, me sometimes too, you can use the wrinkle release option on the dryer machine.
What You Need To Make Self Binding Cloth Napkins
How To Make Self Binding Cloth Napkins
Measure and cut the fabric just like it show on the pattern, 4 pcs of 18 " x 18″ for the backing side and 4 pcs of 14″ x 14 " for the front side.
Fold the larger square one in half, mark the the folded line. Repeat the process for all four sides. Repeat the process with the smaller square pieces fabric. (image no.2)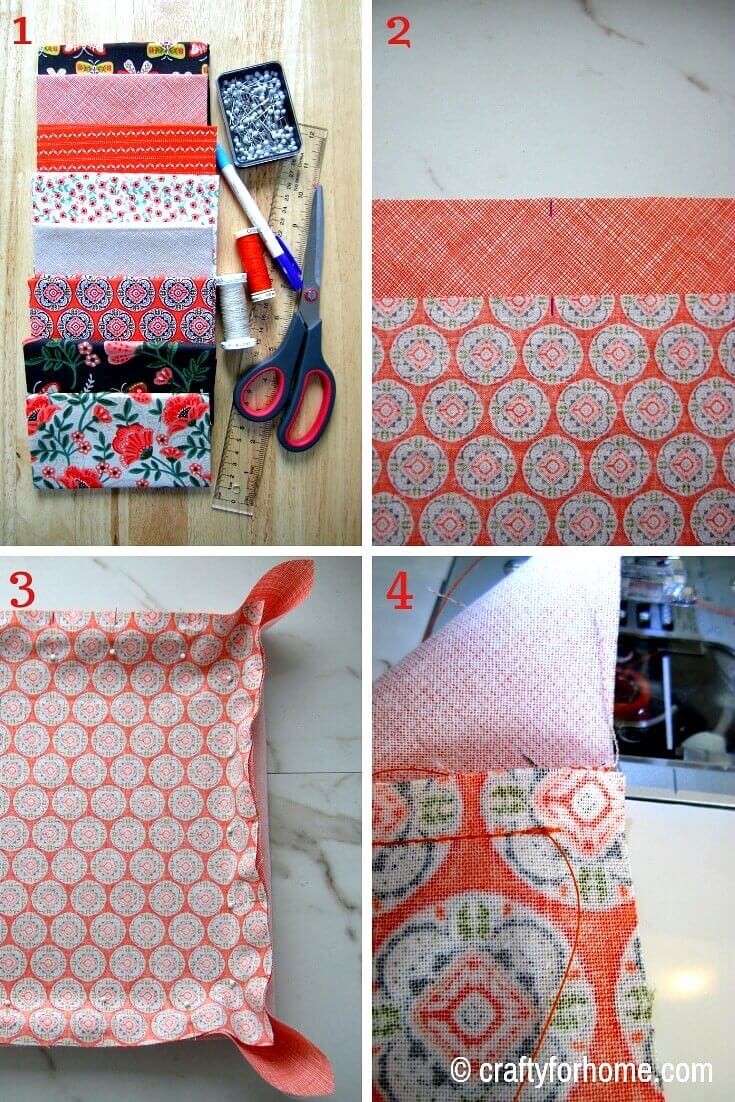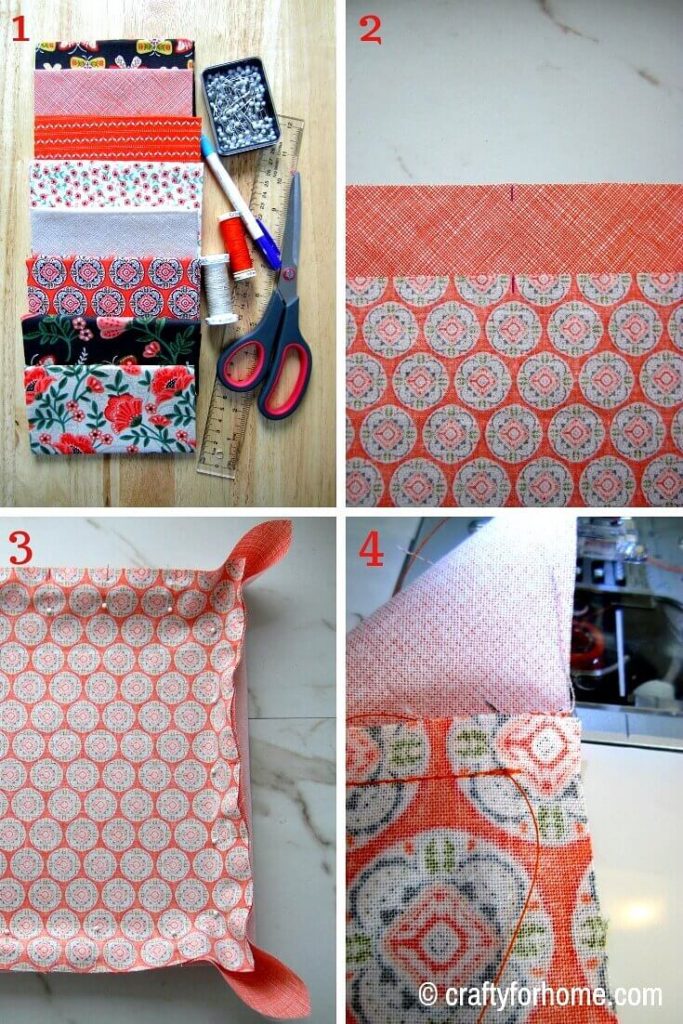 Layer the larger square and the smaller one with the right side facing each other. Pin it together in place and continue to make the smaller square fabric is in the center. The sides won't be the same length. (image no.3)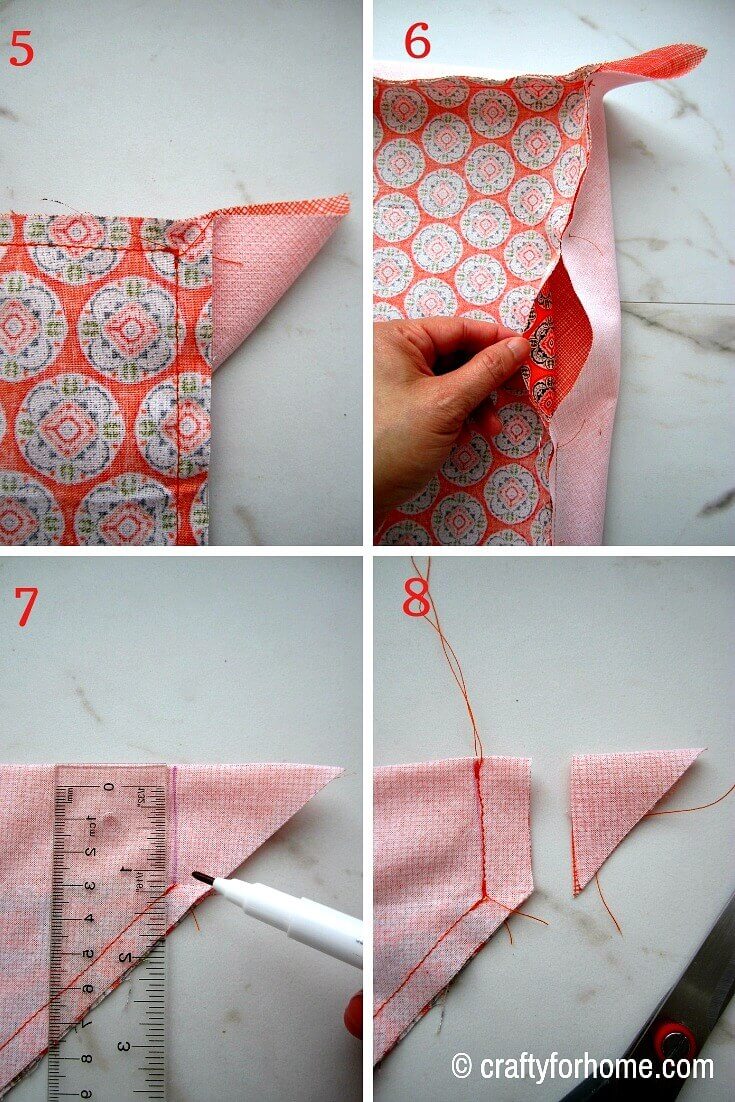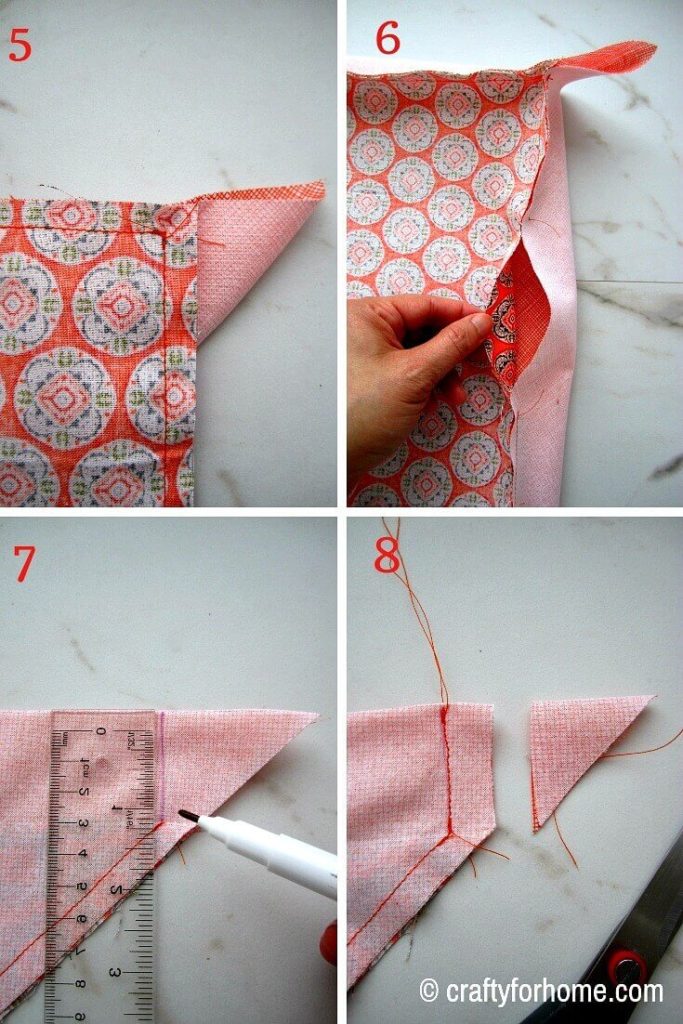 Straight stitch around the smaller square fabric edges with 1/4″ seam allowance and leave it about 4″ for the opening. (image.4, 5, 6).
Mark a line in each overhang corners to the stitch, then sew it (it is easier to determine the line by putting the ruler to make a 90° angle). (image no.7)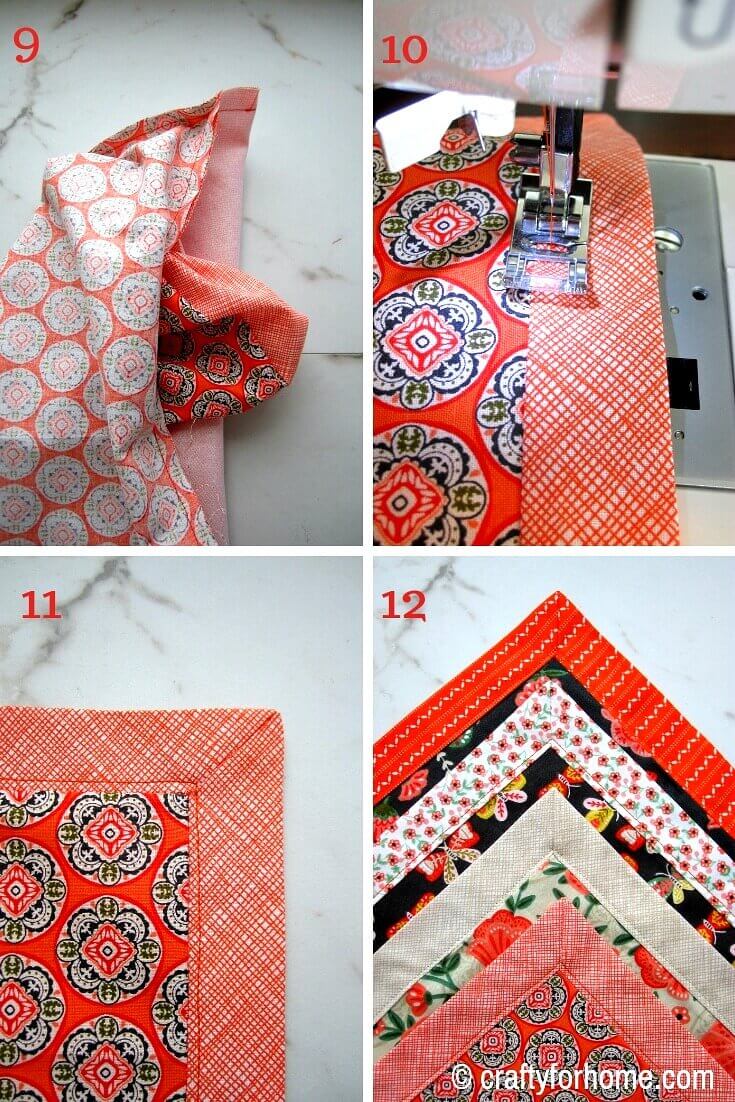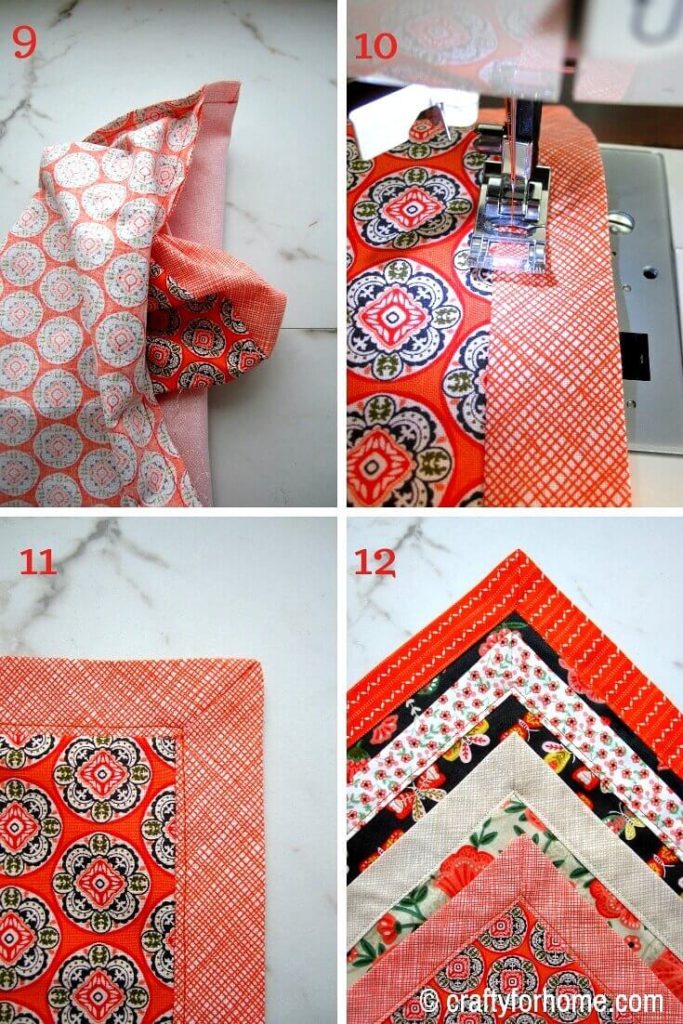 Clip the extra fabric. (image no.8). Turn it inside out through the opening. Press the napkin to make it easier when you sew the binding. (image no.9)
Sew the binding and close the opening at the same time. (image no.10)
This double-sided napkin with mitered corner is perfect for a formal dinner party or special occasion because of the elegant look of these napkins. Here are the easy ways to fold napkins for your next dinner party.
Get the PDF
I have a collection of 10 cloth napkins tutorial, which six of them have been published on the blog, and four of them are new and never published on the blog.
If it is more convenient, you can purchase the PDF format ebook of 10 Different Style Cloth Napkins for only $5. The ebook has complete tutorials with pictures included. There is no ads or video display on the PDF so that you can print it, and it will be available for you anytime you need the tutorial for your next project. Click on the ebook cover image below to purchase.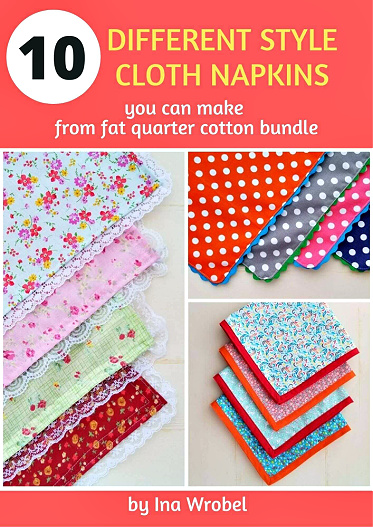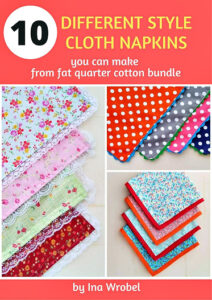 This double-sided cloth napkin is only 10 minutes to make #sewingtutorial #sewingproject #DIYhomedecor
Click To Tweet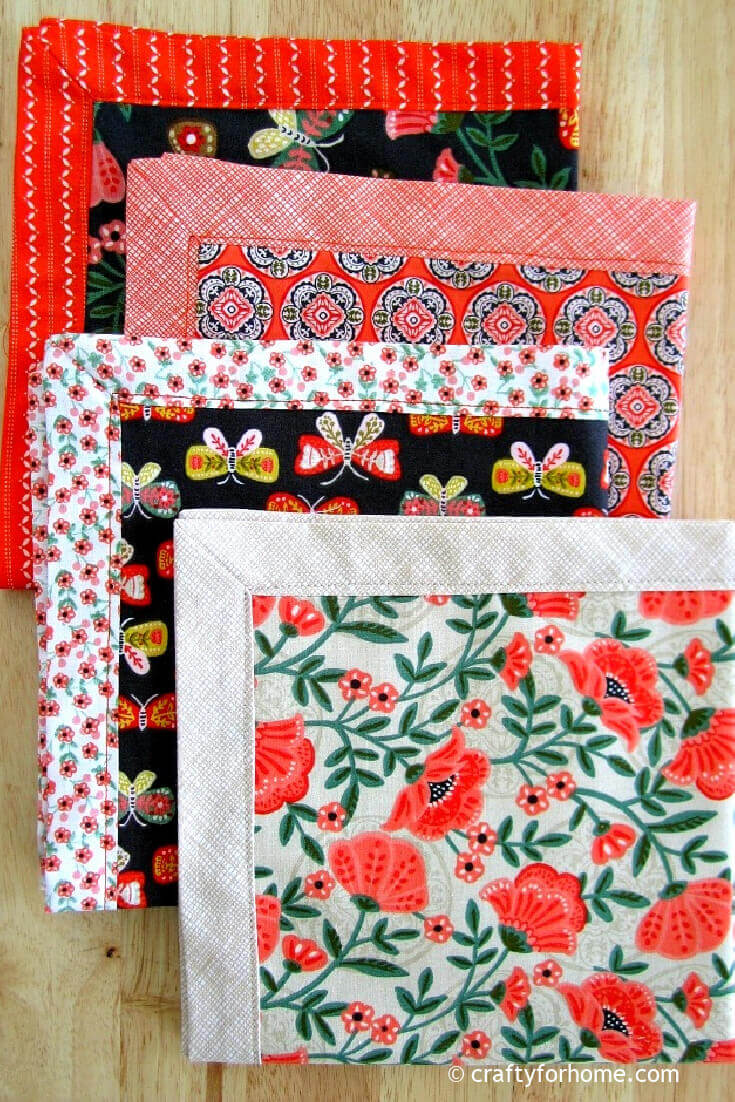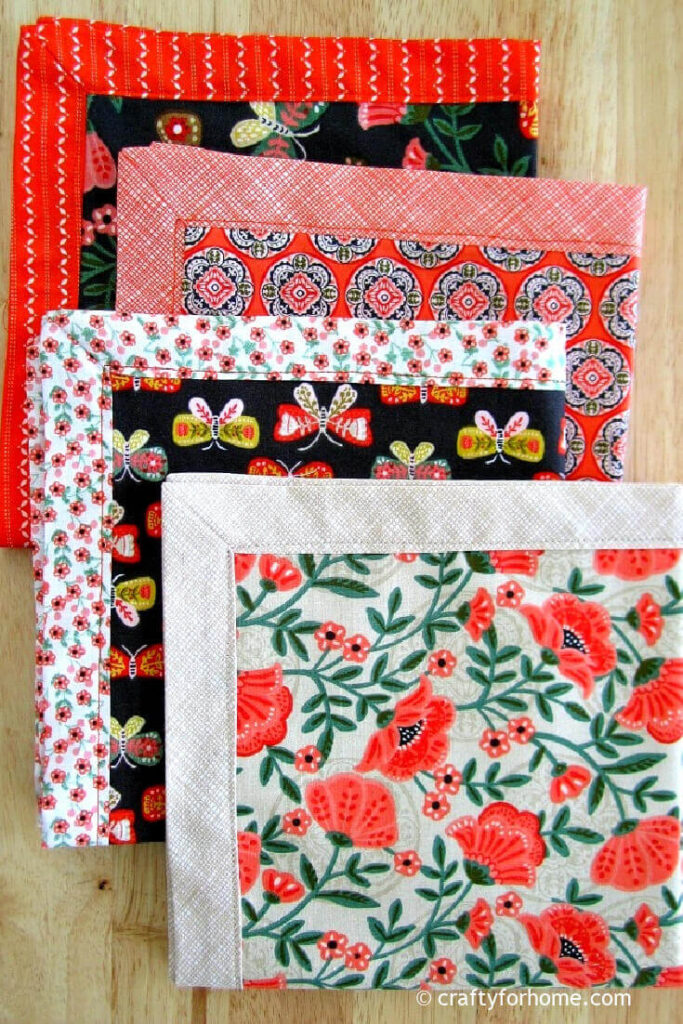 Cloth napkins are also perfect items for homemade gift ideas or craft for sale at your next country fair in your area.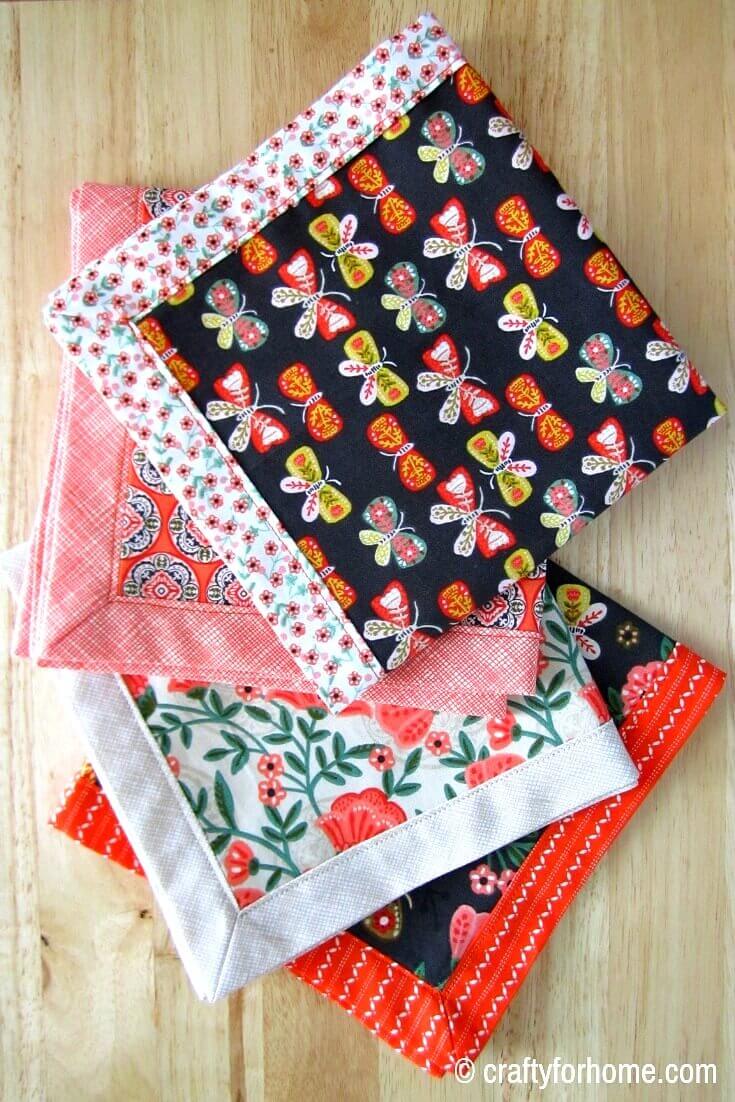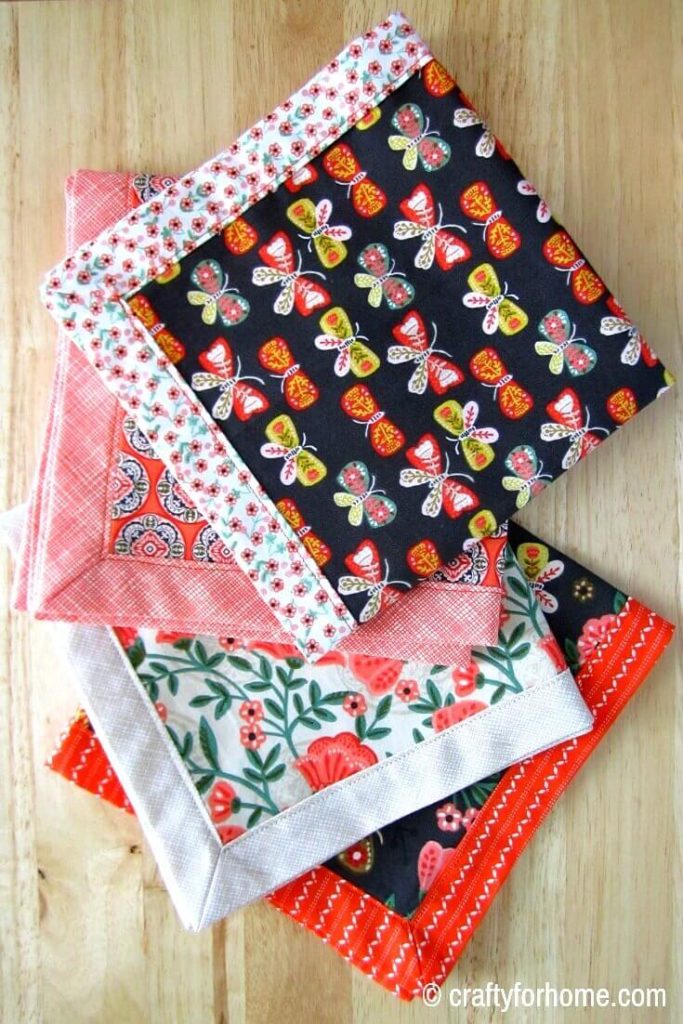 For a complete custom gift idea, include the reversible bowl cozy with these napkins and match all fabric prints for both items.
More of sewing project for the kitchen
Easy Tutorial To Make Self-Binding Cloth Napkins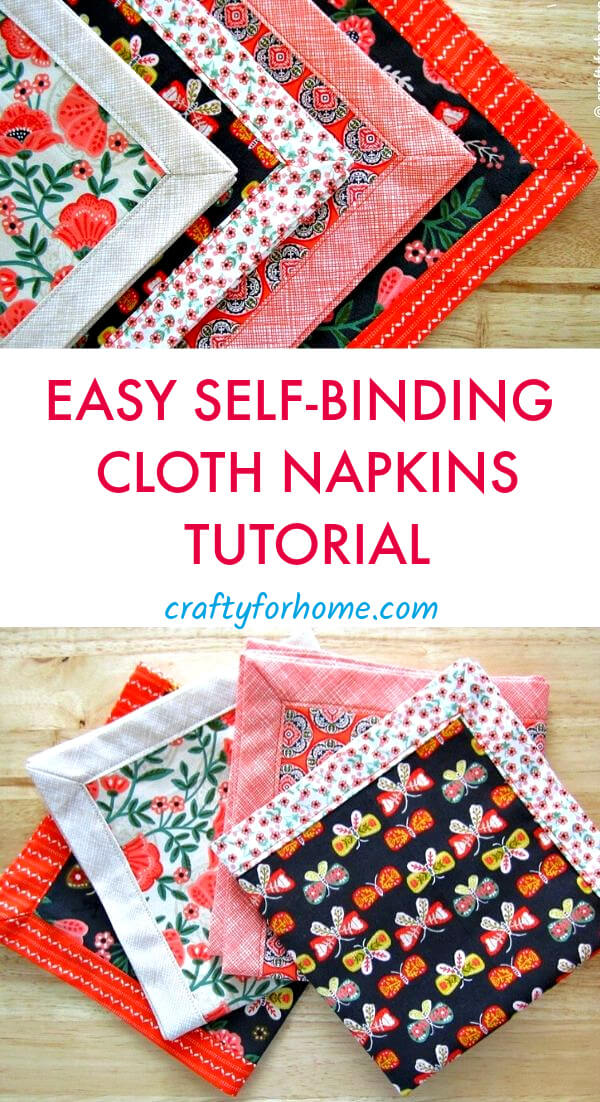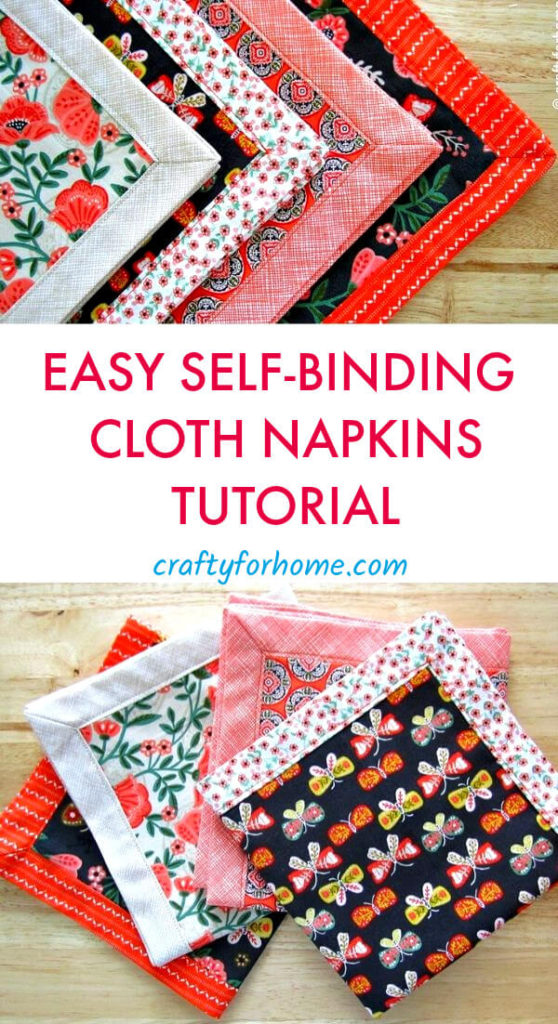 An easy sewing craft on how to make a mug rug with the easy binding tutorial using the backside of the fabric.
Easy sewing tips on how to make cloth napkins with simple patchwork that will brighten up your tabletop setting any time of the year.
How easy it is to sew an oval-shaped placemat. The placemat is perfect for your DIY home decor or homemade gift ideas.