This easy to grow Walker's Low catmint will add texture to your garden with the silvery leaves and indigo flowers that will bloom all summer long.
Helpful Tips For Growing And Caring Walker's Low Catmint
This catmint is similar to the cat's favorite plant, catnip, but it is a different type of mint. Walker's Low catmint will give you a sea of blue-purple flowers with minimum care and pairs well with delphinium for summer blooming garden.
As an Amazon Associate I earn from qualifying purchases. This post may contain affiliate links. Please see the Disclosure Policy for details.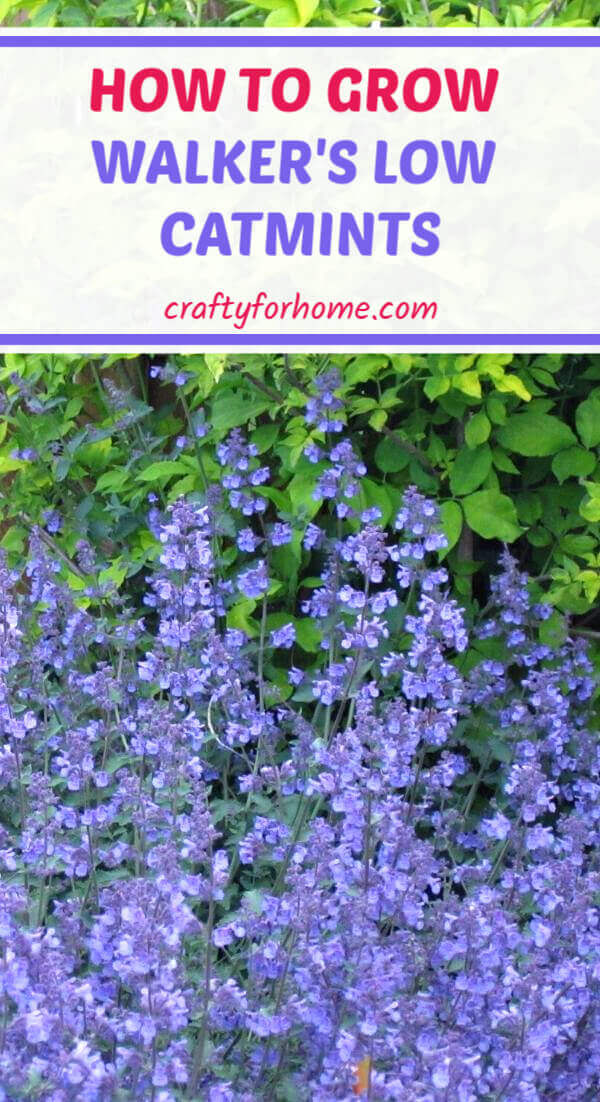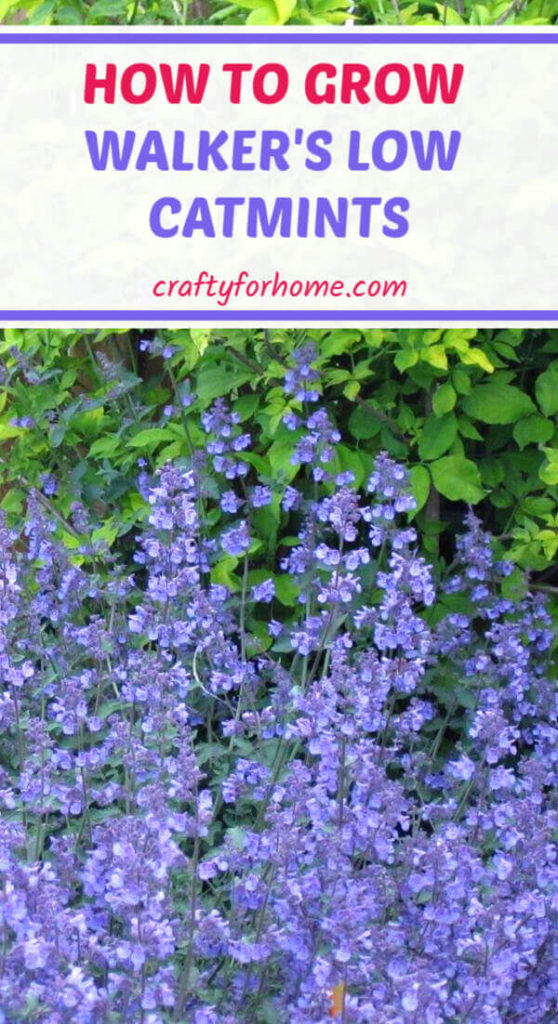 It is quite challenging to make a lavender border in my area. One or two clumps of plants are still better, but a hedge is somewhat challenging to keep it growing. So, catmint is the answer to this solution.
I start with one potted plant years ago from the garden center. Now I plant it here and there throughout the garden from that single plant.
Is Catmint Perennial
Walker's Low catmint or nepeta is one of the perennial plants with mounding and non-invasive growing habit. It is hardy for zone 3-8, grows up to 30-36 inches in width and height. The leave is more like silvery color than the regular mint plant.
I grow Walker's Low catmint variety with indigo color flower. I grow it to make a border for the pathway. Because it is a perennial plant, nepeta will come back year after year with basic care.
Propagating Walker's Low Catmint
You can see from the plant name that the catmint is from the mint family. If you look closely, any mint family characteristic has a square stem. And any mint family is easy to propagate by taking stem cuttings.
Stem Cuttings
Start taking a stem cutting just below the leaves node in the spring when there is semi-soft stem growing. You can take cuttings throughout the summer. Use the clean and sharp knife or pruner to prevent mold on the cuttings.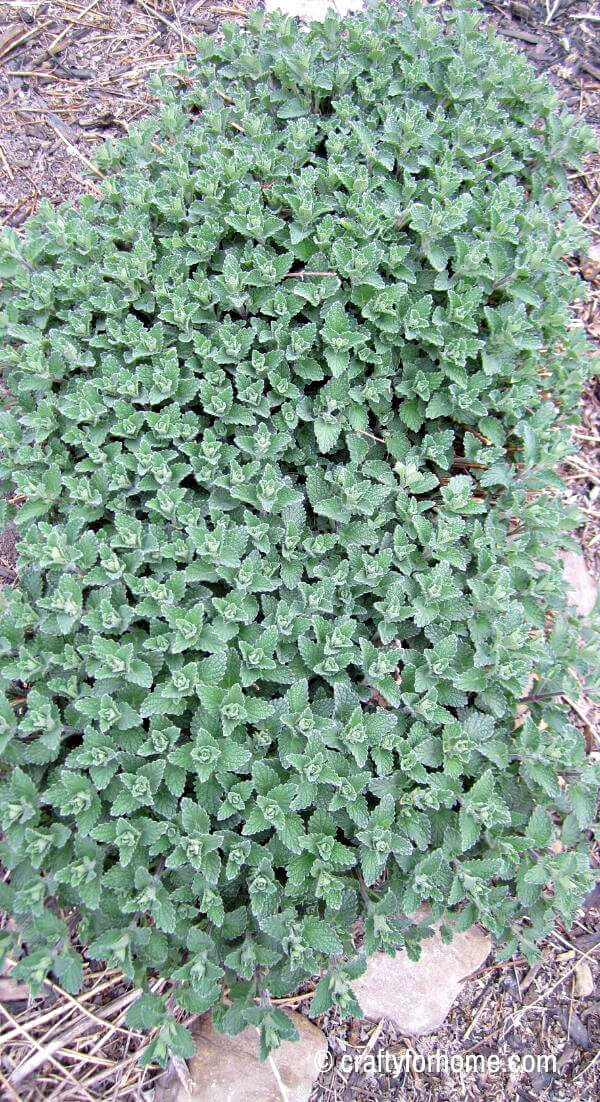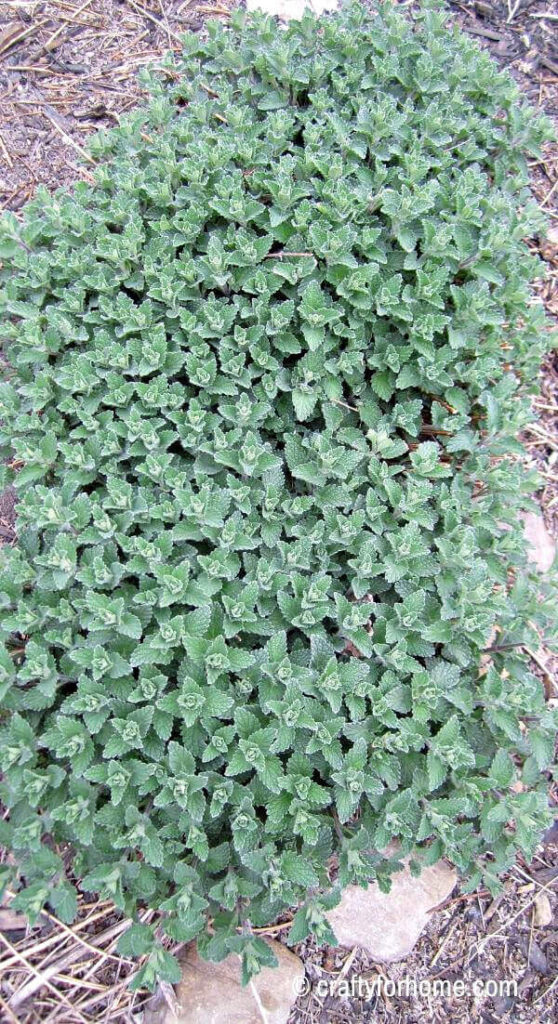 Prepare the growing medium, and you can use any of the following to grow the cuttings.
For this purpose, I use the peat pellets, because it is easy to prepare, and you can see the root when it starts growing.
Remove most of the foliage but leave it one or two on the cuttings. Dip the cutting into the rooting hormone, although this is unnecessary.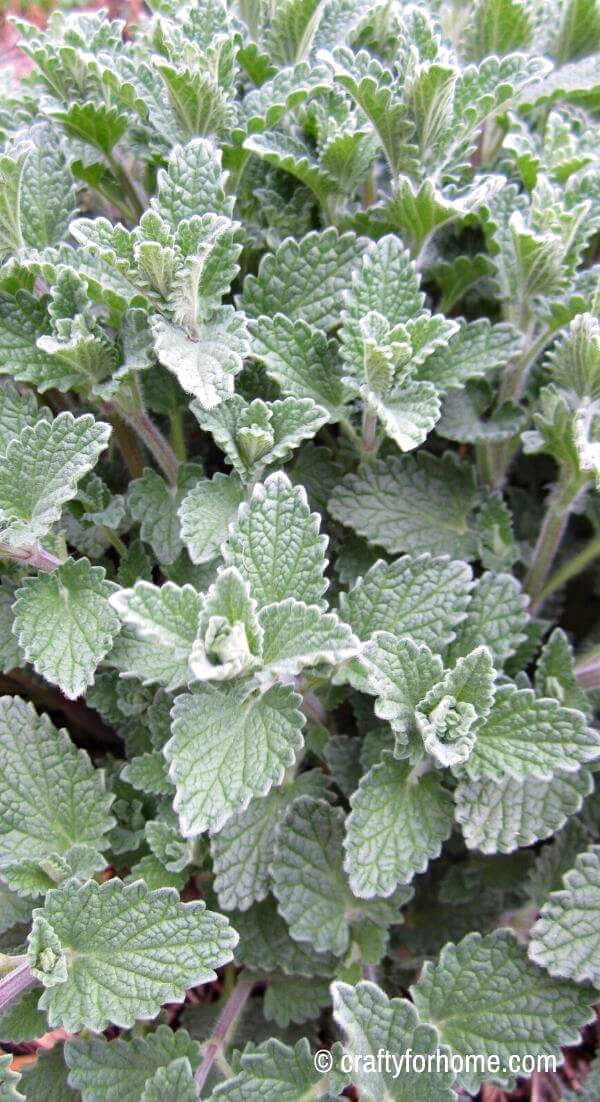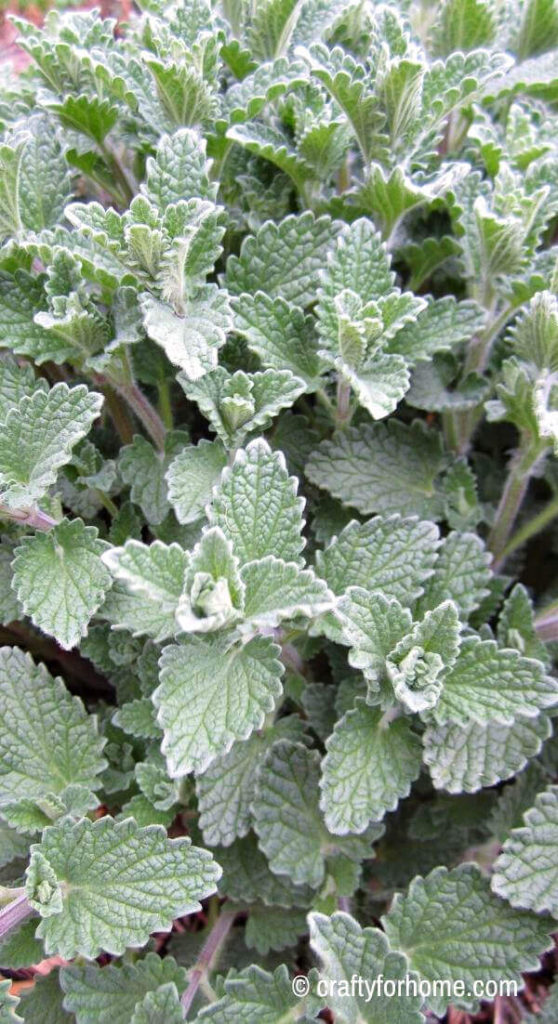 Stick the cutting into the growing medium and keep it in the humid and warm area. The seed starting tray with dome is perfect for doing the job.
Once the root is growing, remove the dome and transplant it into a larger pot. You can keep it on the container until the seedling is big enough to transplant into the final spot in the garden.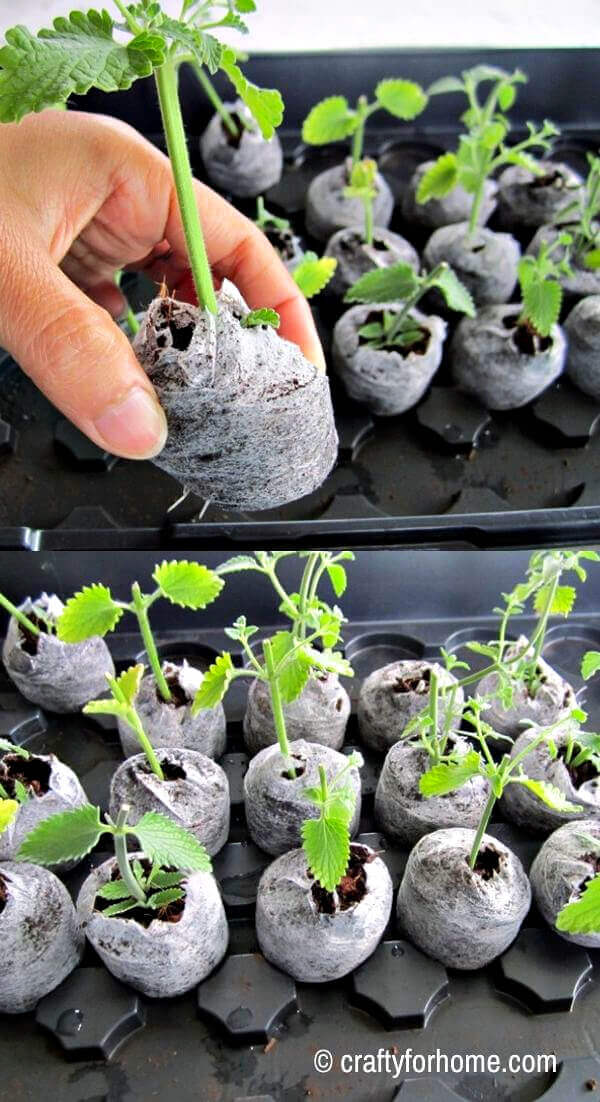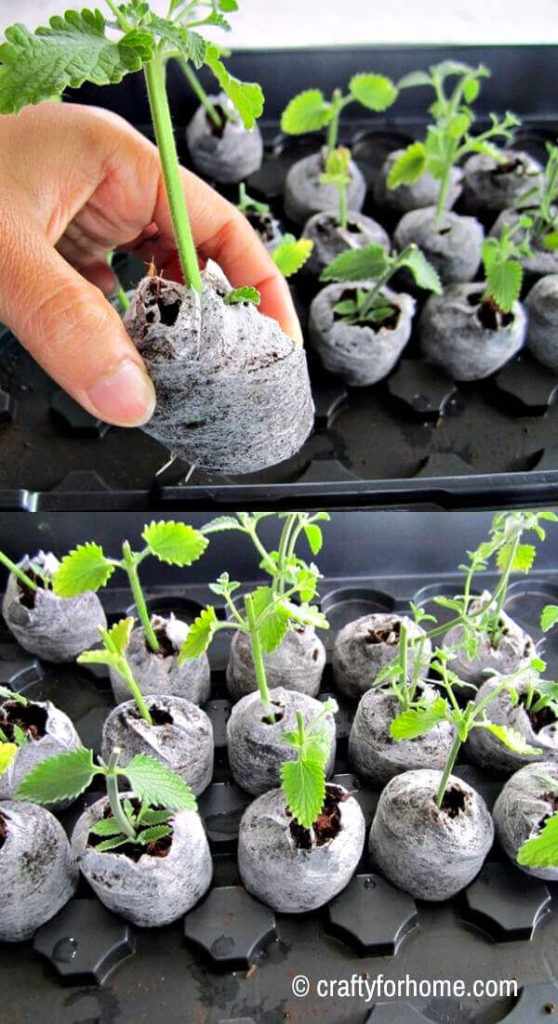 Make sure you water the seedling when the soil is dry out, but do not overwater it. If you grow the seedling indoors, make sure hardening it off first before you plant the new catmints outside.
Prepare the garden by adding organic matters like compost. Make sure the soil is well-drained. Prepare the planting hole as big as the container, transplant the seedling with the root crown level with the soil surface.
Don't worry if you plant it too deeply. Catmint will grow just fine.
Water the new plant in the first few days, and allow the soil surface to dry out between watering. Catmint is one of the drought-tolerant plants, so it won't be fussy about watering once the plant matures.
Pinch back the new shoot of the seedling above the leave nodes to encourage a bushier plant.
Root Division
You can divide the root from a mature clump of the catmint plant. Do this every 3 or 4 years in early spring or early fall when the temperature is cooling off and to keep the plant healthy.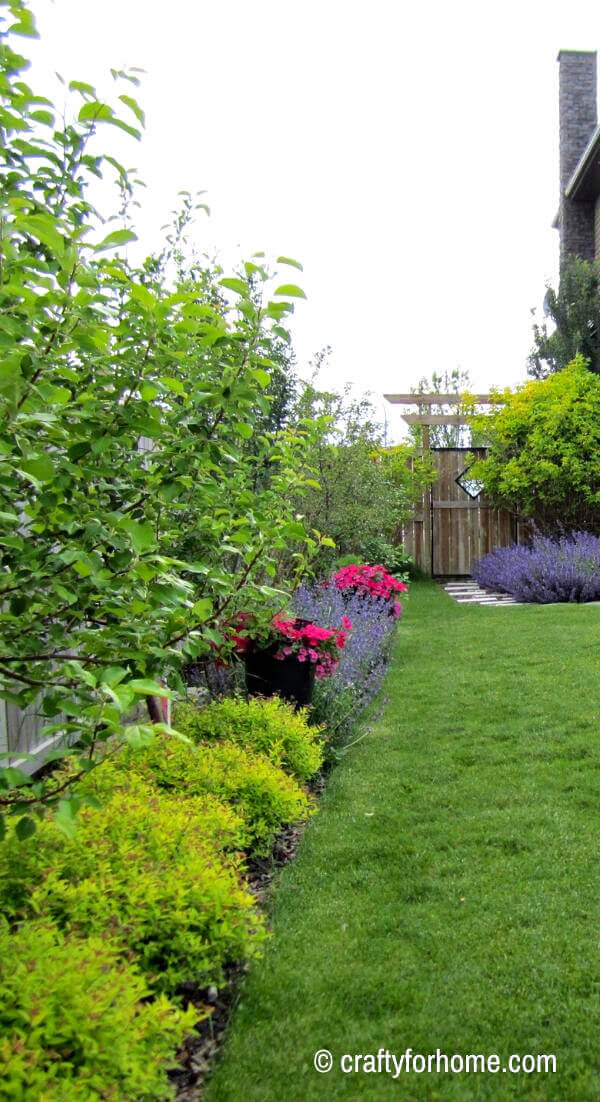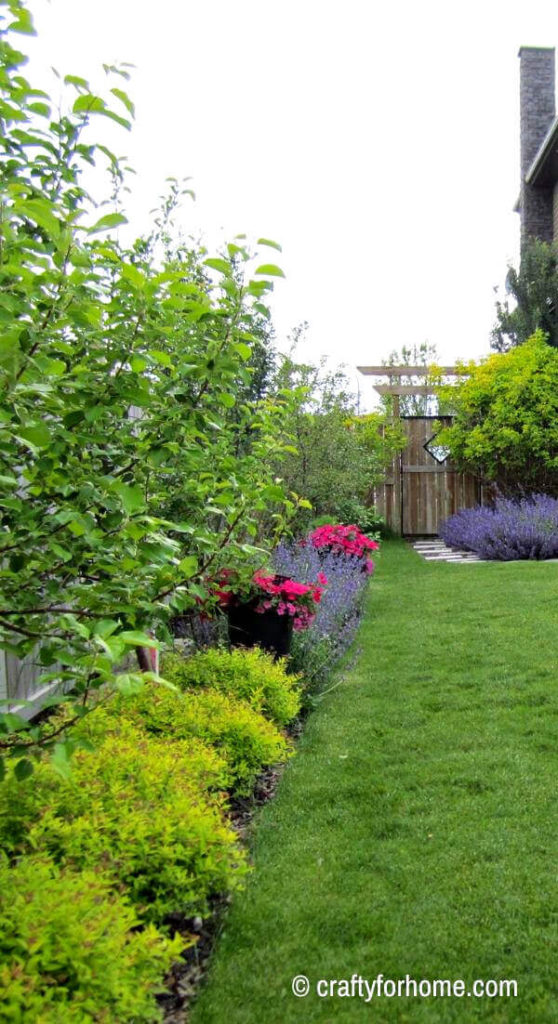 Start by digging up the whole plant with most of its roots intact and shake most of the soil off. Use the clean knife to divide the root into several sections by cutting it vertically.
Transplant the new root division into a new planting area. Add bonemeal into the planting hole to encourage root developments. Water it regularly and allow the soil surface to dry out between watering.
How Do You Care For Walker's Low Catmint
There is not much maintenance needed to keep catmint healthy as it is a low care perennial plant. You only need to water it when required during the dry spell.
Once it matures and develops the well-rooted system, nepeta is a drought-resistant plant but also loves cool temperatures. You don't need to water them often and allow the soil around it to dry out between watering.
Fertilize it in the early spring with compost on the base of the plant. Clear up the dried twigs from previous growth after the last hard frost pass.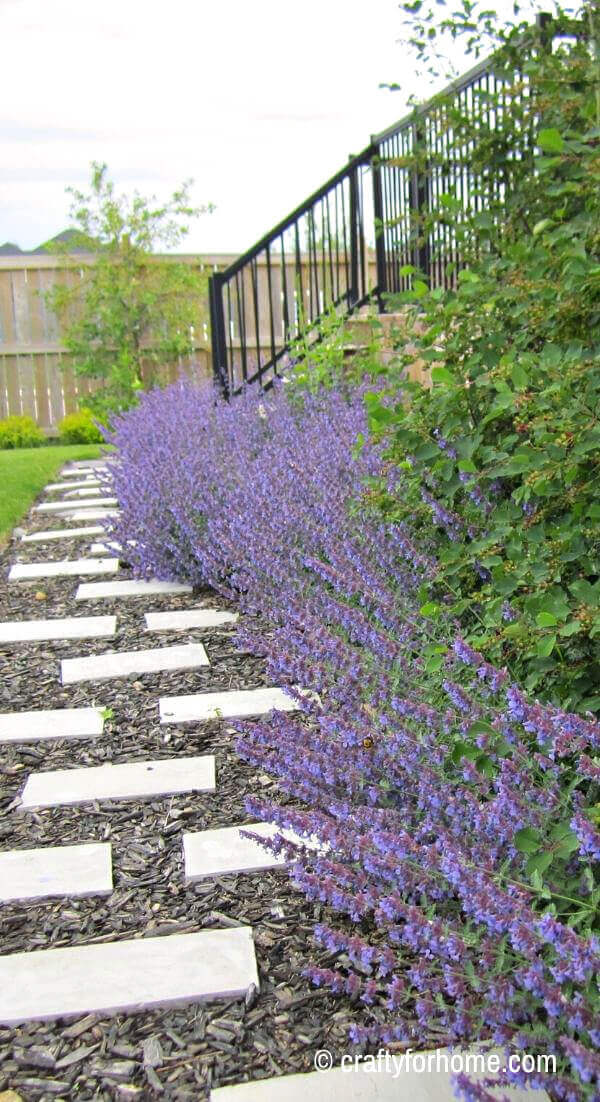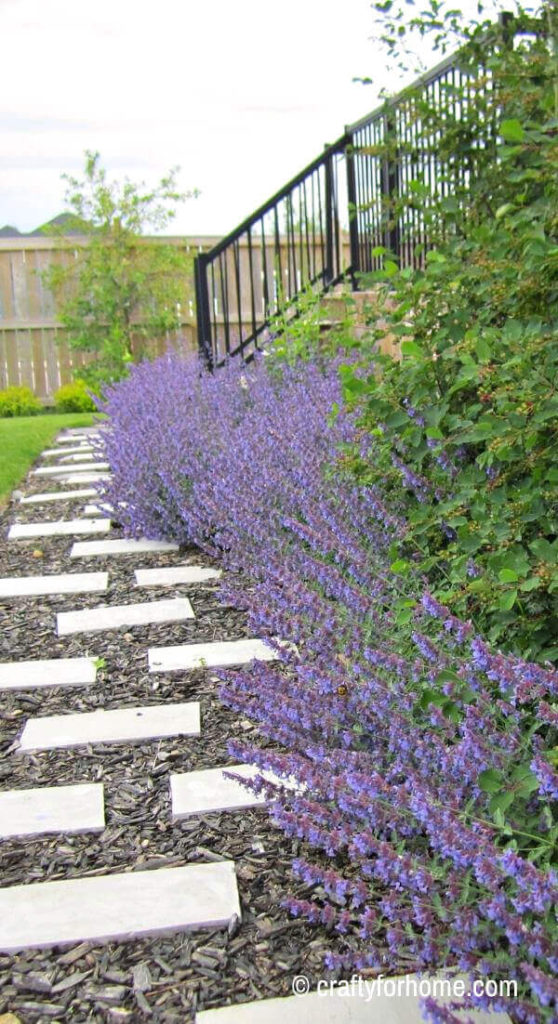 Catmint rarely gets infested by pests, the silvery and fuzzy foliage is also deer resistant. But keep in mind, the plant might attract neighborhood cats. During summer, I often found up to five cats gathering around the plant.
To winterize catmint, before the first hard frost coming in the fall, use the pruner to cut back the plant about four inches above the base.
I did experiment with this one, I cut it back on one year, and I left it until the following spring on the other year. There wasn't any different effect on the plant.
It was just quite hard to cut back dried twigs from a whole plant in the early spring. And it might become a warm and inviting place for a garden pest like mice.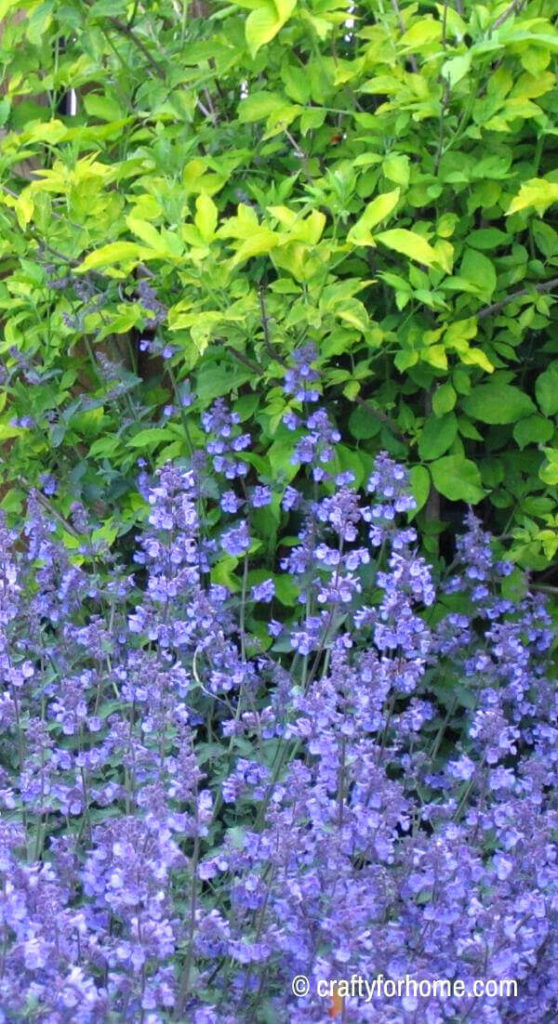 So, it would still be better to cut it back in the fall, then clean up the spent growth in the following spring. The new shoots will start appearing when the day warms up in early spring.
Nepeta will have a mound growing habit. It won't spread too much and take over the garden like spearmint. It is easy to maintain its size. When the clump got too big, then you can easily divide it and get more new plants.
How Do You Keep Catmint Blooming
Walker's Low catmint is one of long blooming perennial flower from spring up to fall. The aromatic foliage and lavender-like flowers attract beneficial insects like bees as well as hummingbirds.
If you have a long summer, you can encourage the second flush of flowers by cut back the plant about half above the base after the first bloom. Alternatively, shears of the faded flowers, then you will get new blooms.
What Can I Plant With Walker's Low Catmint
From annual flowers, perennial flowers, shrub, trees even vegetables are perfect companion plants for catmint. It also creates a dramatic look when it grows alone as a border plant for a lavender substitute.
For cottage garden theme, grow catmint with roses and delphinium as the background. Grow the catmint in the front row while the taller plant in the back.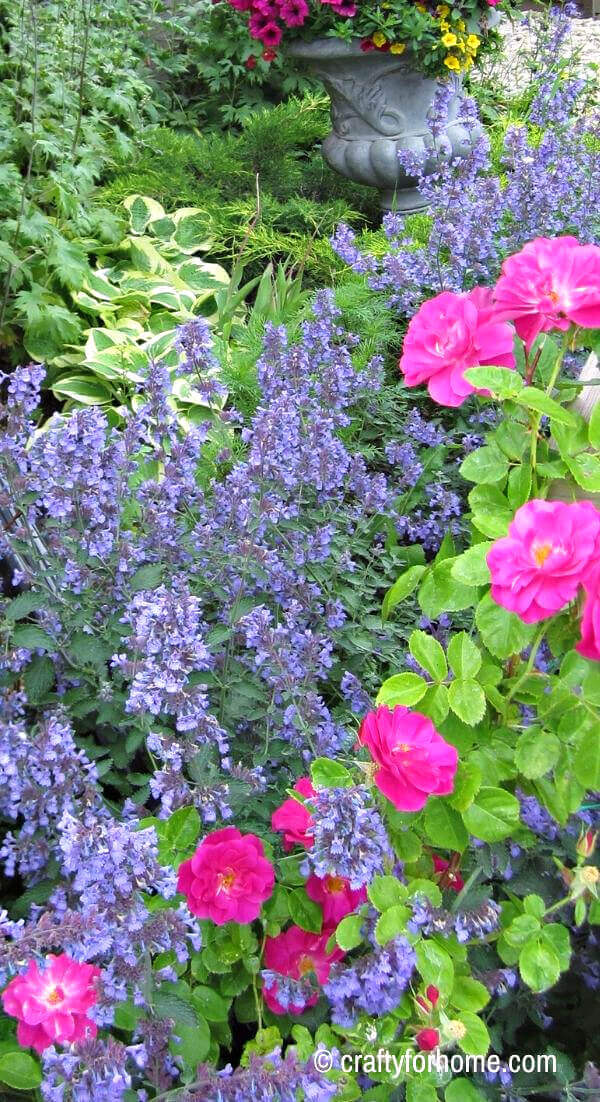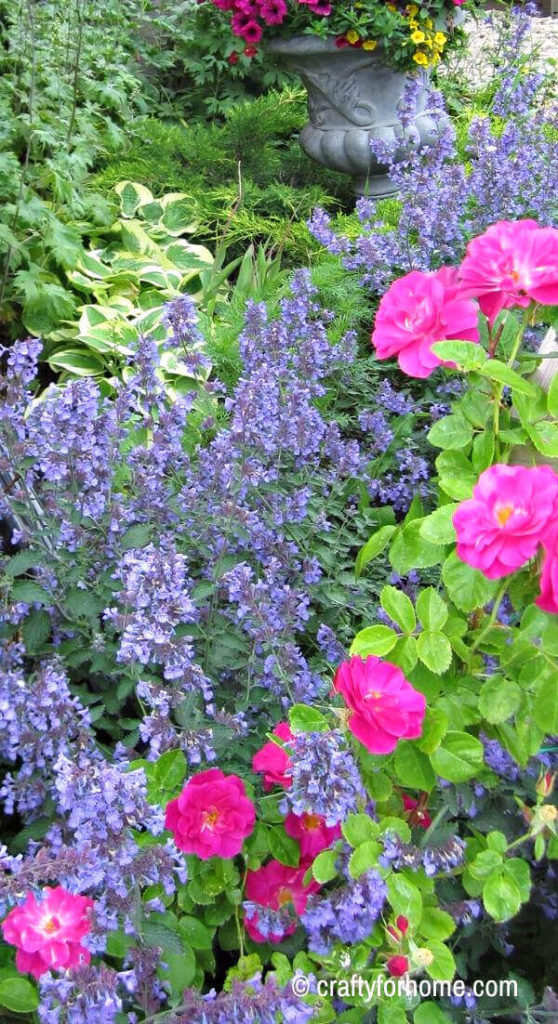 Grow catmints with chartreuse color plants like spirea or Sutherland elderberry as a foundation planting. The contrast color of foliage and flowers will brighten up any garden corner.
Pair it with spring-blooming flowers and summer-blooming perennial flowers like coneflowers, gaillardia, tickseed, non-invasive shasta daisy, or black-eyed Susan. Also, it works well to pair nepeta with fall-blooming flowers like autumn joy sedum, aster, or mums.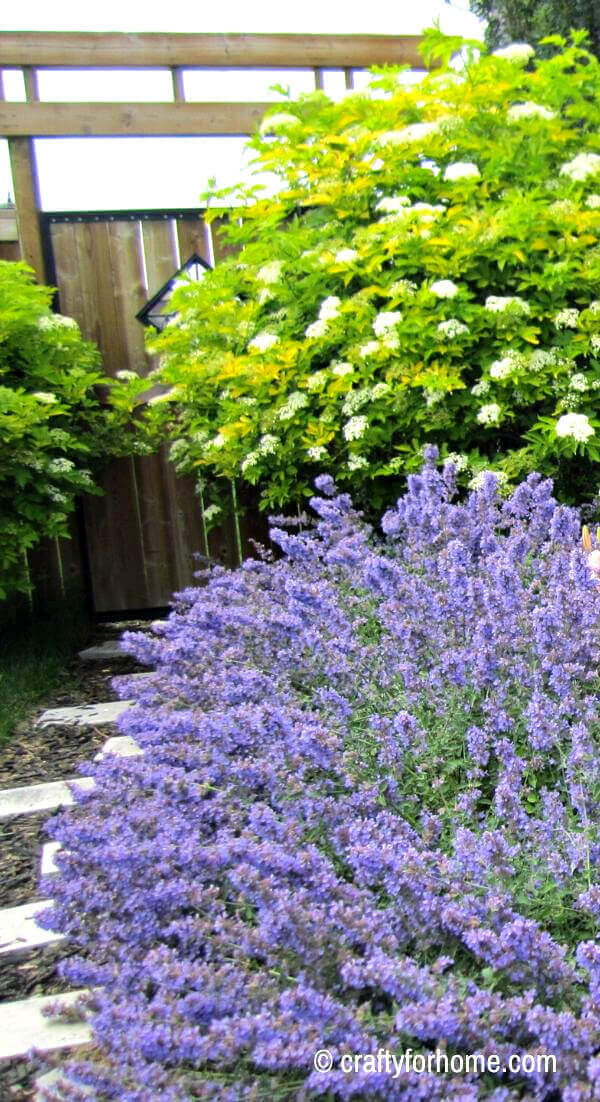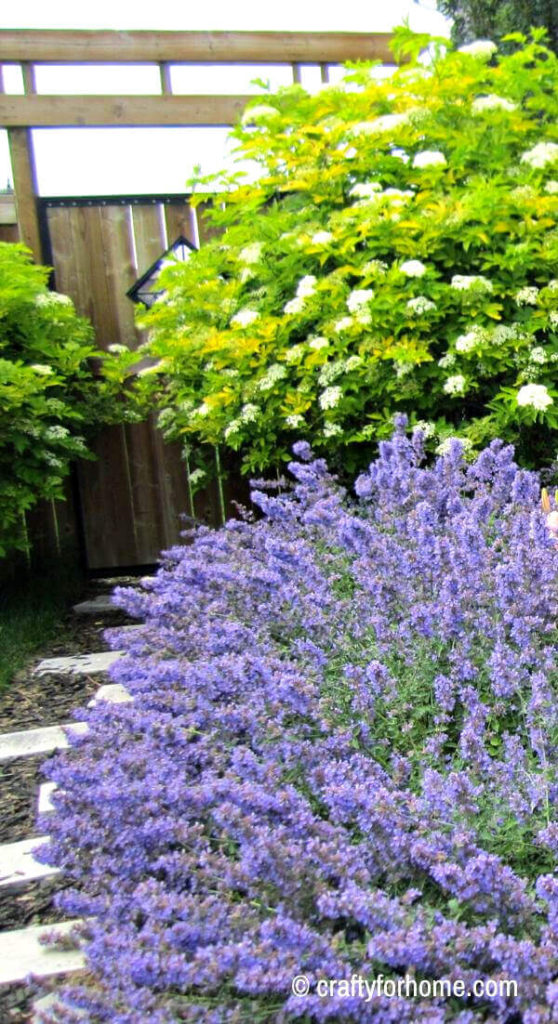 Grow nepeta close to the vegetable garden as a companion plant to attract pollinators. You will find lots of busy bumblebees buzzing around the plant all day long.
Zinnia, cosmos, dwarf sunflowers, snapdragon, annual poppy, are some of the annual flowers that can grow with nepeta. Pair it with different shapes of foliage, like iris or allium, for adding texture to the garden.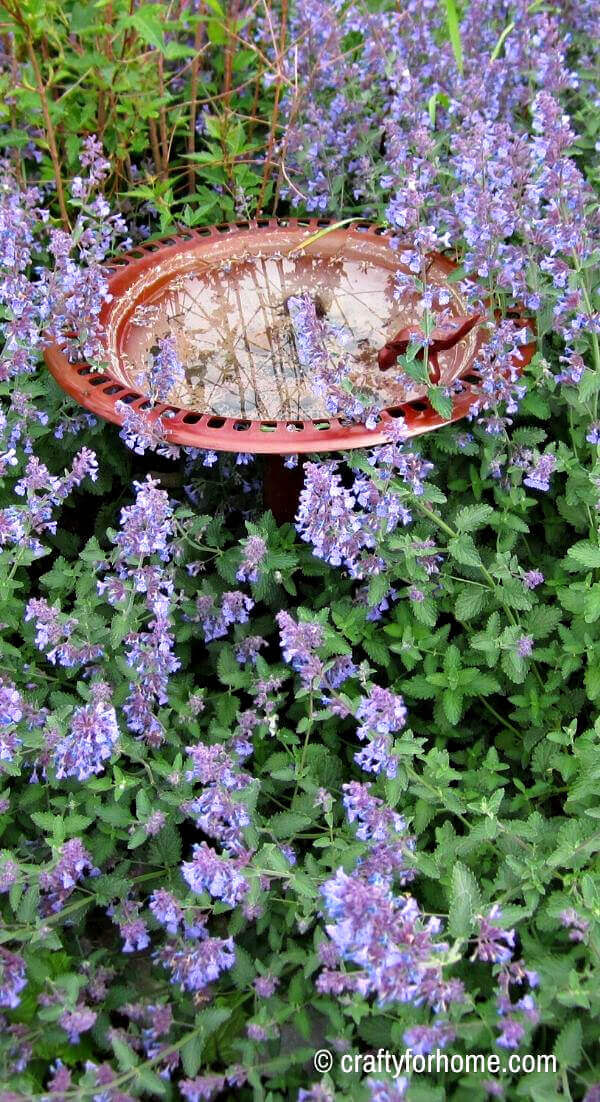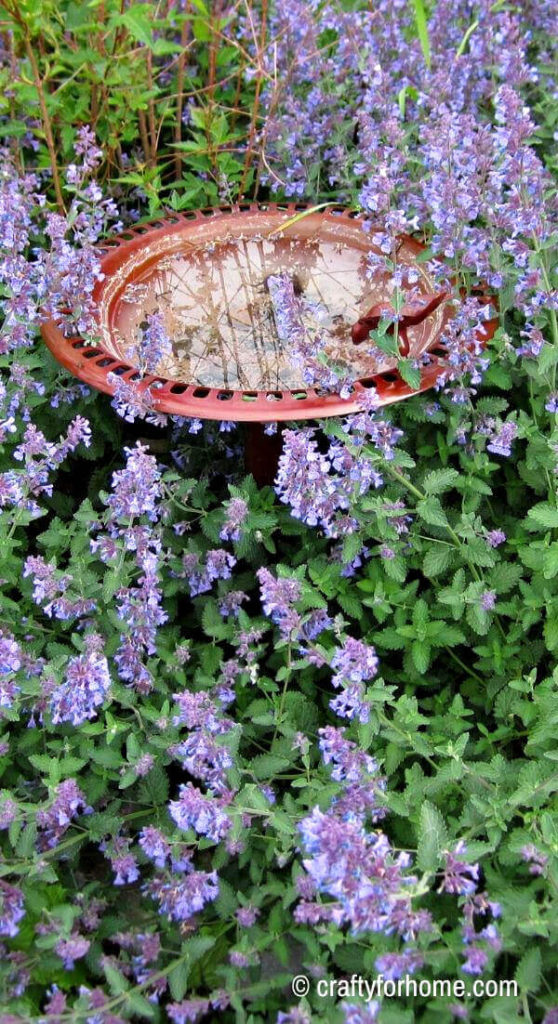 Group it with plants that grow with a similar habit. Grow nepeta next to artemisia or silver mound, sweet william, salvia, geranium cranesbill, blue fescue grass.
Grow it as a bedding plant together with marigold, petunia, celosia, coleus, annual salvia, or alyssum for colorful and continual blooming.
Add this low-care catmint for a long-blooming flower in your garden. #growingcatmint
Click To Tweet
The Reason Why You Should Grow Catmint
Catmint is a must-have perennial for any gardener level. There are so many reasons to make you put this plant on the list to grow this year.
Fragrant, easy to grow, and will come back year after year.
Catmint is drought-tolerant, pest-resistant, deer-resistant, low care perennial, cool weather tolerant.
This plant will bloom all summer long from late spring to the fall.
Catmint is a perfect companion plant for any garden theme.
Catmint will attract beneficial insects, pollinators as well as hummingbirds.
Catmint is easy to propagate from cuttings or root division.
Catmint is a perfect plant for the lavender substitute to grow as a border or planking the pathway.
It adds texture to the garden with the mounding habit, and it also great to fill up an empty spot in the yard without too much care needed.
Even though it is one of the mint family, nepeta will stay in a clump, non-invasive and won't spread to take over the garden.
Growing Walker's Low Catmint will give you continual blooming, and it will last years with minimal care needed.
Here are more of low care plants you can grow this year.
Growing Walker's Low Catmint will give you a sea of indigo flowers from spring to fall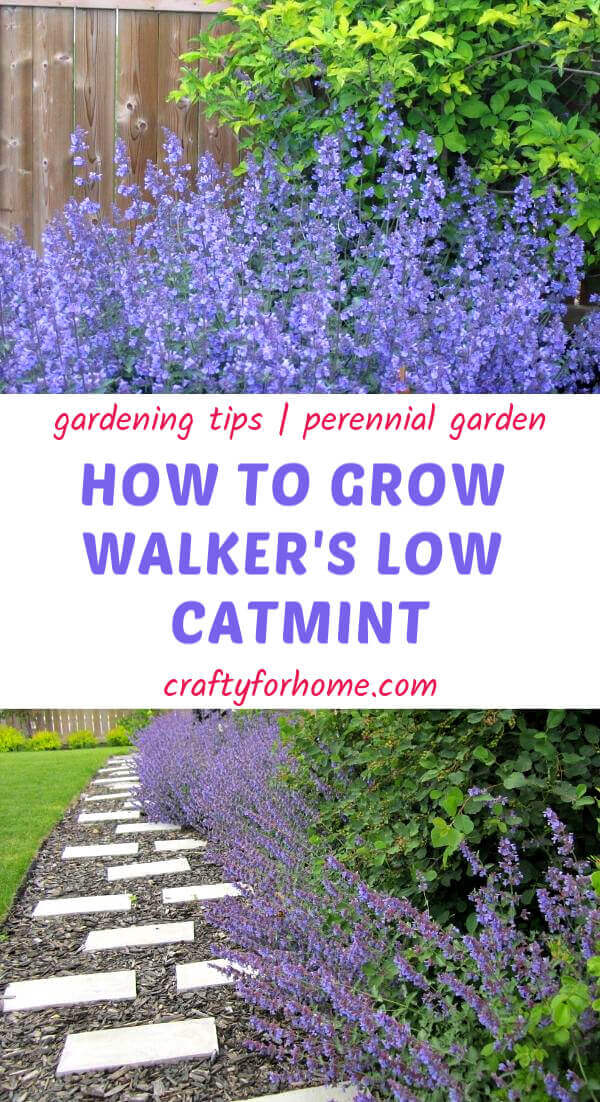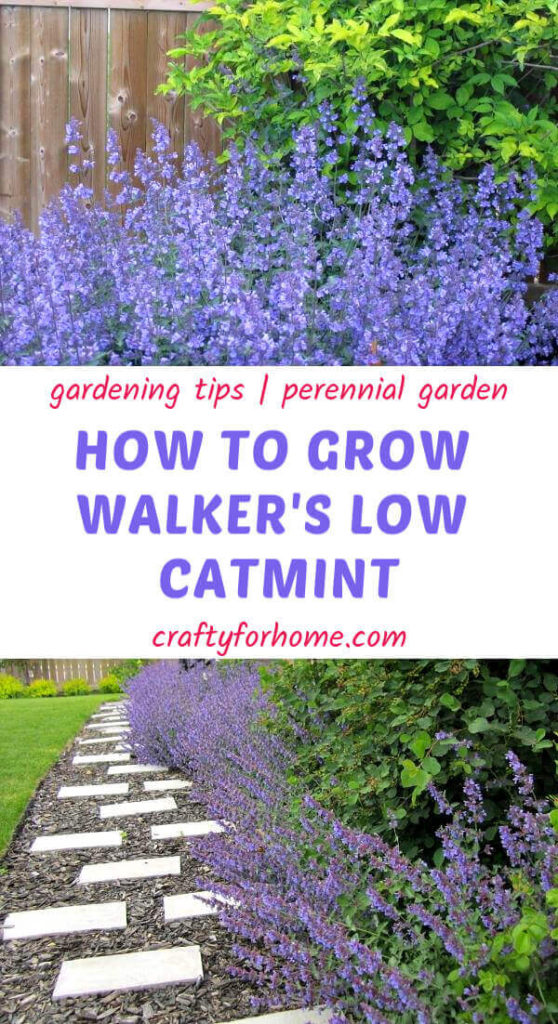 The easiest way to get more free tomato plants in a week without seed starting involved. 
If you like to use lemongrass, you might want to regrow lemongrass plant from scraps. Learn how easy to root the lemongrass stalk to make more plants and give you endless supply you need.
This easy way to propagate celery from cuttings will give you new plants within a week without seed starting.