Grow these chartreuse colour foliage plants to brighten up the shaded part of the garden, creating curb appeal or focal point to any garden theme.
Chartreuse Plants
There are so many plants with chartreuse foliage. It is mainly growing for the fabulous colour of its leaves as it can brighten up any shady part of the garden or add a pop of colour to a container garden.
As an Amazon Associate I earn from qualifying purchases. This post may contain affiliate links. Please see the Disclosure Policy for details.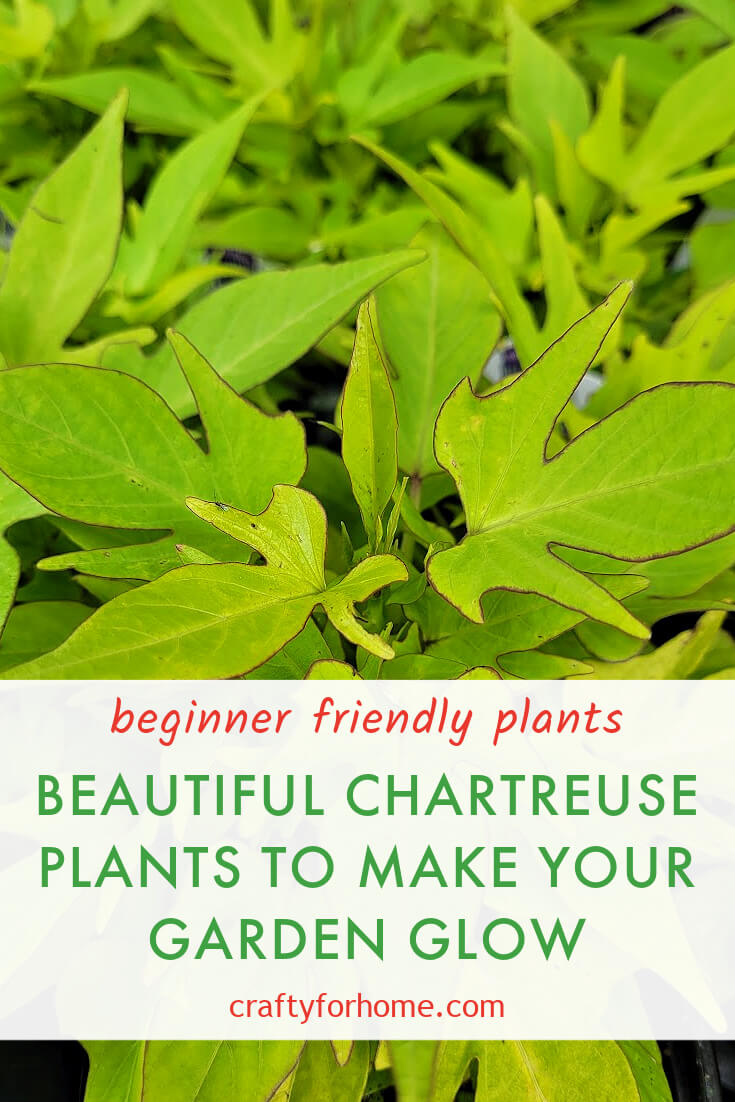 Chartreuse is the colour between green and yellow. So I would say it is close to lime green. Such fruits like Granny Smith apple or citrus lime are close to chartreuse.
Chartreuse Foliage Shrubs
Some of the main reasons to grow shrubs are home orchards, living privacy walls, curb appeal, garden focal points, and foundation planting.
Flowering shrubs are a perfect choice for these reasons. But also, growing shrubs for the foliage interest would be an ideal addition, specifically when these shrubs are changing colours throughout the season.
Here are some shrubs with chartreuse foliage you can add to the garden.
Ninebark
The Dart Gold Ninebark variety is a beautiful shrub with chartreuse foliage for mass planting in the garden, public park, or commercial landscaping.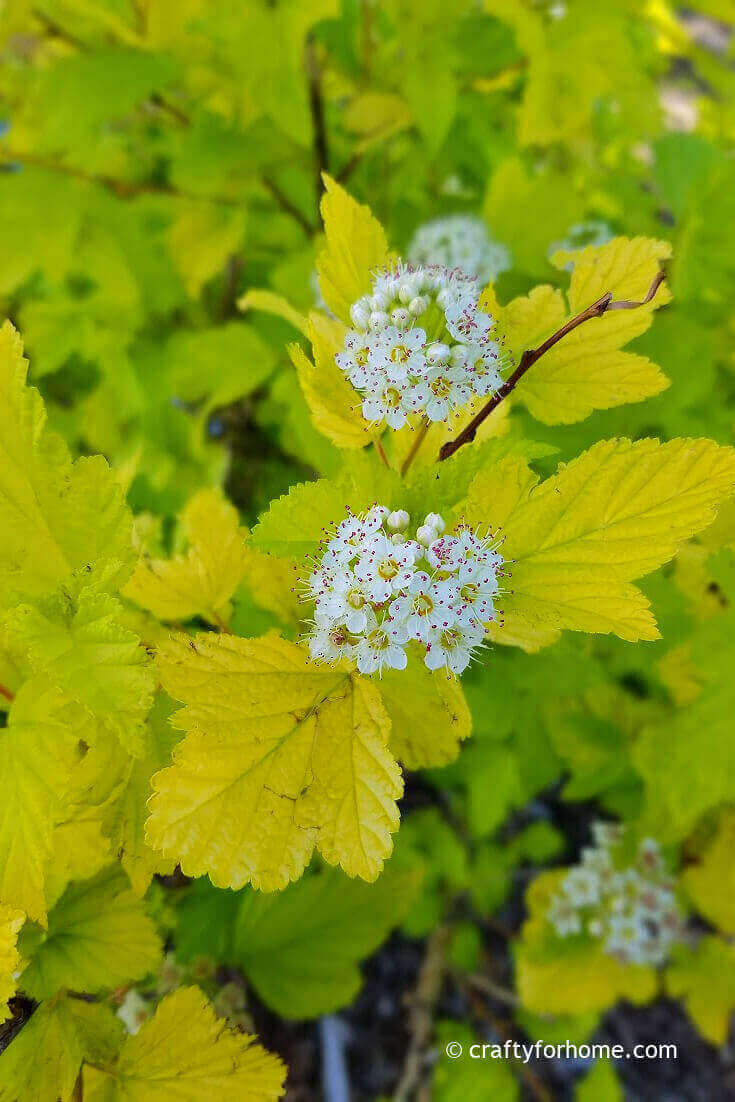 The shrub has clusters of white flowers on the semi arching branches in the mid-summer. Like any other ninebark variety, the bark is peeling to add the winter interest. The foliage turns orange in the fall.
Ninebark is one low care shrub, hardy to zone 2-7 and grows in full sun to partial shade.
Sutherland Elderberry
Elderberry is an excellent plant for Japanese maple substitution when you can't grow one in your zone. The lacy foliage adds texture and interest to any garden setting.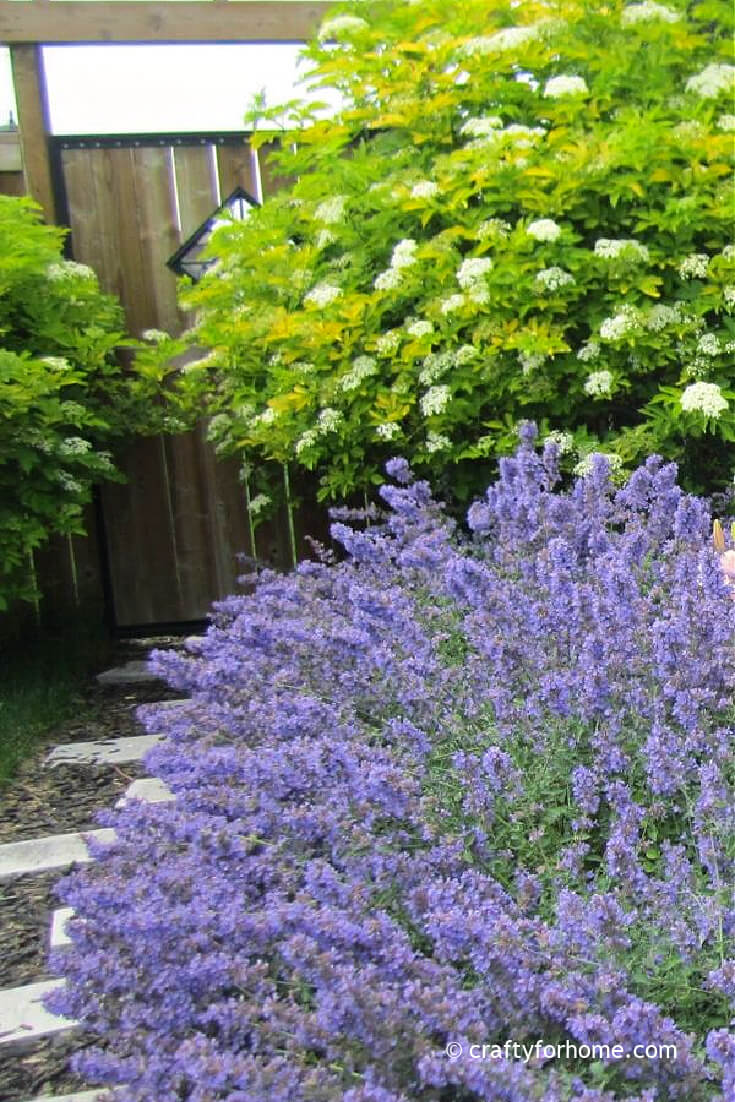 Sutherland elderberry is a chartreuse foliage variety and a fast-growing shrub which can grow up to 7-10 ft tall. Still, it is easy to prune and maintain its size to a desirable height.
Elderberry shrub is hardy to zone 3-8, tolerates dry but well-drained soil, and grows in full sun or partial shade. The berry would be one of the food sources for birds during winter if you left it on the vine.
Spirea
Limemound Spirea, Magic Carpet Spirea and Goldmound Spirea is a round form deciduous shrub with multi branches and pink flowers blooming in summer.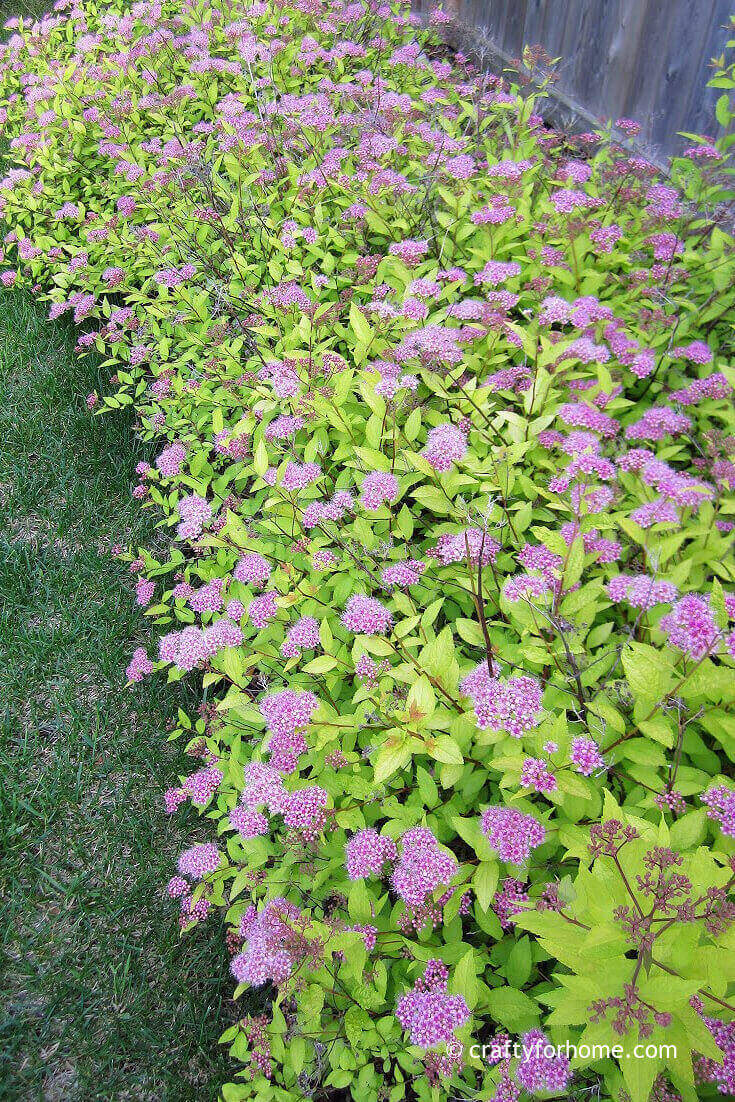 The shrub emerges as showy chartreuse colour in the spring, top it up with flowers in the summer, and the foliage turns yellow mixed with red in the fall. Grow chartreuse foliage spirea shrub in the full sun for the best colour.
Even though these spirea varieties have a mounded form, it is still beneficial to prune them in the early spring since this shrub blooms on new branches.
Chartreuse Foliage Perennial Flower
Hosta
Hosta comes in solid and variegated leaves, and it is one of the gardener's favourite plants. Hosta is hardy to zone 3-9, suitable for the shade garden and adds texture and interest to the garden setting.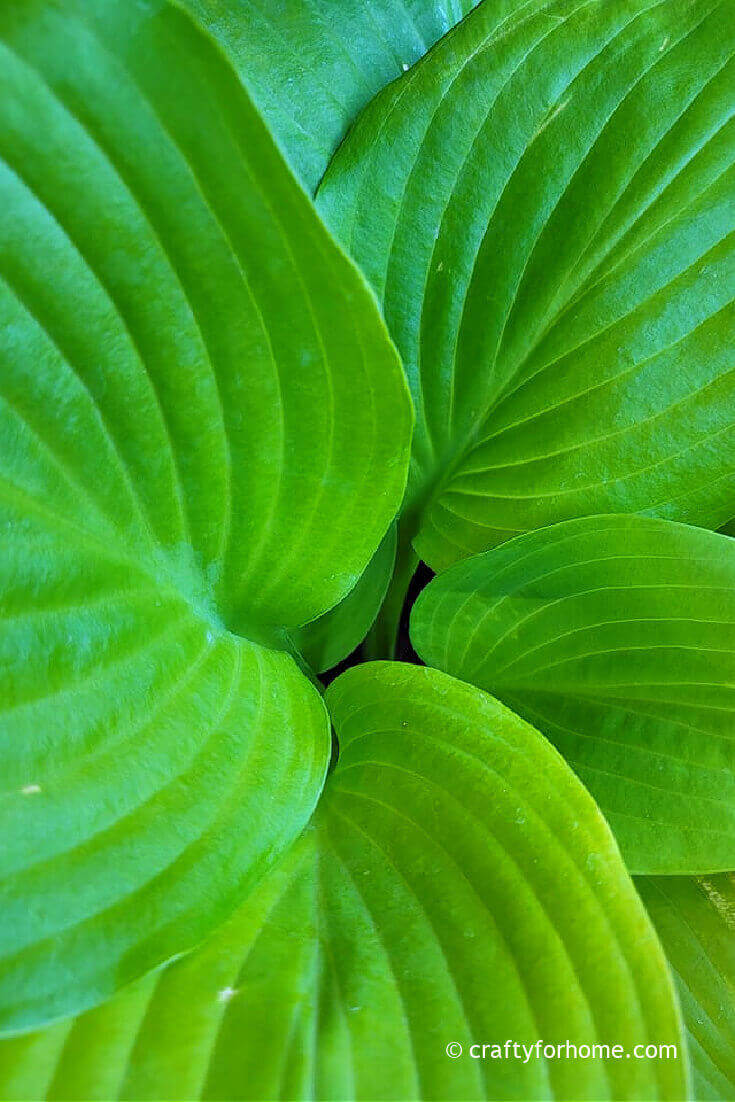 Hosta grows in the moist soil, though the mature one is drought tolerant. Hosta grows best in fertile soil, so add plenty of compost or manure into clay compacted soil to improve the soil and drainage at the same time.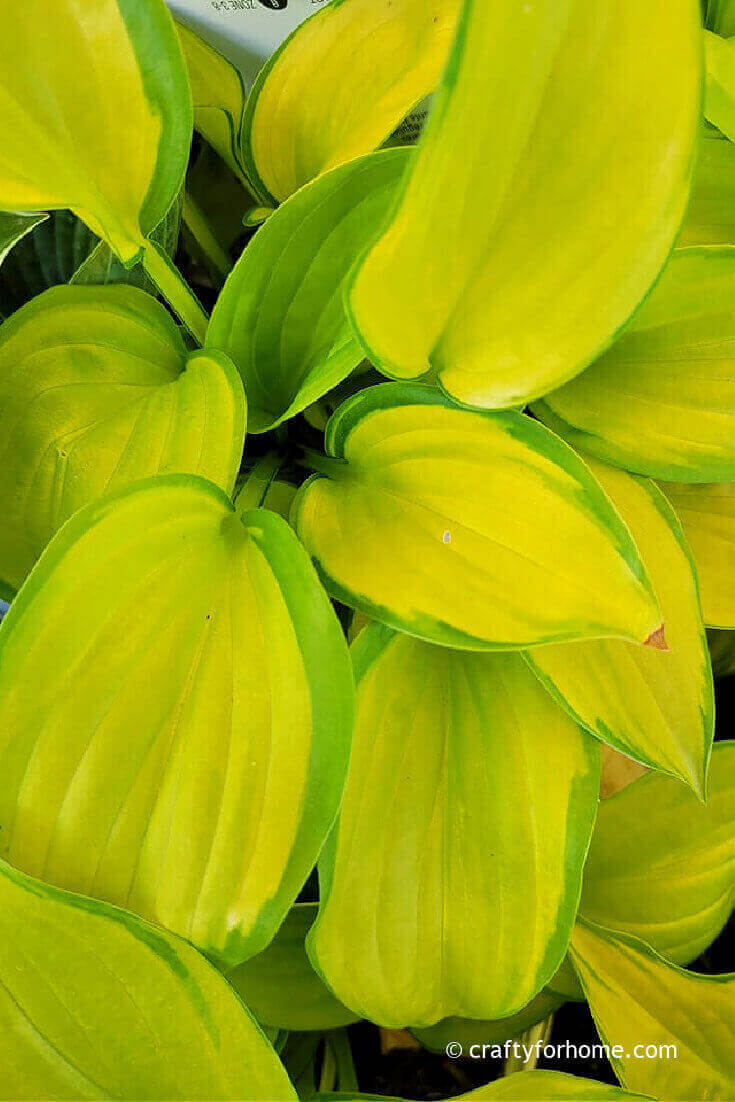 One of many ways to prevent slug devour on hosta, especially when the new shoot emerges in the early spring, is to scatter some crushed eggshells on the soil surface around the hosta crown.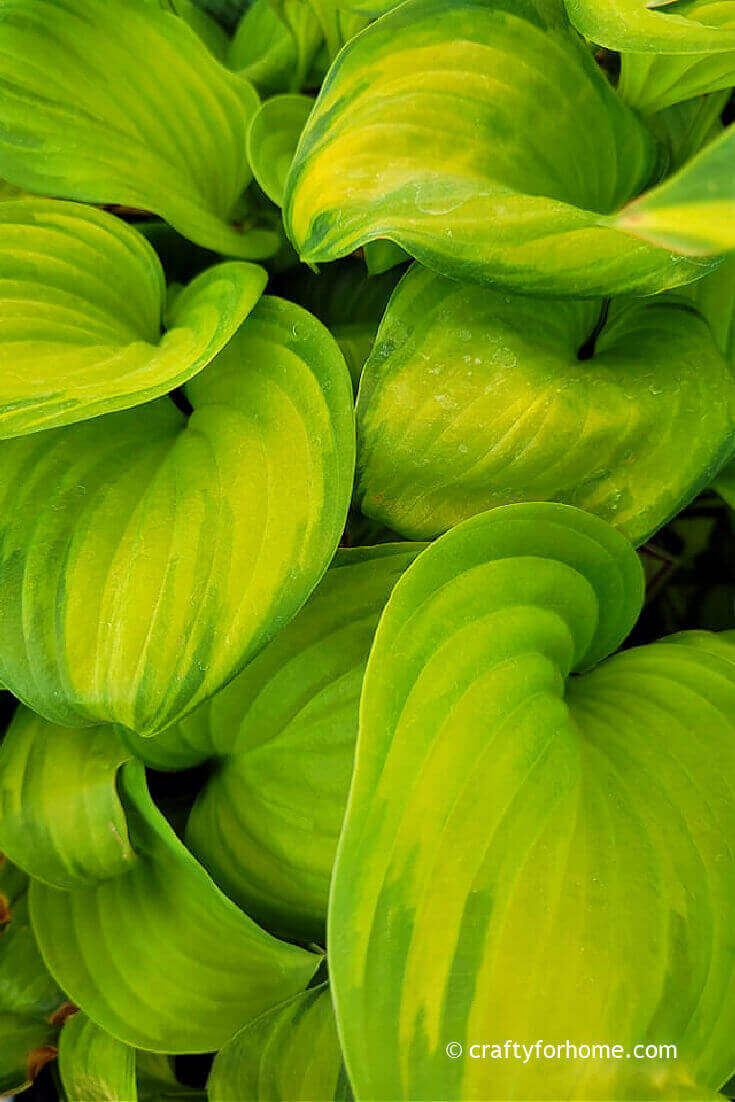 I have had success with this method of preventing slugs from making holes in the leaves, but unfortunately, the hail storm damages the hosta more.
Creeping Jenny
Long stem, fast-growing ground cover, and one of the gardener's favourite choices for a hanging basket or container garden, Creeping Jenny has yellow blooms to complement the chartreuse foliage.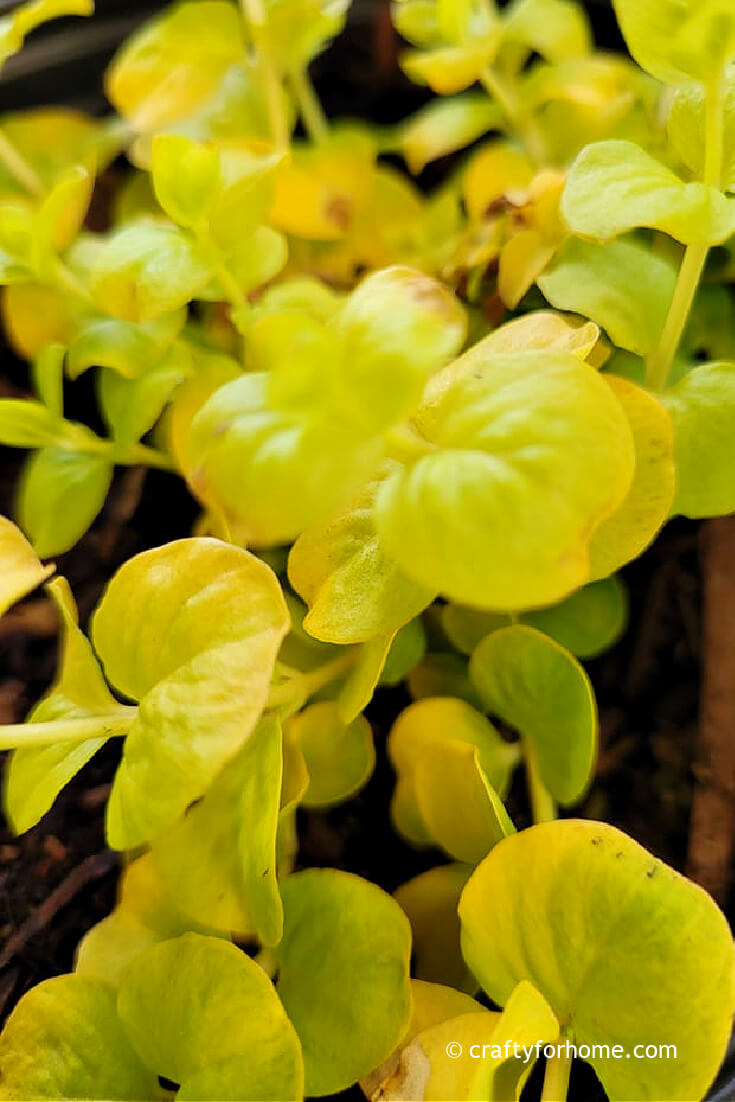 Creeping Jenny is hardy to zone 2 and grows in the sun to partial shade. However, it is best to grow in partial shade with moist but not soggy soil, making it perfect for planting around the pond or waterfall.
Scotch Moss
Scotch moss is a creeping moss-like ground cover plant with tiny star-shaped white flowers. Because it resembles grass, Scotch moss is an excellent plant for miniature or fairy gardens.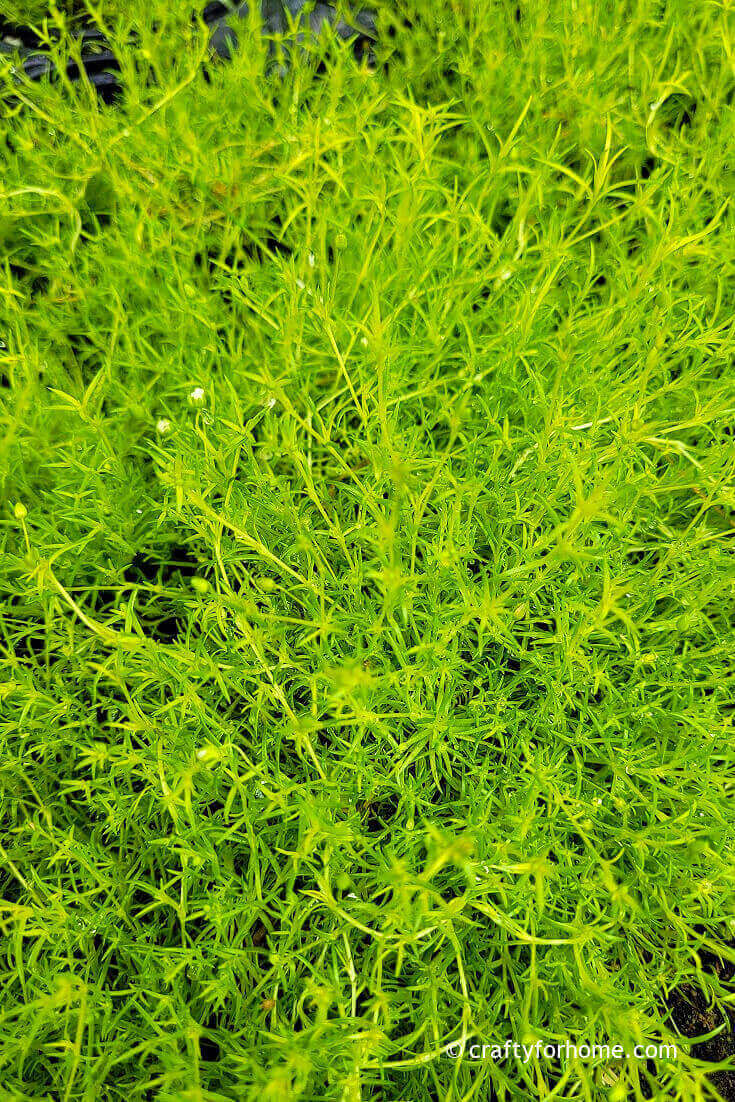 Hardy to zone 4, and it is best to grow in the full sun. Because it is only 1″ in height and spread up to 12″, Scotch moss is a suitable plant to grow between paver or stepping stone. Once it establishes, Scotch moss is low maintenance and can handle light foot traffic.
Sedum
Flowering succulents come in varieties. Some are tall, and some are for ground cover. Sedum is easy to grow, low maintenance, and a drought-tolerant plant.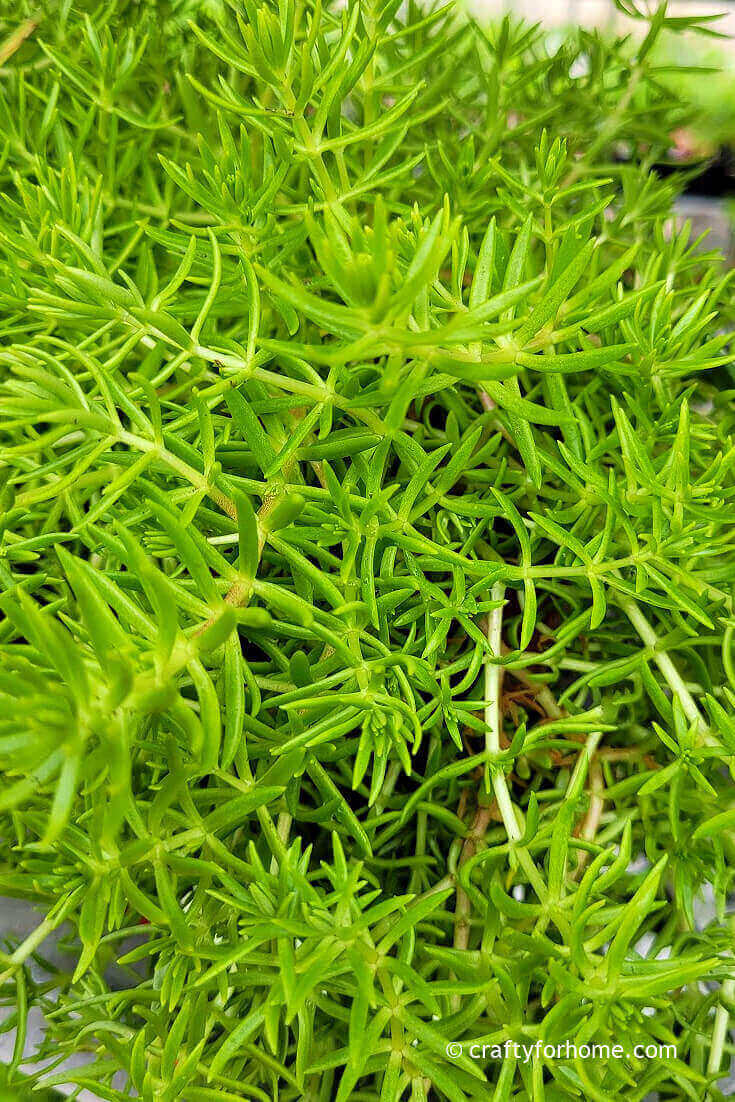 Sedum grows in full sun and hardy to zone 3-11. The Angelina sedum has a chartreuse colour with a creeping habit, making it an excellent plant choice for ground cover, between paver or stepping stone, rock garden, and miniature garden.
Coral Bells
While some variety comes in maroon, red, orange, and variegated leaves, some coral bells or heuchera come in bright lime green. The chartreuse foliage adds interest from spring to fall season.
Coral bells have dainty flowers on tall stems that bloom in early summer. Coral bells grow best in moist and well-drained soil, full sun to partial shade and hardy to zone 3-8.
Chartreuse Foliage Annual Flower
Sweet Potato Vine
It grows for the colourful foliage, used primarily for hanging baskets, container gardens, and ground cover.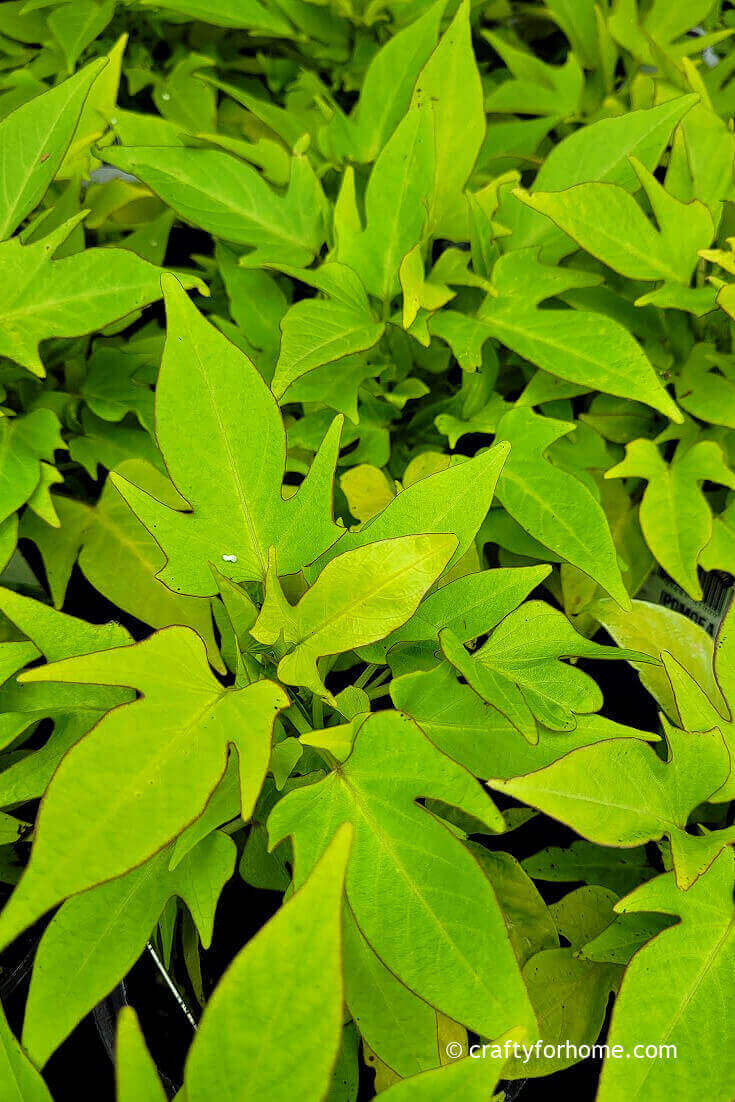 Grow sweet potato vine in the sun to partial shade. Sweet potato plants will grow fast in consistently moist soil. Therefore, let it spill over the garden wall to fill up the space quickly.
Coleus
Coleus is related to the mint family and comes in various colourful foliages, from solid to variegated. Even though it has a small flower spire, coleus mainly grows for its foliage.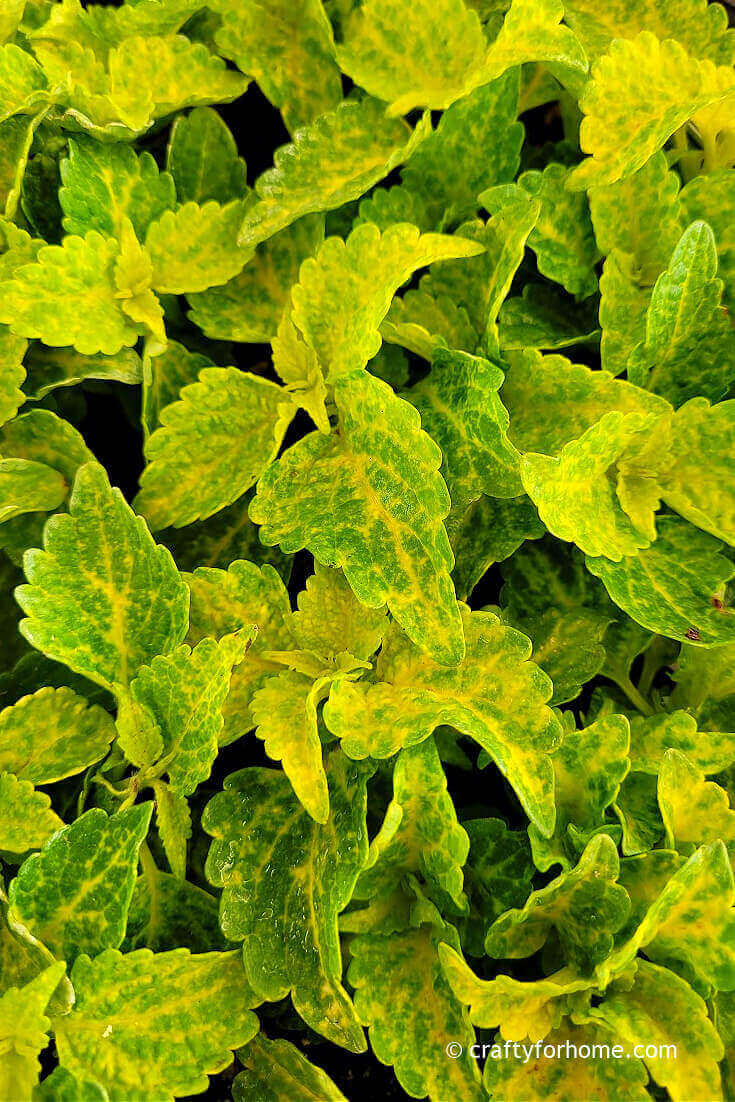 Coleus can grow alone or pair it with other shade-loving plants. It is suitable for mass planting with its bold colour foliage.
Even though it is an annual flower in a colder area, it can grow as a perennial indoors during winter. Here is the detailed info for growing coleus.
Coleus can grow from stem cutting or seed starting. Here is the link to get coleus seeds.
Elephant ear
Known for its large shape foliage, the elephant ear plant will give you a tropical vibe in the garden as it is hardy to zone 8-11. Grow it as a bold statement in a container or as a focal point.
The elephant ear is a perennial plant in a warmer climate and an annual in a colder area.
Japanese grass (Hakone Grass)
Beautiful ornamental grass hardy to zone 4-9 is a perennial that spreads with the underground rhizome, but it is relatively slow-growing and non-invasive.
This chartreuse grass grows best in the partial shade with well-drained, rich and moist soil. Add lots of organic matter if your shade garden has compacted soil. Also, keep the soil moist by watering it frequently.
Companion Plants For Chartreuse Foliage
With its showy bright colour foliage, pair it with different textures and colour plants to make it pop.
Blue Flowering Plants
The blue catmint flowers make the chartreuse pop. Here is the image of Sutherland elderberry growing beside Walker's Low catmint and delphiniums.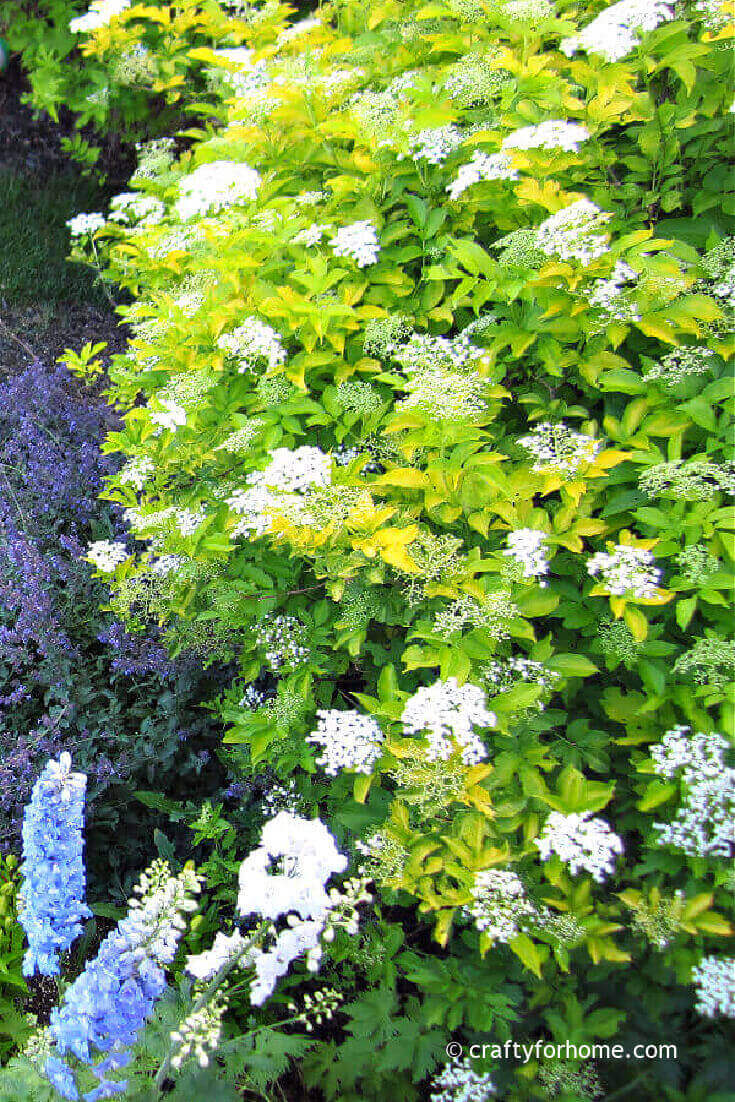 Warm Colour Flowering Plants
The chartreuse foliage plants are good companion plants for all colours from the rainbow.
Pair the trailing creeping jenny or sweet potato vine with warm colour flowering plants like red, pink, or orange calibrachoa, petunia, or lantana for a container garden.
Grow chartreuse coleus with zinnia as border plants. The bold flower colours will complement the chartreuse foliage.
Dark Foliage Plants
Most shade-loving plants have darker colour foliage like maroon corral bell or black lace elderberry. Grow chartreuse hosta, chartreuse coleus, or chartreuse corral bells beside it to make a bold statement in the shade garden.
Using Chartreuse Plants For The Garden
Adding chartreuse foliage plants gives benefits to the garden. In addition, mixing and matching foliage colours in each garden corner will maximize the balance and flow of the planting design.
Create A Focal Point In The Garden
If using the hardscape or garden ornament is not an option, you can use chartreuse foliage plants to create a focal point in the garden.
For example, decide where the spot to grow Sutherland elderberry. Then from there, expand the planting area with more flowers or shrubs. Make sure the elderberry is the visual entry point to the garden.
Create A Bright Corner Of Your Garden
Bring light to the shaded corner in your garden with chartreuse foliage plants. Since most plants for the shade gardens come in darker colour foliage like maroon, the chartreuse lightens up the space naturally.
Add A Dramatic Appearance In The Garden
A tropical chartreuse elephant ear plant gives a bold statement and adds a dramatic appearance to the garden.
When all plant textures blend, break it up with the large foliage standing in the middle or grow it as a single container garden.
Create A Contrast Colour
Mixing the chartreuse foliage with a dark green colour or making it the base background colour for blooming petunias makes a bold view.
For example, the fun and bright pink petunia with chartreuse coleus planted together will make each contrasting colour pop and compliment each other.
Add Curb Appeal Interest
Most houses I see here has neutral or earthy colour on the exterior. The chartreuse foliage plants can harmonize the earthy colour to boost curb appeal and eye-catching foundation planting.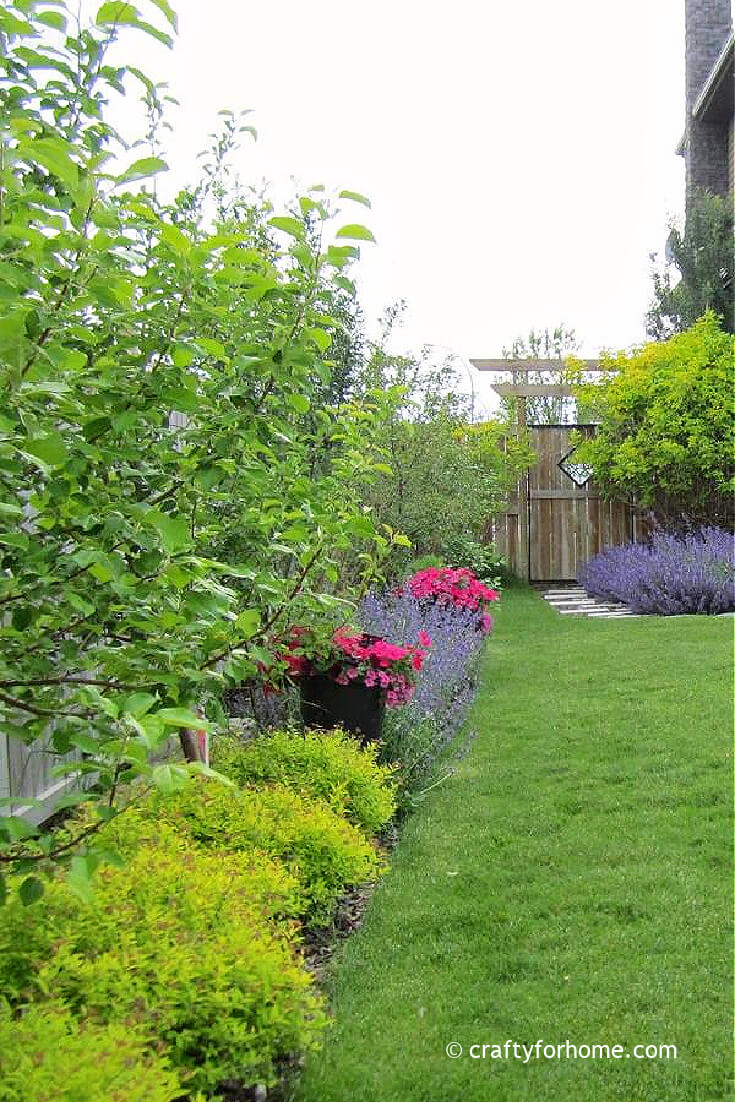 Plant them to line up your front porch, create a hedge by the side of your house, or border the driveway. These plants also change colour throughout the season, so your front view of the house will have a different colour each season.
Create A Monochrome Planting
A monochrome garden is a garden that shows a single primary colour. A monochromatic garden can achieve an elegant look with only one colour with careful design and maintenance.
Though, you can add another colour to break the single colour as a focal point of the garden. For example, I often see a monochrome garden with all white, all purple, or all red flowers only. These chartreuse foliage plants are also fantastic for creating the monochromatic garden look.
These plants will make your shade garden looks brighter and add a popping colour to any garden setting. #limegreen #chartreuseplants #lowcaregarden
Click To Tweet
Also, check first if these plants are not among the restricted specimens in your area before planting them. We don't want to grow something invasive in the garden.
More of low care plants you can grow for your garden.
The Brightest Colour And Beautiful Chartreuse Plants For Your Garden