Easy way DIY gift wrapping ideas by using yarn for Christmas and any occasion.
Yarn For Gift Wrapping
I think wrapping the gift is one of the exciting things to do. I like to do some simple DIY gift wrapping, but it will make the present more special. I thought that using yarn for gift wrapping ideas is a perfect thing instead of a traditional ribbon.
As an Amazon Associate I earn from qualifying purchases. This post may contain affiliate links. Please see the Disclosure Policy for details.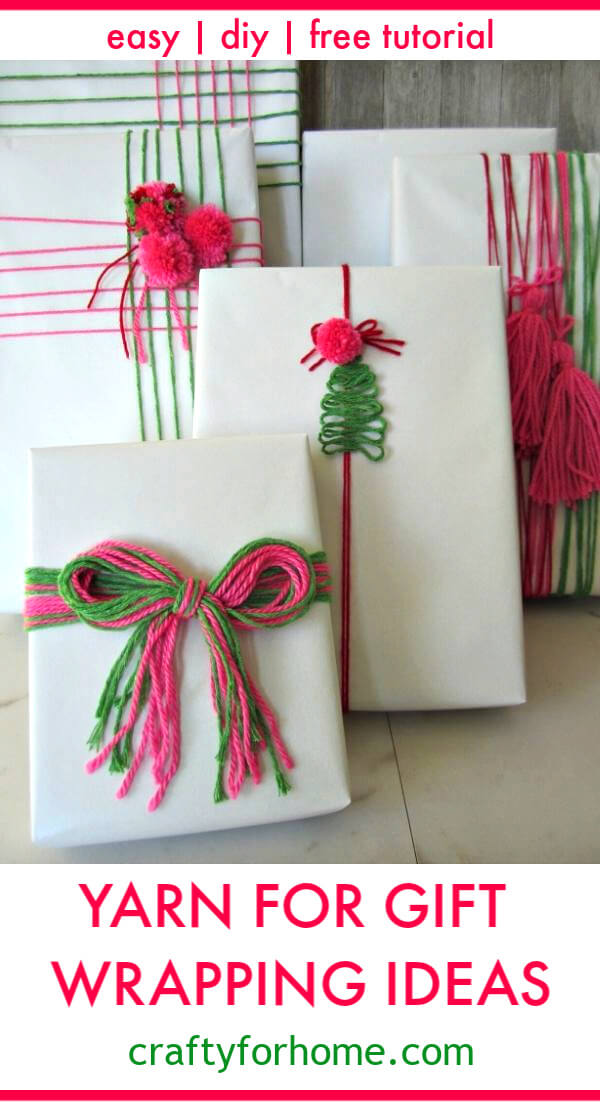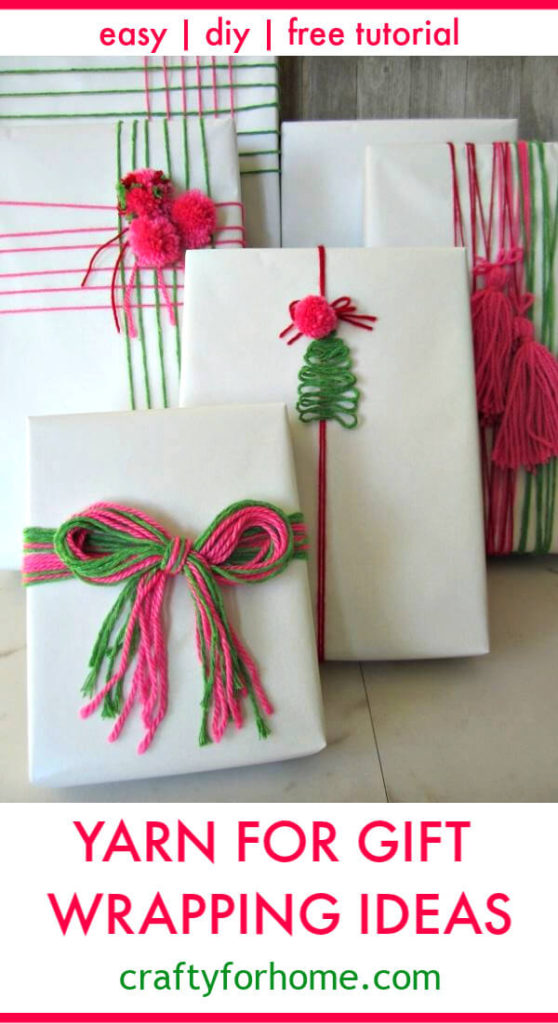 Of course, I can use a gift bag for a quick wrapped. There is nothing wrong with using one. I like the fact that a gift bag is reusable and recyclable. Every year I make different gift wrapping for each Holiday season like this red accent gift wrap or this simple brown paper gift wrap.
If you like to crochet, you might have leftover yarn. You might as well want to use it for decorating the gift wrap. It is as easy as wrapping over the gift box or replace the ribbon for a simple bow.
Now, let's make these five different gift wrap embellishment by using yarn. All you need for this project are any color of yarn, clear tape, scissors, fork, piece of tissue paper roll, and double tape. You can find most of the supplies you need from dollar store or online.
What You Need For This Yarn Gift Wrapping Project
Yarn
Fork
An empty toilet paper roll
Clear tape
Double tape
Scissor
Step By Step Gift Wrapping Ideas By Using Yarn
Wrap the gift on the box by using solid color wrapping paper. Using white is better to show off the yarn decoration. You can also use any bright solid color wrapping paper with any contrast yarn colors for bold and more pop-up gift wrap.
Yarn Weaving For Gift Wrapping
This style can be the base for decorating the gift wrap by leaving it that way or embellish it with other things like pompom or tassel. Best to use solid color wrapping paper to show the weaved yarn.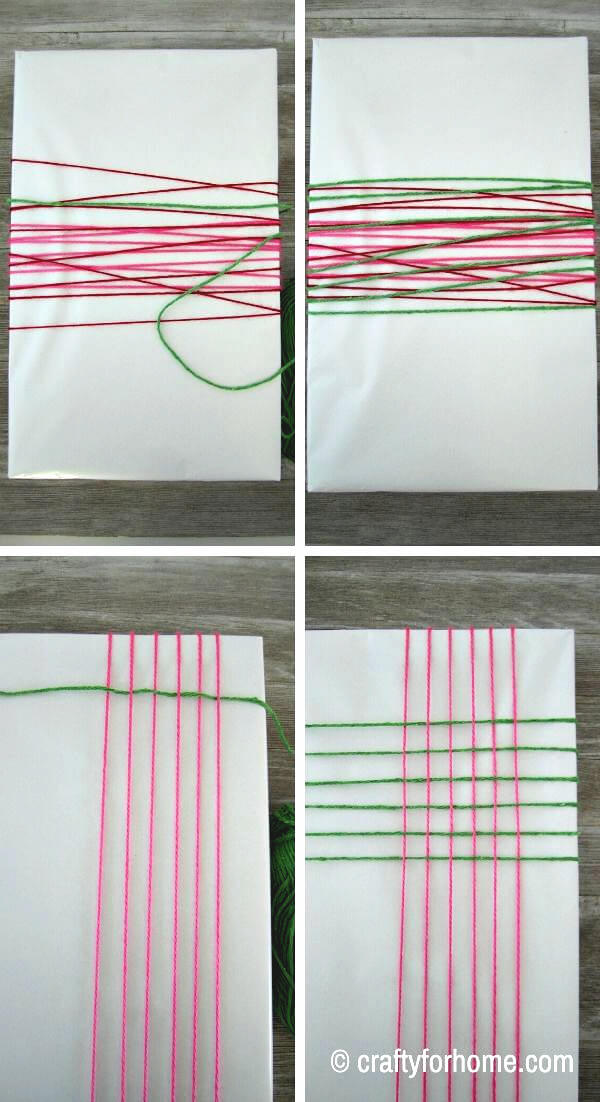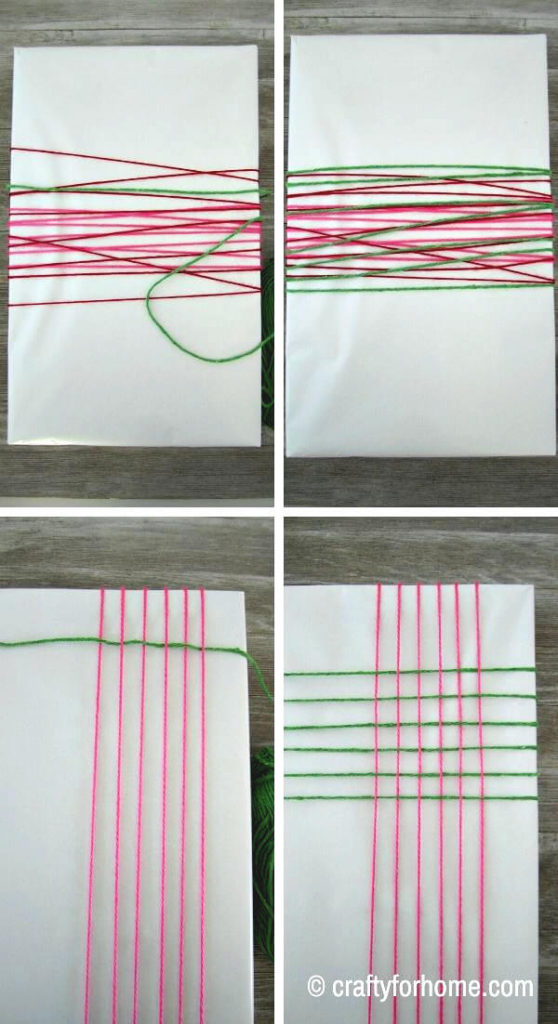 Once your gift box wrapped ready, take one end of the yarn then loop it around the gift box multiple times. Hide another end of the yarn on the bottom side of the gift box. You might want to tie both ends together or use tape to secure it.
Here I show you two different weaved yarn. One is random weaved, that you wrap the yarn without pattern around the gift box. The other one is using a simple design weaved yarn.
Yarn Pompom For Gift Wrapping
Cut eight inches yarn for tying the pompom and set aside. Insert one end of the wool through the middle prongs of the fork.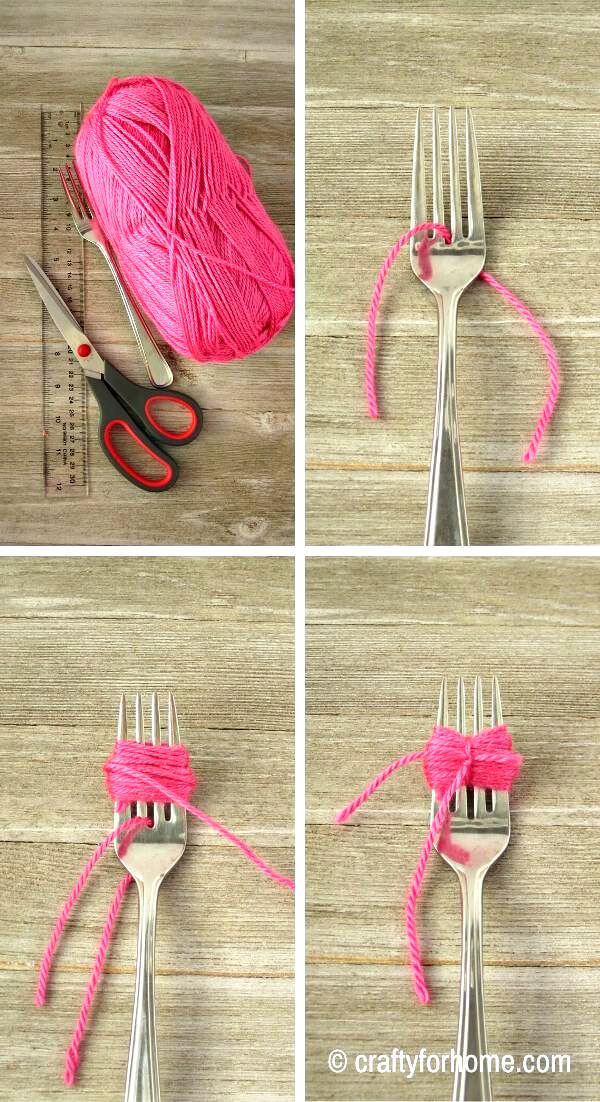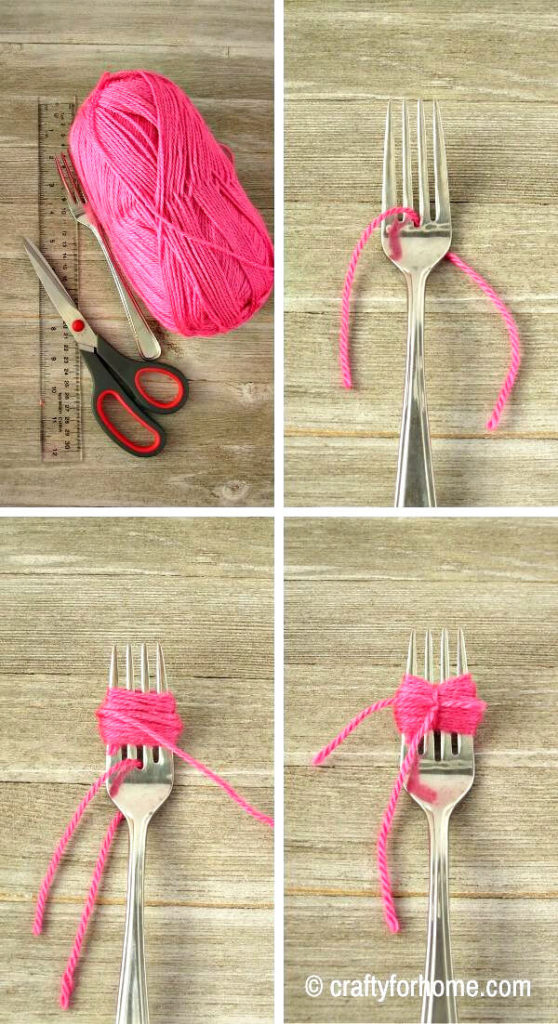 Make multiple loops around the fork, depending on how big you want for the pompom size, about 40-60 time loops would be enough to make a small size one. Then make a very tight knot on the pompom by using the short piece of the yarn.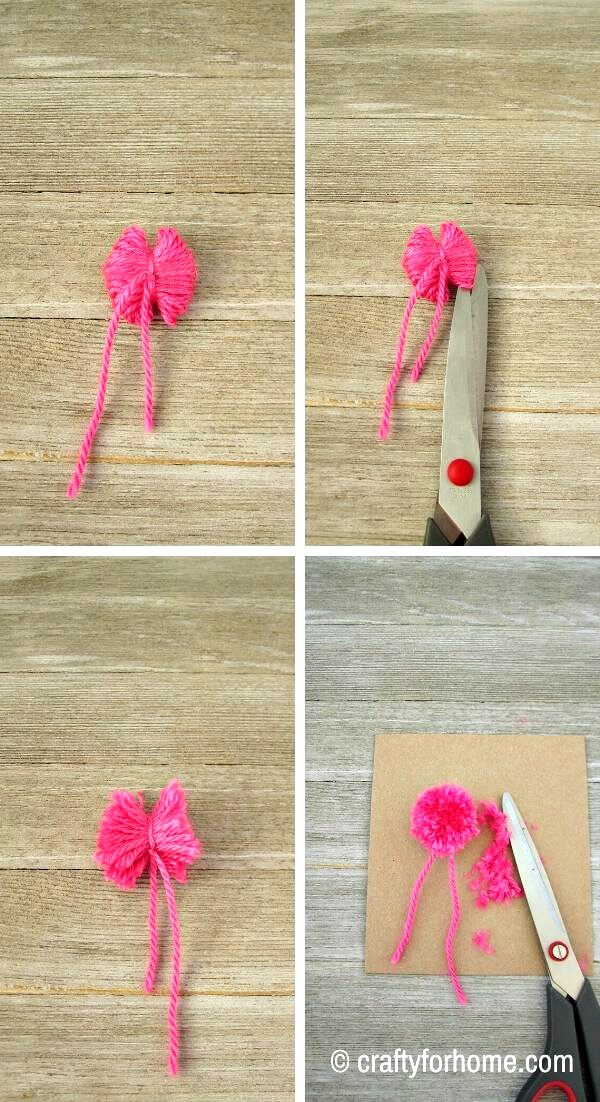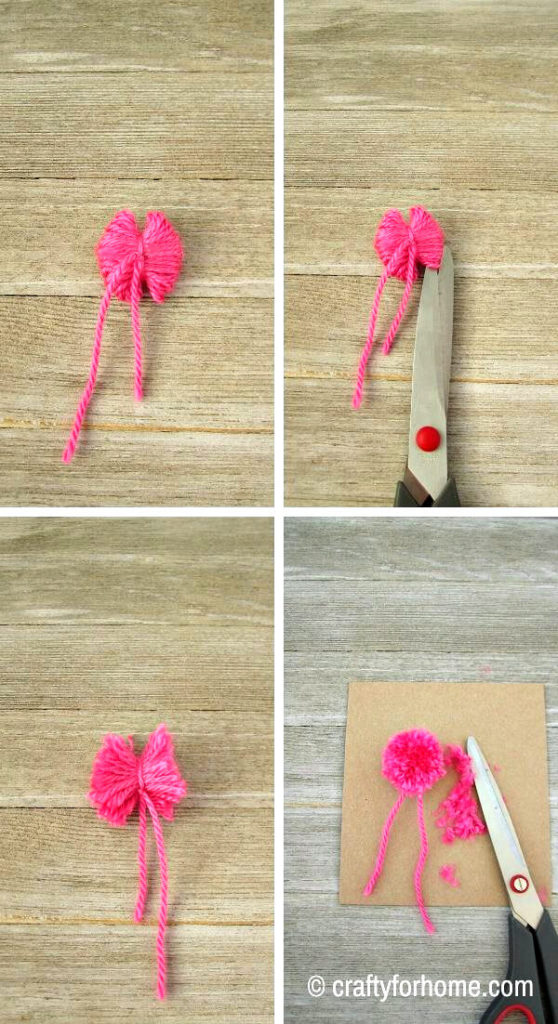 Take the looped yarn off of the fork and use the scissors to cut each loop. Keep trimming the wool until it forms a pompom. Attach the pompom into the wrapped gift box by using double tape or tie the pompom tail into the weaved yarn.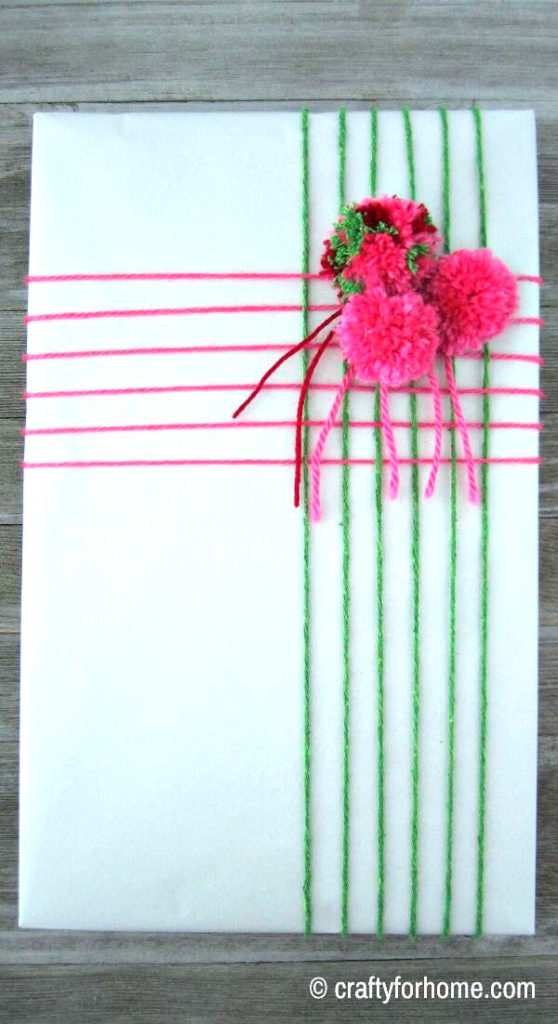 Yarn Tassel For Gift Wrapping
Cut two pieces of eight inches of yarn for tying the tassel and set aside. Take one tissue roll and put one of the eight inches cut wool on top of it. Wrap the tissue roll by looping the yarn multiple loops about 20-40 times, depending on how big you want for the tassel size.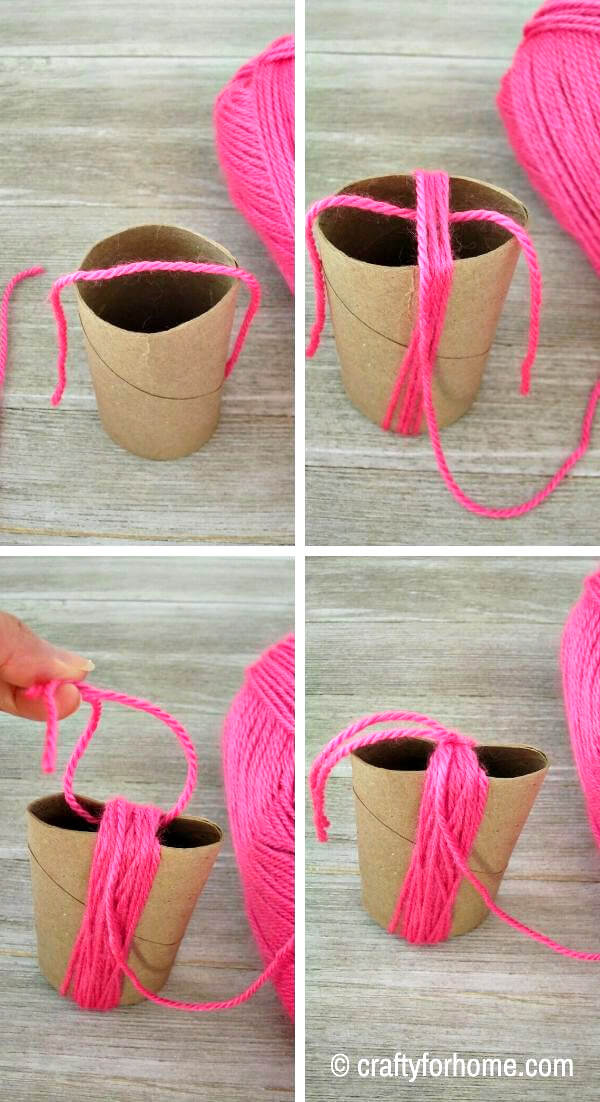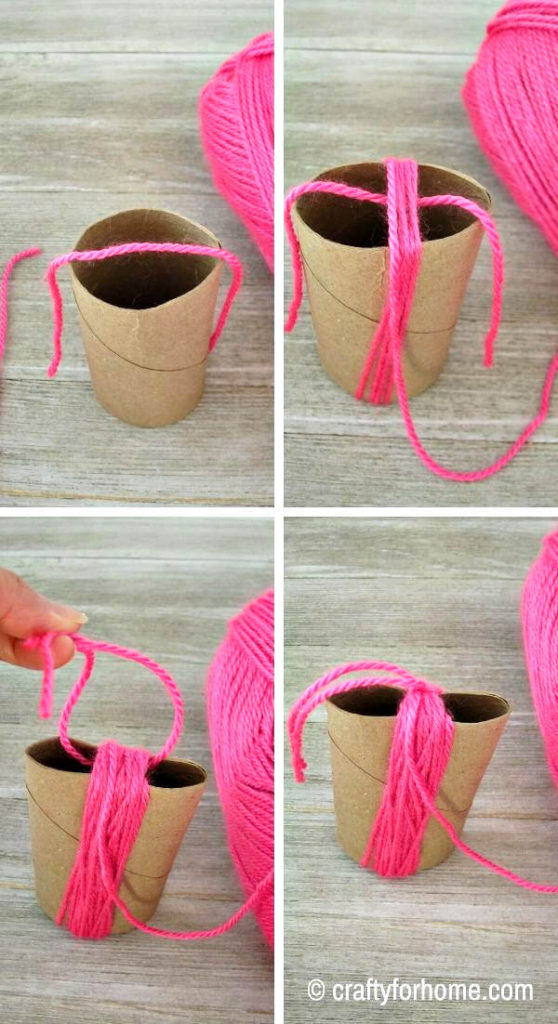 Tie the loop by using the piece of six inches yarn and make a knot tightly. Slide the loop off of the tissue roll. Gather the yarn together and wrap the other one of six inches yarn about an inch from the top and tie it tightly. Use the scissors to cut the bottom loops.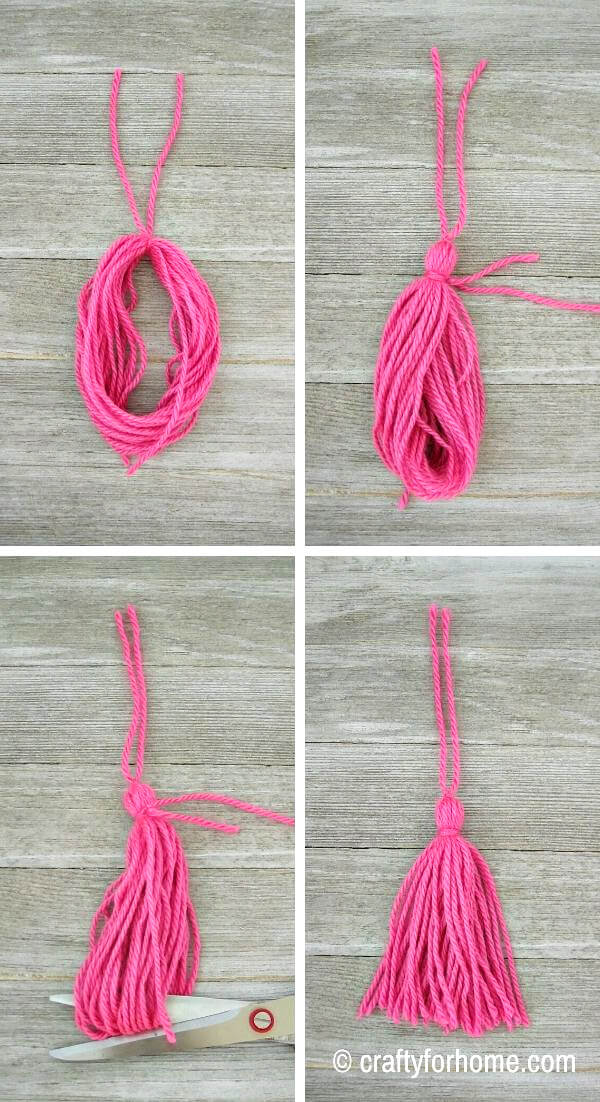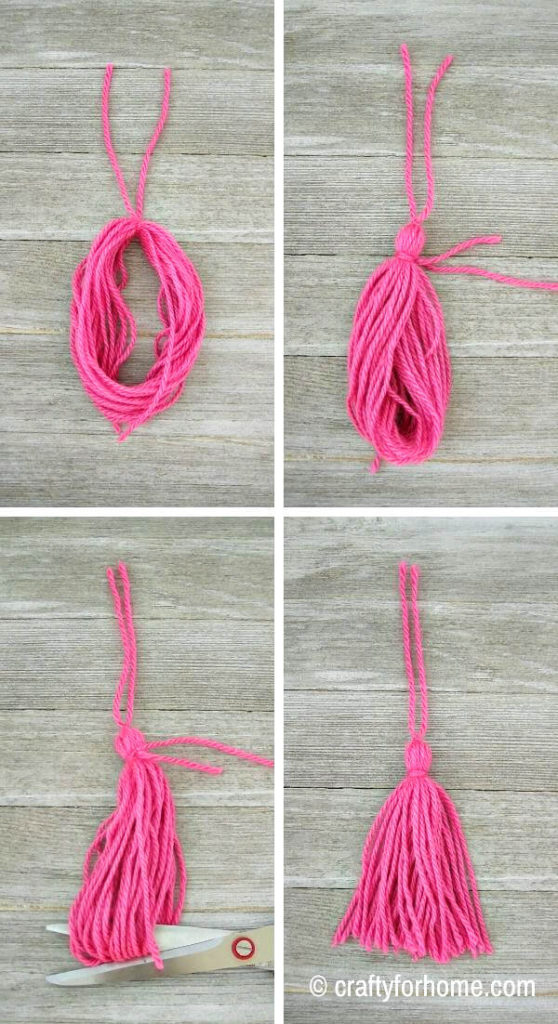 Attach the yarn tassel by tying the tassel tail on the weaved yarn.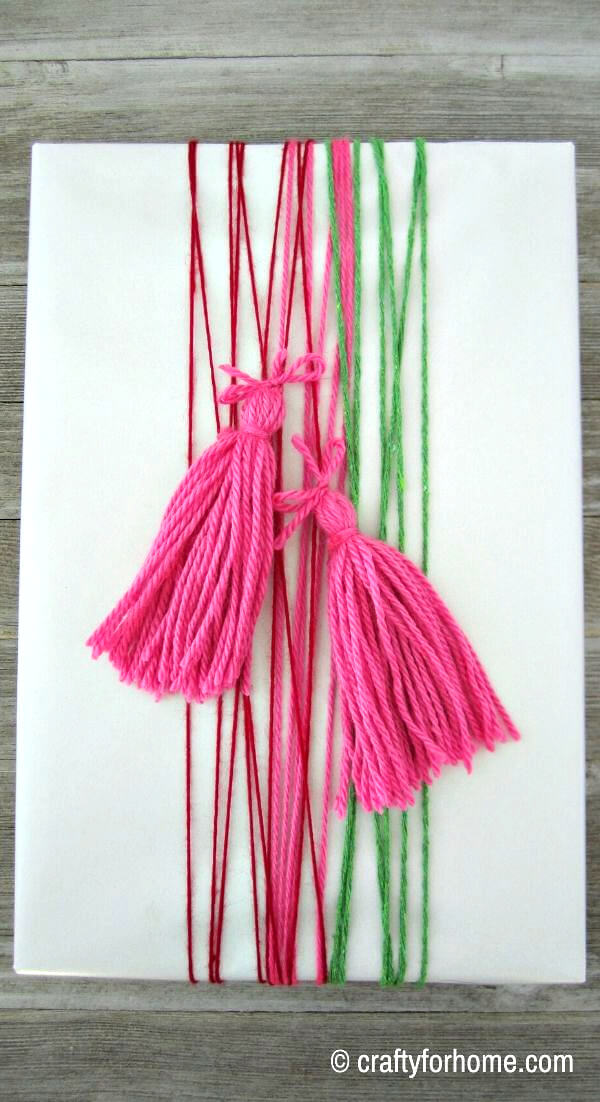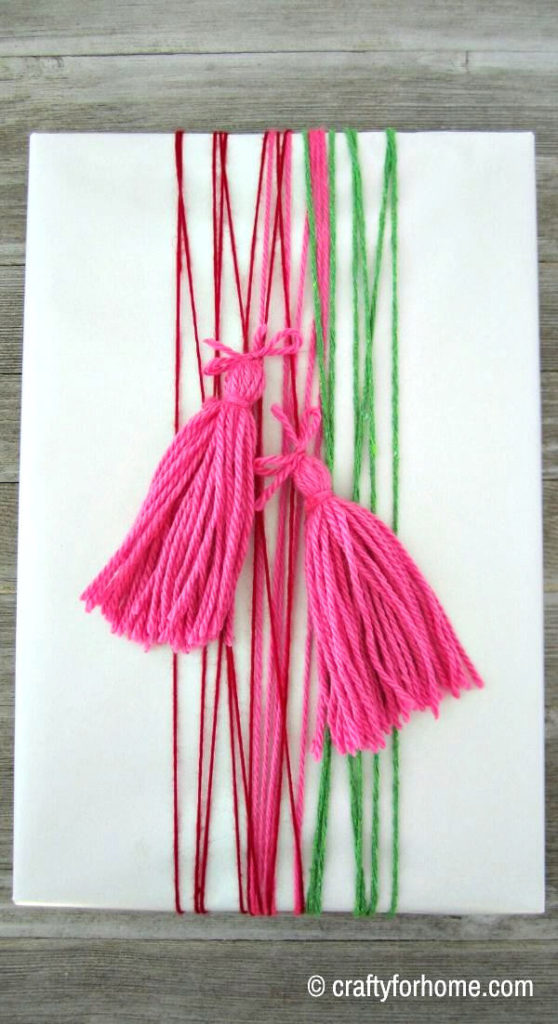 Yarn Bow For Gift Wrapping
This style is similar to making a bow by using ribbon. Start it by measuring the length you need for wrapping the gift box by using yarn.
Then cut multiple strands of yarn with the same measurement and allow the extra length. You have to make sure there is enough length for making a bow. I cut six strands for 1 yard each.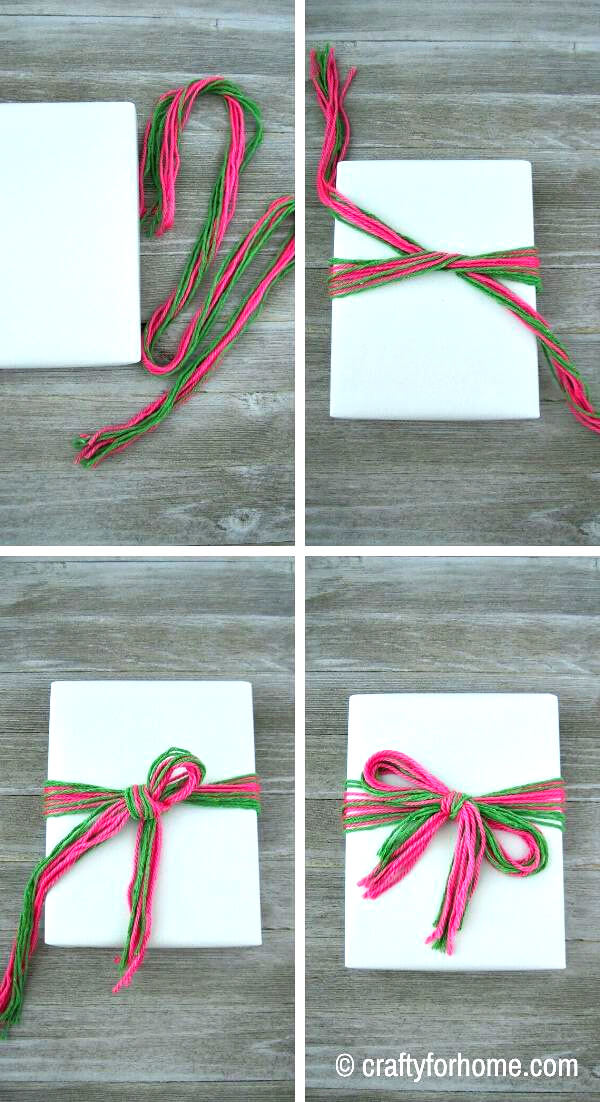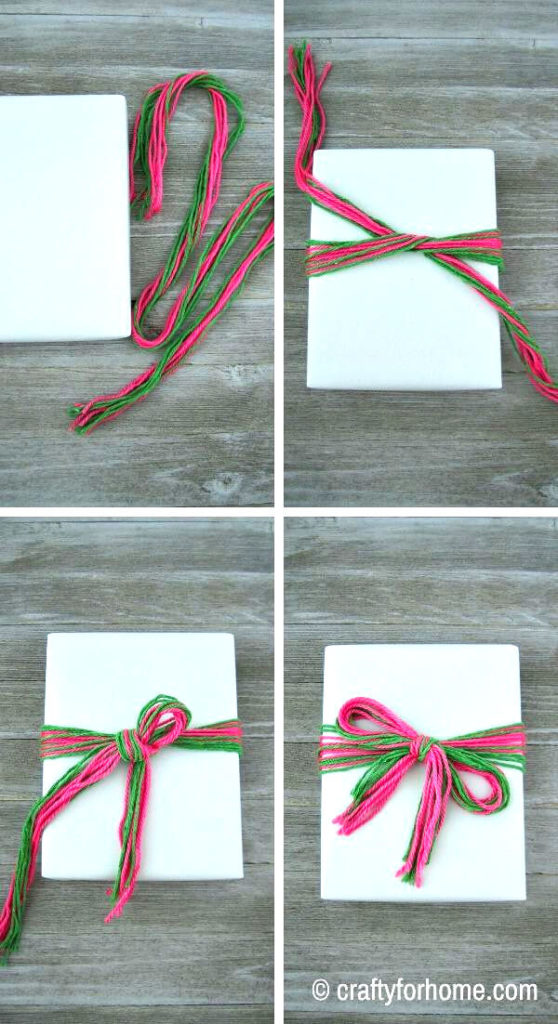 Gather all yarn, then start wrapping the gift box. Knot the yarn then create a bow. To prevent the yarn slide off, use the tape to secure it on the bottom side of the box.
Yarn Tree For Gift Wrapping
Wrap around the gift box with a few strands of yarn with a horizontal way or vertical one, whichever you like. Make a simple bow knot to secure it. Attach the double tape on few inches below the bow.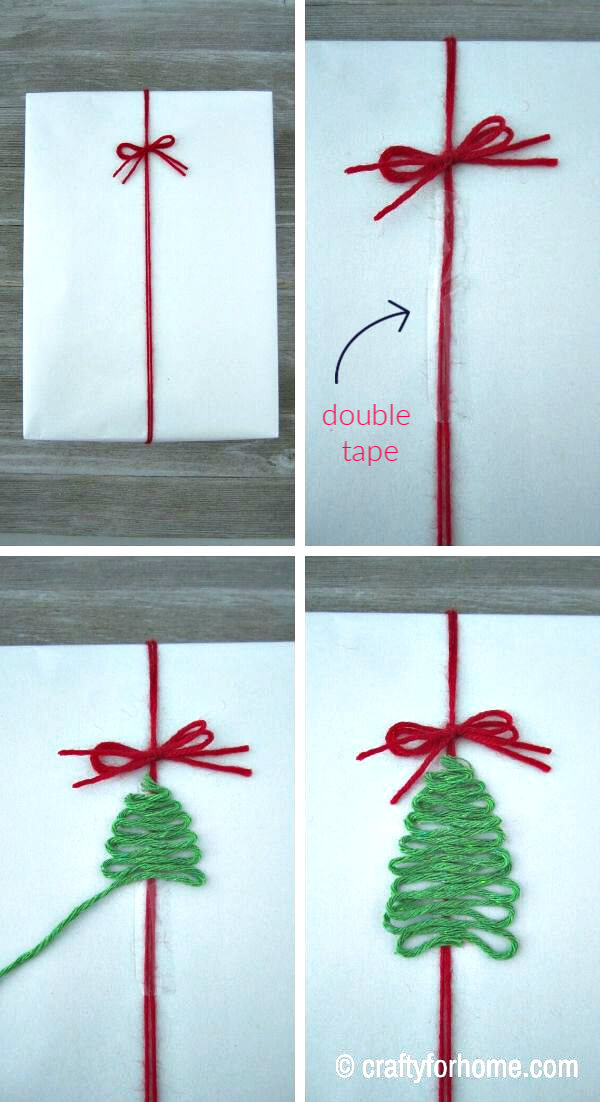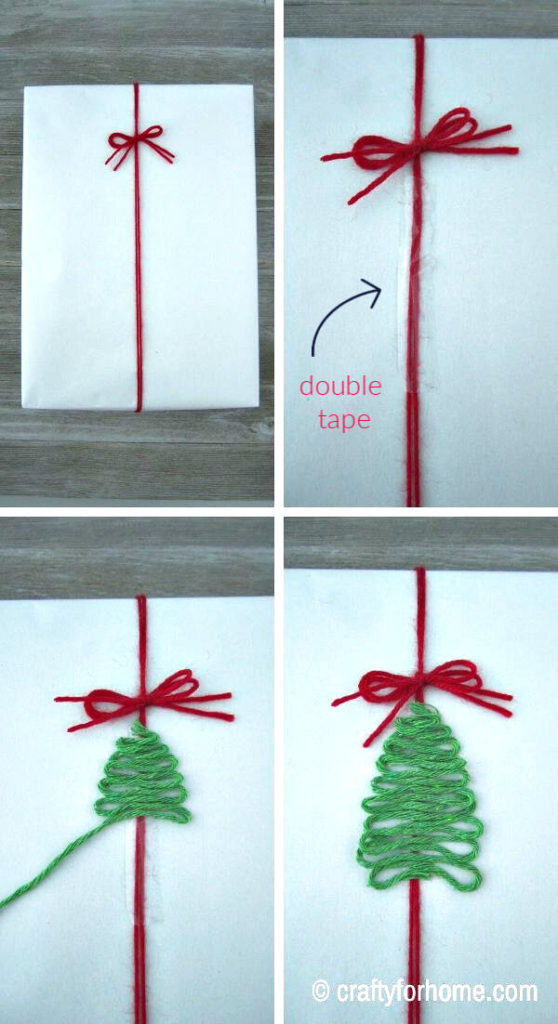 Attach the green yarn on the double tape with a simple loop, make it smaller size on the top that resembles a tree. Make a mini pompom, then attach it by using double tape on top of the tree.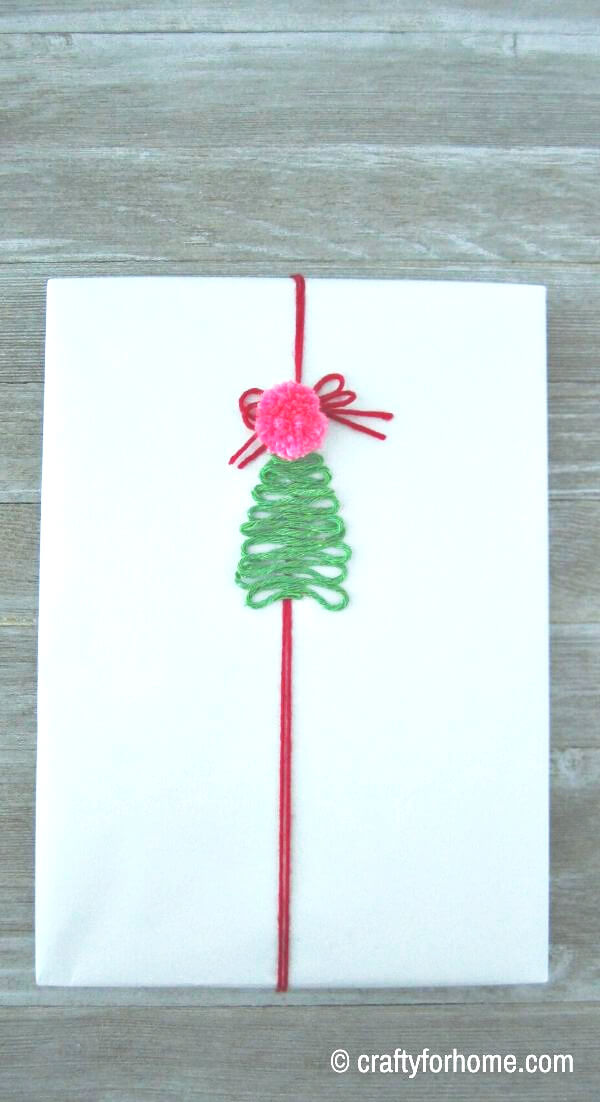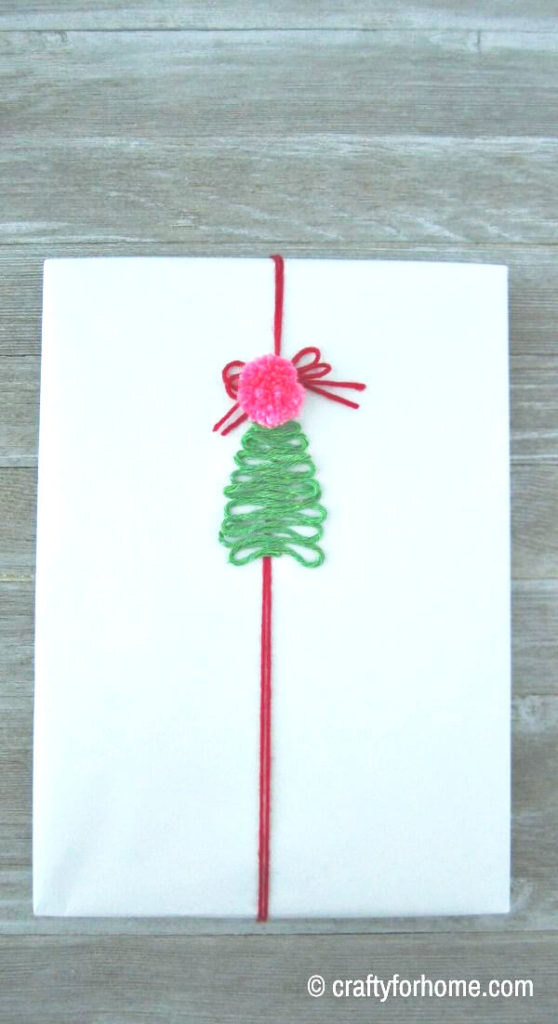 Yarn For Inexpensive Gift Wrapping Ideas
It is an excellent idea by using yarn for gift wrapping. A ball of yarn is an inexpensive item for crafting. That's why it is a perfect thing to use to decorate the gift box.
From a ball of yarn, it will last for a long time if you only use it to embellish gift boxes. Being inexpensive doesn't mean it look cheap. But it shows the present look more unique and special.
Yarn For DIY Gift Topper
The yarn pompom and tassel are the perfect things for gift topper. Other than for gift wrapping, you can use these things for a different kind of topper.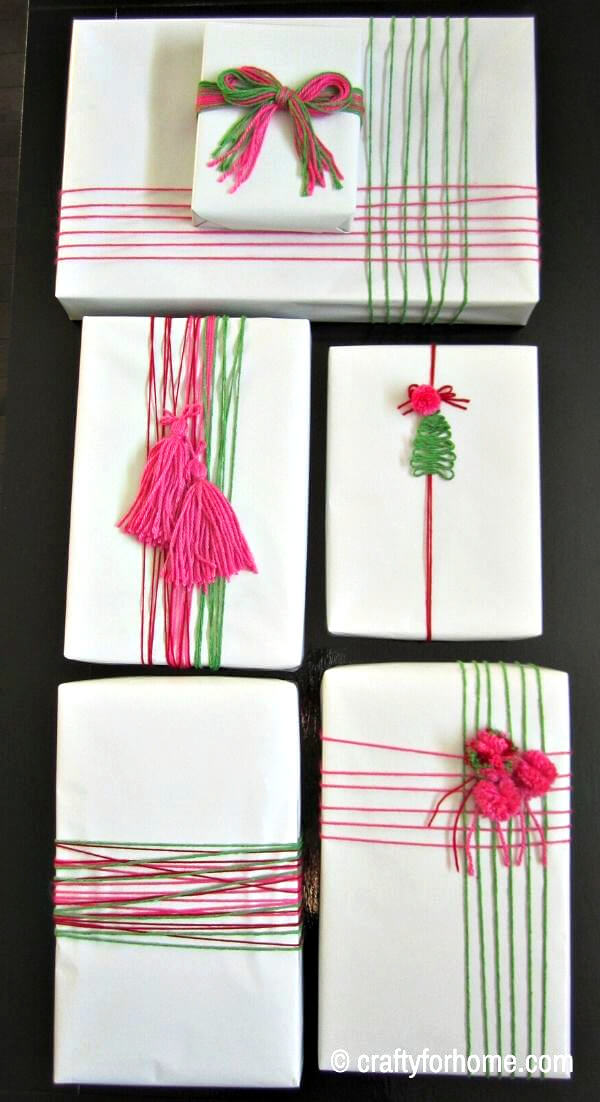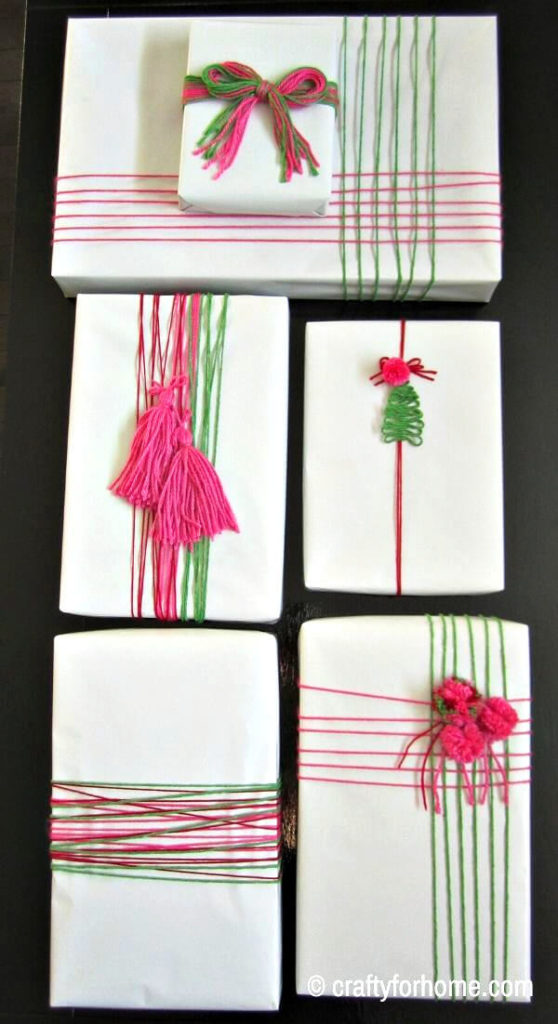 If you are preparing a bottle of drink as a gift, then you can wrap the yarn tassel on it as a gift topper. Or, if you plan to give a gift card instead as a present, you can personalize it by using this fabric card holder, then embellish it with the tassel or pompom.
If you are not looking forward to using yarn tassel and pompom for gift topper, then you can use these fabric ornaments or fabric flowers instead. All these cute ornaments are easy to make from fabric scraps.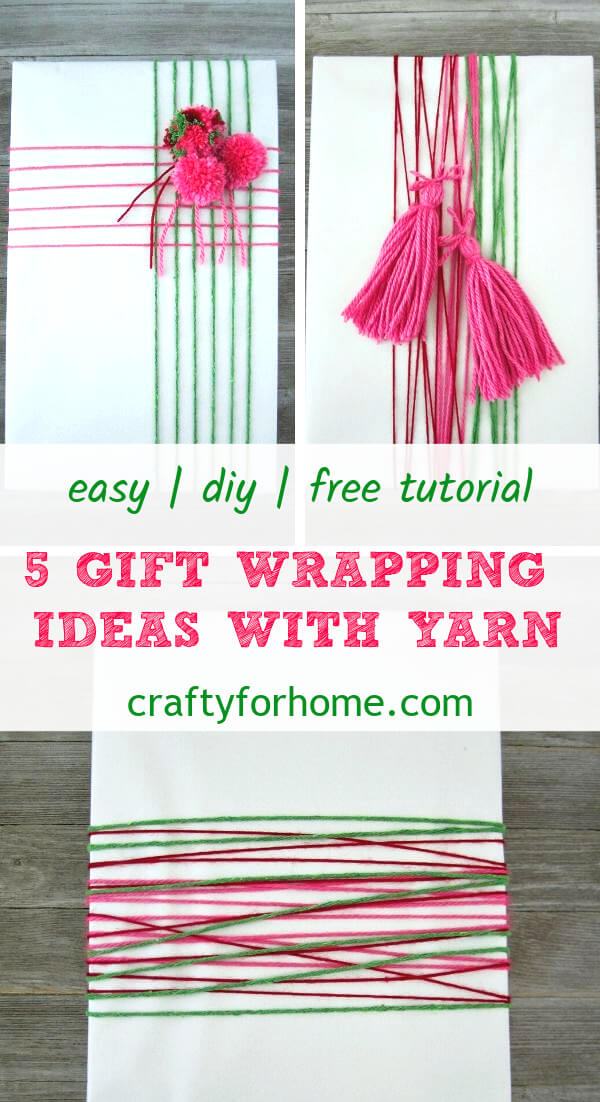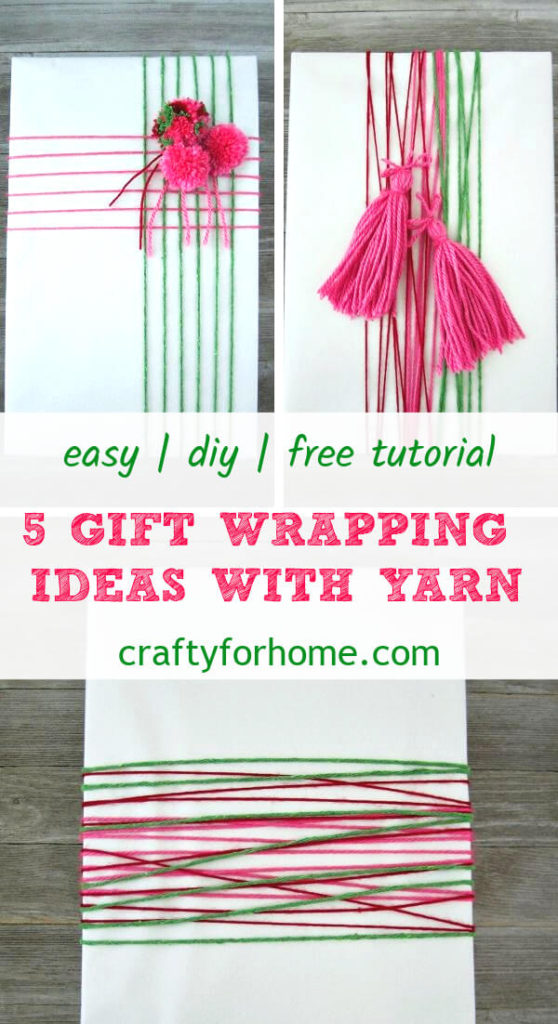 Use yarn for a beautiful and inexpensive gift wrapping. #giftwrapping
Click To Tweet
Here are some homemade gift ideas that also useful and reusable.
Use brown paper for a simple DIY gift wrapping ideas and decorate it with ribbon, lace, and decorative cord for Christmas and any occasions.
Easy creative DIY red gift wrapping ideas for Christmas with ribbon, felt, and washi tape.
Make this easy DIY fabric ornaments by tracing cookie cutters for decorating the tree or a quick home decor during the holiday season.