Use this helpful guide on how to make scalloped cloth napkins
Use the regular sewing machine with the specific stitch style to make the scalloped edge for vintage-inspired cloth napkins.
Honestly, I rarely see scalloped cloth napkins these days. We have these Christmas cloth napkin sets that have a vintage looks but also elegant for any casual or formal dinner party. But what we have for everyday use are mitered corner napkins style.
This post may contain affiliate link, please see Disclosure Policy for details.
I know it is available in the specific home decor store like Wayfair, Pottery Barn as well as online. But you know, you can make a set or two yourself with just using a regular sewing machine scallop stitch to keep on budget.
If you see on the stitch variety on a sewing machine, there is one decorative stitch for embroidery scallop. You will use this stitch to hem these DIY cloth napkins.
To keep on vintage-inspired style, use the plain color fabric and colorful thread for the hem. Use cotton quilt for a light-weight one or linen.
I usually love to use a printed cotton quilt for cloth napkins. But it is better to use plain color for this project or a simple print that blended with the primary color of the fabric.
You don't need to cut the edge of the fabric into a scallop shape first. You only sew the hem with this decorative stitch then use the scissors to trim the fabric.
So the scalloped stitch will be exposed on edge. If the material is too thin, you can use stabilizers such as fusible webbing.
Before you start sewing, set the length of the embroidery stitch first. Try on the fabric scraps first until you get the stitch length you need. I set up the length into max, which is about 1 inch to get a nice looking scalloped edge.
Keep in mind that each sewing machine could have a different setting and result. I use my favorite Singer Sew Mate 5400, it is straightforward to use, and it has stitch varieties for functional and decorative purposes.
It might have a different setting if you use Brothers, Janome, or Kenmore sewing machine.
Supply To Sew DIY Simple Scalloped Cloth Napkins
Use the plain color cotton or linen. If you choose for printed fabric, use one that has simple print and thread with contrast color.
Here are some of the simple white printed fabric similar to what I use.
But there is no rule on this project, whichever color and print you like, then match the scalloped edge thread color that pops or blending in with the fabric.
From 1 yard/1 meter of fabric, you will have four napkins with approximately 18-inches x 18-inches square.
How To Make Scalloped Edge Cloth Napkins
This tutorial is for 18-inches x 18-inches square cloth napkins so that you will divide the fabric into four squares. Set up the decorative scallop stitch first into the desired length. Try the stitch first by sewing it on scraps before you start it.
Cut the fabric into 18-inches x 18-inches square. Cut the fusible webbing if you use it, four of 1-inch x 18-inches for one napkin.
Pin the fusible web along the edge of the napkin. Sew the edge of the fabric with the decorative scallop stitch.
Trim the edge of the fabric as close as possible to the stitch. Pull the fusible webbing away from the stitch (if you use one). Press the napkins with the ironing machine, and napkins are ready to use.
Get the PDF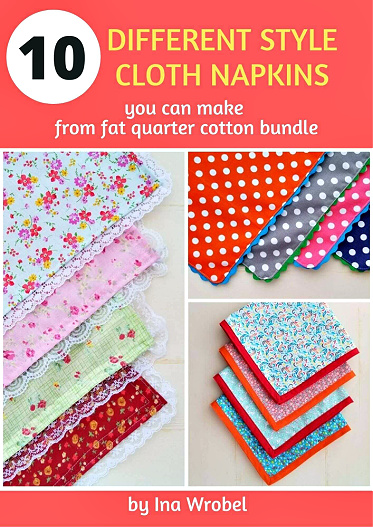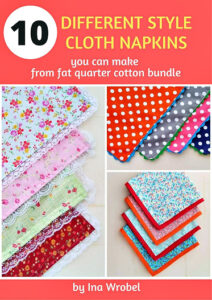 I have a collection of 10 cloth napkins tutorial, which six of them have been published on the blog, and four of them are new and never published on the blog.
If it is more convenient, you can purchase the PDF format ebook of 10 Different Style Cloth Napkins for only $5. The ebook has complete tutorials with pictures included. There is no ads or video display on the PDF so that you can print it, and it will be available for you anytime you need the tutorial for your next project. Click on the ebook cover image above to purchase.
Easy Way To Hem Cloth Napkins
The scalloped edge probably one of the easy ways to hem cloth napkins. There is no other technic and measurement involve like self-binding napkins.
But it still looks elegant and saves on cost because you will get a set of napkins from one yard of fabric. You will get even more if you make it into smaller sizes.
Make these vintage-inspired cloth napkins for your everyday use.
Click To Tweet
Using cloth napkins for everyday use also save on budget because it is reusable and washable over and over again. Instead of tossing into the trash like paper one, throw it into the laundry after use.
No need to worry about pressing it with an ironing machine every time you finish washing them. There usually a wrinkle release option on the dryer machine.
If you are using linen fabric, it gets wrinkles quickly and shrunk after washing. You can use these tips on how to release wrinkles out of linen for a crisp look. Pair the napkin with the bowl cozy for a fun custom look.
More easy cloth napkins you can make from cotton fabric.
Use colorful threads to hem scalloped cloth napkins.
This sewing project is for how to make an oval mug rug without binding as a quick DIY gift idea for anyone who loves to enjoy a cup of coffee or cozy tea time.
Sew these easy to make placemats for your next summer parties that are also durable for outdoor use.
A DIY and easy to follow tutorials on how to sew oversized reversible beach bag and has pockets with the zipper, it will fit several large beach towels and all the necessities you need for summer fun at the beach or water park with family and friends.