This sewing tutorial makes lace-trimmed cloth napkins from printed fabric and embellishes it with cotton lace on edge.
Use This Guide For Making Lace-Trimmed Cloth Napkins
What I think about lace is beautiful, elegant, fun, chic, and vintage feel. Hands up if you agree with me. Adding lace to the napkin is a lot more fun to make. You will get a DIY vintage cloth napkin from a regular plain-looking one.
As an Amazon Associate I earn from qualifying purchases. This post may contain affiliate links. Please see the Disclosure Policy for details.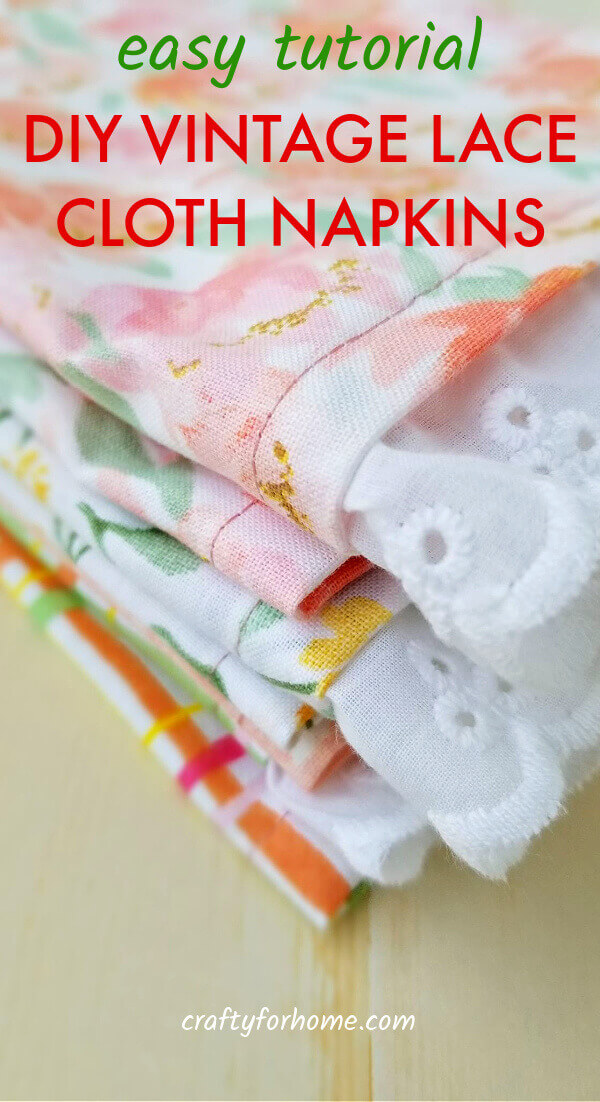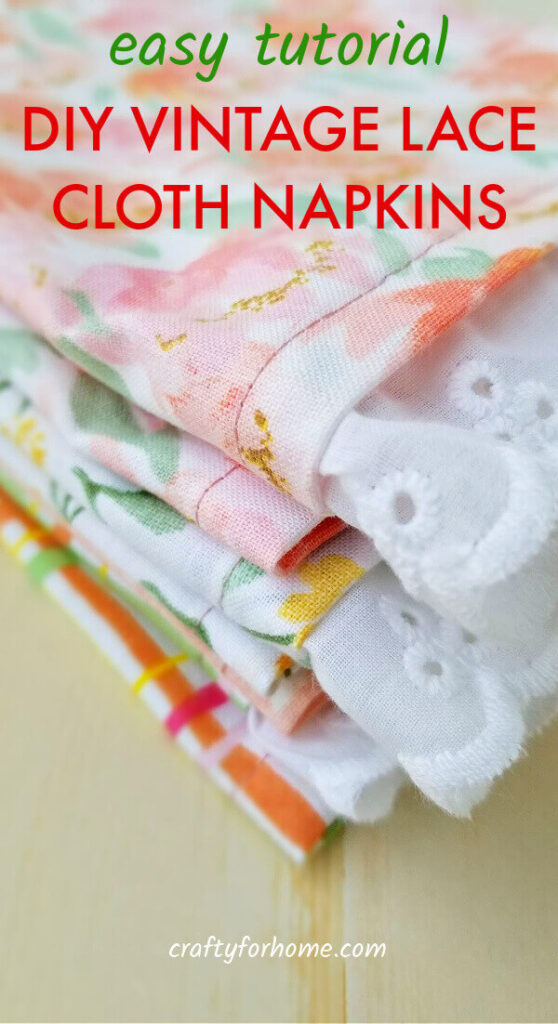 I often see the lace napkins for the wedding party. It sure beautiful, and of course, it is pricey if you need it in bulk.
But you can make it your own without taking too much of your time, especially if you already have the basic square cloth napkins ready.
My favorite material for napkins is cotton, linen, or a blend of cotton and polyester. For everyday use, I like to use cotton fabric because it is easy to clean.
On this project, I use a mismatched fat quarter cotton bundle. To make four napkins sheets, you would need one yard of fabric to get all the same print and color. You would need 2 yards of eyelet lace for one napkin.
What Kind Of Lace For Cloth Napkins
Any lace will look great on napkins. Everyone has their preferences. You can use any color of crocheted lace, embroidered lace, or eyelet lace trim.
For this project, I like to use cotton lace with simple embroidery trim because it is easy to care if you want to wash it. It also has a vintage vibe on it.
Cotton lace usually comes in rolls, just like ribbon. Any craft store and fabric store carries it. I often saw it at the dollar store too.
What You Need To Make Lace-Trimmed Cloth Napkins
How To Make DIY Napkins With Lace
See the Lace Trimmed Cloth Napkins video tutorial here on my YouTube channel, and subscribe for more videos.
This project uses the same open mitered method for all corners as this rectangular mug rug.
If you already have a set of single-sided napkins, you can skip the cutting and sewing processes. Just add the lace on one edge or all-around edge of the napkin.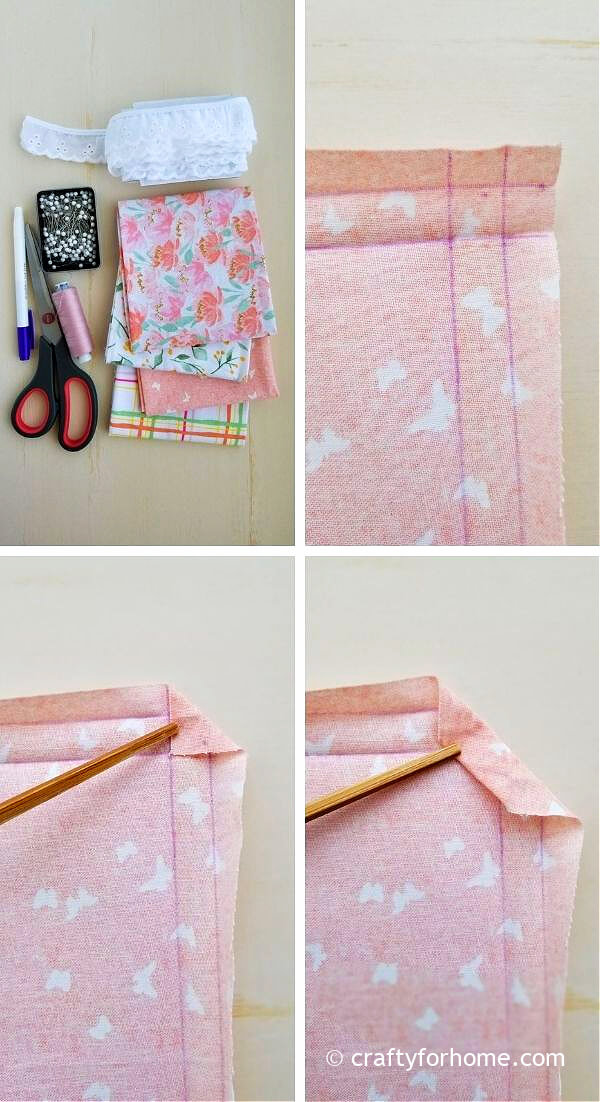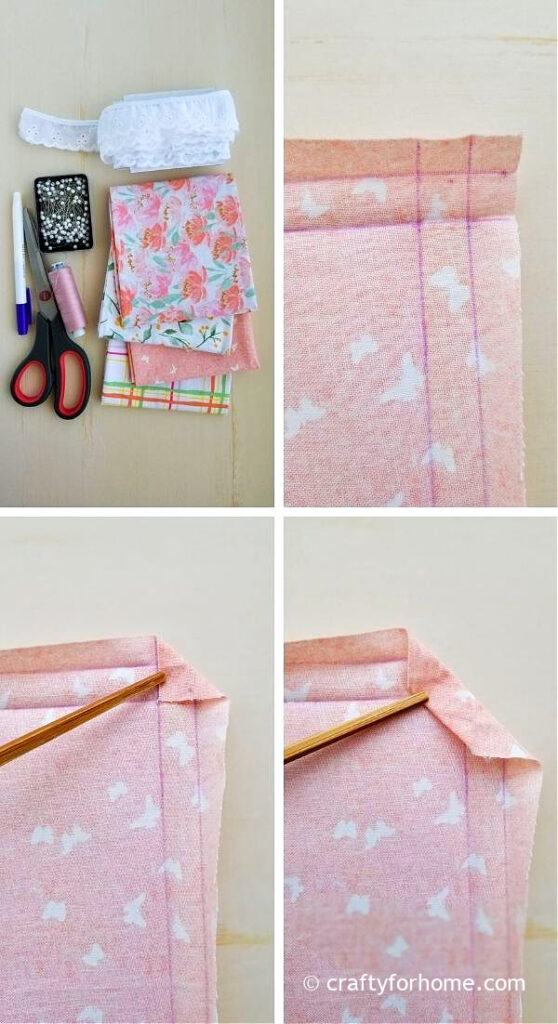 Cut the fabric into 18 -inches x 18-inches. Cut the lace ribbon with enough length for one edge of your napkin. I cut mine into 46 cm or 18 inches long.
Use the zig-zag stitch or a serger machine to prevent fraying on the lace. The fray check liquid also works well for this.
Mark two lines along the edge of the fabric with 1/2 inches apart. It will be easier if you press it with the ironing machine along the lines.
Lay the napkin flat with the wrong side of the fabric facing up.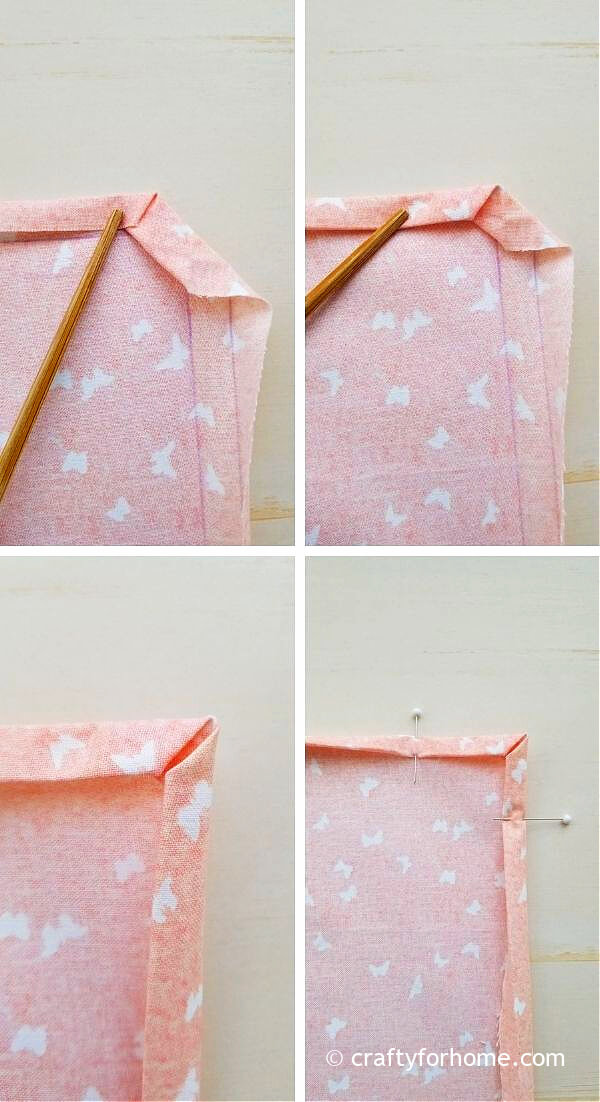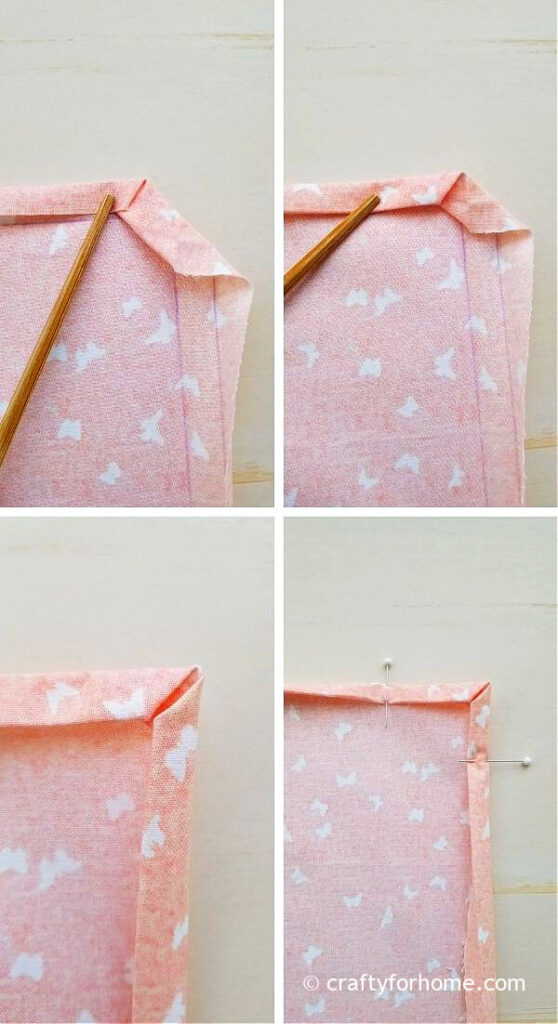 Fold the corner of the napkin, then fold again.
Fold the first line along the edge of the napkin, then fold it again.
You will get the open miter on the corner. Repeat the folding process for all four corners and pin it.
How To Sew Cotton Lace On Napkins
Once you finish creating the miter fold on each corner, it is time to add cotton lace on one of the napkin's edges.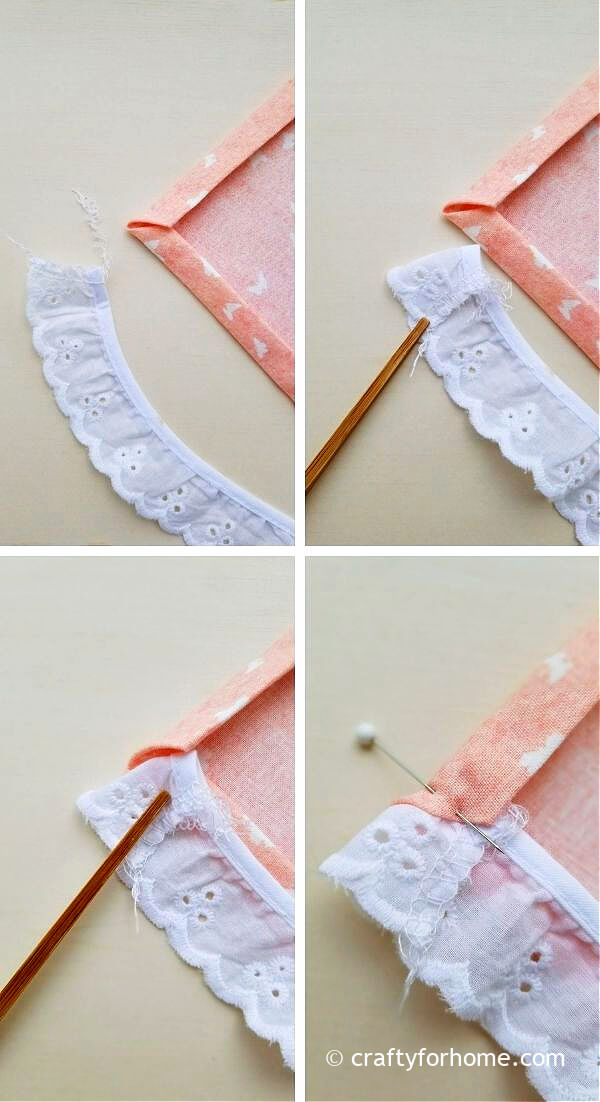 Fold 1/2 inch of the lace. Pin the lace in between the mitered fold.
Pin the lace along the hem. Pin the other edge of the lace ribbon on the other mitered fold.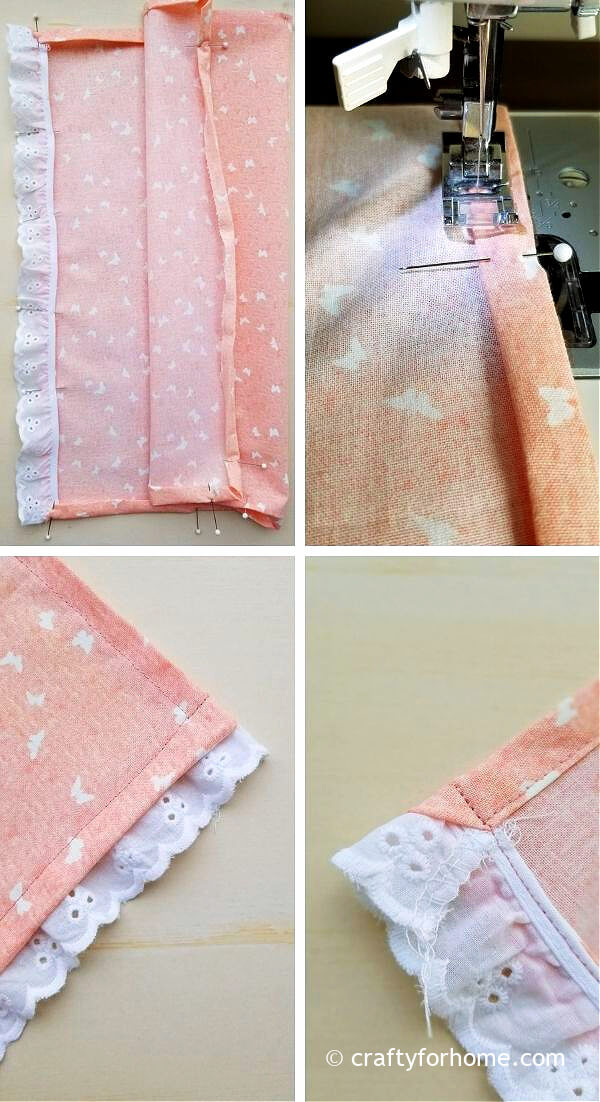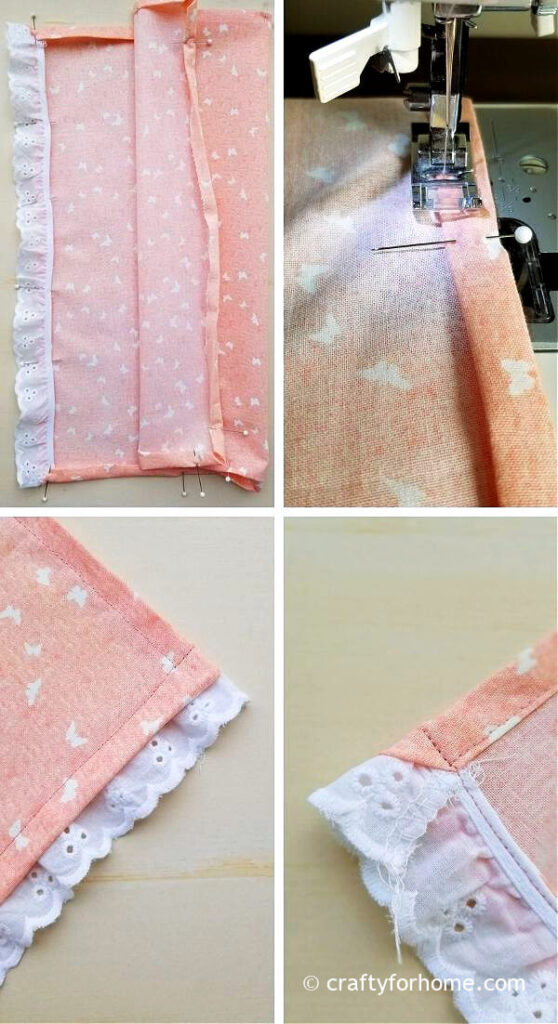 Straight stitch along the hem and sew the lace ribbon at the same time. Press the hem of the napkin with an ironing machine for a crisper look.
Get the PDF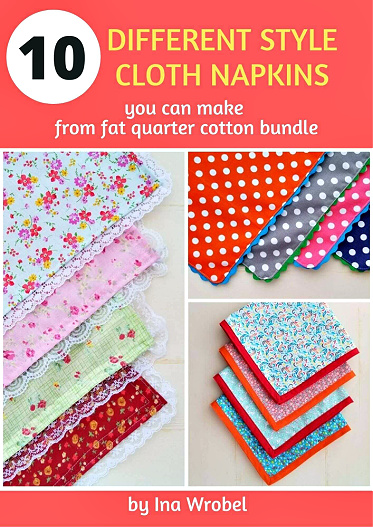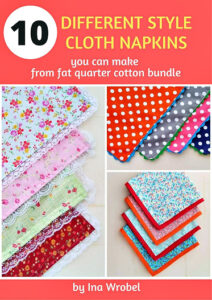 I have a collection of 10 cloth napkins tutorial, which six of them have been published on the blog, and four of them are new and never published on the blog.
If it is more convenient, you can purchase the PDF format ebook of 10 Different Style Cloth Napkins for only $5. The ebook has complete tutorials with pictures included. There is no ads or video display on the PDF so that you can print it, and it will be available for you anytime you need the tutorial for your next project. Click on the ebook cover image above to purchase.
What Size Is The Lace-Trimmed Cloth Napkins
From 18″ x 18″ fabric, you will get approximately 17″ x 17″ napkin for the final size. The size of the napkin is still perfect for a formal dinner party.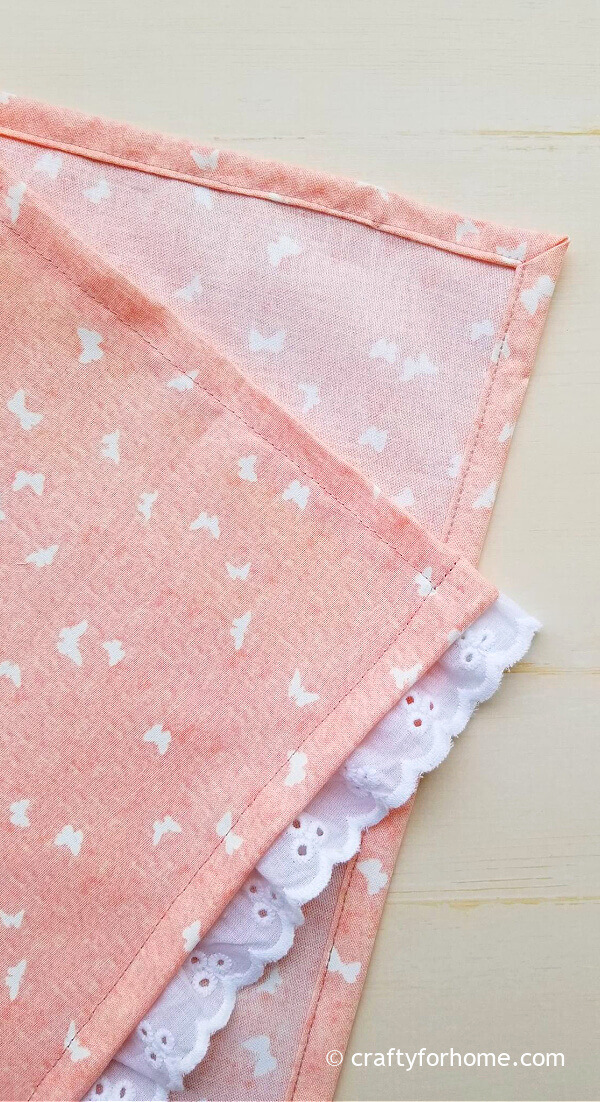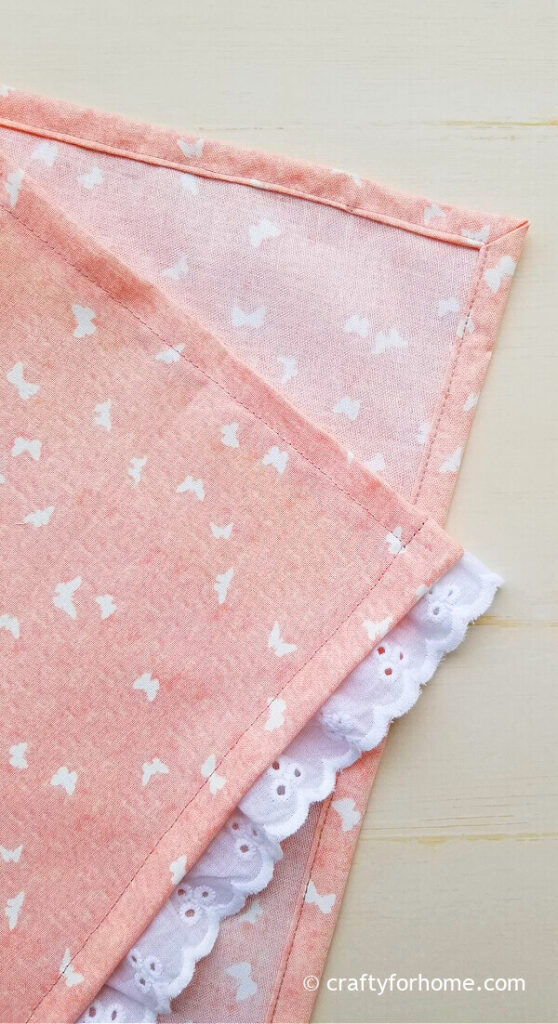 For a complete look, add this floral napkin ring for a spring season occasion. You can also personalize the tablescape by using these folding napkins styles.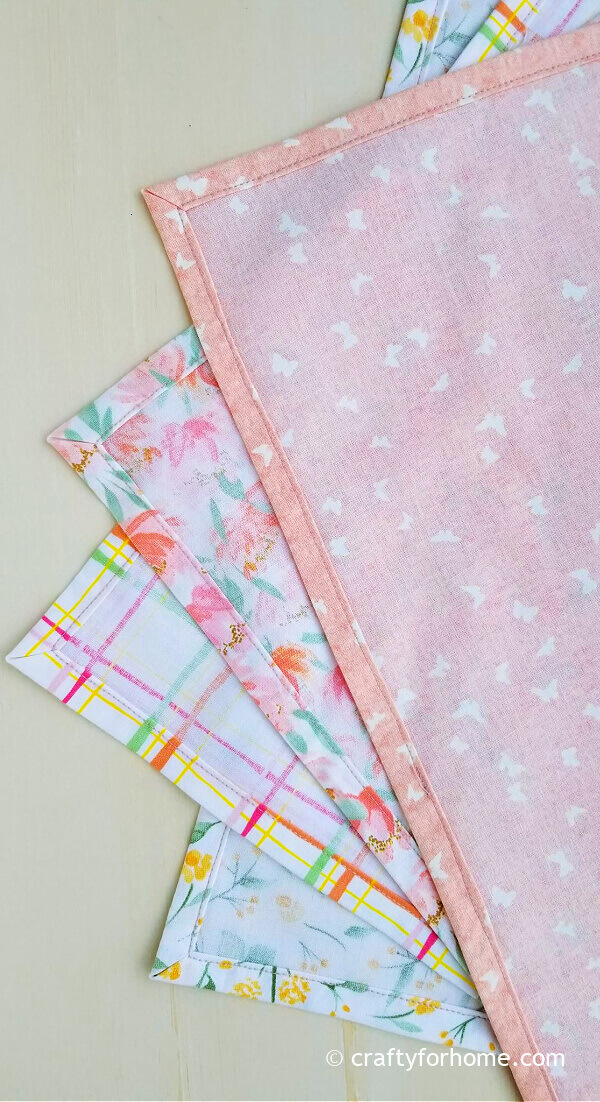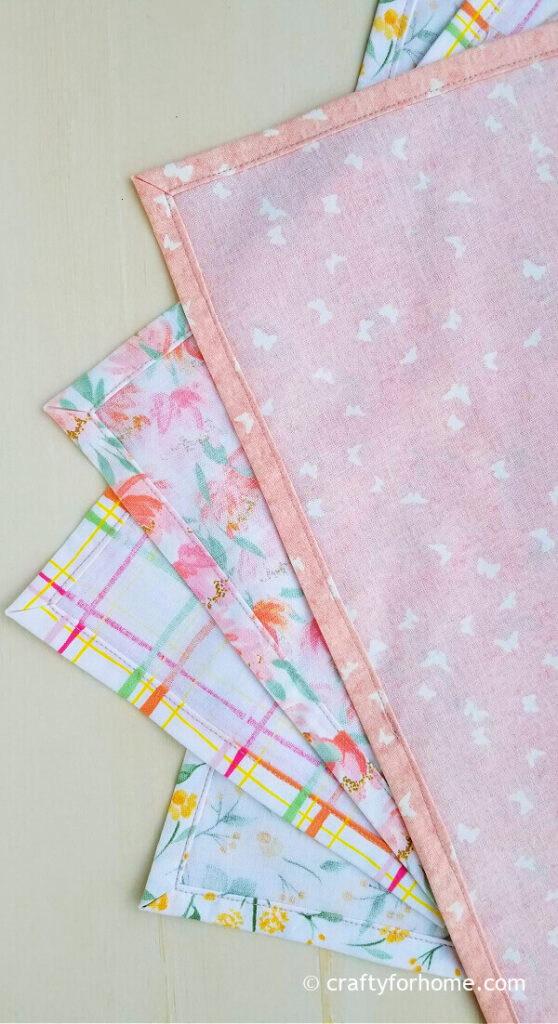 This decorative mitered corner napkin is so easy to put together, and you can do it in one afternoon if you only need four of them. It also a fantastic project to upcycle shirts or bedsheets that always stay in the closet and forgotten.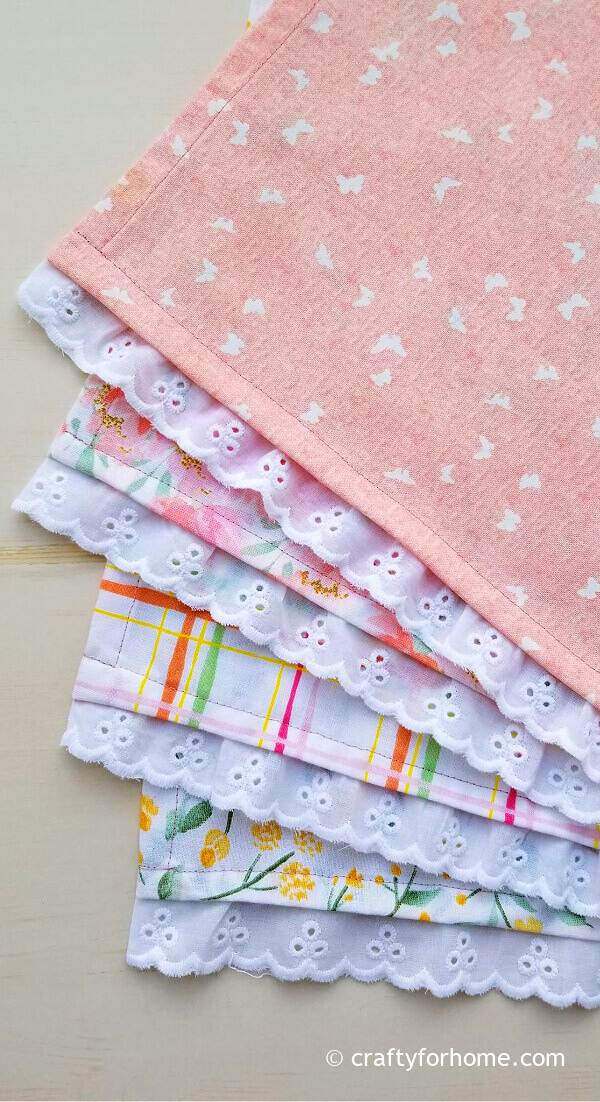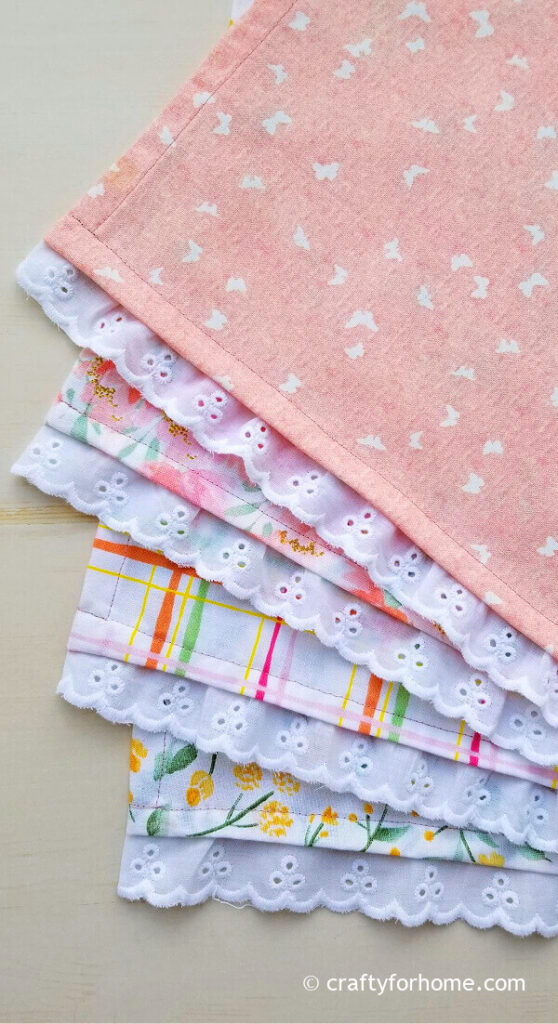 All cloth napkins are washable and reusable. Follow the guideline on how to wash it depending on the material you use.
Add lace into your cloth napkins with this easy to follow tutorial.
Click To Tweet
With the print I use here, these are perfect for DIY spring cloth napkins. The fabric print is fun and cheerful colors.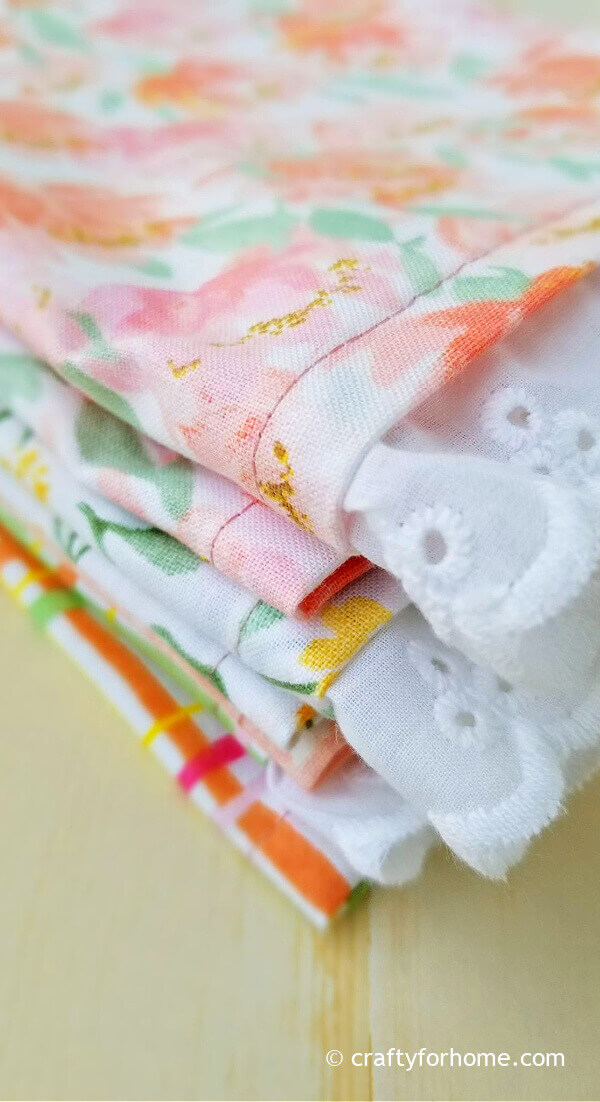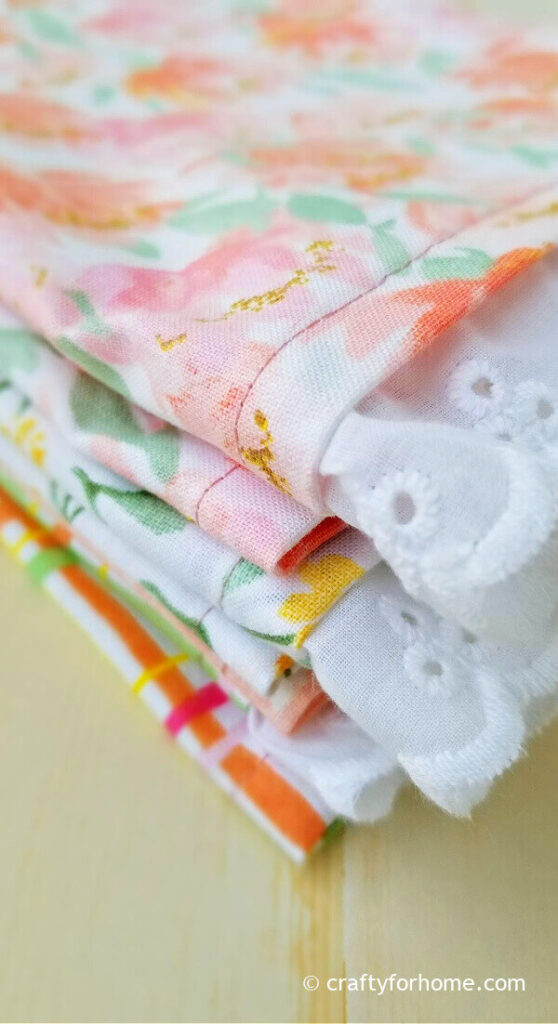 You can use any other prints you like for any occasion. For example, this red and green fabric print I use is perfect for a Christmas dinner party.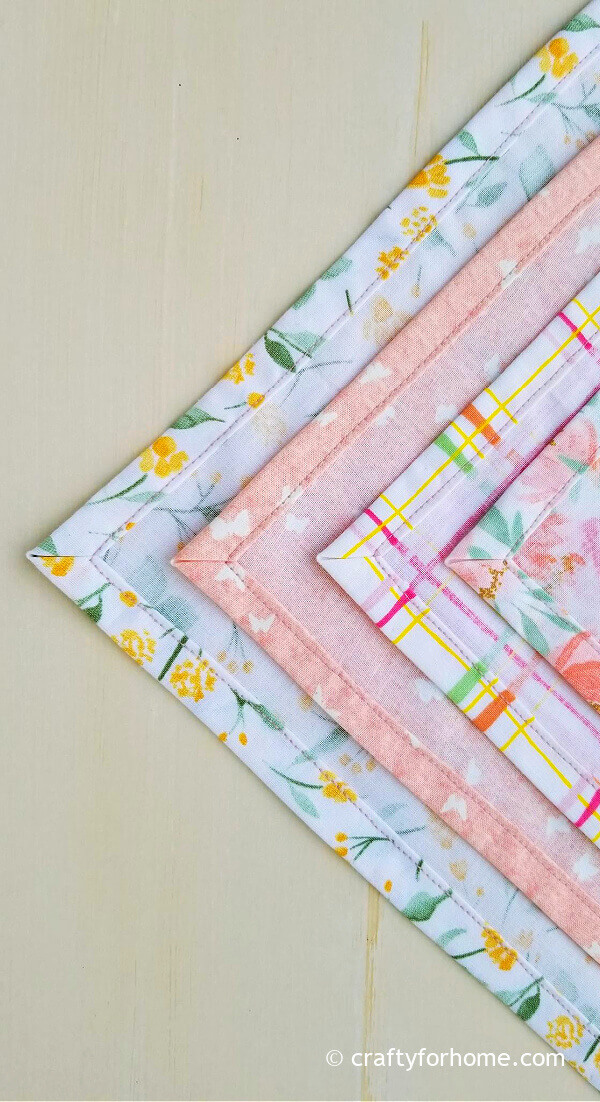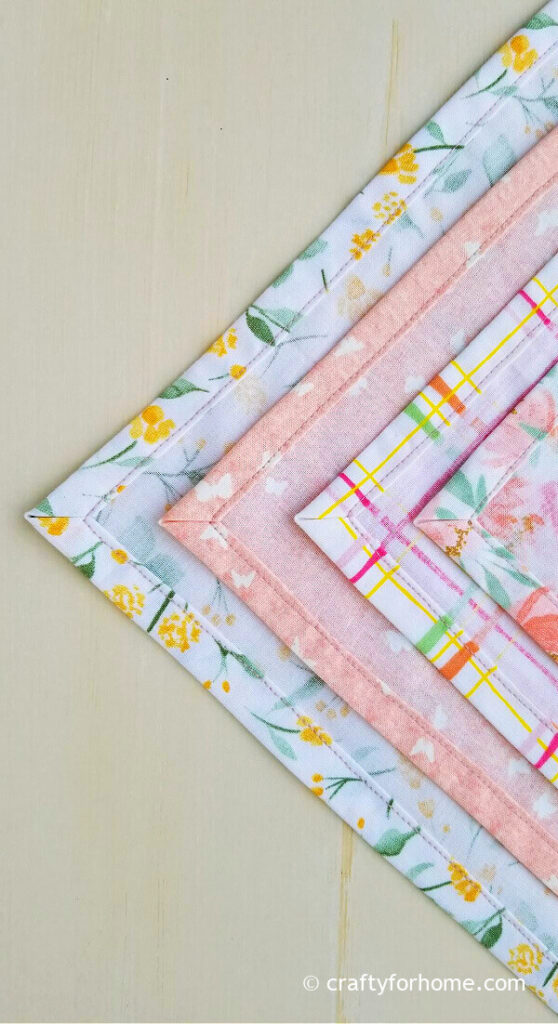 Look at this warm color fabric. It is perfect for the fall season theme. This lemon print and the floral print fabric looks so fresh for the summer season.
You can make many of these napkins for a homemade gift or get them ready just in time for family dinner. There are never too many cloth napkins when you can use fun and beautiful fabric prints.
More of sewing project for the spring season
These lace-trimmed cloth napkins will add a fun DIY vintage vibe to your tablescape.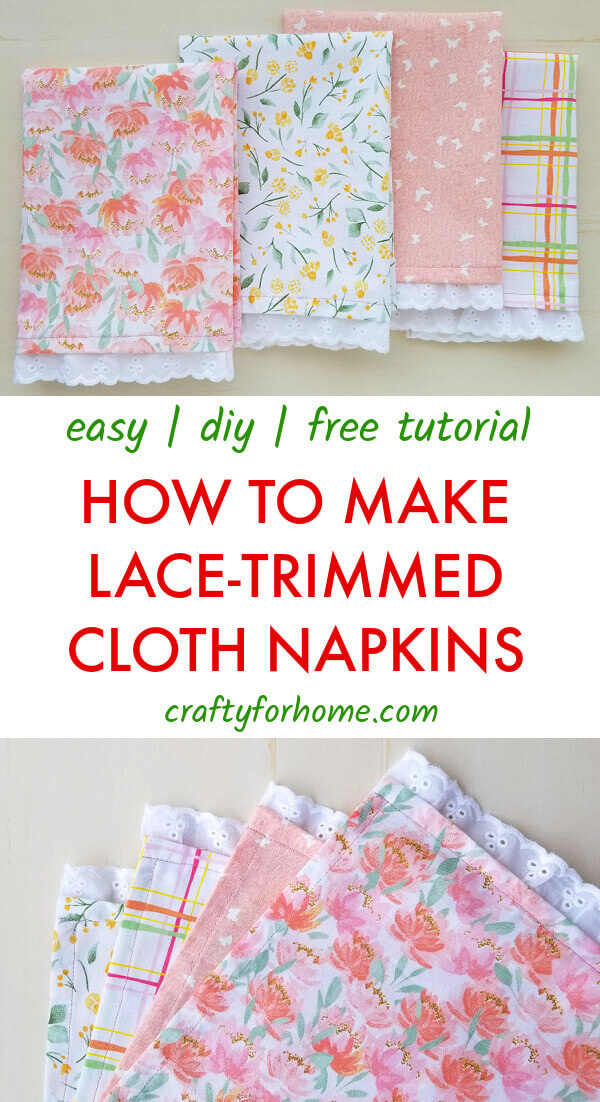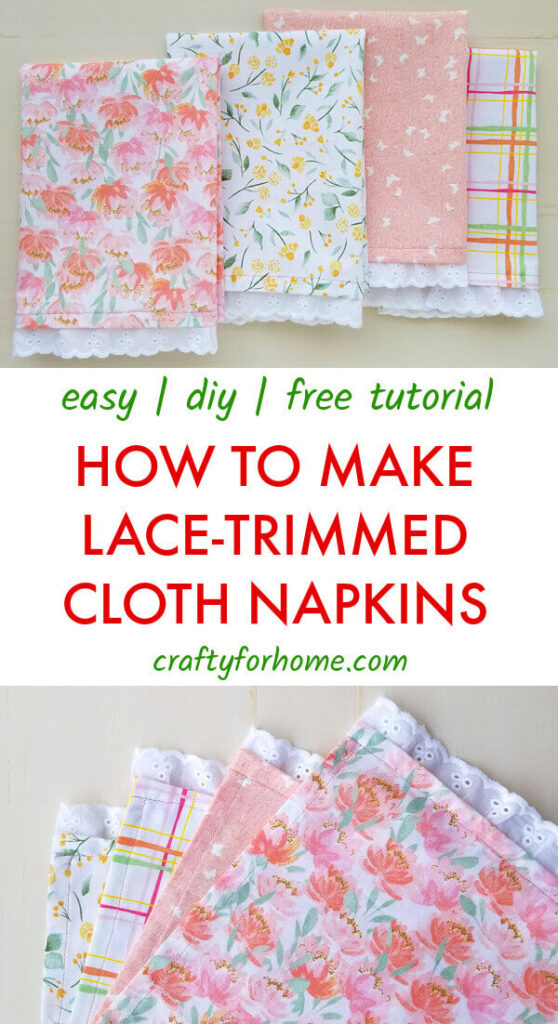 Easy DIY sewing project on how to make self-binding cloth napkins for your table setting decor. Make this double-sided mitered napkins by using fat quarter fabric or repurpose materials that perfect for DIY homemade gift.
Easy sewing tips on how to make cloth napkins with simple patchwork that will brighten up your tabletop setting any time of the year.
Use the regular sewing machine to make the scalloped edge for vintage-inspired cloth napkins.