Easy DIY fabric flower fall wreath tutorial for the front door or wall using dollar store's supplies, handmade fabric flower, and basic stitching.
Use This Tutorial To Make Easy Fall Wreath
There always an inspiration for crafts in all season and occasions. I always look for an easy project to do for a seasonal theme. It doesn't have to be a complicated one, in fact, my kids and I like one that easy enough for them to make it on their own too. We are also a big fan of dollar store crafts.
As an Amazon Associate I earn from qualifying purchases. This post may contain affiliate links. Please see the Disclosure Policy for details.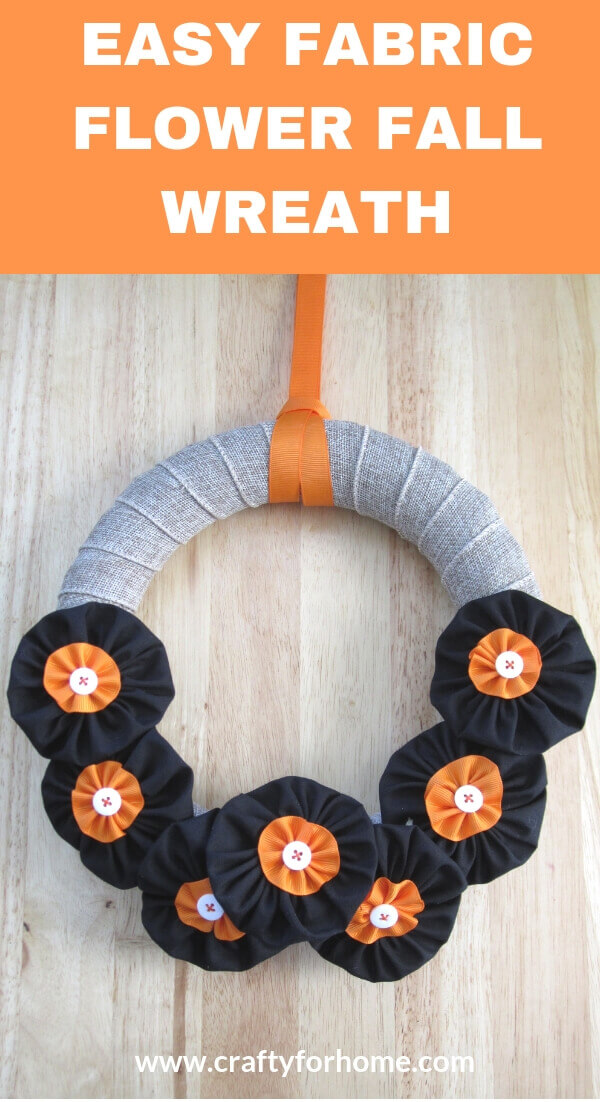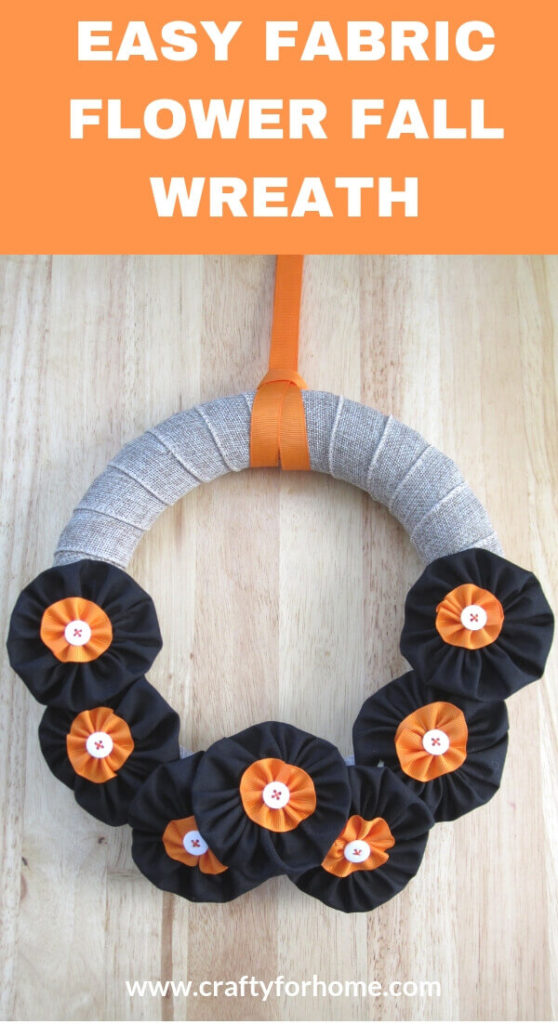 When I start working with fabric scraps, the kids always try to make something too. They usually make their very own doll's clothes. It's not the fancy one, but they proud of their creations.
I make lots of fabric flowers too. They sure can create one by themselves especially the pinwheel style, of course with my supervision. It is straightforward and only needs basic hand stitching.
This time I make easy fabric flower fall wreath, and did I tell you that I got all supply from the dollar store? Well, except the fabric, I have like a pile and pile fabric scraps from the previous project and client's ordered. And yes, other than fabric store, I also love dollar store stuff, inexpensive and affordable craft supplies.
What You Need To Make Fabric Flower Fall Wreath
Black thread
Orange thread
Hand stitch needle
Lighter
Ruler
Button, or any embellishment you like, bead or rhinestone is an excellent one too.
Scissors
Small plate
How To Make Fabric Flower Fall Wreath
Here are the step by step tutorials how to make fabric flower fall wreath: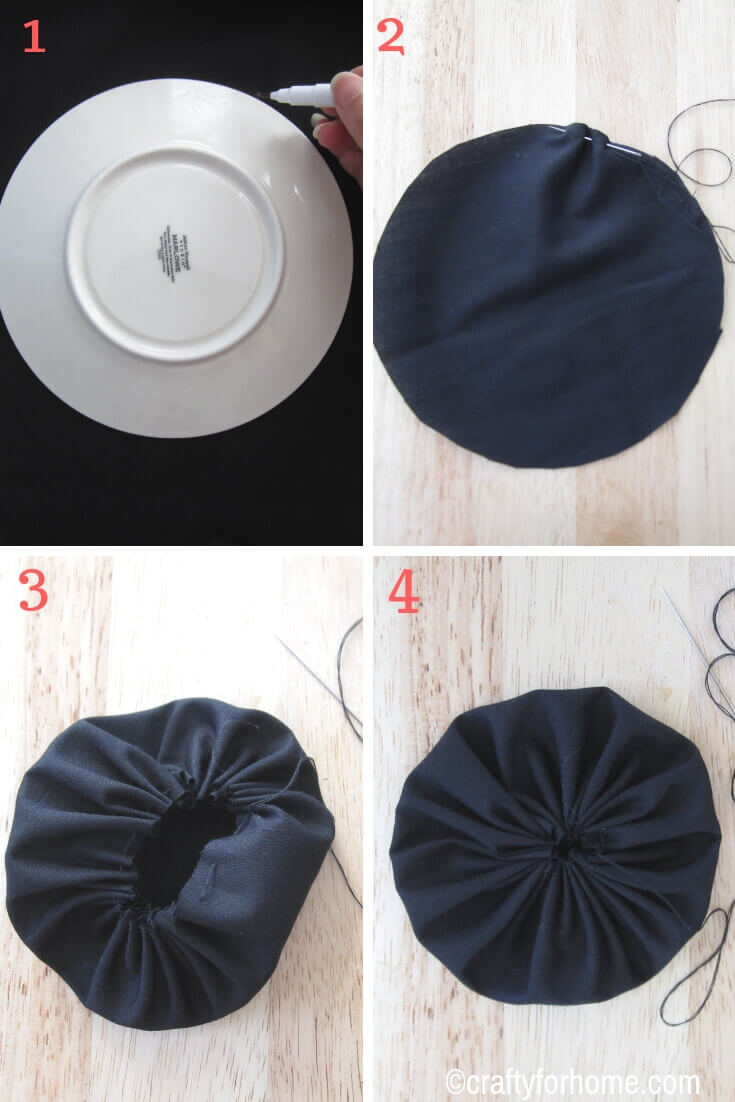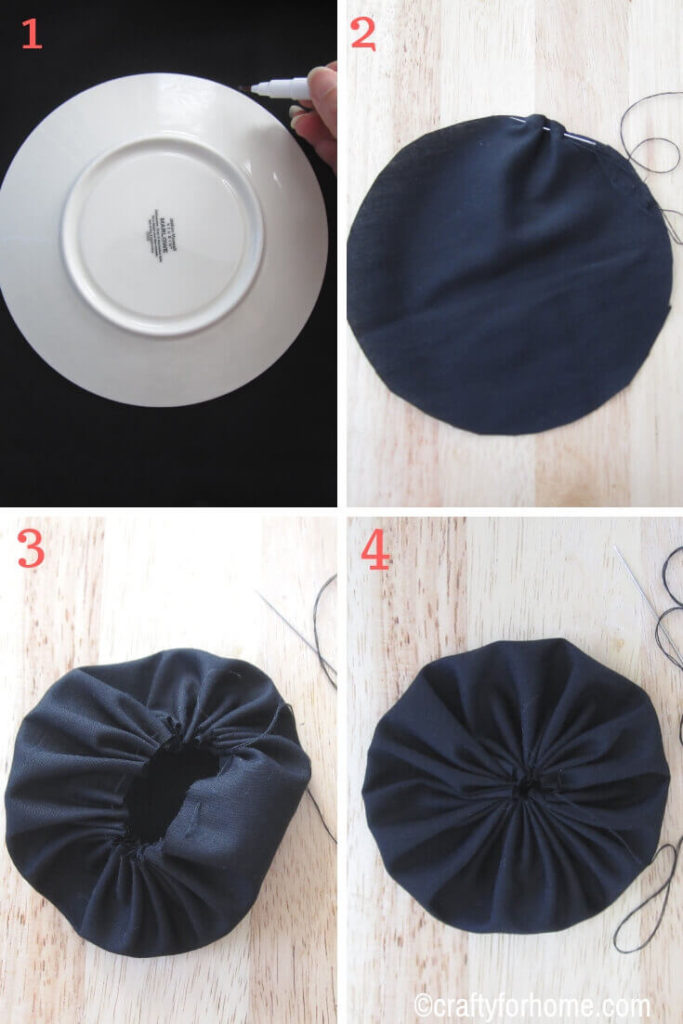 Trace the fabric with the plate, use the fabric marker to mark it, then cut it. Make seven circles.
Hand stitch around the edge of the fabric circle, no need to stitch it neatly.
Pull the thread all the way until it resembled the pinwheel, secure the thread by making a knot.
Repeat the process for all seven round fabrics.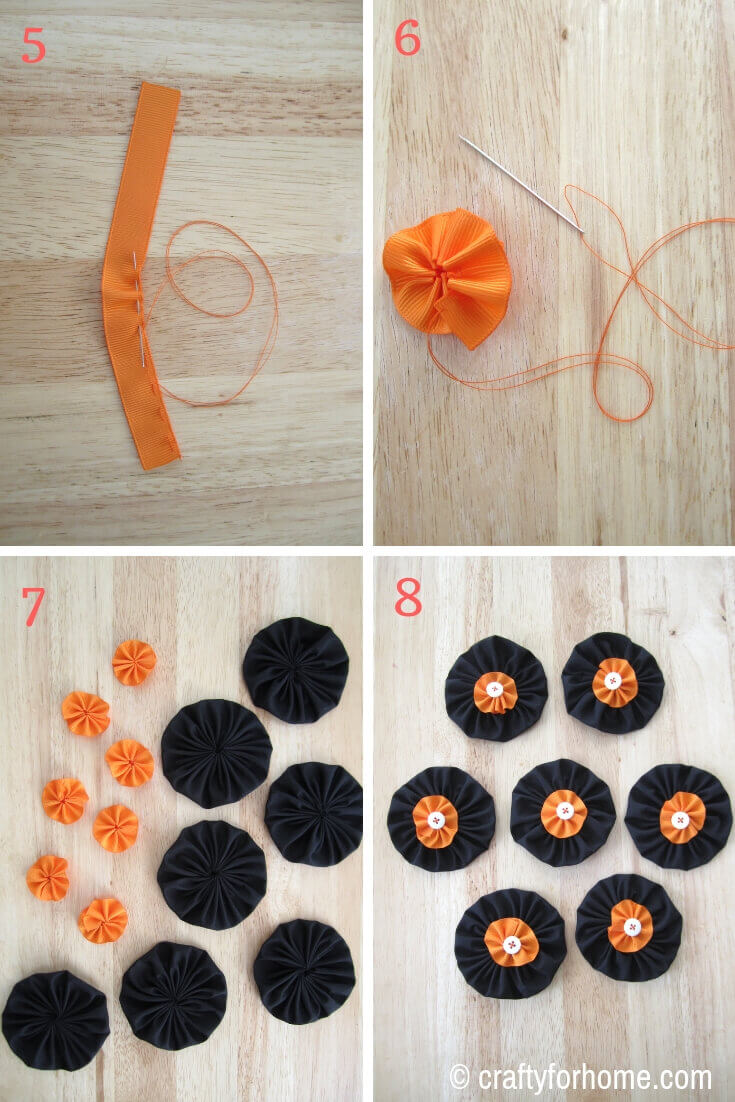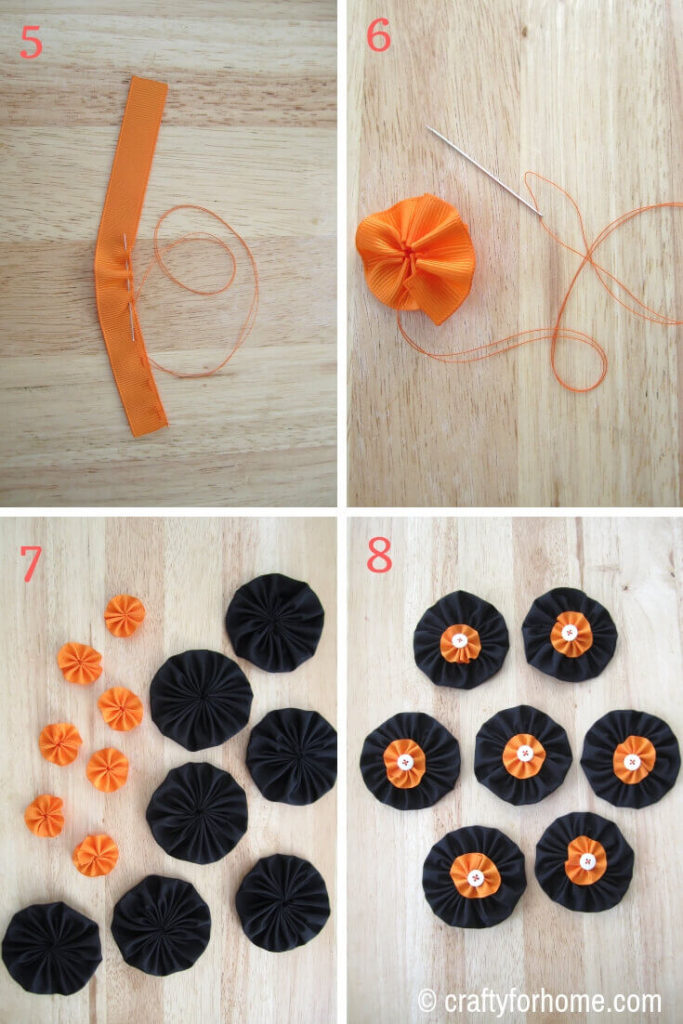 Cut seven pieces of orange ribbon 6 inches each. Burn the edge of the cut off to prevent fraying.
Hand stitch around one side, then pull the thread all the way and make a knot to secure it.
Repeat the process for all seven ribbon pieces. Put one button on top of the orange ribbon flower, then put it on top of the pinwheel flower, stitch it together.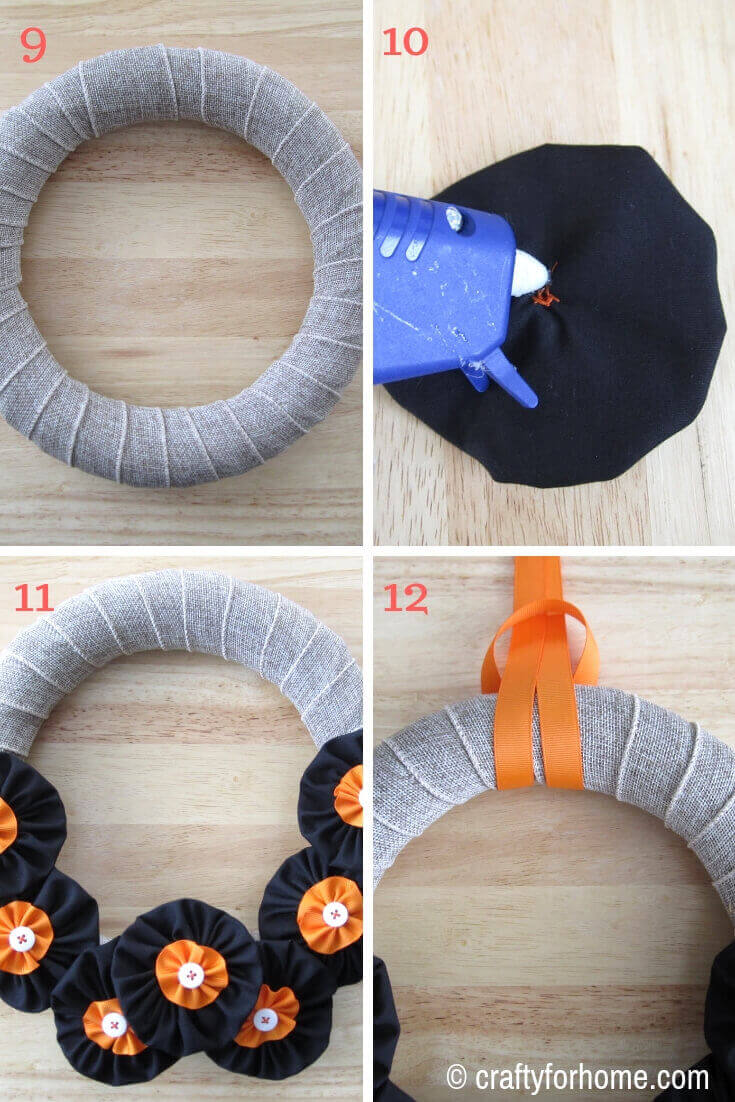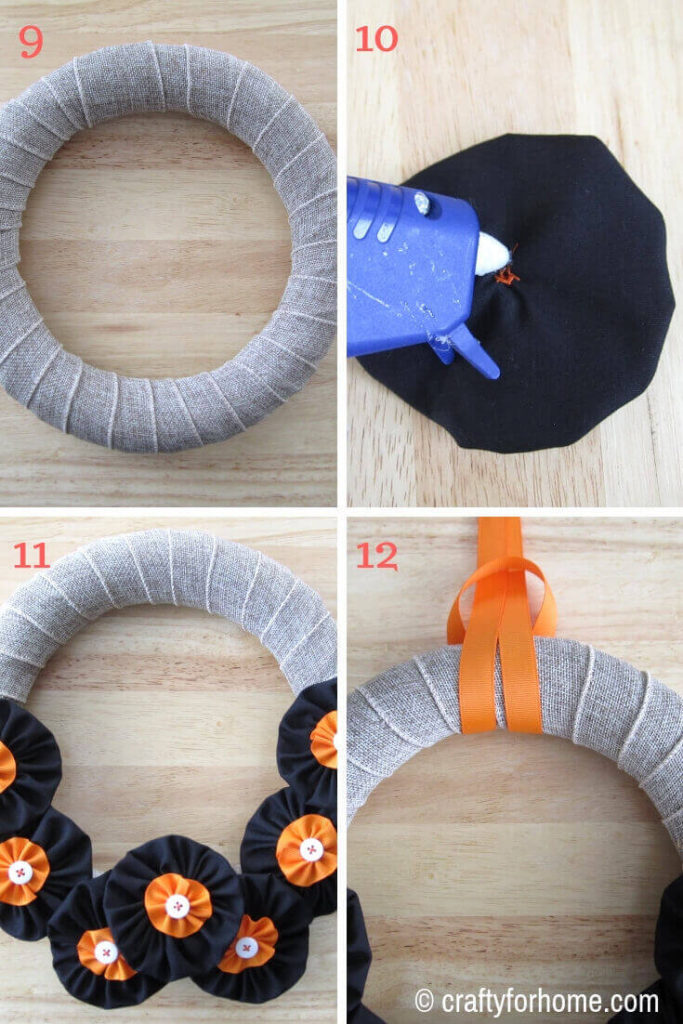 Wrap around the foam with the burlap ribbon. Secure the end of the ribbon with a glue gun.
Arrange the flower around the foam, use the glue gun to attach it.
Cut 36 inches orange ribbon, make a loop on top of the wreath to hang it. Now the wreath is ready to hang wherever you like.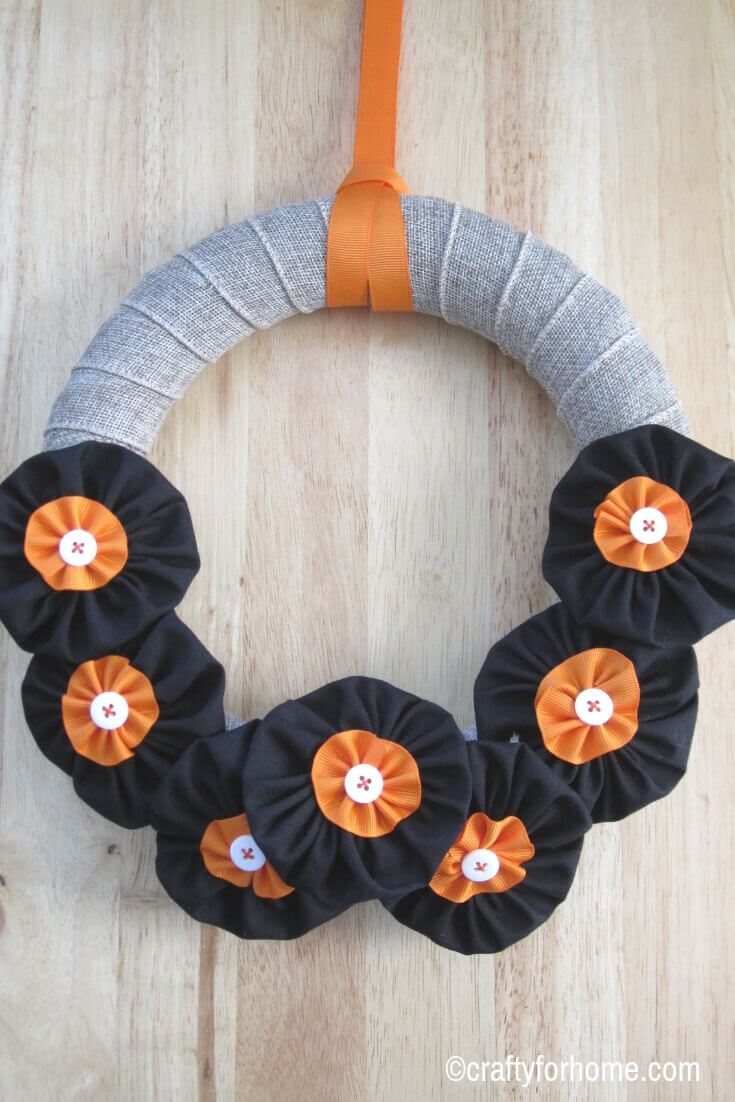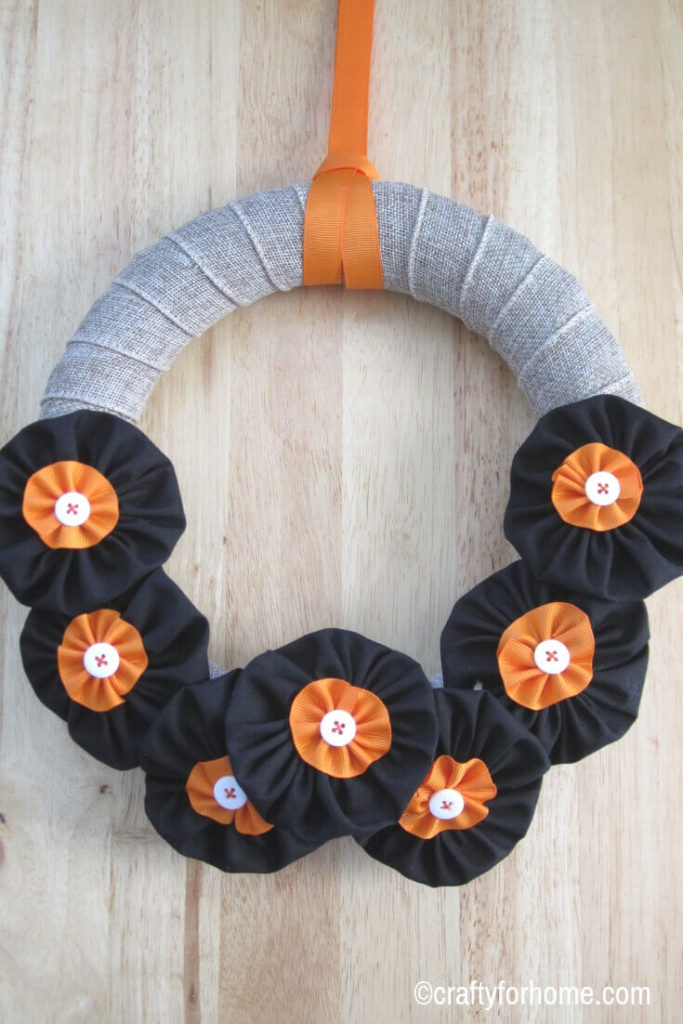 I choose these color theme because it will do double purpose for fall season wreath as well as Halloween wreath. Now, you ask why I made seven pairs of flowers, well our family's last name start with W, and seven flowers will make looks like a W letter. You can definitely make three or four flowers if you preferred.
The ribbon is a fun material for crafting, and also useful for a simple project like this Easy Ribbon Lanyard. I use it for gift wrapping as well.
More Easy Sewing Project Using Fabric Scraps
Easy DIY Fall Wreath With Fabric Flowers