Easy to follow sewing crafts on how to make ribbon lanyard tutorial. An easy DIY craft project for kids and grown up. Use the colorful ribbon for fun.
Use This Guide To Make DIY Ribbon Lanyard
This DIY ribbon lanyard is a quick project just like this easy fabric flower that you can do for last minutes craft activity with kids. The ribbon is an excellent material for making flower too.
As an Amazon Associate I earn from qualifying purchases. This post may contain affiliate links. Please see the Disclosure Policy for details.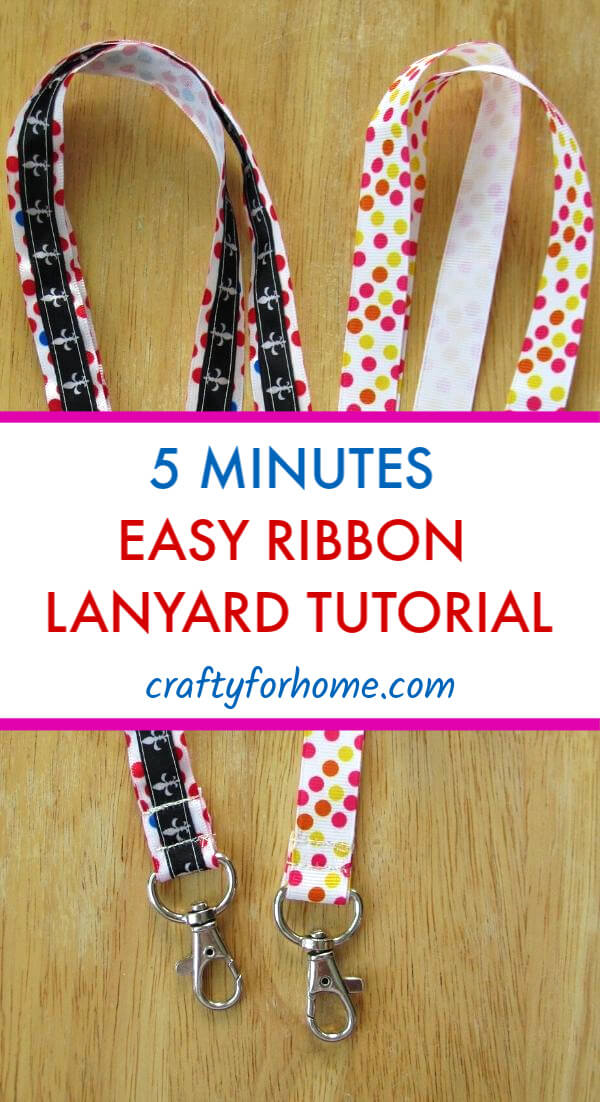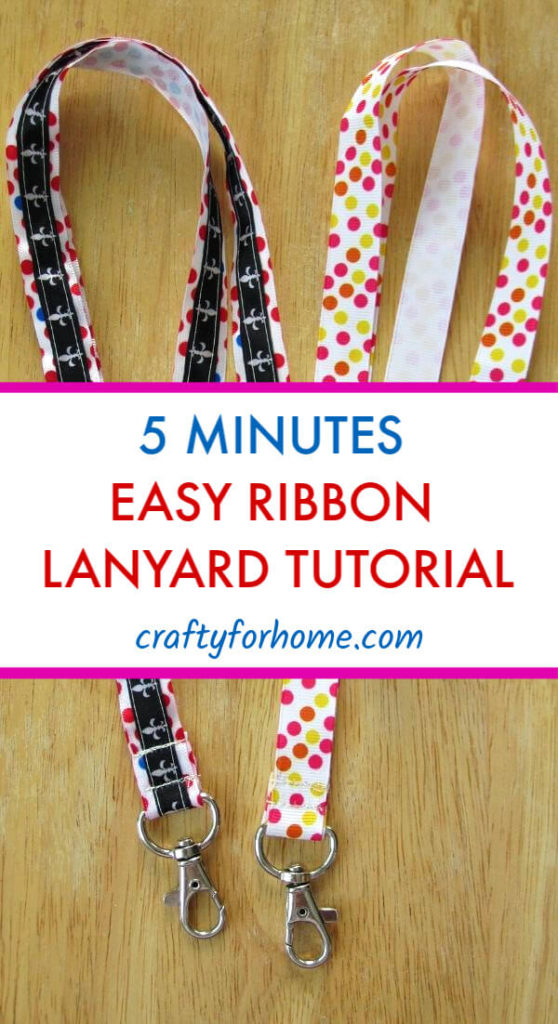 Every year I prepare lanyard for my kids. It is also useful for keys collections. Instead of the dark color ribbon which is sometimes very hard to find when we forgot to put it somewhere, I use the colorful one for this easy project.
My kids chose these ribbons when we were at the local Michaels store. Any dollar store carries some cute ribbons too in the craft section.
What you need to make ribbon lanyard
How To Make A Lanyard With Ribbon
Cut the ribbon as you need for the length.
I cut the ribbon 38 inches long. Burn the end of the ribbon to prevent fraying.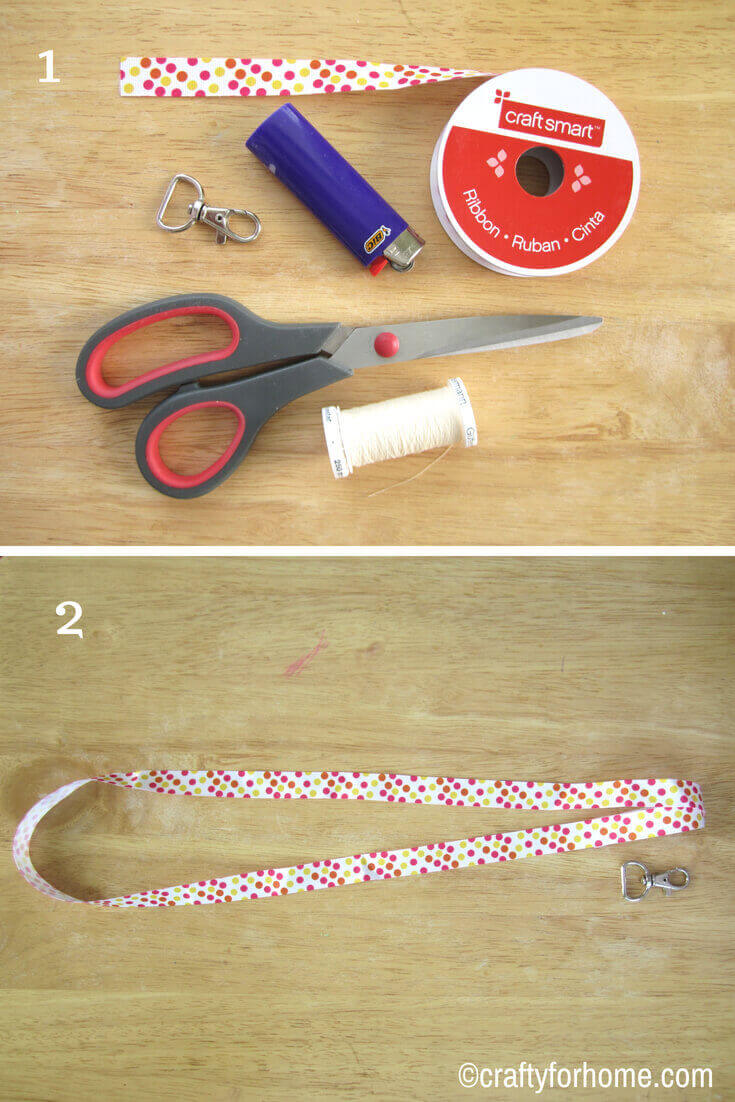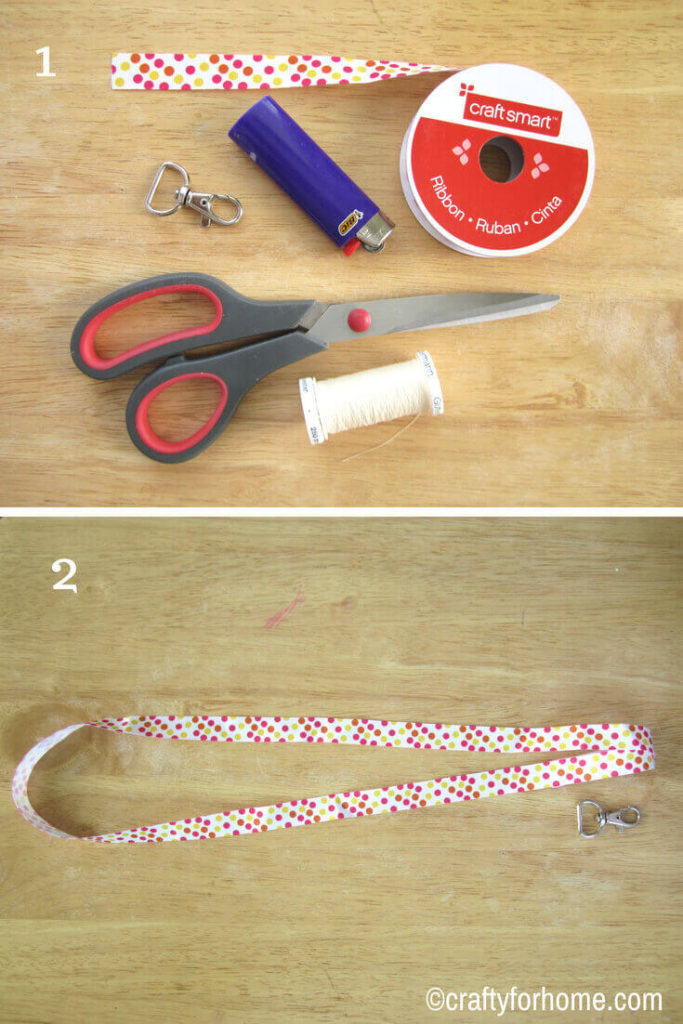 Lay it on the surface like a table, shape it like an exclamation mark as shown on the image above. This way to avoid the ribbon gets twisted once the lanyard finished.
Install the clasp
Insert the ribbon through the clasp ring.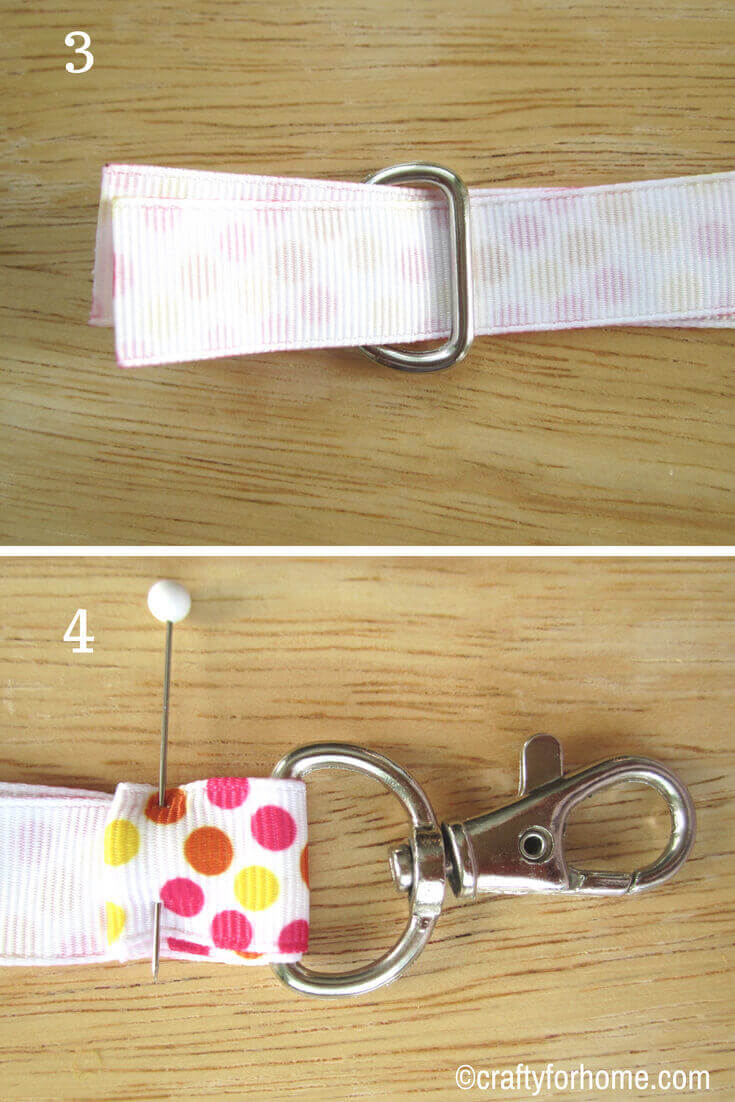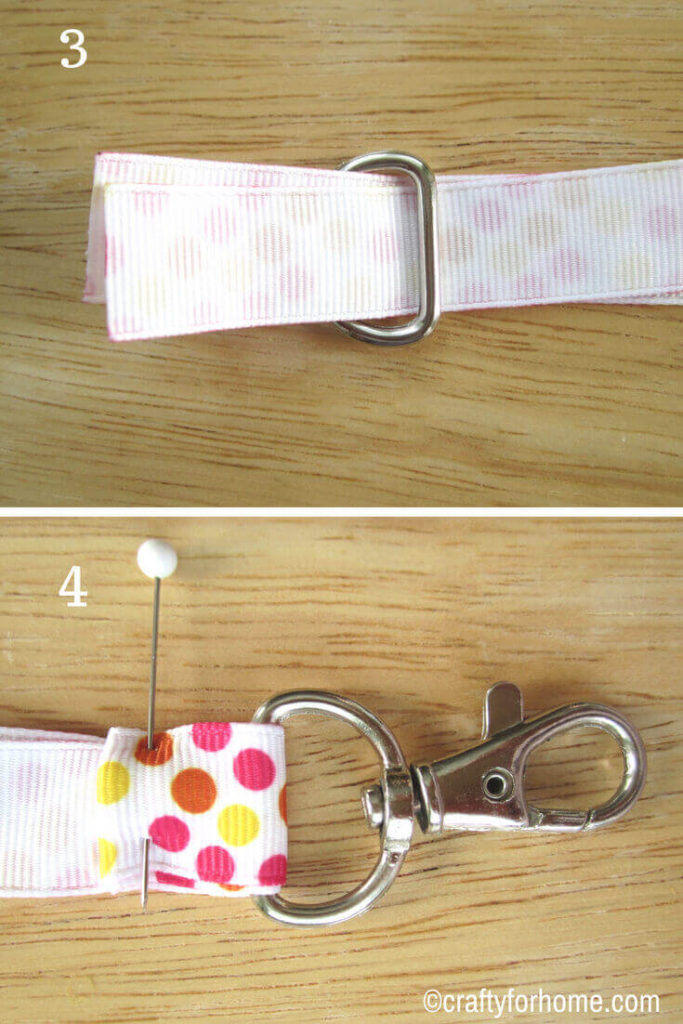 Position the clasp in about 1.5 inches from the end of the ribbon, and this will give enough length to fold before you sew it.
Pin the ribbon
Fold the end of the ribbon twice then pin it before you sew it. The pin also helps the ribbon stay in place, as it is a slippery material.
Sew the ribbon
You can use a sewing machine to straight stitch as it shows in the picture above. If you don't have sewing machine available, hand stitch work well too because this is a straightforward project even kids can do this with adult supervision of course.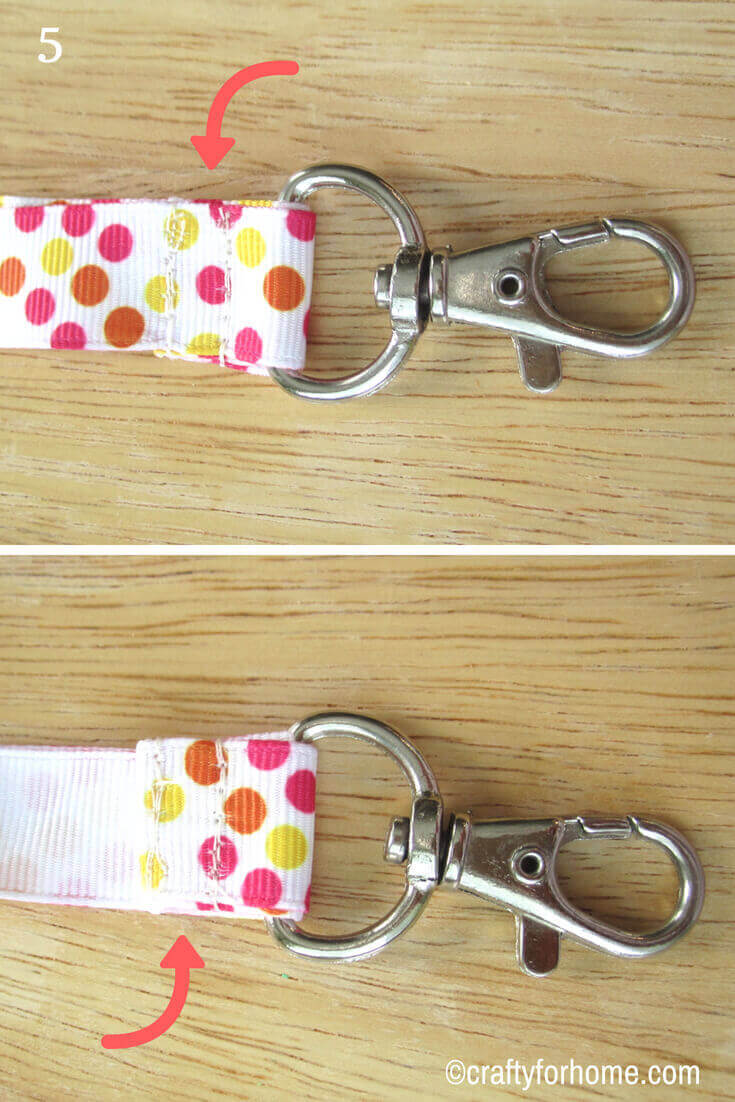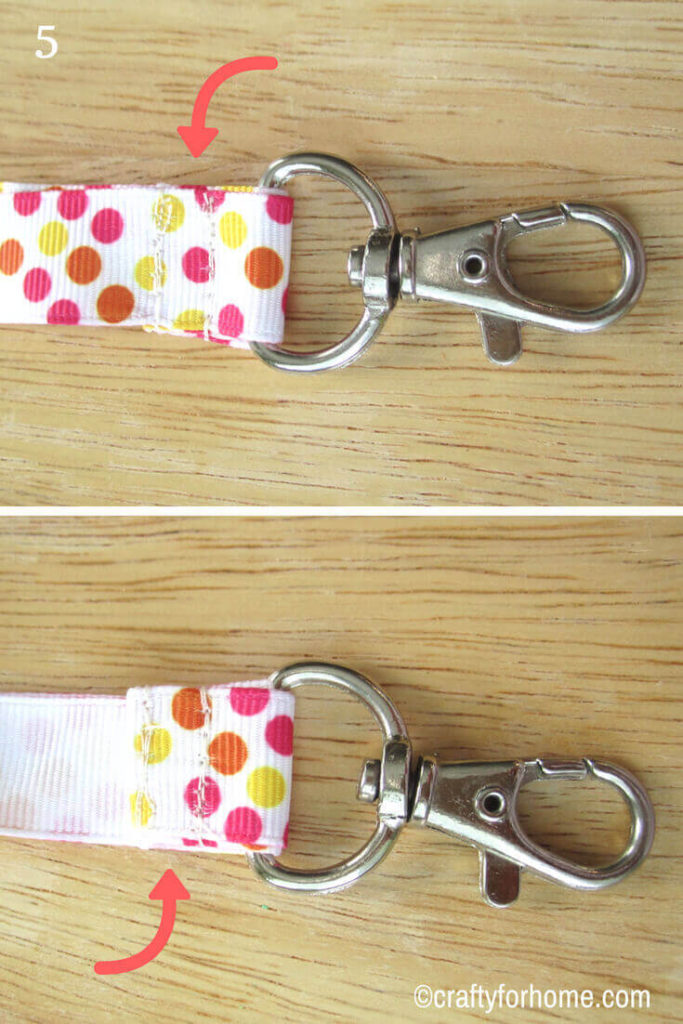 I use a sewing machine to stitch it back and forth a few times. Sew the ribbon twice as it shows in the picture above with the arrow pointing on. You can see there are two lines of stitches (image no.5).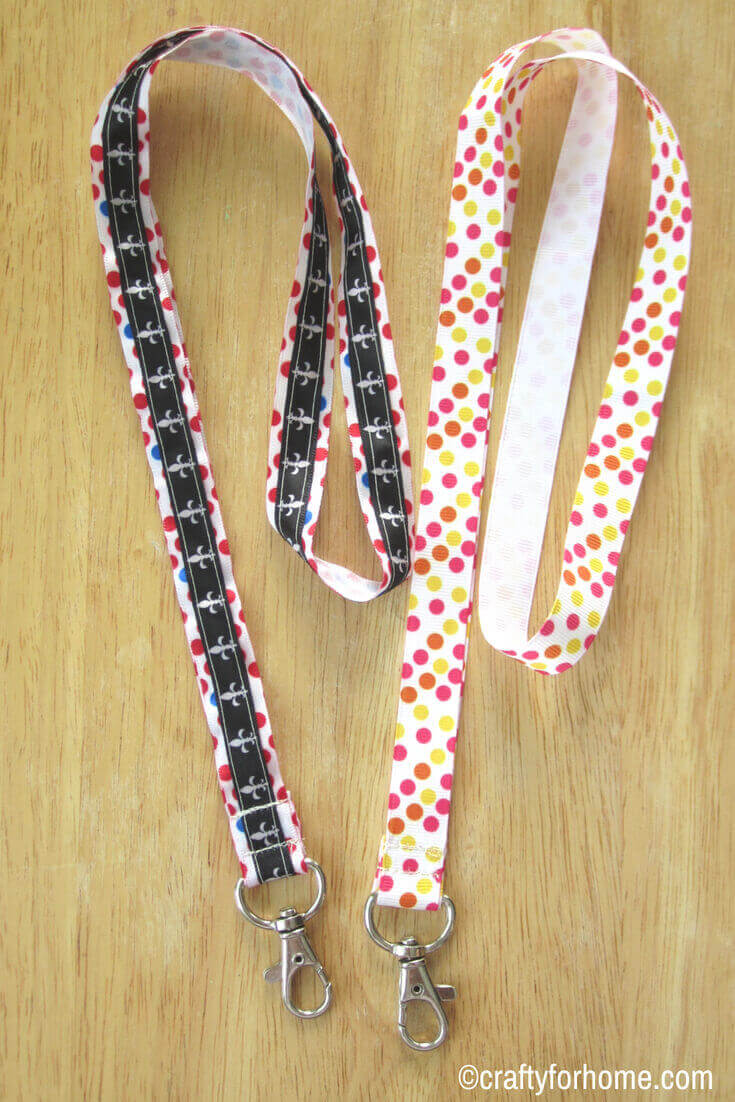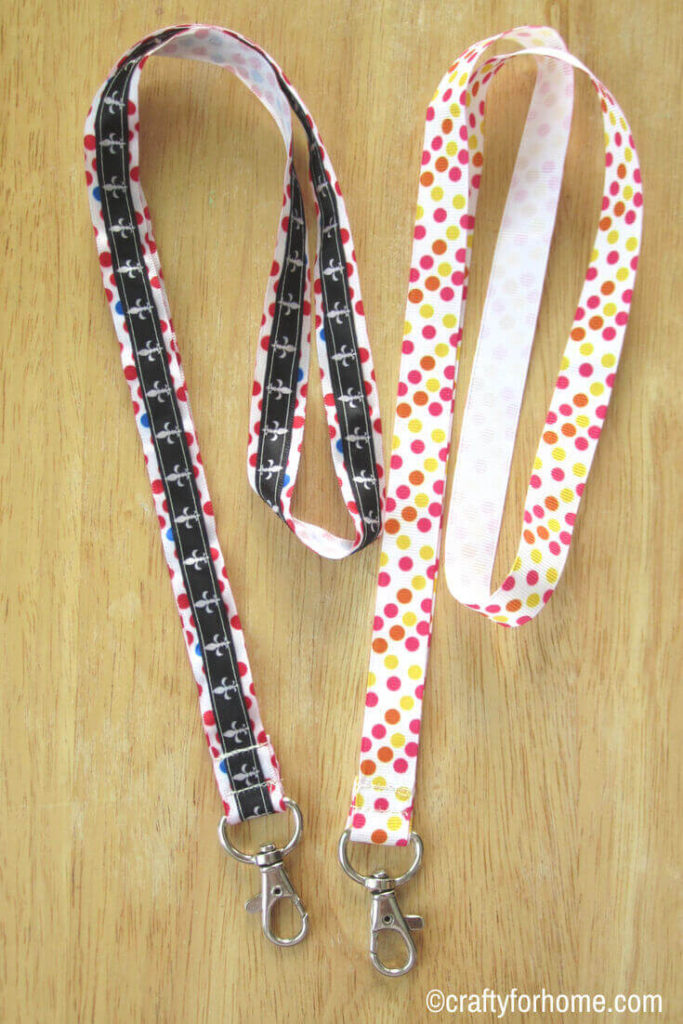 There you go, your simple ribbon lanyard is ready to use. This project only took five minutes to make it. The final length is about 17 inches long. You can also mix and match different ribbons just like the one I made on the picture above.
My kids use it for their school bus pass. The ribbon is a light material, so it won't be bulky when they store it in the backpack pocket. They just rolled it and kept it in the small ziplock bag before putting it in the backpack.
This DIY ribbon lanyard is so easy to make in just 5 minutes. #ribbonlanyard #lanyard
Click To Tweet
I also use the same clasp for making a little sanitizer bottle holder. The lobster clasp is perfect for attaching it to their school backpack.
This DIY lanyard also works well for id card, name badge, key holder, or any pass card. Make a bunch of it as it is a great gift for teacher or nurse, excellent for birthday favor, traveling, student bus pass, birthday gift, there are lots of possibilities to use the lanyard.
More easy sewing project tutorials.
DIY Lanyard From Ribbon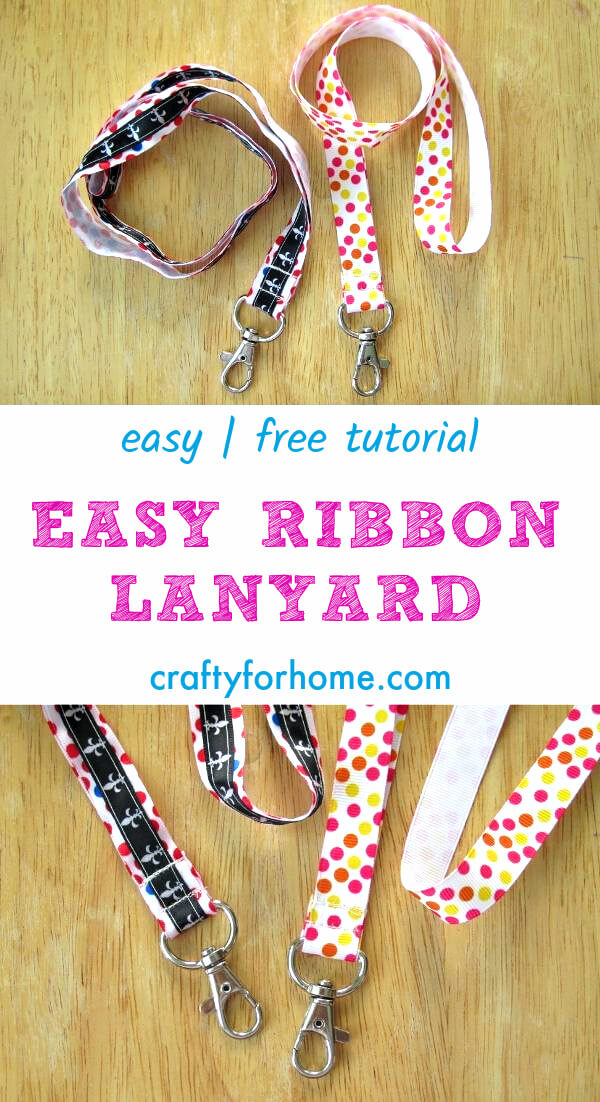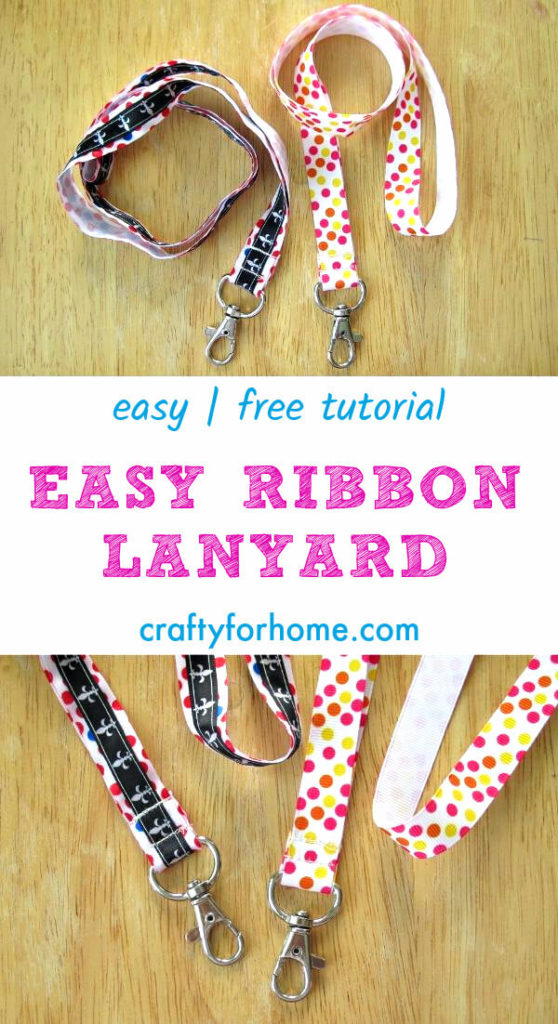 This easy fabric bookmark tutorial is one of a quick sewing project to turn the stash of fabric scraps into something that would be a perfect gift for someone who likes to read.
Easy sewing crafts on how to make a fabric wristlet with side ruffled for keyfob holder.
Make this 10 minutes pocket tissue holder from fat quarter cotton fabric perfect for traveling, back to school craft or DIY gift ideas.