Easy sewing crafts on how to make a fabric wristlet with side ruffled for key fob holder.
A Useful Guide For DIY Ruffled Fabric Wristlet
For everyone who has a lot of keys around the house from house keys, car keys, or locker keys, you might want to make this easy fabric wristlet to organize them so it will be easy to carry around and easily find them. I sometimes got a hard time to find it when these keys were tucked way in the bottom of my purse.
As an Amazon Associate I earn from qualifying purchases. This post may contain affiliate links. Please see the Disclosure Policy for details.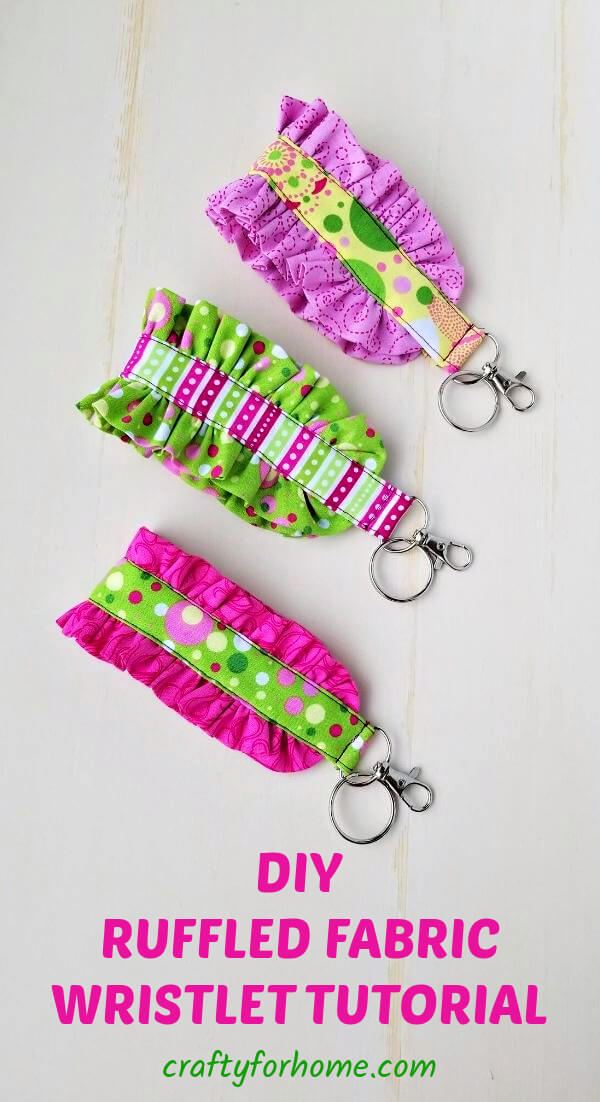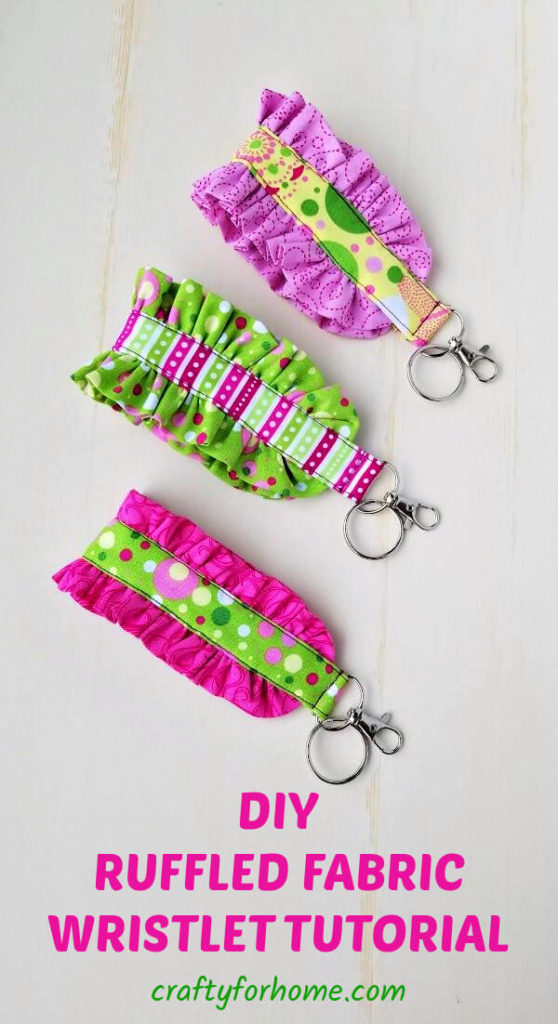 For this purpose, I make this easy fabric keyfob holder with a ruffle on both sides. I use the leftover fabric from the mitered napkins and Easter egg placemats.
I use the same lobster claw clasp for attaching these keys, same as the one for the ribbon lanyard I made a while ago because it is easy to clip on anything. If you have multiple keys, you might want to use the key rings to organize them then hang it on the clasp.
Why Do You Need Keyfob Holder
Imagine, when you look for the car key, did not realize it is on the washer with another laundry. Yup, I got that, and I know it is a careless thing to do, but hey, things happen.
So, yea, the keyfob wristlet is one of many solutions to keep all the keys in one place.
You can also use this fabric wristlet for your mini purse handle, sanitizer gel pouch, wallet, ID card, bus pass, or phone case. The claw clasp makes it easy for you to clip it on anything you need.
What You Need To Make Keyfob Wristlet
Lots of material you can use for making this keyfob holder. You can use new materials or upcycle items you already have.
Grosgrain ribbon is the easiest material to work. The non-frayed edge will require minimal sewing process.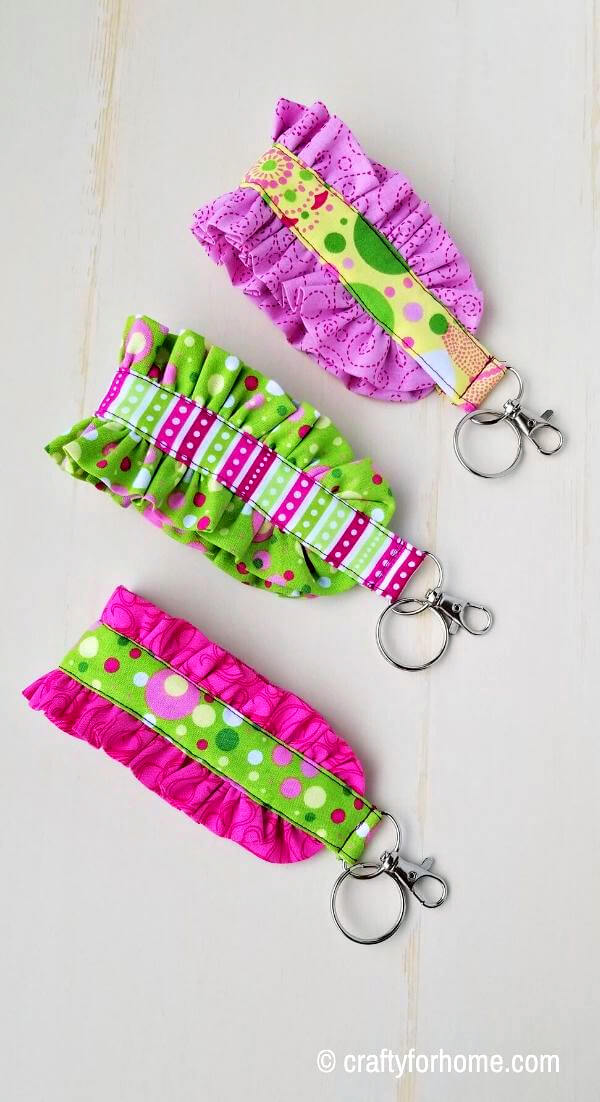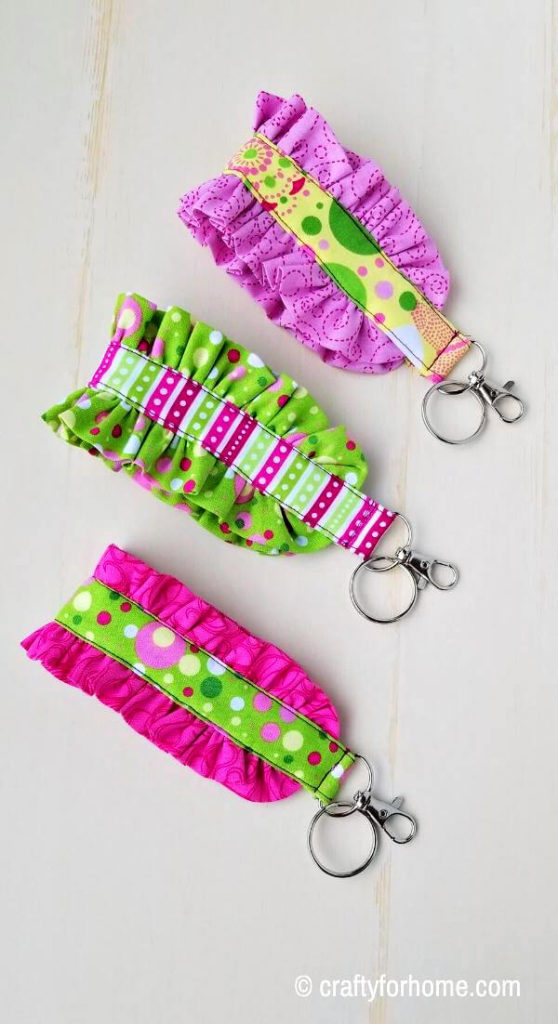 Fat quarter cotton fabric has so many beautiful prints available. Leather or faux leather also a great material to use.
You can also repurpose something you have around the house like used shirts, worn jeans, pillowcase, or fabric scraps. This simple project is great for turning something worn out into something new.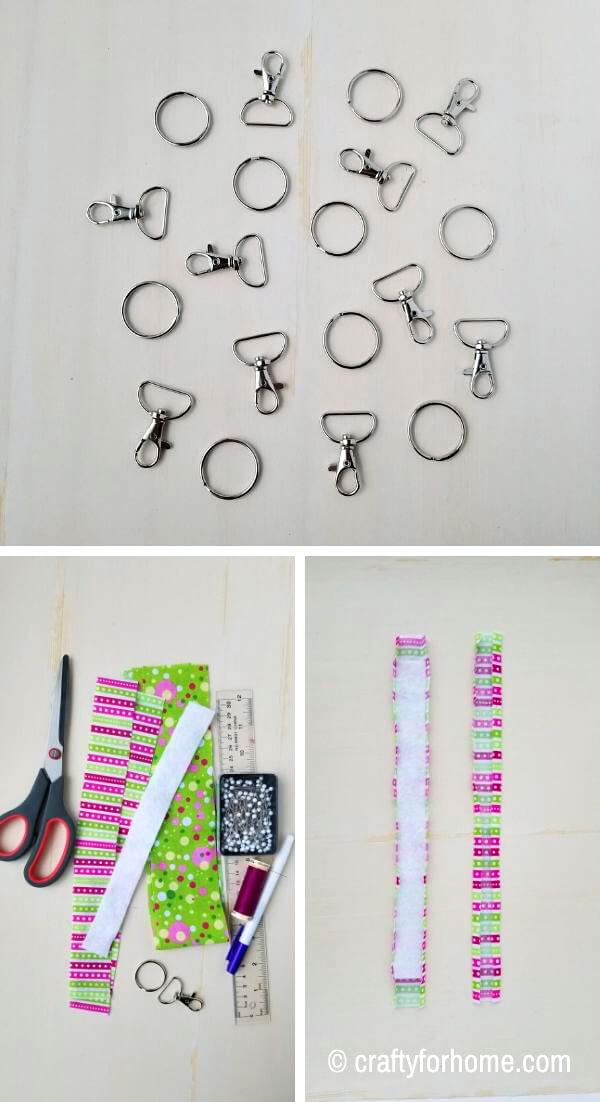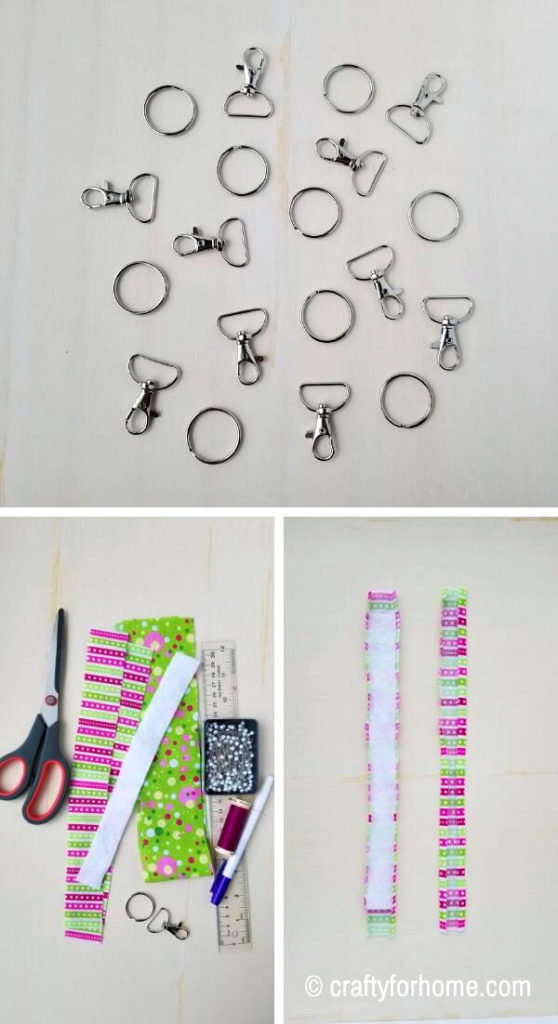 For this project, I use cotton fabric. One sheet of a fat quarter cotton size is enough to make four sets of wristlets. You can also use two different fabric prints for mix and match between the wristlet and the ruffle.
Thread
Scissor
Ruler
Pin
Ironing machine
Sewing machine
How To Make Ruffled Fabric Key Fob Holder
See the Ruffled Fabric Key Fob Holder video tutorial here on my YouTube channel, and subscribe for more videos.
Cut the fabric into 2 rectangles (fabric A) size 1.5 x 12 inches and 2 very long rectangles (fabric B) size 2 x 21 inches. Cut the fusible fleece or quilt batting into 1 rectangle size 1 x 10 inches.
Fold the very long rectangles (fabric B) into half lengthwise, and press it with an ironing machine. Fold both edges of fabric A lengthwise about 1/4 inch for the hem. Press it with an ironing machine.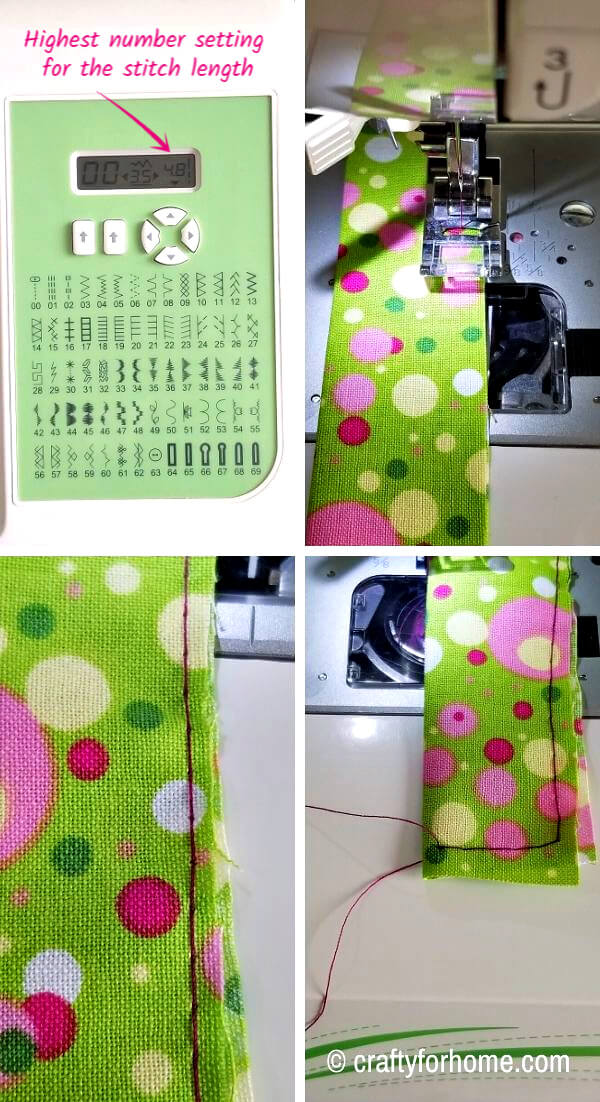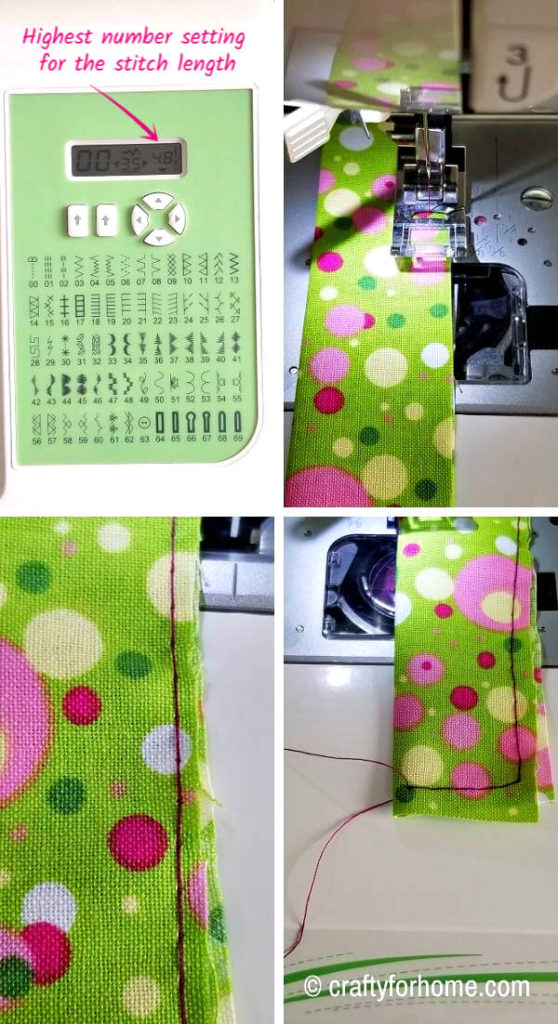 Gather the fabric B for ruffle by using straight stitch but increase the stitch length and no backstitching at the start and the end.
I set the stitch length into 4.8 on my sewing machine. Alternatively, use the hand needle to sew a long stitch. Then pull one of the threads gently. You will get a nice ruffled. Make sure you get enough length into 10 inches long.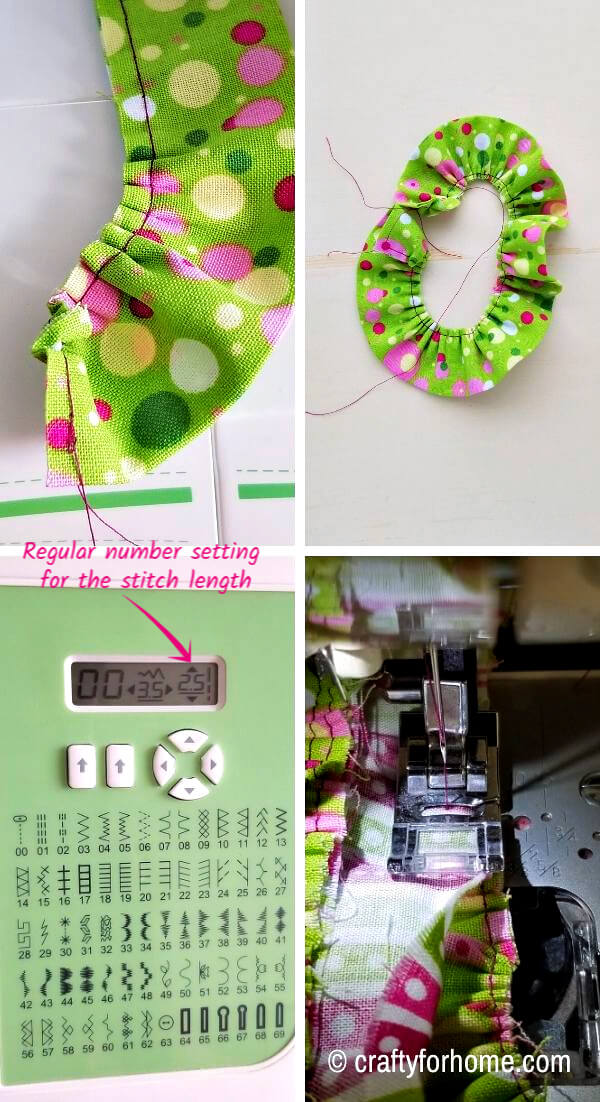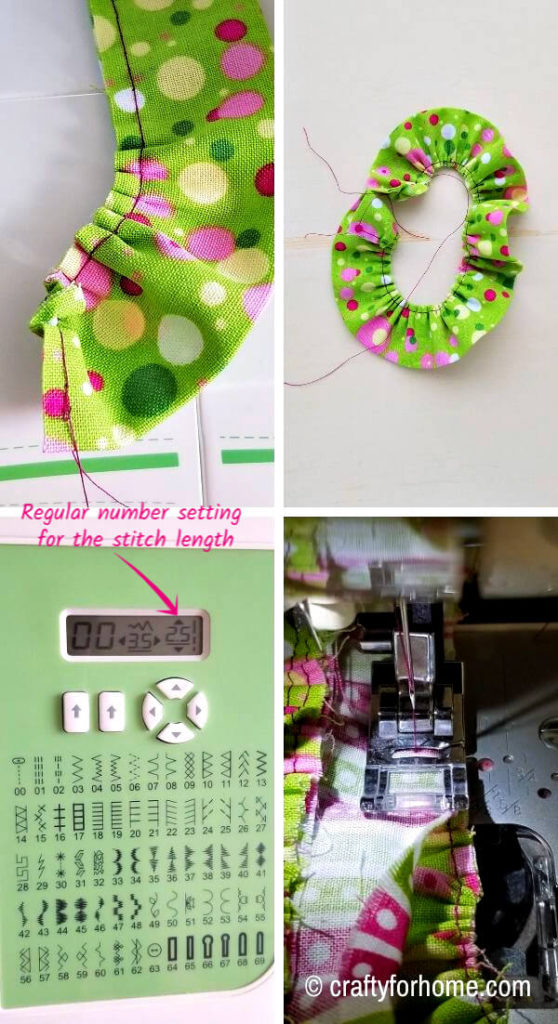 Set the straight stitch into a regular stitch length (mine is on 2.5).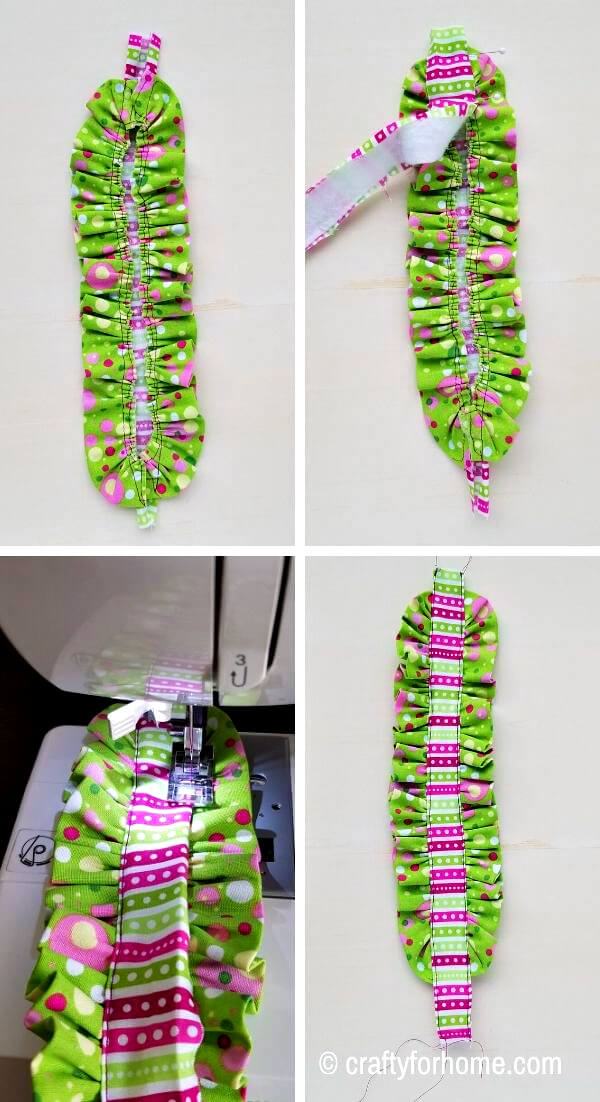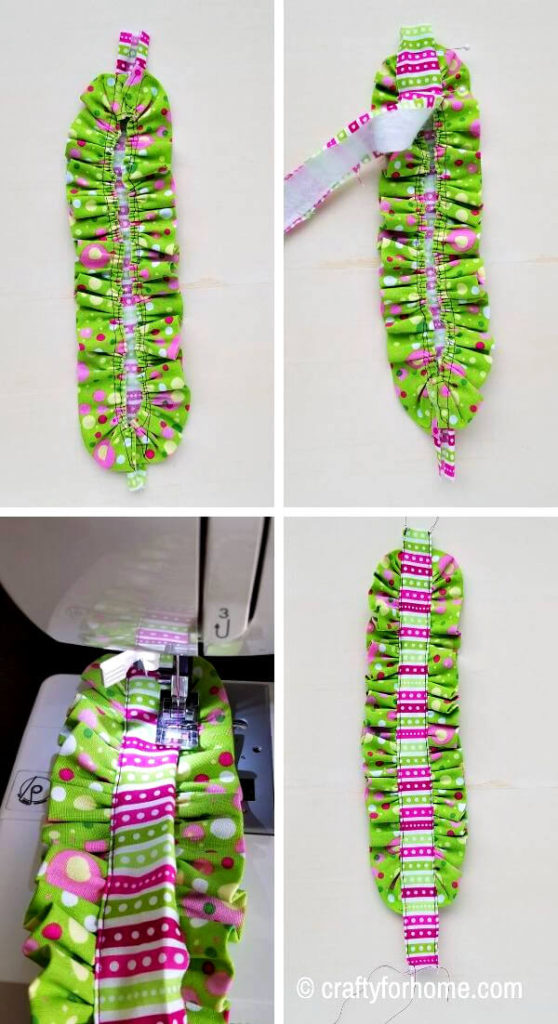 Take one fabric A, sew the raw edge of the ruffle on the folded line. Repeat the process for the second ruffled fabric.
Take another fabric A and put the batting on the wrong side of the fabric between the fold. Sew all together by topstitching the hem of the fabric A.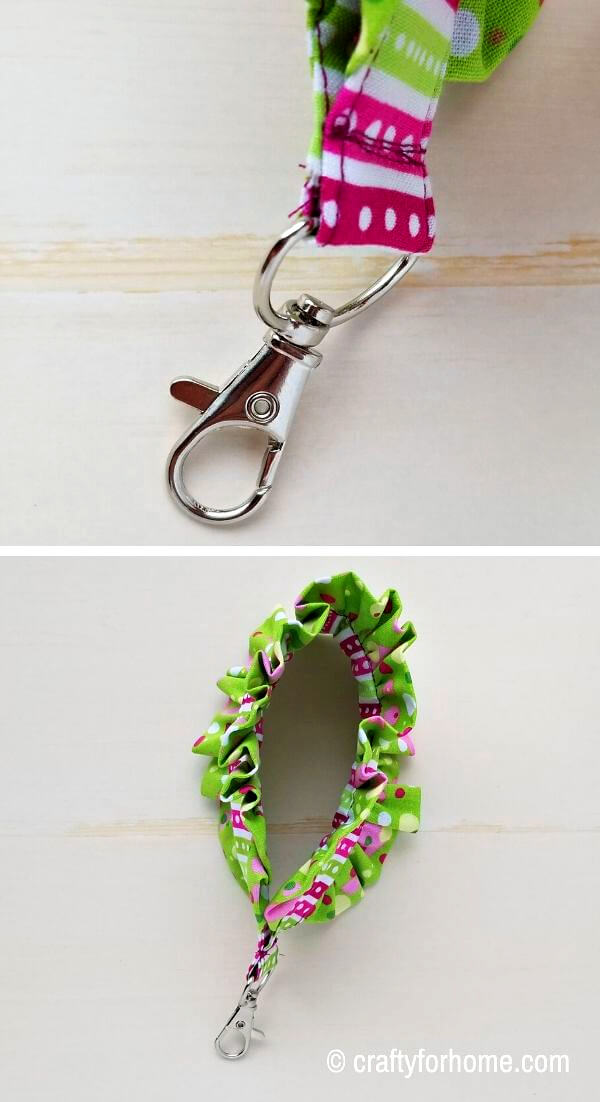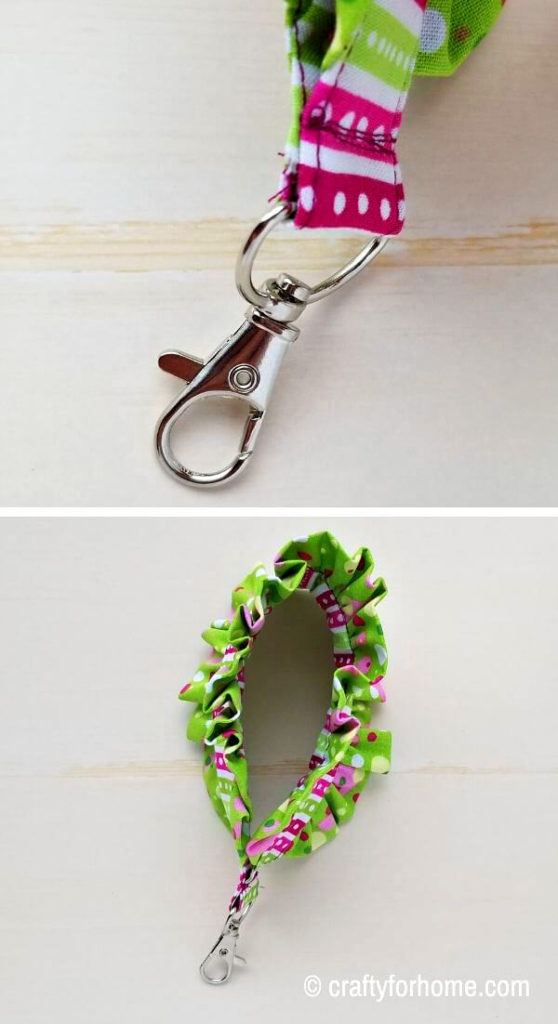 Insert the D ring of the clasp on one end of the wristlet. Sew the end of the wristlet together.
Turn it inside out and put the clasp on the end of the wristlet. Sew it one more time so that the clasp will stay at the end of the wristlet.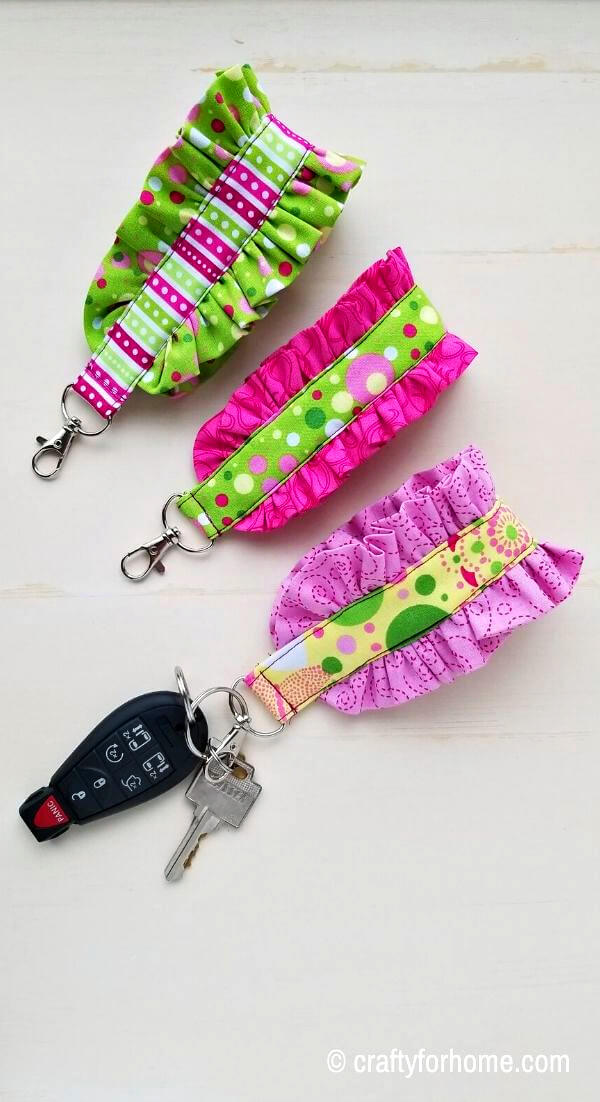 Gather all your keys on the key ring. Then attach on the D ring of the clasp.
Your first fabric wristlet is ready. Got extra time at the weekend or looking for some summer activities? Then use this DIY fabric wristlet tutorial to make more of wristlet sets.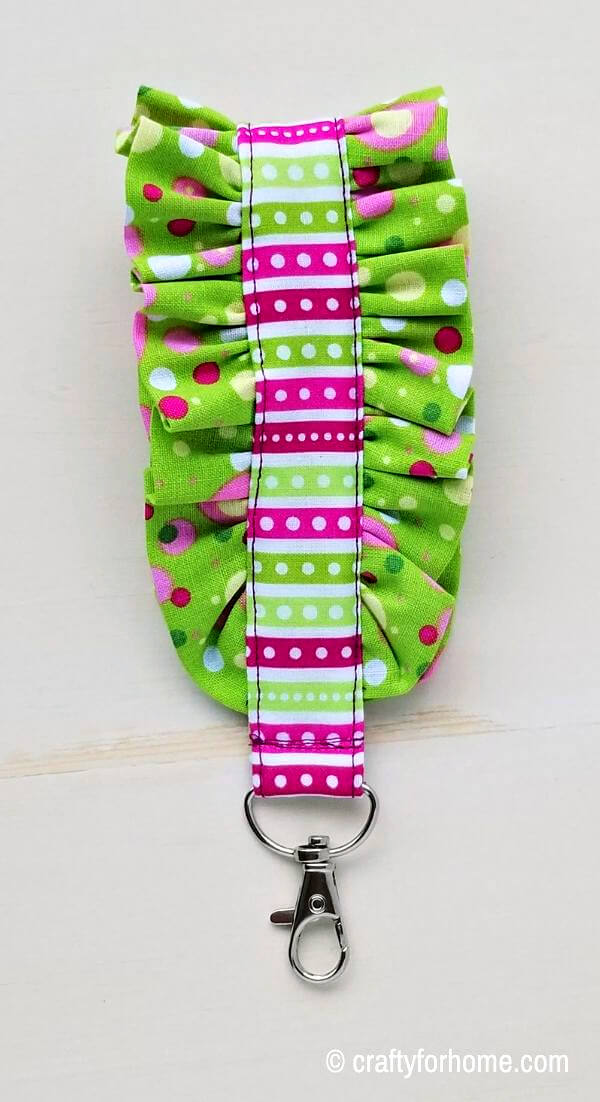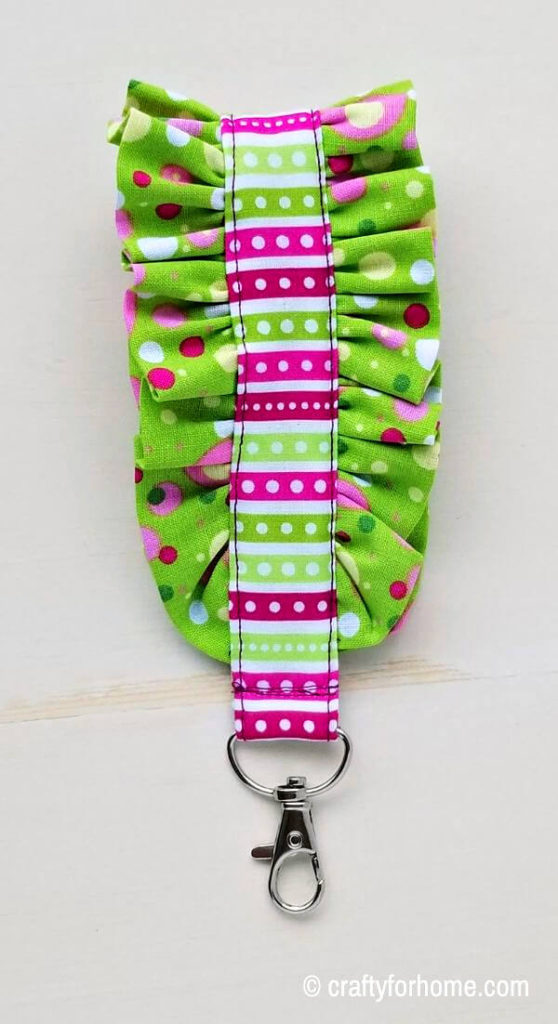 Maybe you will have more sets ready. No worries! You can give it as a homemade gift for loved ones. You can also personalize the color for their preferences, or upcycle their shirts into something new.
Make this ruffled fabric wristlet for your keys or purse. #keyfobholder #DIYwristlet
Click To Tweet
Something New You Can Make From Fabric Scraps.
This ruffled key fob wristlet will help you to organize all those keys or as a wallet holder.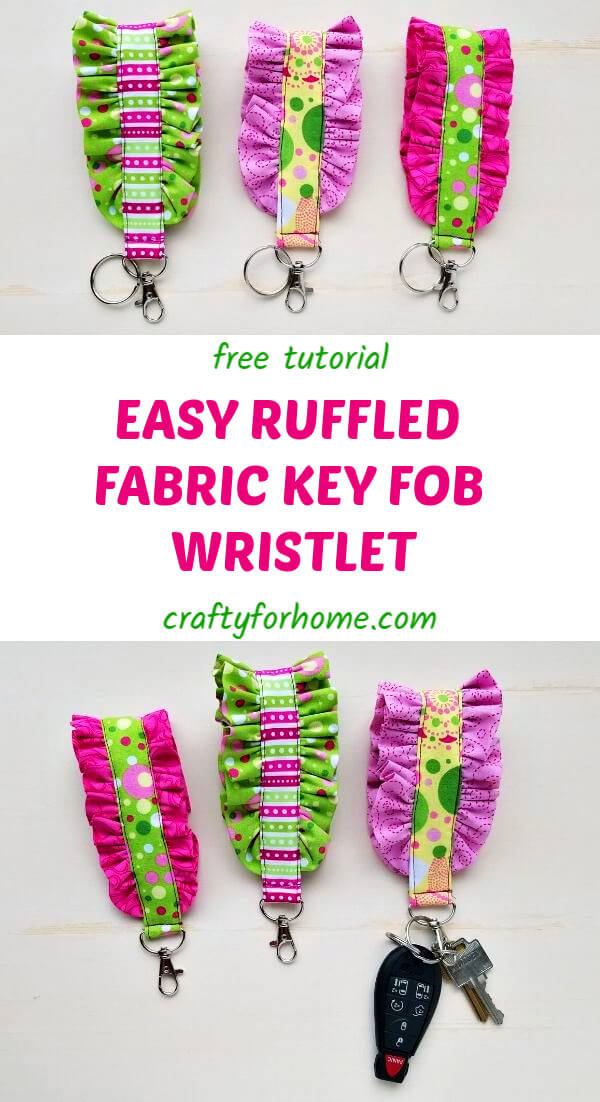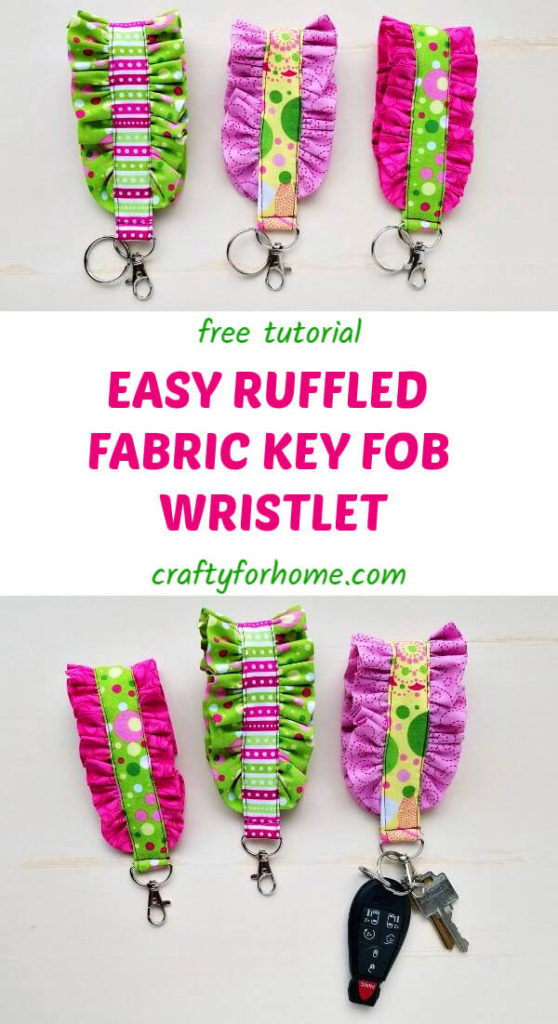 This easy fabric bookmark tutorial is one of a quick sewing project to turn the stash of fabric scraps into something that would be a perfect gift for someone who likes to read.
An easy sewing craft on how to make a mug rug with the easy binding tutorial using the backside of the fabric.
Make this easy DIY fabric ornaments by tracing cookie cutters for decorating the tree or a quick home decor during the holiday season.