This easy, quick, and useful craft tutorial is for a no-sew hand sanitizer cozy made of felt and ribbon, then turn it into a keychain for everyday use.
Use This Guide For Making A No-sew Hand Sanitizer Pouch Holder
If you already make one from charm pack fabric, you might want to make this quick one from felt. No-sew needed. It is a similar way with the felt envelope I made a while ago.
As an Amazon Associate I earn from qualifying purchases. This post may contain affiliate links. Please see the Disclosure Policy for details.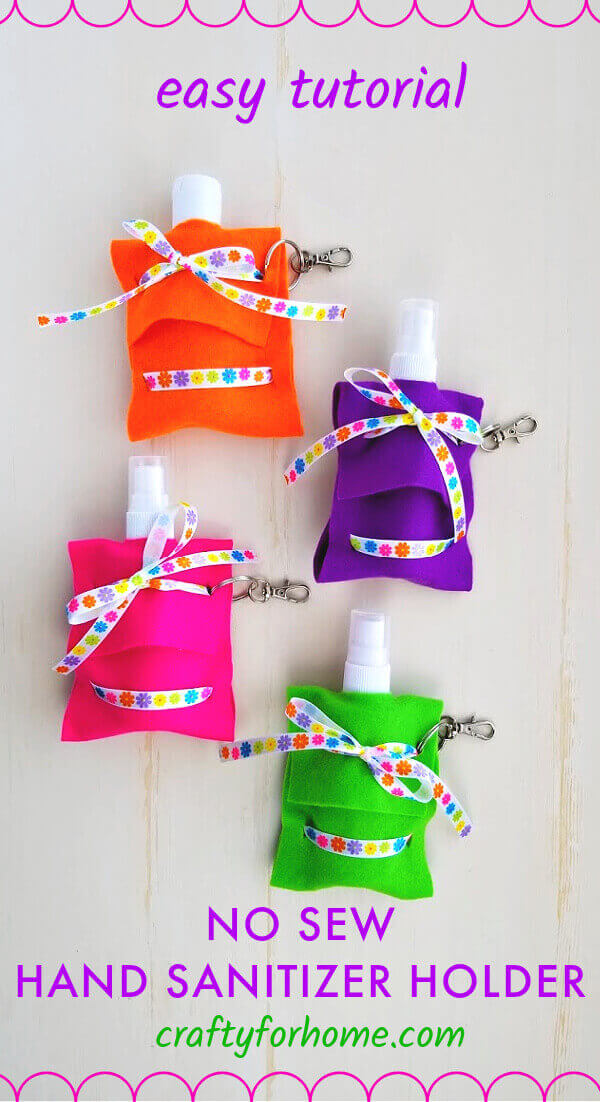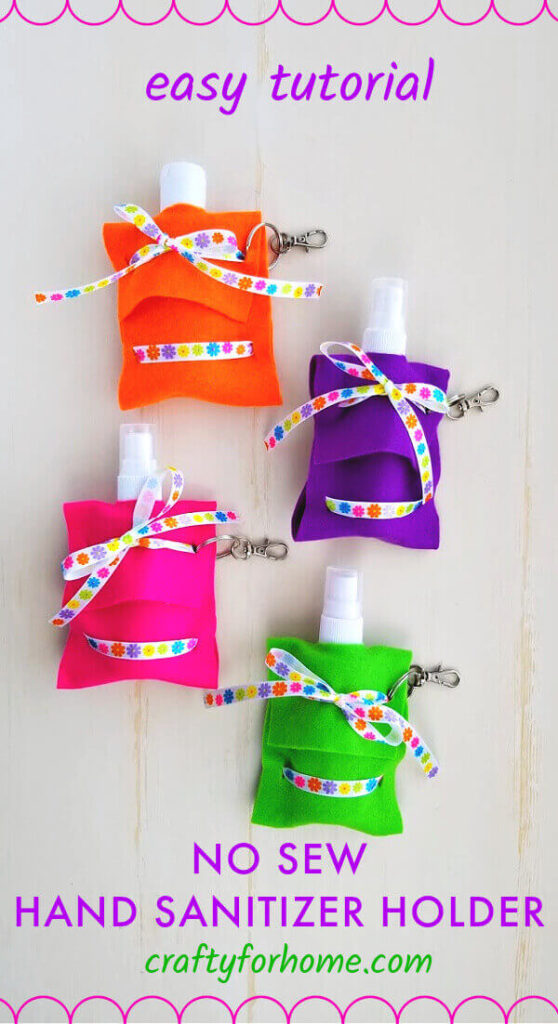 You would only need 5 minutes to make one of the hand sanitizer pouches once you have the supply ready. It is perfect for the last minutes back to school project you can do in one afternoon.
There would be a metal swivel lobster clasp and keyring to attach it into the pouch. So you can use it as a useful backpack charm or keychain charm.
I use the mini grosgrain ribbon size 9 mm or 3/8 inch wide. This ribbon is the perfect size for the pouch.
Supply To Make No-Sew Hand Sanitizer Case
You are going to use felt fabric for this project. Felt is easy to work for fun crafts. This pouch is for the average 60 ml bottle size.
Any dollar store or craft store carries felt fabric. It usually comes in an A4 size sheet or smaller 4″ x 4″ square. I often saw several colors of felt per bundle.
How To Make No-Sew Hand Sanitizer Cozy
See the No-Sew Hand Sanitizer Cozy video tutorial in my YouTube channel, and subscribe for more videos.
Cut the ribbon into 26 inches long and burn the cutting edge to prevent fraying.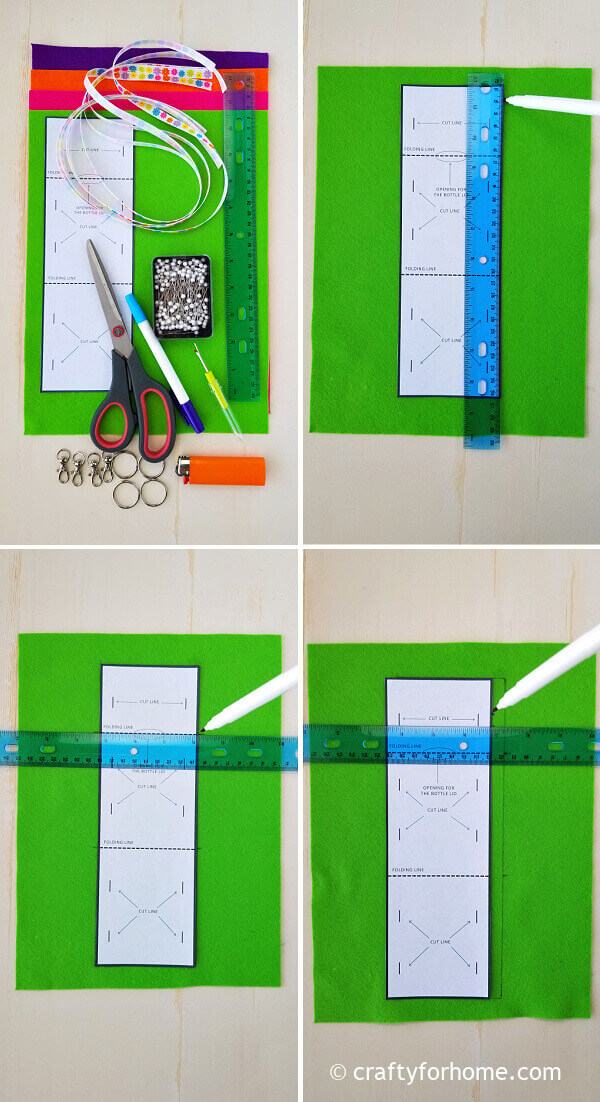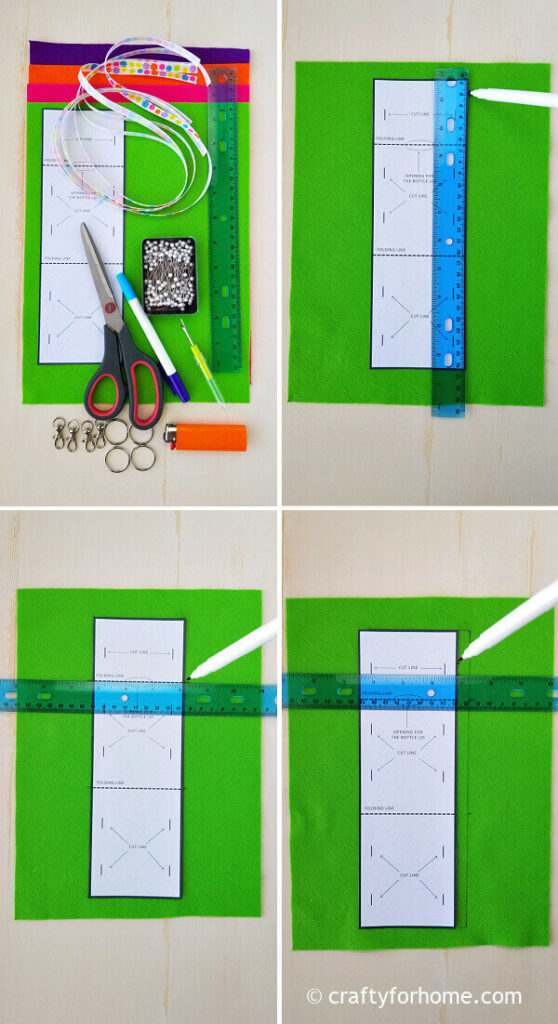 Trace the pouch pattern on the felt.
Trace all the marked cutting lines and folding lines. Cut the felt.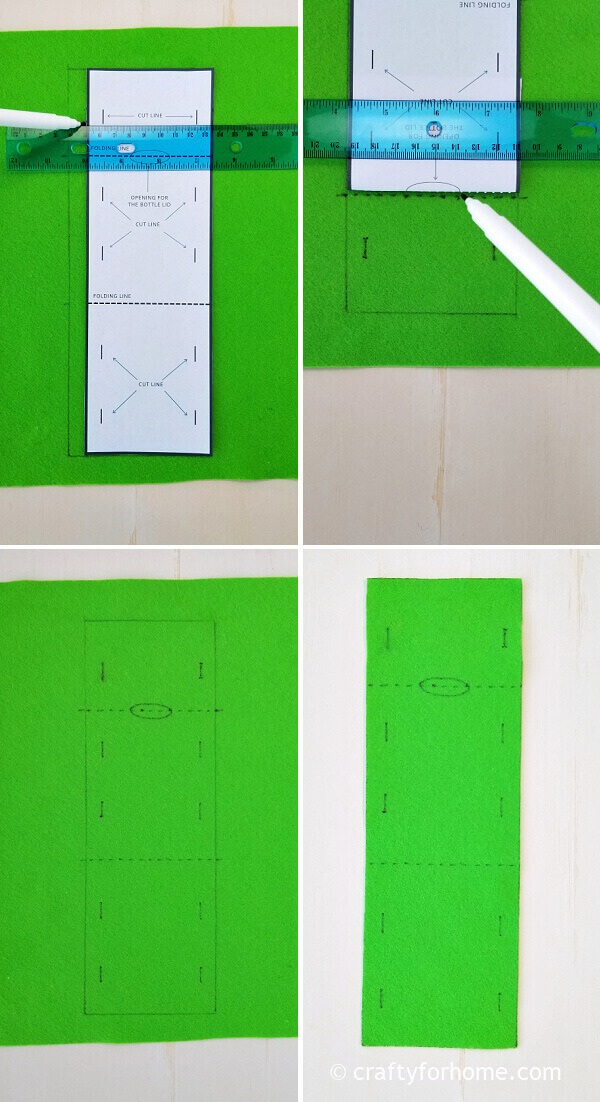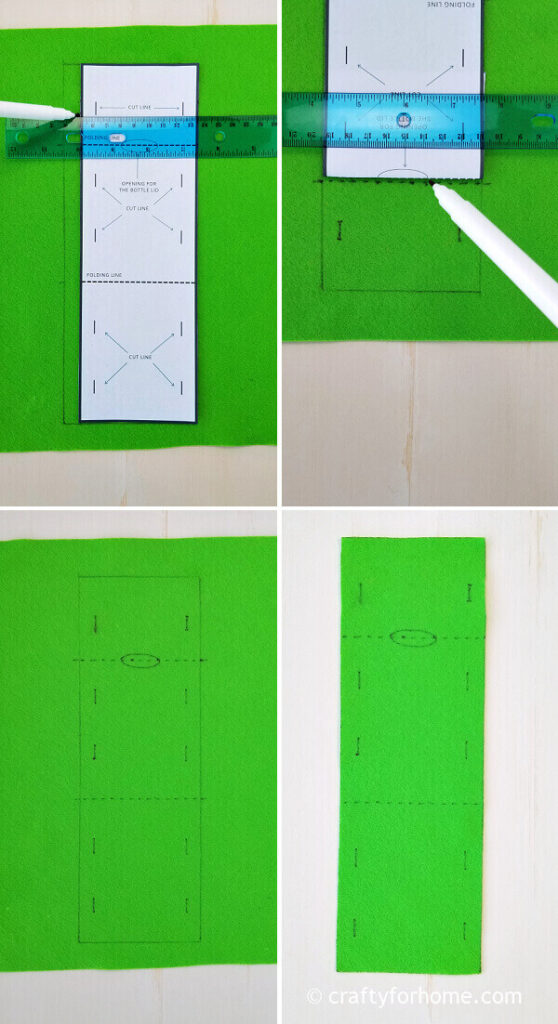 Fold flap side on the pattern to trace the opening hole for the bottle lid.
Trace the oval shape on the felt, fold it, and use scissors to cut the oval shape marked line.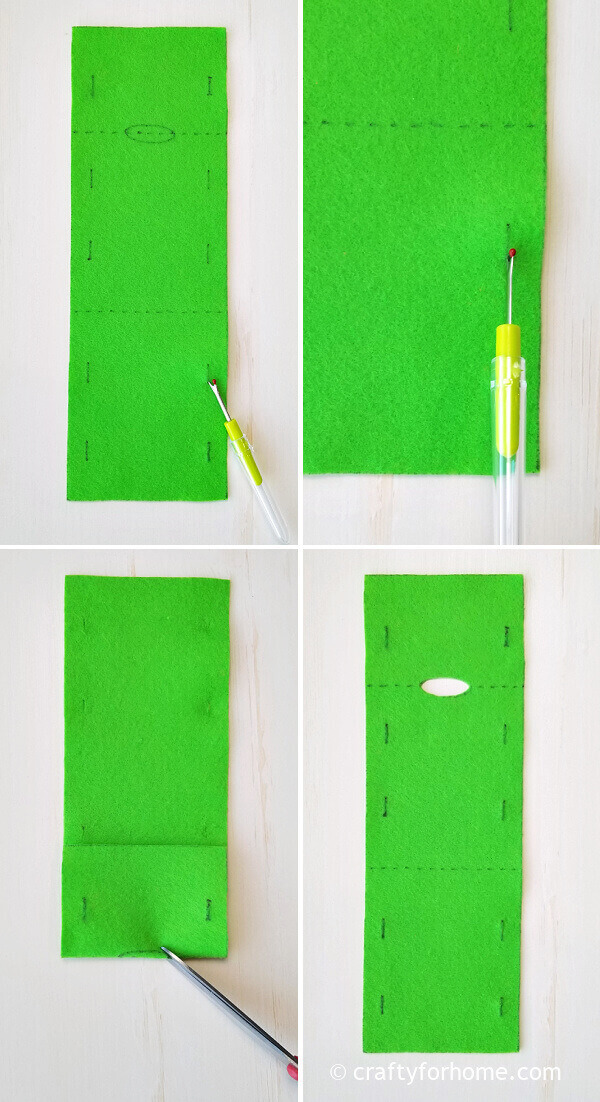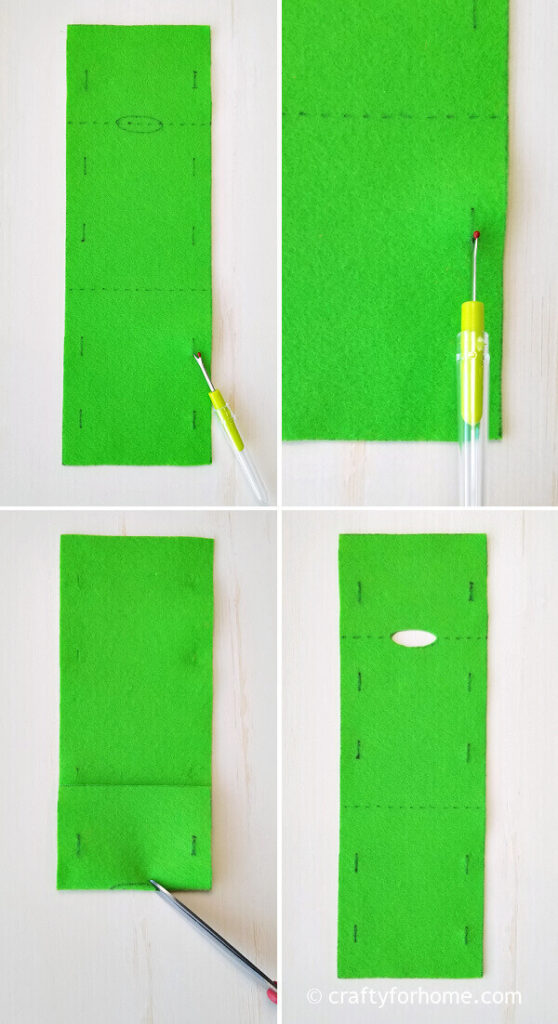 Use the seam ripper to cut all marking lines for the hole (these are for threading the ribbon).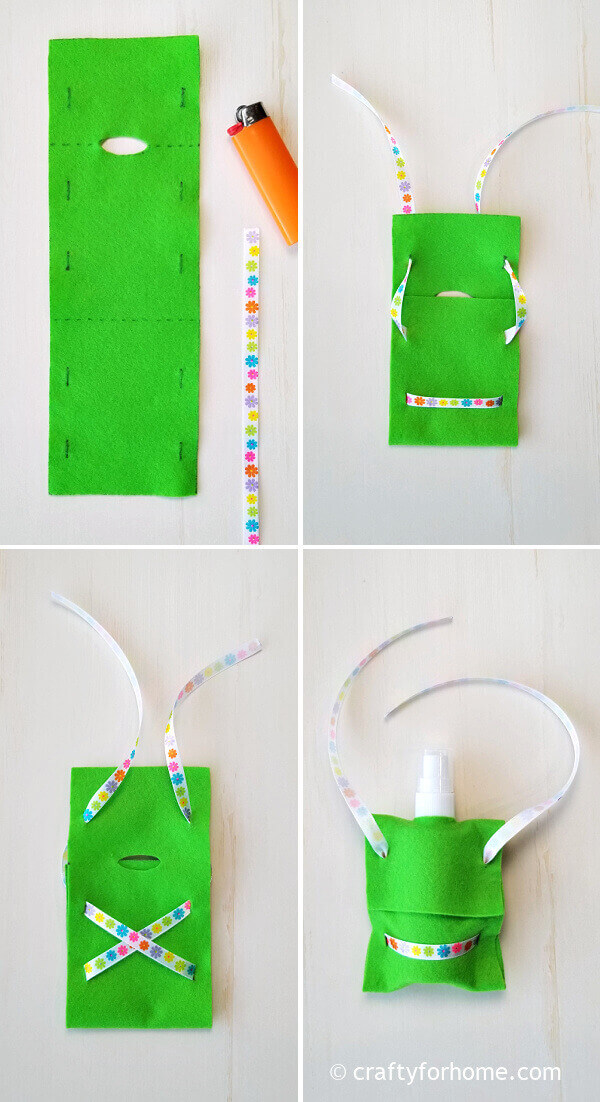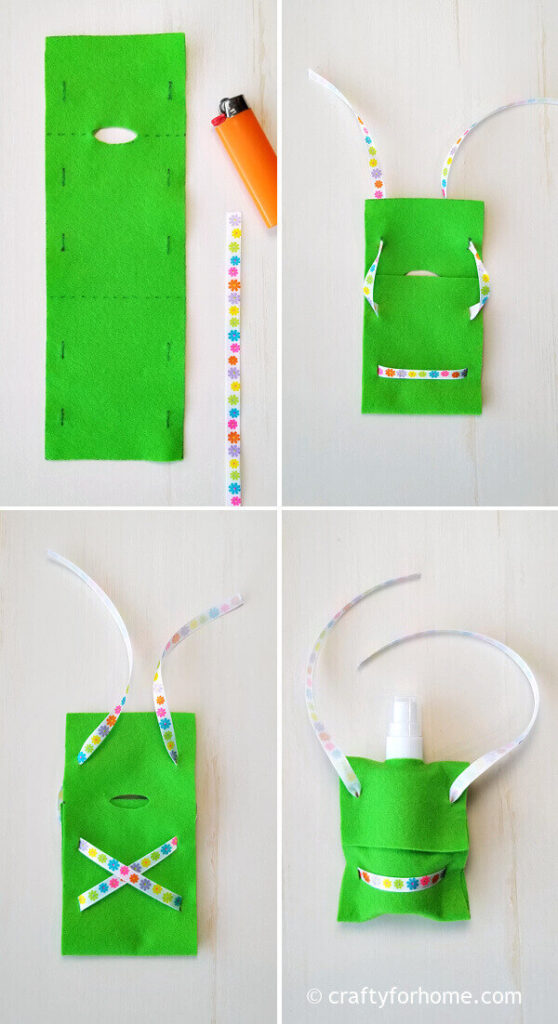 Insert the ribbon on each hole on the pouch.
Insert the hand sanitizer bottle into the pouch. Fold the flap, then weave the ribbon through each hole on the flap. Make a bow to secure the ribbon.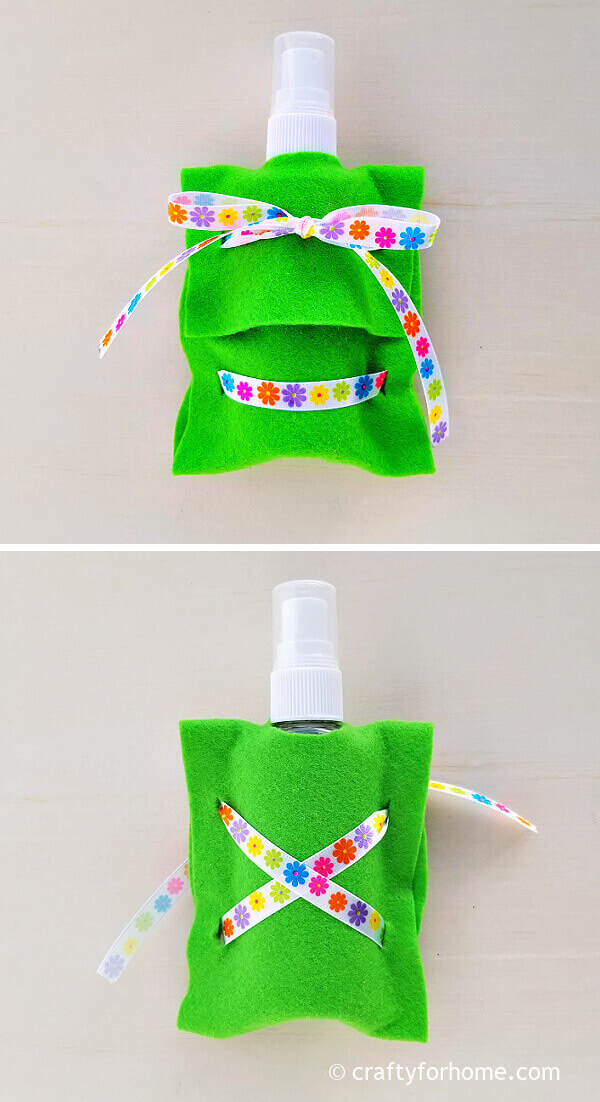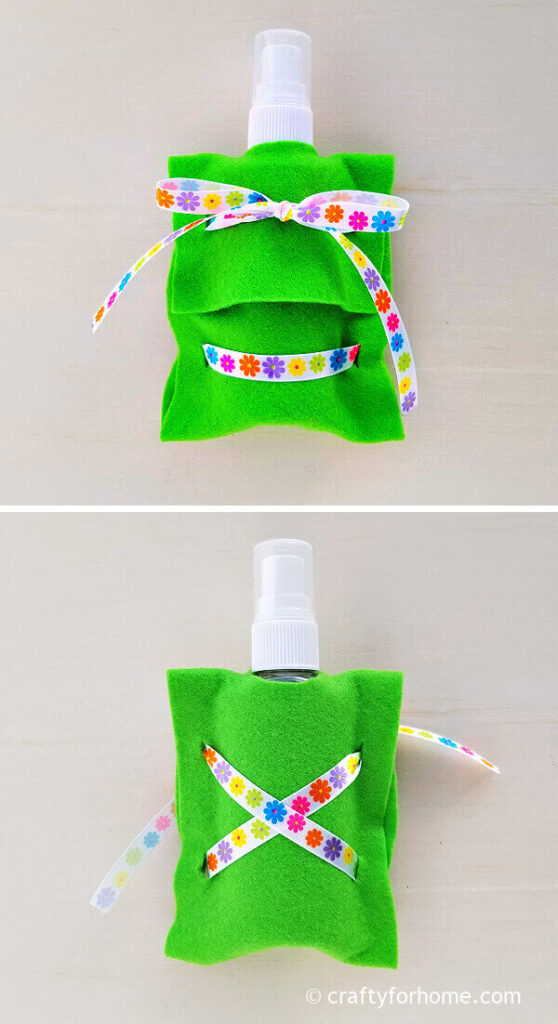 Insert the keyring on one of the holes. Attach the swivel lobster clasp.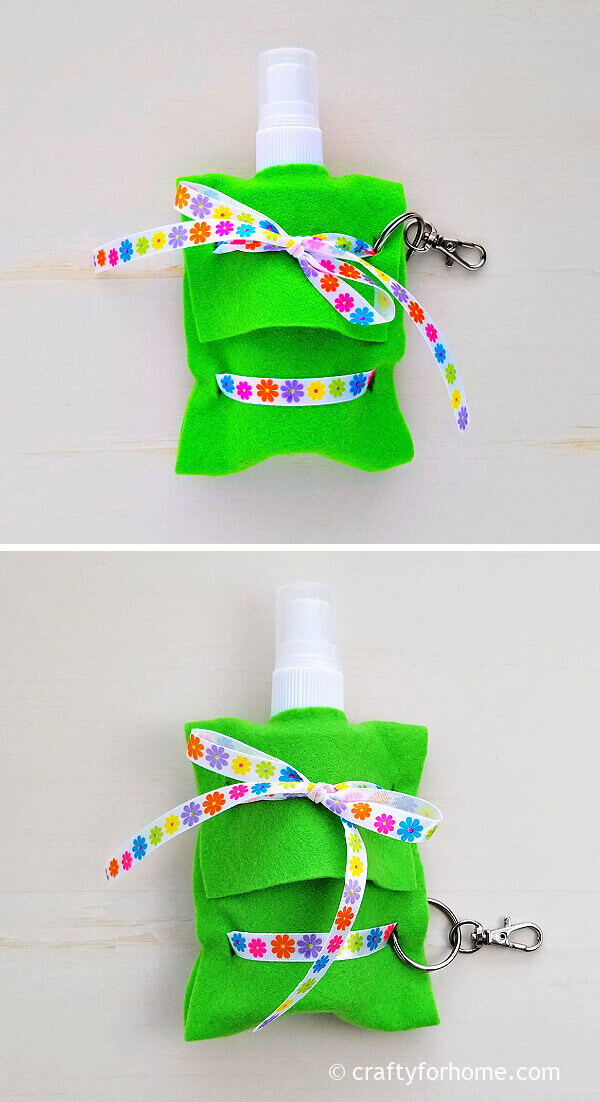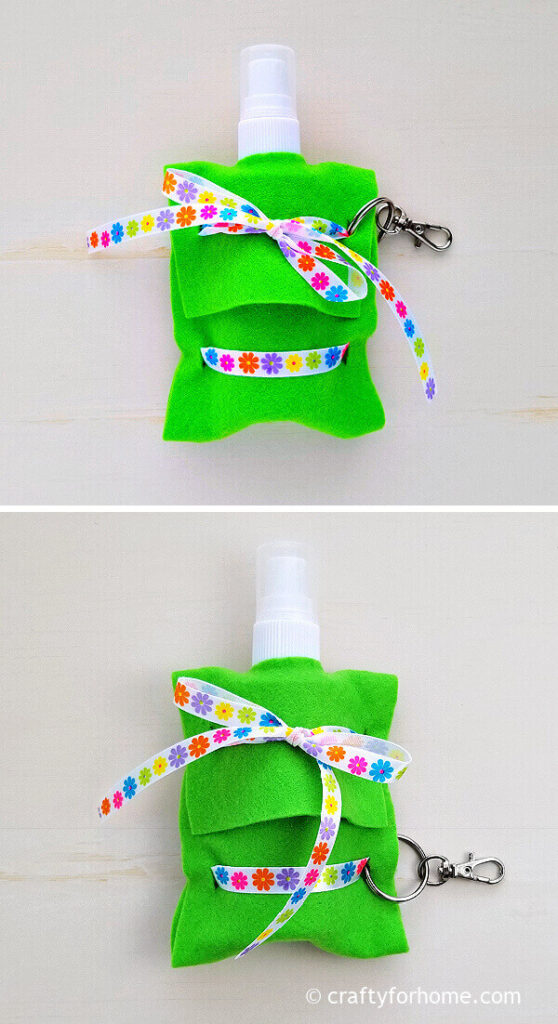 You can embellish this felt hand sanitizer cozy other than ribbon. You can add a flower button or glue the fabric flowers.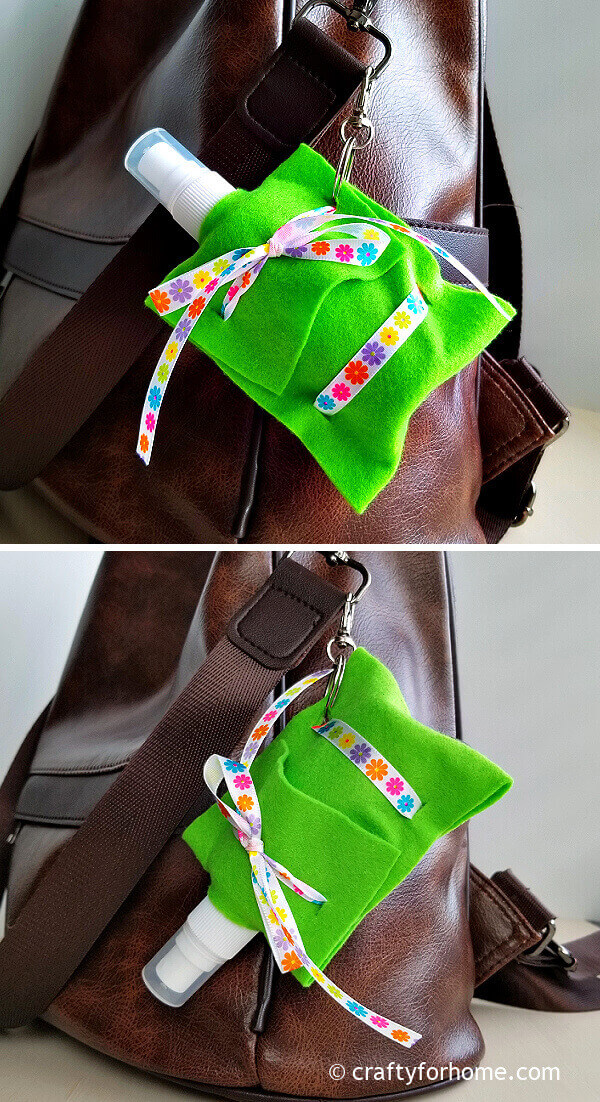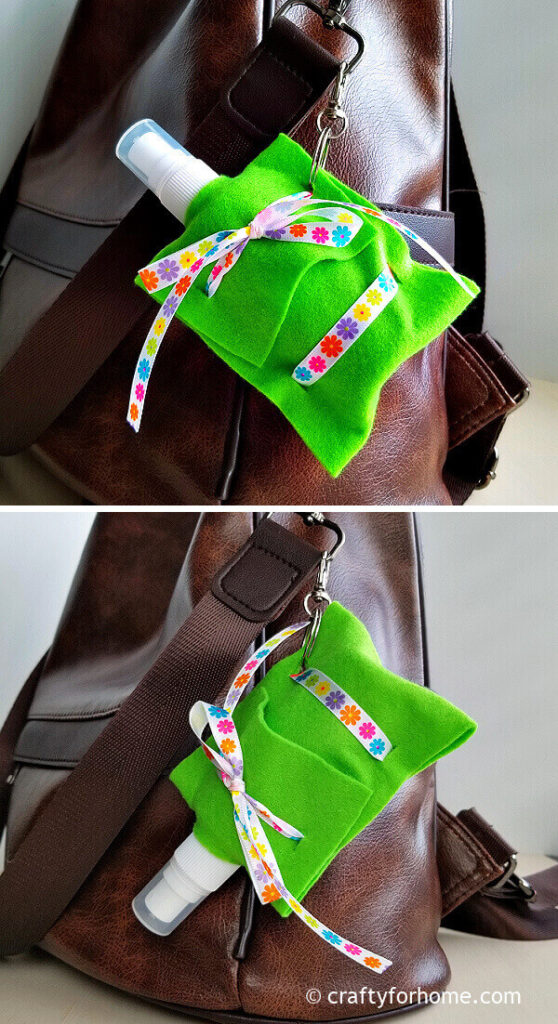 Depending on which ribbon hole you use for attaching the keyring, you can use this pouch upright or upside down. When the bottle is empty already, remove the bow, replace the bottle, and then knot the ribbon again to secure the bottle.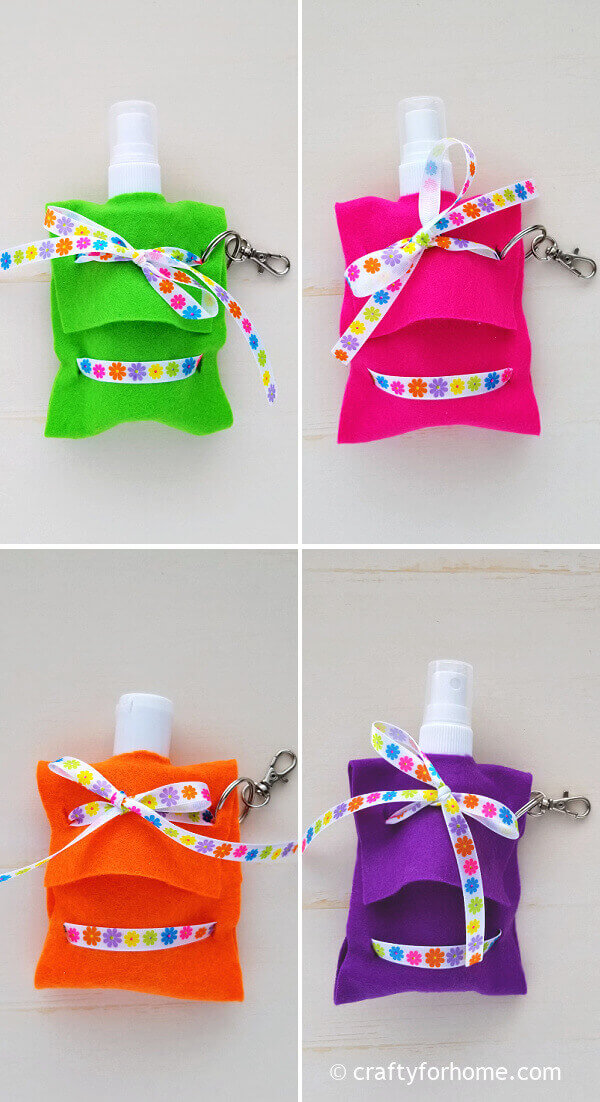 You can easily change the ribbon if you prefer. You can replace the ribbon with small width lace or crocheted lace ribbon.
This no-sew hand sanitizer bottle cozy is easy to make in just 5 minutes.
Click To Tweet
Are you looking for a different style or no time to make one? You can get the ready-made sanitizer case from these crafters.
More crafts from felt fabric.
More easy crafts using ribbon
This No-Sew Hand Sanitizer Cozy Is Easy To Make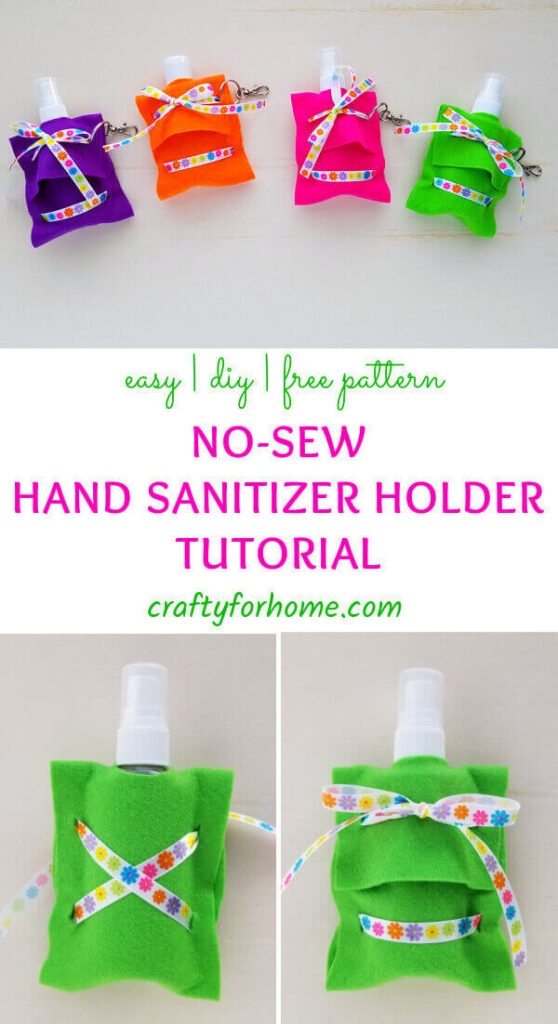 Make this 10 minutes pocket tissue holder from fat quarter cotton fabric perfect for traveling, back to school craft or DIY gift ideas.
A quick and easy craft tutorial on how to sew fabric gift card holder for any special occasion.
Easy sewing project on how to make fabric heart garland by using fabric scraps or charm quarter and cookie cutter.